The San Francisco Museum of Modern Art is one of the largest museums of modern and contemporary art in the United States and a cultural center for the Bay Area. It houses a remarkable collection of painting, sculpture, photography, architecture, design, and multimedia arts. We visited when they had a special exhibition of Magritte at MOMA in San Francisco. Here is a virtual museum walk at SF MOMA in San Francisco highlighting some of the contemporary artworks from 1900 and beyond.
The Modern Art is housed in an LEED Gold-certified building designed by the global architects Snøhetta and Mario Botta. In addition to our seven gallery floors, SFMOMA offers 45,000 square feet of free, art-filled public space open to all. It was walking distance from the Four Seasons Hotel where we stayed during a trip to San Francisco.
SFMOMO focuses on artworks from areas of Fauvism, Cubism, and Surrealism and Modernism in the United States and Latin America, American Abstract Expressionism, Minimalism and Pop art and a few other contemporary Art from around the globe.
SFMOMA is considered the first museum on the West Coast dedicated to modern and contemporary art, and a large part of the collection focuses on artists from California and the Bay Area. The building is as spectacular as the art it holds.
SFMOMA believes art is vital and shares it with passion and purpose! They strongly believe that art is a creative process that can open minds and help build a better world. The collection is colorful, exhilarating and engaging!
René Magritte at MOMA San Francisco
René François Ghislain Magritte was a Belgian Surrealist artist who became well known for creating a number of thought-provoking images. Often depicting ordinary objects in an unusual context, his work is known for challenging observers' preconditioned perceptions of reality. Here are some of the artworks that were on exhibition at the René Magritte: The Fifth Season exhibition at SF MOMA.
Although widely associated with surrealist artists like Salvador Dalí and Max Ernst, René Magritte pursued a different goal, that of heightened awareness of reality. A graduate of the Academie des Beaux-Arts in Brussels, Magritte spent the bulk of his career in Belgium. While Salvador Dali and Max Ernst created distorted and dream-like representations of real forms mixed with abstract shapes, Magritte evoked strangeness and ambiguity in realistic depictions. His objects are often known to be ordinary in singularity but surreal by context or their relationship to each other. Some of his famous painting include The Son of Man, The Lovers, The Empire of Light Golconda and The Treachery of Images.
Magritte frequently used objects to hide what lies behind them. In this painting, he places an unframed landscape painting in front of a window with the painting being completely congruous with the landscape that lies outside the painting. The Human Condition thus consists of a painting within a painting.
One of the most renowned masterpieces of surrealism, in Golconda depicts a scene of nearly identical men dressed in dark overcoats and bowler hats; who seem to be either falling down like raindrops, floating up like helium balloons or just stationed in mid-air. The one above is similar but not Golconda.
The Empire of Light is a series of paintings by Rene Magritte created between 1953 and 1954. It exemplifies the sort of simple paradox that is seen in some of the most successful works of the artist. In the bottom half of the picture is a nighttime street lit by a single street light; while the top half depicts daytime sky with fluffy clouds. While the two halves are calm but the juxtaposition of day and night creates an unnerving effect.
Rene Magritte Clouds Umbrella at the gift shop, you can also buy them here.
Permanent Collection at SF MOMA
Fountain is one of Duchamp's most famous works and considered an icon of twentieth-century art. The original, which is lost, consisted of a standard urinal, usually presented on its back for exhibition purposes rather than upright, and was signed and dated 'R. Mutt 1917'. You can see one at Tate Modern as well. The signature is reproduced in black paint. Duchamp purchased a urinal from a sanitary ware supplier and submitted it as an artwork by 'R. Mutt' to the newly established Society of Independent Artist. But the board dismissed The Fountain and claimed 'it may be a very useful object in real life, but its place is not in an art exhibition and it is, by no definition, a work of art.'
Pop, Minimal, and Figurative Art
This collection of works from the 1960s and beyond features Pop and Minimal artists, as well as the work of key figures exploring the human form as subject. The 1960s saw a fresh focus on the external world, with many artists shifting emphasis from the act of creation to the means of production and provoking dialogue about the nature of art itself. This presentation features works by Richard Artschwager, Philip Guston, Donald Judd, Sol LeWitt, Roy Lichtenstein, and Andy Warhol, among others.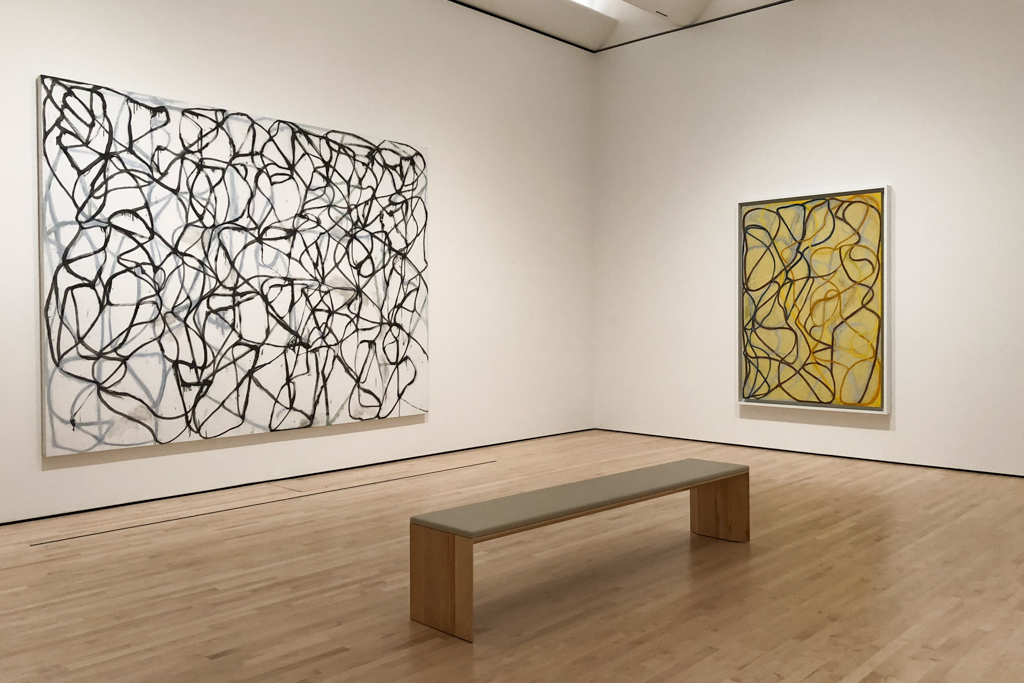 This collection of selected American artists explores the diverse approaches to abstraction developed since 1950, from the forceful brushwork of Lee Krasner to the contemplative canvases and reliefs of Ellsworth Kelly and the enigmatic wood forms of Martin Puryear. The variety of materials and techniques included in this presentation testifies to abstraction's enduring potential as a form of artistic expression.
Approaching American Abstraction
Considered one of the most important painters of the 20th century, Clyfford Still was among the first generation of Abstract Expressionist artists who developed a new and powerful approach to painting during the years immediately following World War II. He had a unique artistic vision and was unwilling to compromise it for money or recognition. While there a few of his works at SFMOMA, the Clyfford Still Museum in Denver, CO has one of the most comprehensive single-artist collections in the world.
Additional Information
You can find hours and ticket details on the SFMOMA website. Don't miss eating at one of the cafes inside. Cafe 5 has a nice terrace and features a menu with high-quality seasonal ingredients, along with coffee from iconic Italian roaster illy. Pictured at the top. The Michelin-starred restaurant In Situ run by Chef Corey Lee is also inside SFMOMA and accepts reservations and walk-in guests. Visit insitu.sfmoma.org for more information
You can visit SF MOMO online for a virtual visit to learn more about their permanent collection. I hope you enjoyed this virtual museum walk of René Magritte: The Fifth Season and other contemporary art MOMA San Francisco.
PIN IT FOR LATER
Note: This post may contain affiliate links, partnership or sponsored content. If you purchase an item via one of these links, we may receive a small commission at no extra charge to you. But as always images and opinions are our own. For more information on our affiliates and privacy policy at Outside Suburbia see here.
CONNECT WITH US