For 25 years the Garry Marshall flick has been a rich part of the hotel's history that many guests, near and far, have a special connection to. For me, it was and still is one of my favorite romantic comedies. Have you guessed the movie yet — Yes it is Pretty Woman featuring Julia Roberts and Richard Gere. To commemorate the 25th anniversary of this favorite romantic comedy, the Beverly Wilshire hotel (the hotel from the movie) was offering an exciting "Pretty Woman for a Day" experience.
Outrageously indulgent packages are available for you to relive your favorite scenes from the 1990 film including a shopping scene with a personal shopper for two hours along the famed Rodeo Drive, a picnic booked with two-hour Rolls-Royce limo and a romantic dinner on the terrace. The Beverly Wilshire hotel's in-house jeweler, Jason of Beverly Hills, has even recreated the notable red dress and necklace worn to the opera by Julia Roberts in the movie.
Set in Beverly Hills, California, the hotel's exterior and Presidential suite is sure to give you a warm reminder of your favorite love story between stern businessman Edward Lewis and quirky call girl Vivian Ward. It is ok to live a little, splurge every once in a while – because you know you are the star and the director of your own life after all 😉  
We were on our way to Bora Bora on a familymoon and did not have the time or the budget that allowed us to indulge in the festivities of this extraordinary and extravagant "Pretty Woman" experience. Instead, we opted for the brunch at the Hotel with views of Rodeo drive – custom Outside Suburbia package 😉 and some window shopping along the luxurious stores on the Rodeo Drive. It was a perfect place to people watch and car watch – D loved counting the Ferraris, Bentleys, and Lamborghinis he saw driving by. The exclusive and expensive stores and their window displays were dressed for Christmas and looked festive.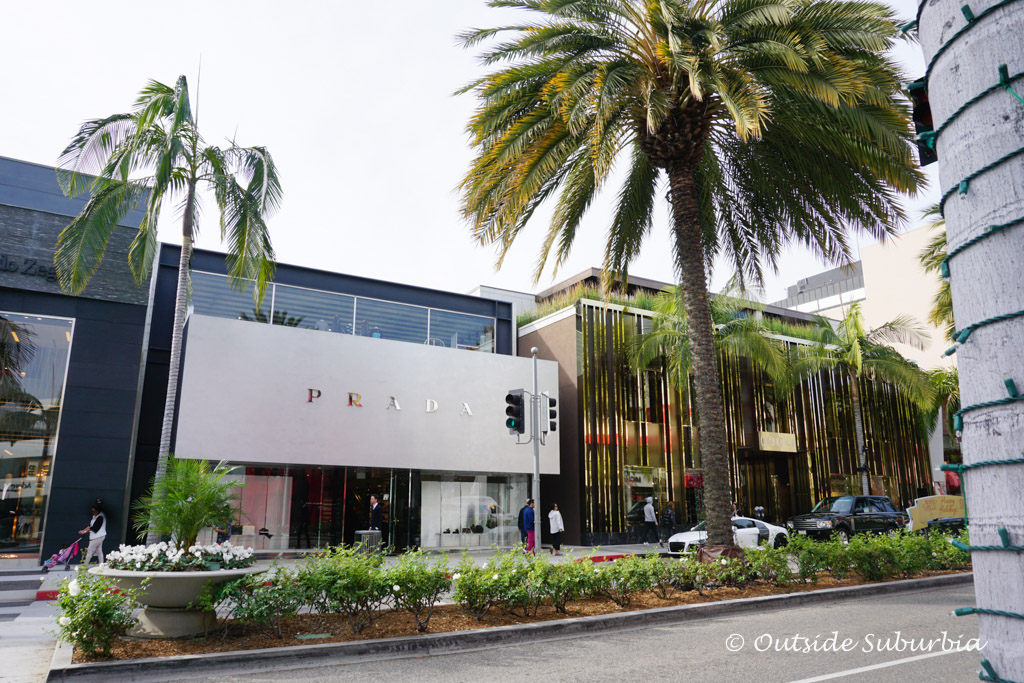 We loved the pillowy pancakes and the decadent french toast with candied orange peels and nuts. The fresh carrot juice was the best I have had in a while. If you indulge in any of extravagant "Pretty Woman" experiences please let me know, I would love to know how it went 🙂
See Beverly Wilshire hotel website for more details, availability and rates.
You might also like California Road trip Itinerary & Ideas
Note: This post may contain affiliate links, partnership or sponsored content. If you purchase an item via one of these links, we may receive a small commission at no extra charge to you. But as always images and opinions are our own. For more information on our affiliates and privacy policy at Outside Suburbia see here.
CONNECT WITH US