As soon as we stepped in the lobby at the Proper Hotel in San Francisco my daughter gave me the I know why you booked this hotel look… Located in San Francisco's Mid-Market area closer to the Tenderloin district, it is not really walking distance to my favorite areas or green spaces, and not located on the popular cable car route either. We usually stay near the Yerba Buena gardens or Union Street. But the art filled lobby and beautiful design aesthetics of the rooms won me over. So for our little mom and daughter weekend, I booked us for a Proper Stay in San Francisco at the Proper Hotel. Here is a review and why I loved it!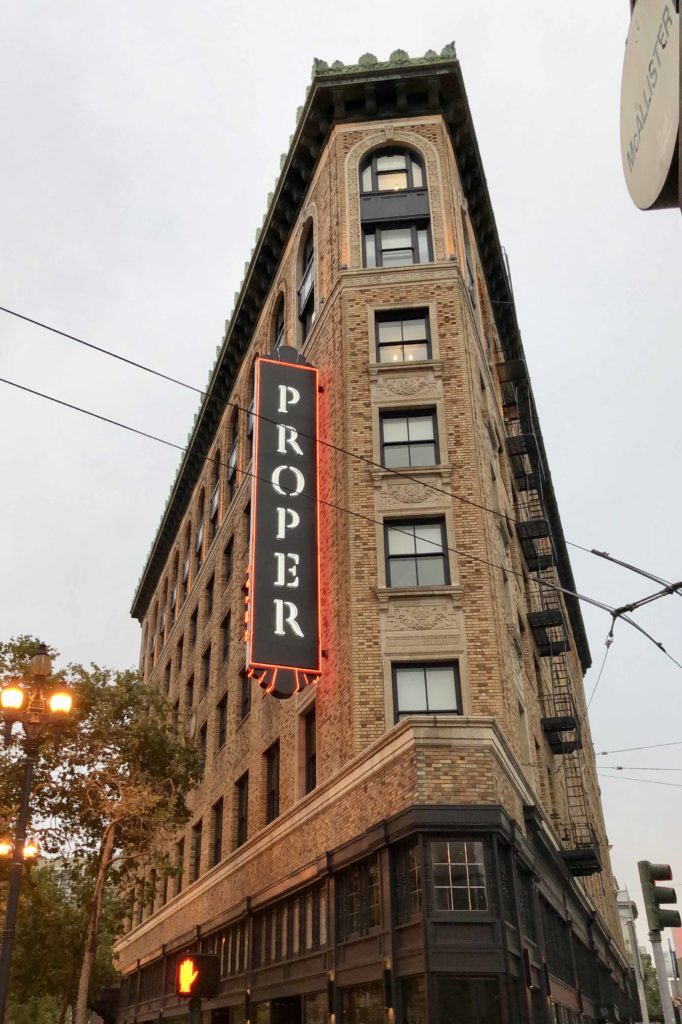 Proper Hotel San Francisco Review
San Francisco Proper Hotel resides in the flatiron building that was built in 1904 by the city's pioneer of lavish Beaux-Arts architecture, Albert Pissis. San Francisco's Mid-Market area, today is buzzing with a new energy of tech companies inhabiting abandoned landmarks and Michelin chefs opening high-quality fast food restaurants.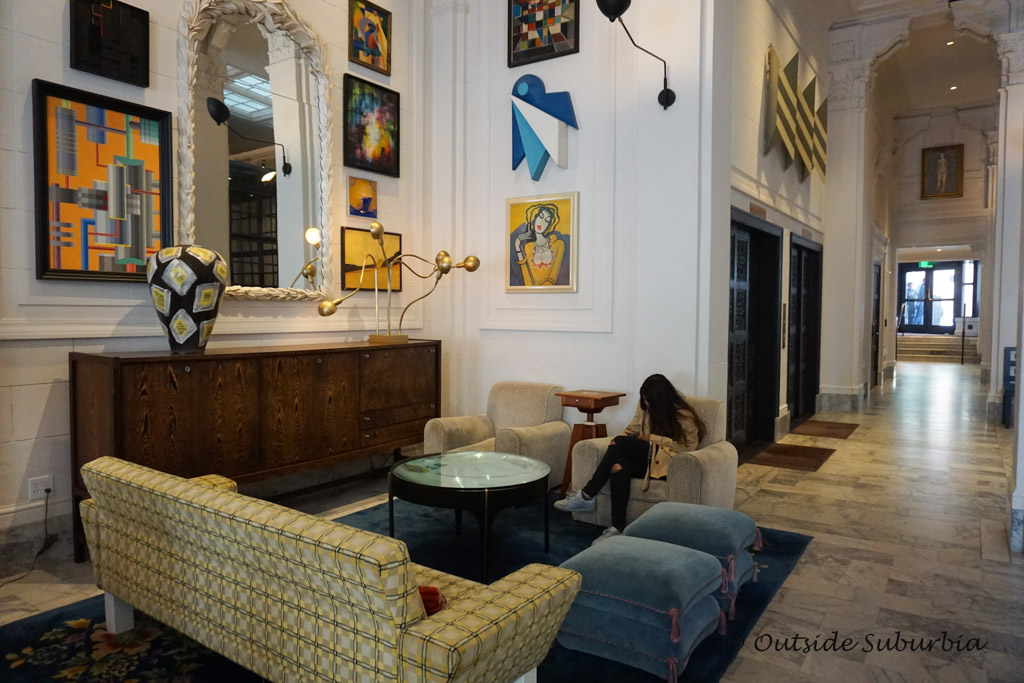 Inspired by the city's and building's past, interior designer and owner of the Proper Hotels Kelly Wearstler has added beautiful and romantic design touches to the 131-room hotel by combining deep colors, rich textures along with local artworks from emerging artists.  Her collection is displayed on the walls of the lobby and lounge areas.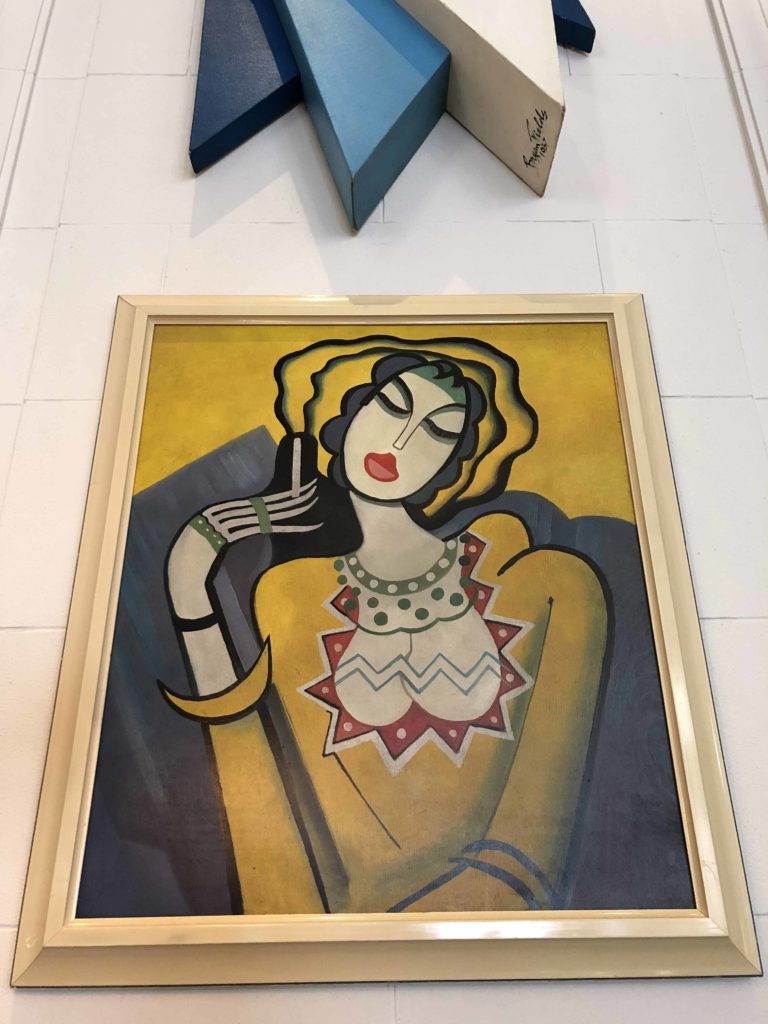 Rooms and Suites at Proper Hotel San Francisco
The rooms were beautiful with different vintage looking wallpaper on each of the walls but somehow brought together with Modern European flair.  It looked a little shabby chic yet refined! The sheets were silky-soft with linens from Italian textile manufacturer Bellino.
Bathroom counters are stocked with botanical bath amenities from Aesop, the Melbourne-based skincare lab, walk-in rainshowers. And each room is outfitted with sleek wireless speakers by the design-minded Nordic brand, Vifa. The hotel also offers complimentary use of its retro-inspired Shinola bikes, handmade in Detroit.  The city views from our room were not bad either.
Proper places to Eat
The staff at the Proper were amazing, always checking in through text messages and gave us recommendations for restaurants nearby.  Letting my daughter sleep in, I wandered downstairs each morning to have coffee while admiring all the art. 
The variety of influences and aesthetics are collaged and the compositions of the romantic pieces along with the modern cubism ones give a genuine vibe like you are sitting in your friend's living room– a very wealthy friend, with a great taste in art.  I checked with the girl at the lobby about all the art and she led me to a private dining room –Gilda's Dining Room, another space designed by Wearstler.
The hotel's has two restaurants off the lobby and a vibrant rooftop bar. Unlike New York or Chicago San Francisco isn't exactly known for its rooftop scene – but Charmaine's is changing that. With an amazing 360-degree view complimented with cozy fire pits and craft cocktails – at night it is a hot spot to mingle. As a guest of the hotel, you can skip the long line outside and be escorted by the staff to get into the bar via an internal lift.
A flowing social space, the Villon restaurant serves breakfast, lunch and dinner, drawing inspiration from San Francisco's culinary culture and seasonal ingredients.  With beautiful blue walls and touches of copper and gold the decor at Villon was another beautiful space created by Kelly Wearstler.  We ordered fresh orange juice, cappuccino, avocado toasts, ricotta cheese pancakes for breakfast.  Everything came prettily plated and was delicious – the lemon zest on top of the avo toast was a great touch.
More about Villon here
We walked over to a get Pinsas at Montesacro Pinseria nearby and took this photo on my iPhone. Have you tried pinsas that are similar to pizzas but better.. better because the dough is made and set to rise for 3 days and better for your tummy. Montesacro is the first stateside pinseria offering a modern take on pinsa made with a blend of rice, soy and wheat flour imported directly from Rome, all GMO-free.
Can't wait to checkout what design touches are going to wow us at the Austin Proper Hotel
PIN IT FOR LATER
Note: This post may contain affiliate links, partnership or sponsored content. If you purchase an item via one of these links, we may receive a small commission at no extra charge to you. But as always images and opinions are our own. For more information on our affiliates and privacy policy at Outside Suburbia see here.
CONNECT WITH US