Planning a road trip in Europe? See this list for some of the best, beautiful & most scenic European road trips before you start planning your adventure – listed are a few road trips that we have managed to get to and some that are still on that never-ending bucket list.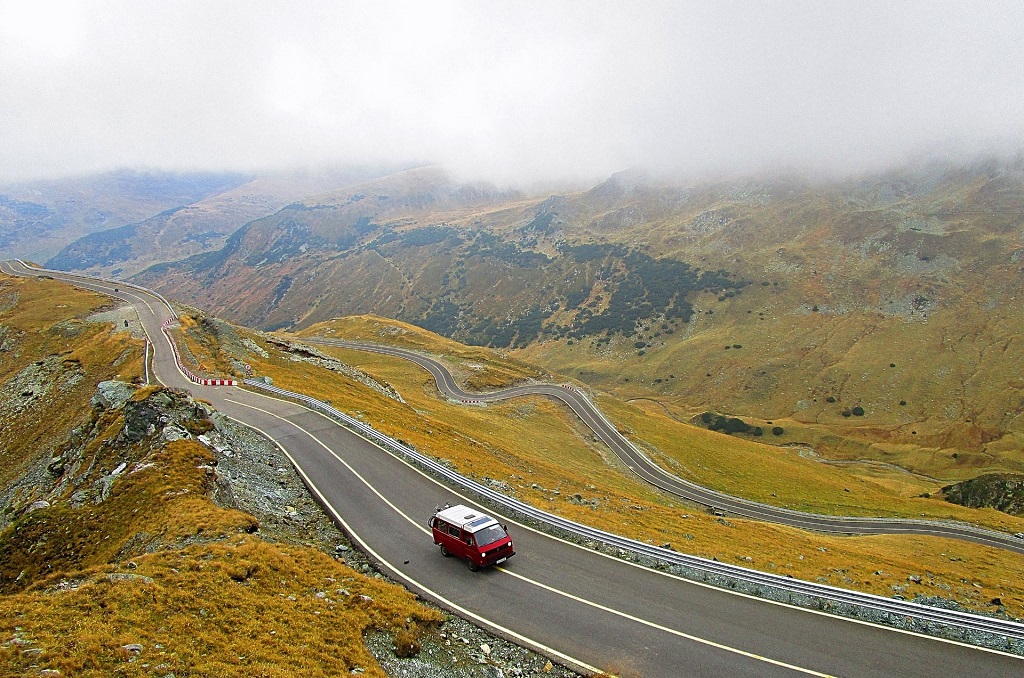 We LOVE road trips – from the shortest road trip in Moorea in French Polynesia (it was heart-shaped, how could I resist?!) to a cliff-hugging drive in Cape Town, we have checked off a few but some of our favorite ones are those road trips in Europe where you can get to a couple of countries in a 2-week trip (like our 2 week Alps Road trip from Vienna to Geneva).
First, a Few Tips for Road Tripping in Europe
A European road trip is like the mother of all road trips. With scenic routes and picturesque stops, it's an experience straight out of your dreams. And road trips are an awesome way to experience places at your own pace! But, there are a few things you should keep in mind if this is your first time driving around Europe:
Standard transmission really is standard in most European countries. If you are not comfortable with driving a stick shift, make sure to book an automatic car instead.
Any time you drive outside your own country, it's a good idea to carry an International Driving Permit with you. Drivers from non-EU countries may require an International Driving Permit.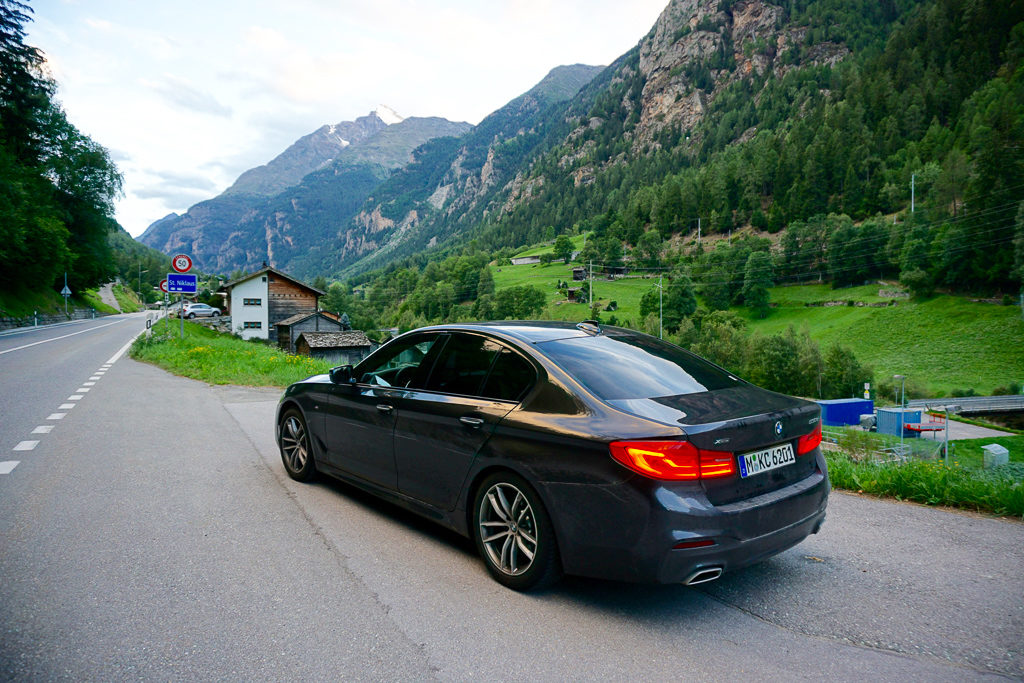 We love Sixt (Save up to 10% on car rental in Europe) because you can not only rent a luxury car, but you can rent it for almost the same price as economy cars. It is a company that was originally started in Germany over 100 years ago, now they have several locations around the world. You can also use this company to compare rates from different suppliers, to find great deals, and sometimes even get upgrades.
Make sure to buy appropriate Vignette and/or pre-paid toll sticker that is placed on the windscreen of the car. Some of the freeways (autobahn), federal highways are cashless and require drivers to have them in order to use the motorways. You can buy these at the gas stations, some rental cars already come with them.
A road trip adventure is one you can do alone or with family. We love this time with our kids, listening to music, eating way too much junk food, stopping at random spots for photos… Make sure to plan ahead with some activities when you embark on road trips with kids, especially if you are traveling with little ones.
Wondering what to pack for a long road trip, see this post that has a downloadable and Printable Road Trip packing list
Read along and gear yourself up for the journey. Here are twelve of our favorite European road trips that you can add to your bucket list:
1. Amalfi Coast – Italy
Italy has more than its share of legendary drives. From the Amalfi Coast, Sicily, Tuscany, Puglia's dry Salento region (aka the heel) there are many adventures and scenic road trips in this European country.
Forget about your car when hitting the beautiful Amalfi Coast. Pull up your motorcycle driving skills or ride a Vespa and experience one of the best road trips you'll ever take in your lifetime.
The Amalfi Coast is a popular beach destination and a UNESCO World Heritage Site. The views by the sea are so out of this world that you'd want to buy a villa. If George Clooney can have a mansion in Lake Como, you can have yours too in Amalfi. Just saying! Mr. Suburbia can you hear me!?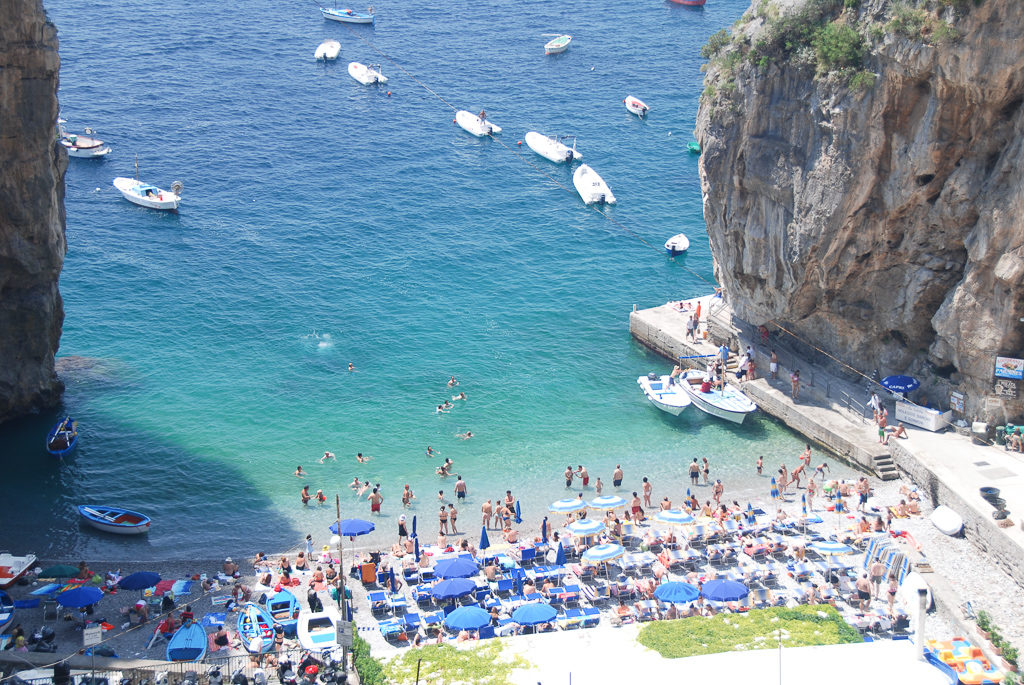 There's nothing more postcard-perfect than this part of Italy. It may be a busy district, but that's what makes it vibrant and exciting. You can opt to spend the entire day at the beach and then spend the next day exploring the towns on foot. Not to mention the amount of pasta, pizza, and wine that you can devour during this trip.
Getting there: take a train into Naples, start in Sorrento – Amalfi Coast is a short drive away
See our Amalfi Coast Road Trip. We spend just a day, I can't wait to go back and spend more time here!
2. Douro Valley – Portugal
While a river cruise from Porto is a popular way to visit the Douro Valley, don't miss out on the scenic drive – it listed as one of the most beautiful road trips in Europe… and the world!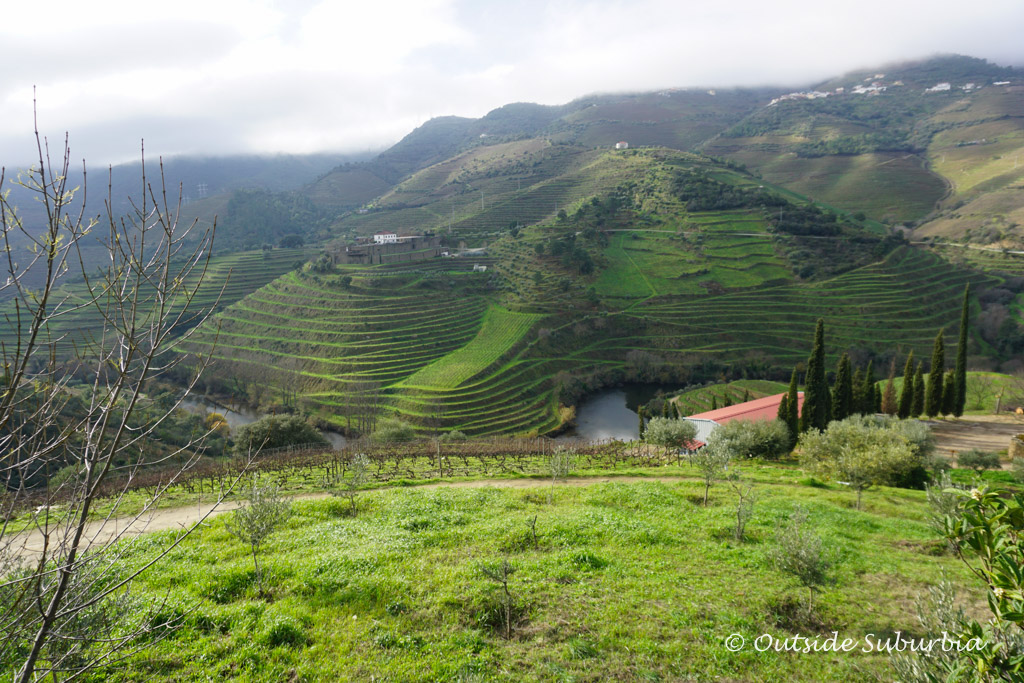 Douro Valley drive, between Peso da Régua and Pinhão, is the most scenic –the road clings to the river, for about 15 miles you pass through terraced hills with vineyards stretched as far as the eye could see. The hills hug each other as they rise up to meet the sky. Once you cross the bridge into Pinhão, stop at the train station, it is decorated with the Portuguese azulejos blue, white and yellow tile works. It is pretty amazing to see!
Getting there: fly into Porto – Douro Valley is an hour and half away
See our Douro Valley Road trip and another scenic coastal drive we did in Portugal
3. A Fire & Ice European Road Trip – Iceland
From chasing waterfalls, riding snowmobile rides on glaziers, walk between the continental plates, exploring the moon like landscape – Iceland is like being inside a book of adventures! Where else can you see geysers and hot spring areas, majestic glaciers, dormant volcanoes, a zillion powerful waterfalls in one trip… not to mention all that interesting food. A fire and ice road trip! The best part is that these adventures in Iceland are easily accessible right from the Ring Road in Iceland.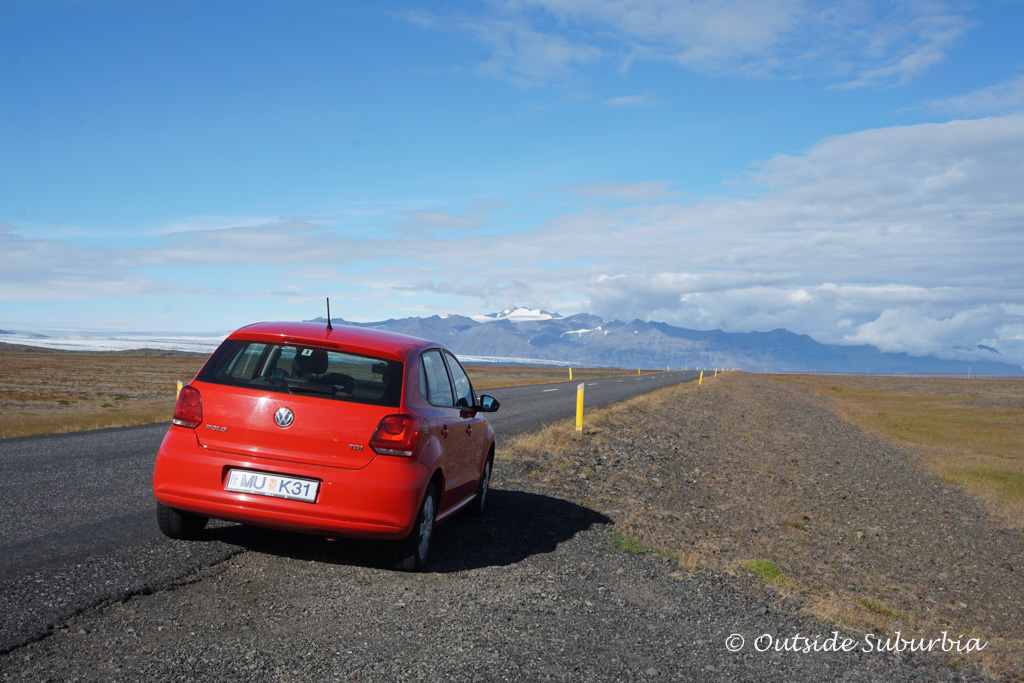 Getting there: fly into Reykjavik – take your time to drive around the Ring Road or Highway 1
You can take The Full Circle road trip easily without a guide. See our 7-day Iceland Itinerary.
4. Grossglockner Hochalpenstrasse – Austria
The name may be tricky for the tongue to pronounce, but it's still considered one of the best high alpine roads in the world. Grossglockner Hochalpenstrasse is one of the most popular tourist destinations in Austria.
The Grossglockner High Alpine Road is the highest mountain pass road in Austria and makes for a fun and challenging road trip and you will be driving around snow-capped peaks, verdant valley, and some amazing views. It's an exhilarating trip that could give you a different perspective—literally and figuratively.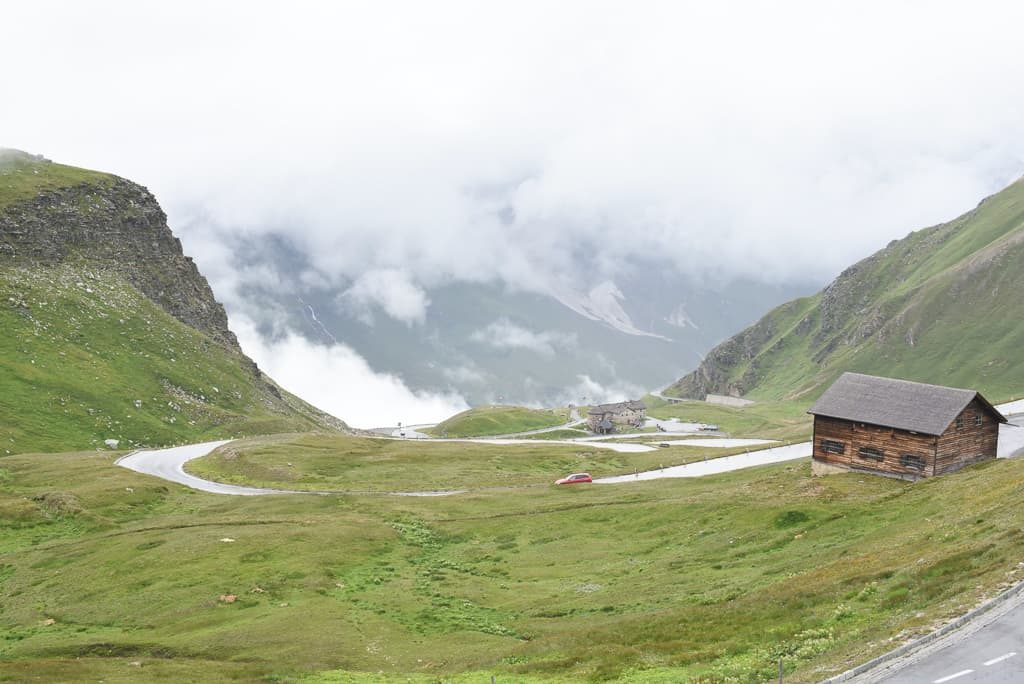 If you start from Salzburg, the start of the Grossglockner Hochalpenstrasse (at Bruck an der Grossglockner), the drive will be about one and a half hours. The Grossglockner Road is between Fusch-Ferleiten in Salzburg to Heiligenblut in Carinthia. The drive over the Grossglockner can take an hour or more, depending on what you want to see and do along the way.
It's a movie-like experience you wouldn't want to pass on. However, research your trip to confirm whether the road is open for tourists. In certain weather conditions, authorities don't allow anyone motorists.
Getting there: make your to Salzburg and start your drive there
See our thrilling day on the Grossglockner High alpine Drive.
5. White Villages of Andalucia – Spain
Andalucia epitomizes Spain for most visitors; vibrant, colorful, and passionate. This road trip of "Route of the Pueblos Blancos," will take you to some of the small villages of Andalucia, all painted white and perched upon hilltops.
This underrated European road trip in Spain, starts from Seville, with stops at a couple of white villages and Ronda before arriving at Granada – a Road Trip through the Pueblos Blancos of Andalucia. Or you can do that in reverse and also spend a couple of days in Ronda. The drive should take anywhere from 6 to 8 hours depending on how long you linger in the little towns.
Getting there: fly into Seville and drive to Granada, stopping at the different villages
See our Scenic Europen road trip to the White Villages of Andalucia
If you want another mountain road on your list, add Klausen Pass in Switzerland. It's one of the first major alpine passes in Europe and makes for a scenic driving trip. Driving enthusiasts will love this Swiss route because of its narrow roads and hairpin bends.
The Klausen Pass is crossed by a paved road of 30 miles that runs between Altdorf and Linthal. It's an indulging experience, especially for adrenaline-seekers, thanks to its location and altitude. The road is normally closed between October and May, due to the heavy snowfall on the pass. Take the season into account before booking a trip to Klausen Pass.
Getting there: fly into Zurich, the Klausen Pass is just an hour away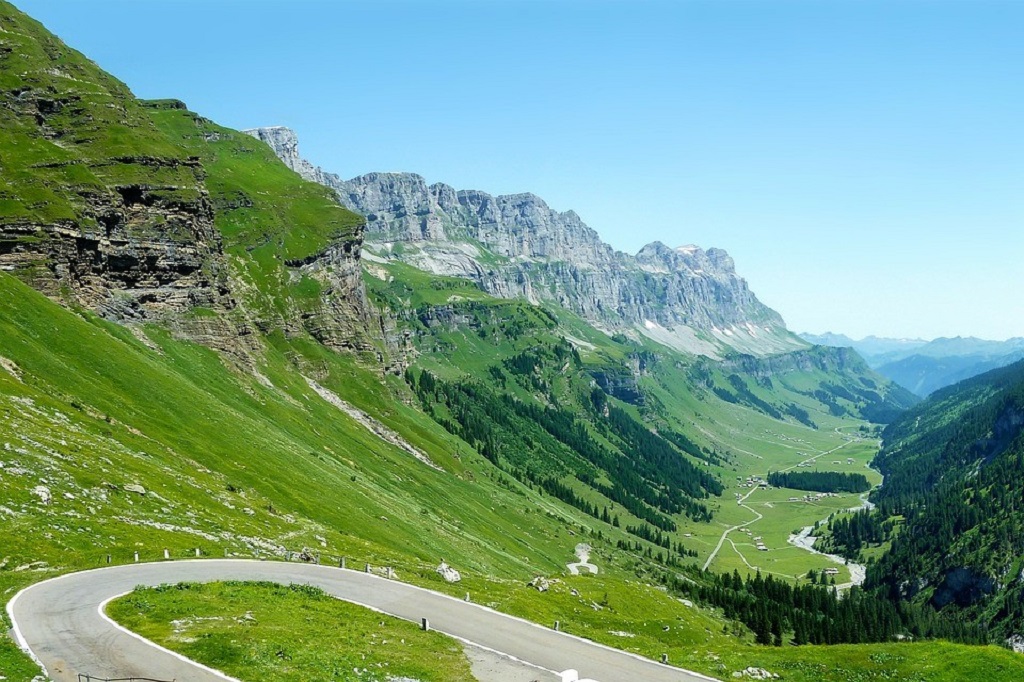 I'm always so enamored with the mountains, especially with the ones in Switzerland. We have a few driving trips in Switzerland under our belt, like the one to Zermatt, the perfectly shaped pyramid mountain. The grass on the Alps is a shade of green so pure and shimmers gold when the sun hits it, the streams so clear and the chalets set on the foothills always look glorious with windowboxes brimming with flowers!
7. The Alsace Road Trip – France
When you Google Alsace Road Trip, you'll be stunned to see beautiful, charming photos of colorful villages adorned with trees and potted plants. You won't believe it's real, it looks like it belongs in a fairytale book!
It's one of the most pretty places you would see in your lifetime. It has some of the best vineyards in the country. A road trip to this place will take you around two days to complete. It may be a short while, but it's worth taking.
Start your Alsace Road Trip from Mulhouse and take your time to stop and explore colorful Colmar, Eguisheim, Kaysersberg, Riquewihr… before reaching Strasbourg, the capital of Alsace. If you're a sucker for small-town living and the best wines in the region, Alsace should be on top of your list.
Getting there: fly into Strasbourg – and take a week to explore Alsace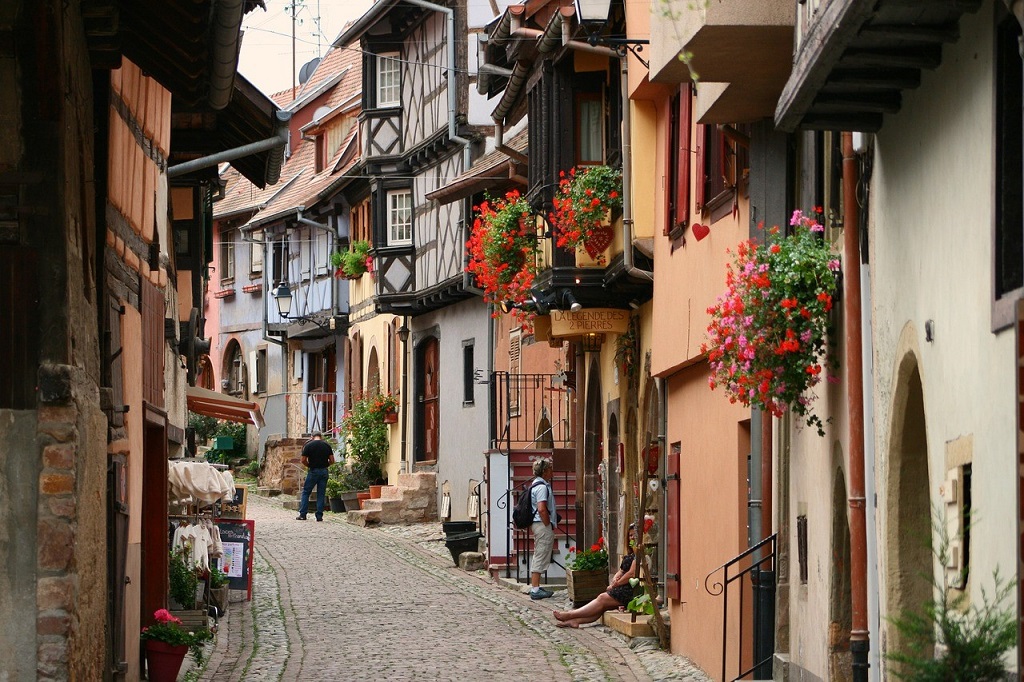 Road trips in France are always enchanting – sweeping lavender fields, timeless hilltop villages and some of the world's most famous wineries are all synonymous with France's most explored and enjoyed regions. One of my fondest memory is driving through Provence and the French Riveria a few years ago.
8. The Wild Atlantic Way – Ireland
Take a chance to drive around what Irish people commonly call the Ring Road, a Full Circle trip from Dublin. You can quickly navigate around the island for 17 hours. But what's the point of the whole trip if you won't spend a day or two exploring small towns and vibrant cities?
From Dublin, make the short journey to Waterford, where you can visit the iconic Waterford Crystal Factory, or journey on to the Copper Coast. Continue the journey to Cork, charming Kerry, the port city of Galway, Mayo… then to the North West of Ireland to County Donegal, see some dramatic cliffs, walk on the Carrick-a-Rede Rope Bridge, and visit Belfast before making your way back. One of the classic European road trips indeed!
It's relatively a long road, but you can finish and end up in Dublin, Ireland's capital, in about ten to fourteen days.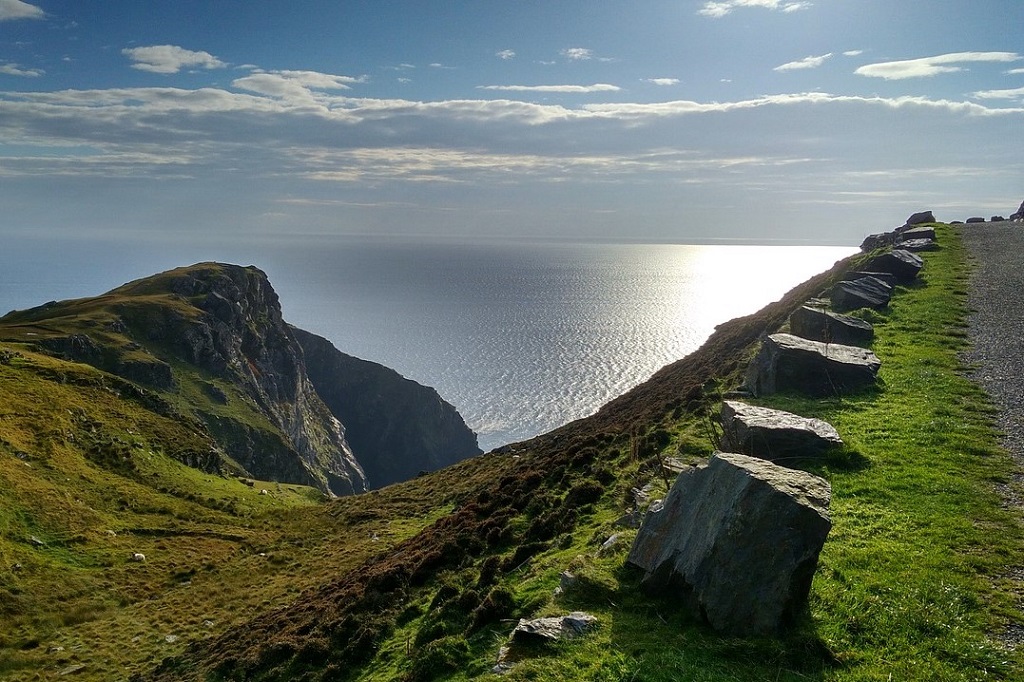 The Wild Atlantic Way is a picturesque coastal route that will leave your jaws on the side of the road. The 1500 mile rugged coast road boasts rolling landscapes, sleepy mountains, thatched cottages, and deserted beaches. distance. It's a magnificent ride that will make you appreciate Ireland more.
Getting there: fly into Dublin and take at least 2 weeks to explore Ireland
9. The North Coast 500 – Scotland
Another coastal route that you can take is the North Coast 500 in Scotland. You can live out your Outlander dreams in this side of Europe and experience the incredible Scottish Highlands.
It's like exploring a world that's way past our generation and one of those scenic European road trips that you have to check off the bucket list. What's great about this route is that you have plenty of activities to choose from. You can stop by several beaches, do snorkeling or white water rafting, and drown yourself with whisky.
If you plan to visit whisky distilleries, make sure to please book a place to stay for the night. Drinking and driving don't go well together; that's a fact 🙂
Getting there: fly into Edinburgh – and plan your routes from there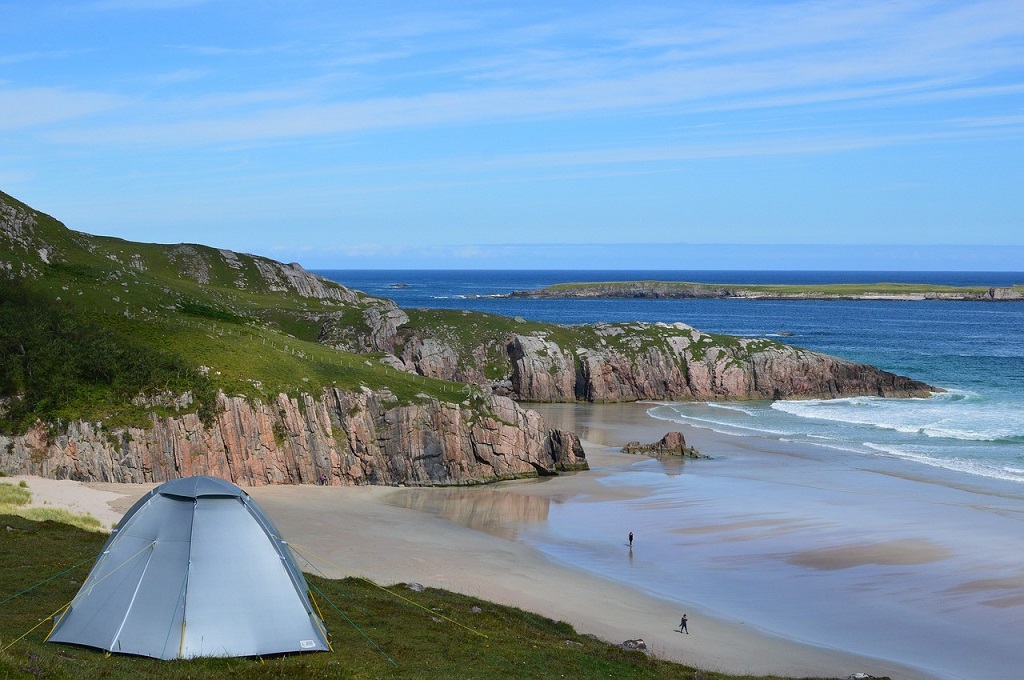 10. Transfagarasan – Romania: One of the most Scenic European Road Trips
Transfagarasan road drive is only 56 miles long, and is often closed until late June because of snow in the Southern Carpathians' Fagaras Mountains (also called the Transylvanian Alps). But the serpentine hairpins snaking up from historic Curtea de Arges towards the high Balea Lake rivals the Stelvio Pass in northern Italy as the most renowned stretch of road trip drives in Europe.
The charm of Transylvania's forested valleys and gothic castles is well-known, but the region has so much more to offer. The Transfagarasan road trip drive itself is 90 minutes but make time for a picnic or hike by Balea Lake, visit the Curtea de Arges Monastery, see the mighty Poenari Citadel and enjoy views of the Vidraru Dam Lake.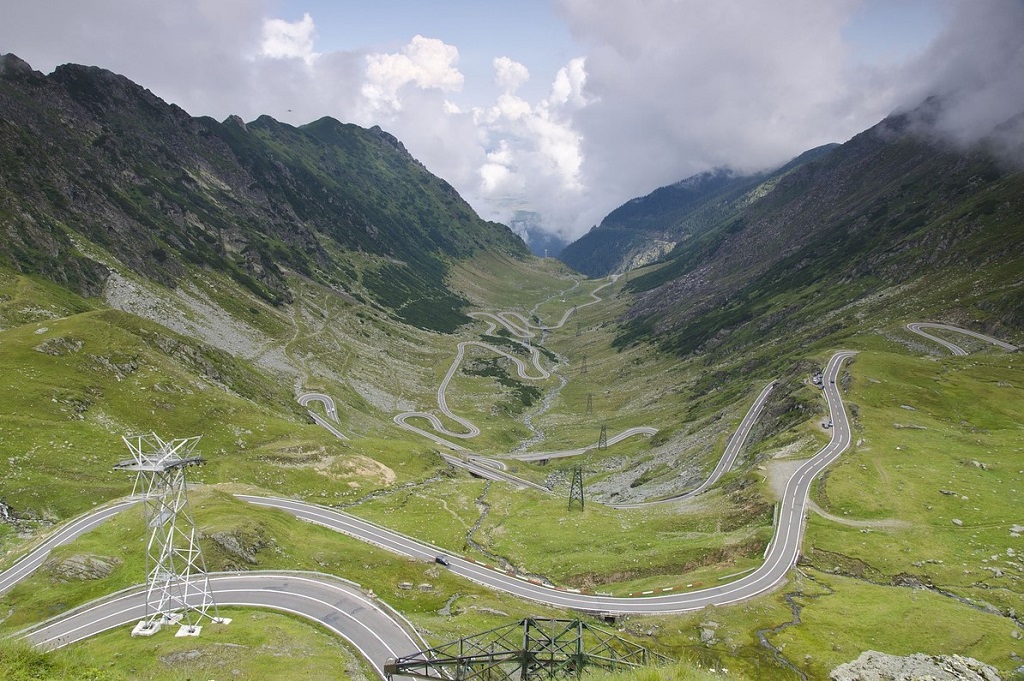 It was built in the 1970s by Ceausescu to give him a military advantage in case of a Soviet invasion, and hundreds of people are said to have died while building 'Ceausescu's folly', often from blasting dramatic tunnels through the mountains with dynamite. The road now provides a picturesque connection between Wallachia in the south and Transylvania in the north.
Getting there: fly into Bucharest – Transfagarasan is 3.5 hours away
11. Trollstigen National Tourist Route – Norway
The Trollstigen National Tourist Route is such a scenic mountain road; you will want to add it to the top of your European road trips bucket list (it is 2nd from the top in mine). This jaw-dropping adventurous drive showcases Norway's majestic mountain ranges, flawless forests, 10,000-year-old fjords and towering waterfalls that barrel into crystal clear lakes. The air is otherworldly fresh up here and the short summer season simply can't be beaten.
While the road twists and bends making this route thrilling, the Norwegian architecture and design have built into the landscape creating a unique and magical experience. Norwegian law permit camping in any public space so drive and stop wherever you see fit. You can just set up your tent and enjoy!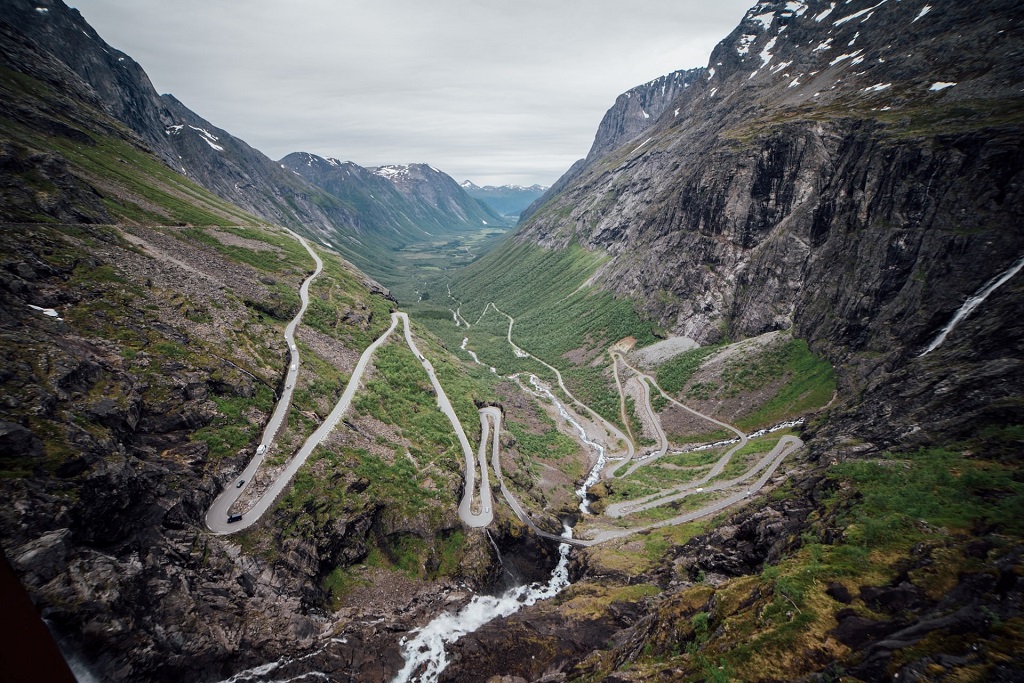 You have front seat access to the best mountain views in the region and the famous Seven Sisters waterfalls. Add to that is the UNESCO World Heritage Geirangerfjord, a popular hiking destination in Norway.
Getting there: fly into Ålesund – Geirangerfjord is located around 3 hours away
12. Romantic Road – Germany
Car buffs and lovers of speed make the way to Germany to put the pedal-to-the-metal on some of the world's fastest motorways. There is no speed limit (only a suggested limit of 130kms/hr is posted) on Germany's Autobahn. It is a nationally controlled-access highway system spanning almost 13,000kms, making it one of the world's longest, too.
If you want to slow down and enjoy the drive, Fairytale-like castles and spectacular landscapes are what await you when you take the Romantic Road in Germany. Its name is fitting for its offerings— vineyard tours, medieval towns, castle hopping, and romantic villages with timbered buildings.
You can even make the trip on your bicycle if you're the active type and willing to weather it. And while the names of towns and cities you visit in this part of Germany are hard to pronounce, the entire trip is easy to love.
Getting there: fly into Frankfurt or Munich – the route runs between them.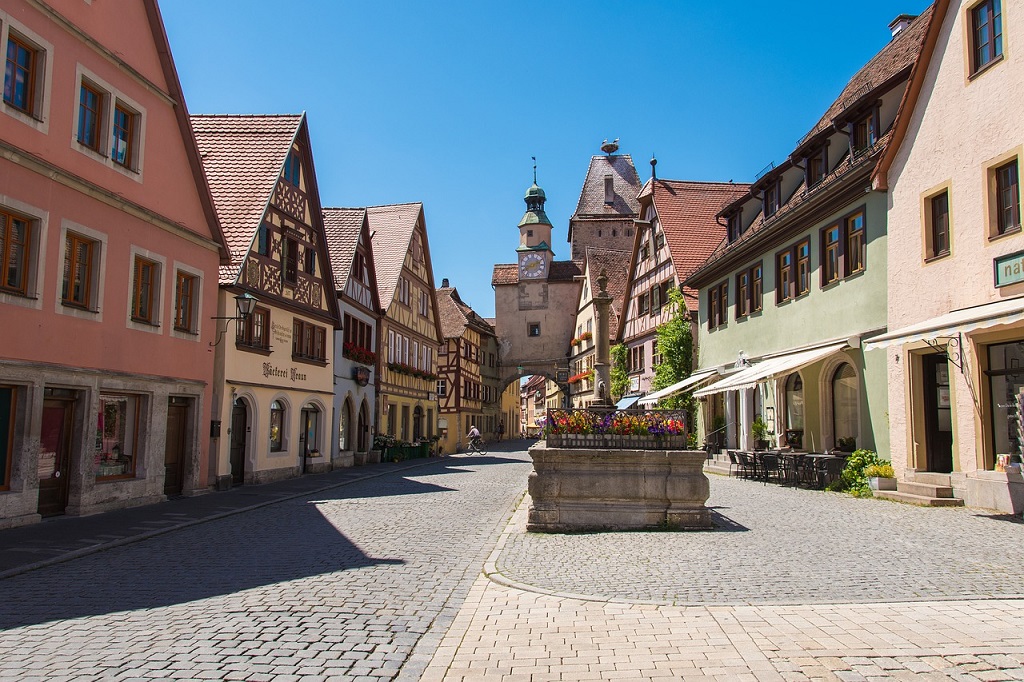 European road trips are refreshing, just as it is overwhelming. The beauty of each stop can take your breath away in an instant, and make you want to spend days if not weeks in each destination. There are plenty of other places in Europe where you can drive around and enjoy the scenery & culture. Hope this list gave you some ideas for your next road trip to Europe.
*Norway, Germany, Alsace, Ireland, Romania, The North Coast 500 images sourced from Pixabay.
See a visual story here
If you like thrilling drives here are a few more Curvy (and Scary) Roads in the World
PIN IT FOR LATER
Note: This post may contain affiliate links, partnership or sponsored content. If you purchase an item via one of these links, we may receive a small commission at no extra charge to you. But as always images and opinions are our own. For more information on our affiliates and privacy policy at Outside Suburbia see here.
CONNECT WITH US