We have always liked nice hotels but when we are ready to travel again we will be a little more conscious of where we stay not just from a safety and luxury perspective but also from sustainability and a social impact point of view. Are you a compassionate and conscious traveler? Do you want to be one?? Here are some tips to consider you are looking for eco-friendly resorts and sustainable hotels for your next trip.
One of the best memory we have as a family is visiting a 25-acre eco-friendly beach village in Pondicherry, near Chennai. Kids made pottery, fed the cows, swam in the pool, played on the pristine beach and rode bikes. we stayed in unique bungalows some of them reclaimed from old Colonial houses, Chettinad palaces, and even a mansion from Kerala. Locals work in the resort and the food served in the restaurants was mostly grown in the resort. Our kids still talk about this resort.
Most recently we stayed at Kasbah Tamadot near Marrakesh. Apart from the beautiful courtyards, rose petal strew pools, what we loved most about the resort in the foot of the Atlas Mountains was that everyone who works at the Kasbah are Berbers from the surrounding villages. After Sir Richard Branson bought the Kasbah, they worked on renovations and training locals to work in the resort. Today, the retreat supports the local communities which include free English lessons. They focus on sustainable development and energy-saving efforts.
It's a good feeling when you stay in a place that cares – cares not just about the customers but also about its people, the local economy, and the planet. From Budget to Luxury, you can find Green Hotels in all price points. Making a choice to stay in these Eco-friendly Sustainable Hotels & Resorts to me is a step towards Conscious and Sustainable Travel.
Conscious and Sustainable Travel
Sustainability is a complex, UCLA Sustainability Committee, defines it as: "the physical development and institutional operating practices that meet the needs of present users without compromising the ability of future generations to meet their own needs, particularly with regard to use and waste of natural resources.
Sustainable practices support ecological, human, and economic health and vitality. Sustainability presumes that resources are finite, and should be used conservatively and wisely with a view to long-term priorities and consequences of the ways in which resources are used." In simple terms, Sustainability is about our children and our grandchildren, and the world we will leave them!
As travelers, we are increasingly conscious of the environmental impact of travels. While travel is joyful, meaningful, and transformative it also has to be mindful and conscious. Here is a quick guide and some tips to help find Eco-friendly Sustainable Hotels & Resorts for your next trip.
Tips to consider when selecting Eco-friendly Sustainable Hotels & Resorts
Do the Research
Check the hotel or resorts website. You can usually find information about why they consider themselves eco-friendly and sustainable on their website. Sometimes eco-friendly could mean rustic accommodations or it might be used for greenwashing (a marketing gimmick by people looking to cash in on the eco-friendly movement). If there are no clear details, and sounds like a shallow term thrown there then better look deeper. Do more research!
Check the Certifications
Eco-friendly hotels often have Green Globe or LEED certifications. Look for eco-resorts and hotels that follow the LEEDS, i.e. Leadership in Energy and Environmental Design Standard guidelines. This means using low-energy light bulbs, having a robust recycling program, including the option to reuse linens and towels. They usually offer a menu of locally-sourced food, and sometimes even have bicycles you can borrow or shuttle services.
Read the Reviews
Read the reviews online. TripAdvisor is a great place to start. They used to have a GreenLeader Program (which is currently on hold). The Tripadvisor GreenLeaders Program showcases a variety of eco-friendly hotels and B&Bs, from budget to luxury – and they're all committed to green practices like recycling, local and organic food, and electric car charging stations. To be accepted, hotels must apply annually and there is no charge for it. Qualifying properties were marked with a badge on their TripAdvisor page. To see a list of the business's environmentally friendly practices, visitors could click on the property's GreenLeader badge. I hope they bring it back.
See if there are serious about Sustainability
Do they have a kitchen garden? Do they grow their own produce and herbs? Does the hotel or resort use local ingredients? Ask the questions. See if sustainability is on the menu where you stay and at places you eat. See if there are serious about sustainability or using it as a buzz word.
Social Impact and Involvement
Check if the hotel supports local communities and economies. Do they offer employment, healthcare and welfare schemes? Do they empower and support local organizations and/or support or fund initiatives that help the locals. Do they protect wildlife, participate in ocean conservancy? In short, follow the money, check their social impact, and involvement in protecting Mother Earth.
Do your part in Protecting Wildlife, Educate yourself
Stay at Boutique and locally-owned properties
Though many hotel brands are improving their sustainability practices, most of the best eco-friendly properties are independent and locally owned. Staying at a boutique or family-run property tends to support the local economy more than big chains. Keep in mind, since getting a Green Certification is cost-prohibitive, some of these small establishments might not have the Ecolabelling.
Lastly, check with friends and friendly bloggers 🙂 for recommendations. It is an easy way to find that great eco-lodge, resort, or sustainable property.
ALWAYS travel responsibly and sustainably. Traveling Green is simpler than it seems!
How to find Sustainable, Green & Eco Friendly Hotels
Here are a few search platforms that list sustainable or eco-friendly accommodations, you will find many great quality, sustainably run hotels.
Green Pearls is a beautifully curated listing of high-quality, sustainable hotel properties in Europe, Thailand, India, and Sri Lanka.
EcoBnB is here with a mission to replace search platforms with a greener alternative and to change the way we travel. It has a great selection of eco-friendly properties at different budgets.
Smith Hotels lists a few hotels that are committed to conserving, protecting and enjoying the environment – and all without compromising on luxury.
Alpine Pearls is a curated collection of 23 villages around Austria, Germany, Switzerland, Italy, and Slovenia which are committed to supporting eco-tourism, climate protection, and sustainable holidays.
Bio Hotels list Bio Hotels in Europe, primarily in Austria, Germany, Switzerland, Slovenia, Italy, and Greece.
Red Rooster lists farm stays in South Tyrol, Italy's northernmost province that is home to the Dolomites and has a rich cultural diversity.
Farm Stay Planet (affiliate of Booking.com) lists a hand picked collection of some of the best farm stays from around the world, from basic farmhouse accommodation to luxury farm hotels on everything from vineyards and horse ranches to alpaca farms and pepper plantations.
Sustainable Hotels and Hospitality Brands
Hotels do a great job of making guests feel special and well taken care of, here are a few hotel brands that go above and put some focus on taking care of Mother Earth. These hotels will make you feel better about getting away and booking a stay.
Marriott International
Marriott International is the largest hotel chain in the world and includes around 30 Hotel brands like W Hotels, Westin and Sheraton. One of their chains, Element hotels are built eco-friendly and sustainable from the ground up – from the floors made of recycled materials to eco-friendly textiles, energy-efficient lighting and plumbing fixtures.  They have clothing donation bins in the hotel lobby. Many of the hotels have electric vehicle chargers.
1 Hotels
Part of SH Hotels & Resorts, 1 Hotels is putting sustainable luxury and nature first and from Paris to New York, they are sprouting everywhere. The hotels are certified carbon neutral. 1 Hotels operates with the environment in mind, from the building materials used in construction to smaller, everyday considerations such as using natural materials for key fobs instead of plastic. They feature green moments throughout the hotel that are living art exhibits, including living green walls on the hotel's facade and terrariums in every guest room. They even have a Tesla house car that offers complimentary rides.
Le Accor Hotels
The Le Accor Hotel brand includes Fairmont, Sofitel, Raffles and Pullman properties. They have a Planet 21 program that tackles a variety of initiatives like including eco-designed beds made from wood sourced from sustainably-managed forests in the rooms, reducing food waste, asking customers to reuse towels, and more. The hotel chain dedicated to increasing its conservation efforts every year. Le Accor brands have been committed to the fight against the sexual exploitation of children.
InterContinental Hotels Group
IHG Hotel brand includes InterContinental Hotels, Six Senses Hotels, Crowne Plaza, Holiday Inn Hotels and a few more. The Kimpton boutique hotels offer laidback luxury but are also social and environmentally responsible. You can learn more about their "Why" at Kimpton Cares program. Kimpton Hotels use nontoxic cleaning supplies, extensively recycle, and minimize their water consumption Their efforts include recycling soap and hygiene products in partnership with Clean the World. Kimpton Hotels & Restaurants is a partner of No Kid Hungry and has a long-standing commitment to the organization's mission to eradicate childhood hunger.
Take ownership of your footprint. We can all work towards being responsible and conscious travelers, better citizens of planet earth, one small step at a time. Let's start with choosing eco-friendly hotels and resorts that reflect those values – of sustainability and positive social impact. Whenever you can, book directly so that your money goes to the host community.
Featured Image by annca from Pixabay
PIN IT FOR LATER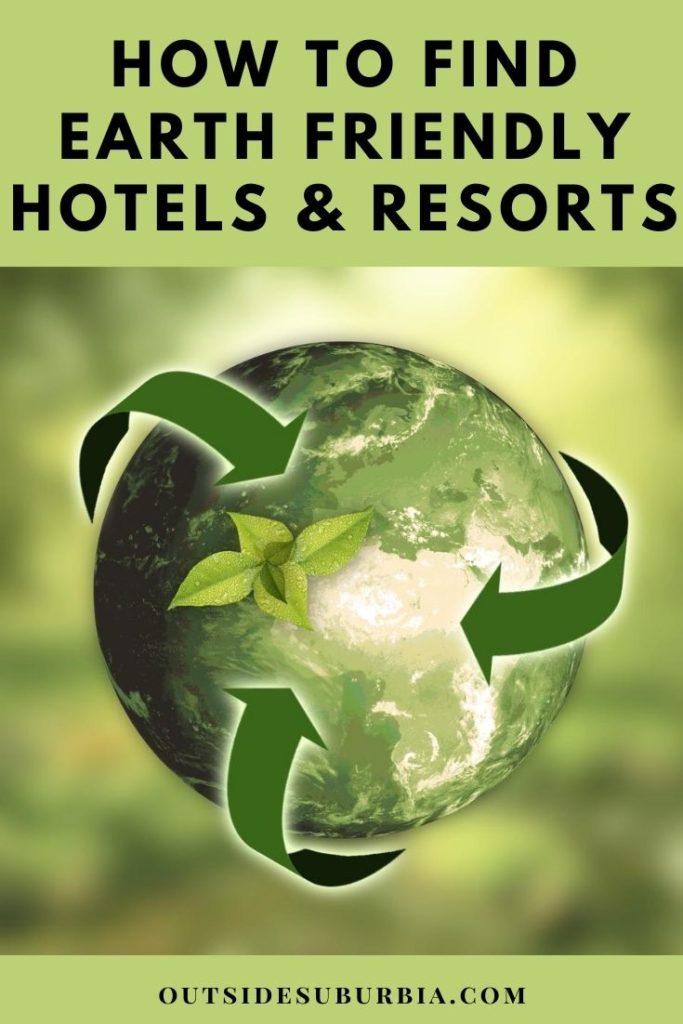 Note: This post may contain affiliate links, partnership or sponsored content. If you purchase an item via one of these links, we may receive a small commission at no extra charge to you. But as always images and opinions are our own. For more information on our affiliates and privacy policy at Outside Suburbia see here.
CONNECT WITH US