Even though we carry many lenses and take countless photos when we go on our trips, I'm never good about taking Family Photos or sending out Holiday cards every year. So during one of our trips to Italy, we made it a point to budget some time and travel dollars for a photoshoot to take some family travel photos with Flytographer, here is our review. Here is the spoiler, we loved it so much and can't wait to do it again! Scroll down for a discount code to book your own travel photoshoot.
We have neither mastered the art of balancing a selfie stick nor the Instagram shots where you are looking away from the camera showing off your back trying to hold your hat from flying away because of an imaginary gust of wind. But we have always managed to capture memories along the way with some decent photos.
Hiring a professional vacation photographer from a service like Flytographer guarantees that you capture those precious memories, plus the whole family can be in the photos. Flytographers is a vacation photography company that connects travelers with hand-picked local photographers in over 300 destinations for fun, candid vacation photoshoots.
Our family photo shoot was a fun experience – Marta met us early morning and took us for a walk around the less-touristy side of Venice as the city was just waking up. We saw the butchers and fishermen in the fish market getting ready for the day. The locals were stopping at vegetable and flower vendors to pick up produce for the day and chit chat.
Marta weaved around the more popular places as well and found fantastic photo opportunities and let know about her favorite spots. That is another bonus of hiring a Flytographer, their photographers not only capture incredible memories but are amazing resources for what to eat, see and do in each city.
You might also like this post about the 10 Best things to do in Venice with kids
Family Travel Photos with Flytographer in Venice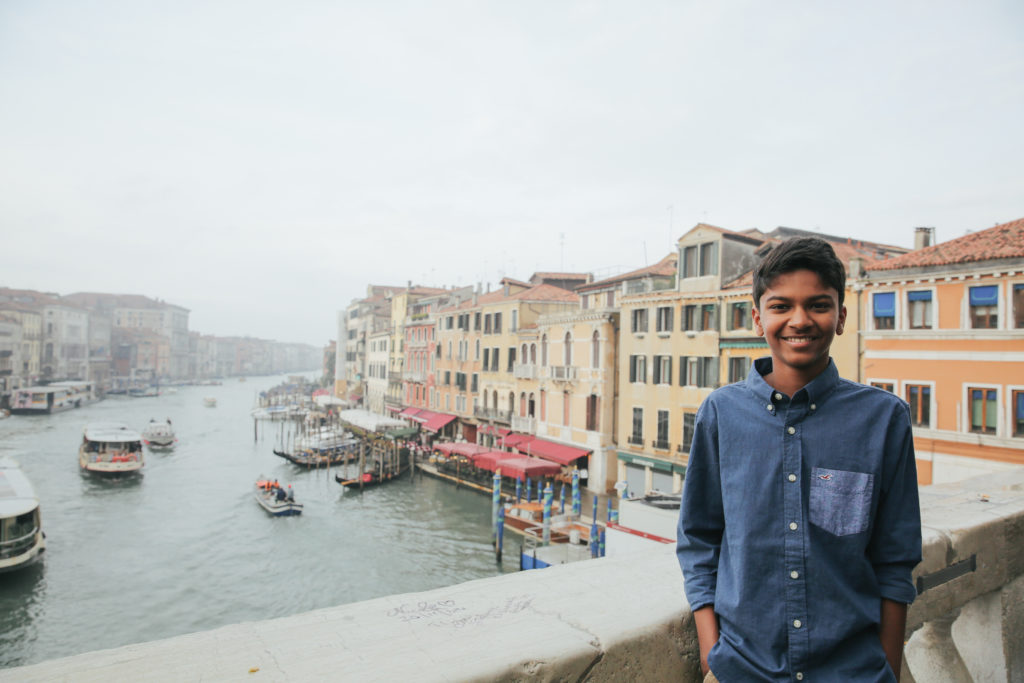 Tips for your photoshoot with Flytographer
People are always looking to photograph their best vacation moments, and I can't recommend Flytographer highly enough. Here are a couple of easy tips, discuss with the family and prepare them upfront.
Let the kids know what to expect.
You can book a professional vacation photographer for 30-90 minutes to document your holiday in one or more locations.
Factor in the time that will take to get from location 1 to location 2.
While I don't usually worry about hair and makeup, I planned out our clothes the night before.
I took the Venetian mask we had bought the previous day. So plan location specific props and bring them along.
I like to keep the color palettes similar or complementing.
My hair was super frizzy by the time we walked over to the different locations.
You might want to plan to get your hair and makeup done.
I was not comfortable doing couple-y photos but Marta talked us through a couple of poses and I liked how they turned out. I especially like the candid photos of the kids she captured. Some of these Family Travel Photos that our Flytographer captured have been framed and are hanging on the wall.
A family photoshoot discount with Flytographer
You can find Flytographer photographers in over 300 destinations and their price is always the same. If you want to gift the Flytographer experience to someone, they also have gift cards. Check them out on your next trip. If you sign up with Flytographer and use code OUTSIDESUBURBIA, you can get $25 off your first shoot, whenever you choose to use it. We were so happy with our Flytographer experience and would absolutely love to do more of these photoshoots in the future… I'm thinking Santorini, Paris, Marrakech and Melbourne for sure. Have you done photoshoots when you travel?
*Photos by Marta for Flytographer in Venice
Note: This post may contain affiliate links, partnership or sponsored content. If you purchase an item via one of these links, we may receive a small commission at no extra charge to you. But as always images and opinions are our own. For more information on our affiliates and privacy policy at Outside Suburbia see here.
CONNECT WITH US