To say our All-inclusive Family Safari Experience at Angama Mara Lodge was magical is putting it mildly…
If you asked Mr. Suburbia what his all-time favorite place is, without batting an eye he would tell you it is Angama Mara. The luxury safari lodge located on the Great Rift Valley overlooking the plains of Masai Mara in Kenya is his version of paradise on earth. He would tell you how he wakes up every weekend thinking about wanting to go back and wake up to the sound of elephants trumpeting and warm coffee waiting in the butlers' lobby. His eye would glace over as he talks fondly of his mornings in the plains catching the first light and the sight of animals while the Safari guide drives an open-top land cruiser through the dusty roads African roads.
All-inclusive Luxury Safari at Angama Mara in Kenya
Angama Mara Luxury Safari Lodge Experience, a Review
The view over the Mara plains from Angama is beyond breathtaking, the entire camp is so unique in terms of design, elegance and luxury! The tents while made of canvas material have glass-fronted patios that open up to pretty sunrises and sunsets.
The camp contains 30 tents split into two camps to maintain an intimate feel. Both have open and communal guest areas including a pool, library, a little shop and a photo studio where you can learn the process all the wildlife photo you take during your game drives.
Rather than running the usual safari routine of early morning and late afternoon game drives, the camp allows guests to tailor game drives – packed or as leisurely as you choose.
The level of luxury at Angama is unbelievable for a location so remote. Yes, you need to save up for experiences like these but these are once in a lifetime trips and worth saving for. We saw a few couples, a family with younger children during dinner.
Angama Mara is perfect for the first time Safari goers and ideal for luxury lovers who don't like roughing it.
Rooms and Views
Since our kids are a little older, we booked 2 connecting lodges which was perfect for our family of four. The lodge itself is completely open and you feel like that the outdoors still is part of every aspect of the space. The tents are made with heavy canvas on three sides and glass on the fourth, each with its own wide wooden deck with red rocking chairs and unbeatable views. The design was inspired by the famous Muthaiga Club in Nairobi, built in 1917 and featured in the film Out of Africa. Angama Mara is owned by Nicky and Steve Fitzgerald and their daughter Kate. They have opened more than 50 luxury safari lodges throughout the continent and know what it takes to create unique and unforgettable safari experiences. It is run by a friendly management staff who works in making your stay as memorable and magical as possible. Everyone we encountered during our stay was warm, kind and keep to help.
Inside the lodge is minimalist and modern whilst still being safari chic, there are flashes of red throughout paying homage to the Masaai colors. The wooden floors, exposed brick, wood and bronze light fixtures add to the subtle African interior details. Personal touches include a bar filled with your choice of chosen spirits, king-size beds, fitted with cozy electric blankets, binoculars, scarfs, and bag to take on Safaris. I loved the scarf so much that I bought one from their store.
Food and Drinks
There was always exquisite food and an excellent choice of beverages during our stay at Angama Mara. Angama serves up an excellent international menu on a stunning space with windows that open to a terrace overlooking theRift Valley's Oloololo Escarpment. Since Angama Mara operates on an all-inclusive basis and all food and house wines were included in our stay.
We started the mornings with a breakfast tray of fruit, muesli and pastries, and custom made Swahili omelet and scrambled eggs. The staff packed a bush lunch to be enjoyed under a tree in the Mara containing sandwiches and salads. You can choose to have meals can at the dining area on in tents. The dinner menu featured pasta, parathas, and curry (especially made for us one night) and coffee ice-cream. The bar area was stocked with South African wines and a wide variety of spirts that guests are welcome to serve themselves whenever they please. One night we enjoyed a Boma, a lantern-lit barbecue in the forest.
Safari Experience at Angama Mara
Exploring the Maasai Mara National Reserve on a safari rewards you with views of gazelles, lions, cheetahs, elephants, impalas, and the occasional – and very rare black rhino. We were lucky enough to see all Big 5, including the black rhino and plenty of baby tembo (Swahili for "elephants"), we even caught the beginning of zebra and wildebeests' migration. Guests can take a picnic and head out for the entire day or go on a walking or birding safari with a Maasai naturalist. The safari experience is varied, very flexible and included in the price of the stay.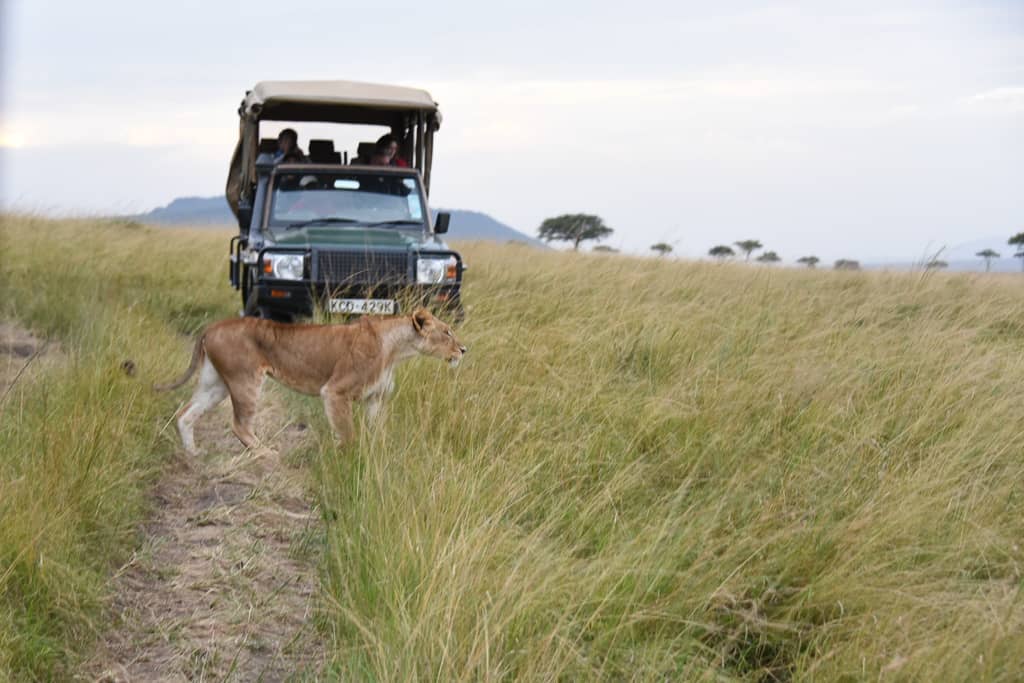 We did a couple of half day drives and choose to pack a picnic and head towards the river with our guide Wilson one day. Wilson took us to see the different landscapes and the animals that called it home – we witnessed a zebra give birth, a few playful giraffes (did you know a herd or group of giraffes are called a journey of giraffes) and a pride of lions. We saw thousands of zebras crossing the Mara thanks to our Safari guide's fast thinking and being able to predict the direction where the animals will move to next. He is a Masai warrior turned Safari guide after all!
You can see The Great Migration and Wildlife photos from our Safaris here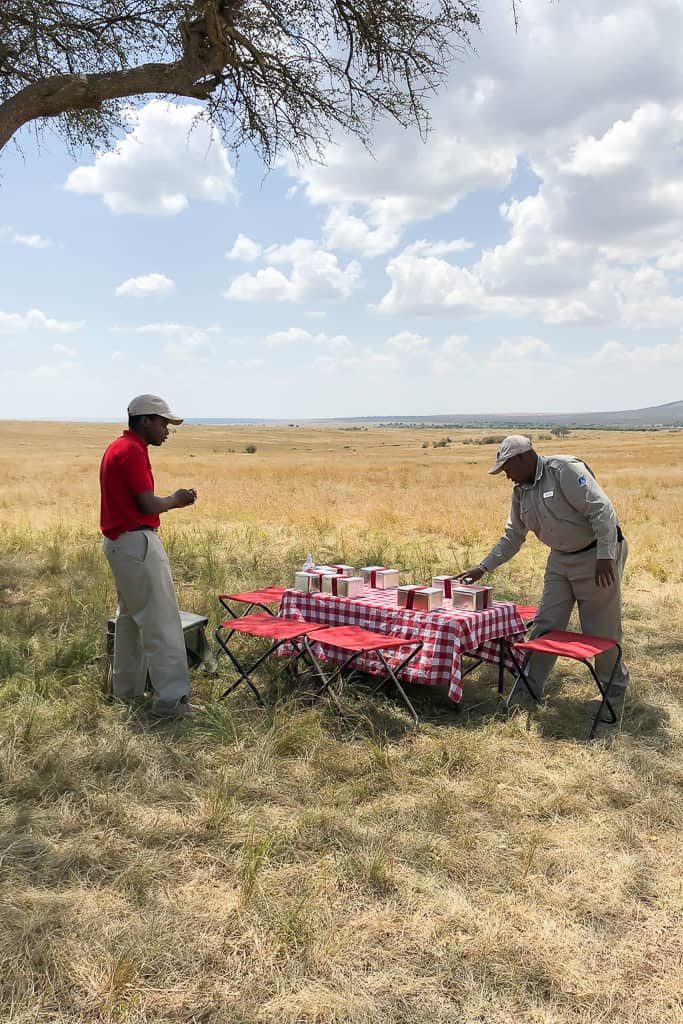 There are reputable hot air balloon companies that operate nearby, and an early morning aerial safari, complete with a champagne breakfast, is an experience like no other. The morning sky would always have a couple of the balloon taking flight. The staff can arrange for it but it is not included in the price and would be extra. We decided to save this experience for Serengeti and you can see the post with tons of photos here, we flew above a lioness with her morning kill.
Out of Africa Experience
Have you seen the movie or read the book Out of Africa? If so you might want to visit Karen Blixen Museum, the Danish author's homestead on the northern edge of Nairobi where she lived. The ranch house is now a museum, decorated with her desk, lion-skin rugs, and photographs of her lover, the big-game hunter Denys Finch-Hatton, and her ex-husband, Baron Bror Blixen-Finecke, the philandering aristocrat. But scenes from the movie Out of Africa, a memoir of Karen's experiences as a colonial coffee farmer was filmed at Angama. If you want to reenact and be Meryl Streep and Robert Redford, the staff can set up a picnic with a wicker basket and wine for you. Unfortunately, a herd of elephants blocked our way up to the camp from Maasai Mara Natural Reserve and we had to cancel the picnic and head to a Boma (a BBQ dinner) instead.
An Out of Africa movie inspired picnic, in the spot where Meryl Streep and Robert Redford shared a moment … On my todo list for next time!
The view from our tent, D is looking at the zebra over to the left (you might have to zoom to see it)
The little store inside Angama Mara where you can buy scarfs, Masaai bead bracelets and necklaces and other handmade goods
Where and When to Go on your first safari
Kenya, one of the first countries to establish game preserves, has some of the best wildlife viewings on the continent, especially from June to September, when zebras and wildebeests migrate there. It was perfect for our first family safari where we so many wildlife within the first couple of days of our safari.
While the weather is temperate year-round, there is light rains fall in November and December, but still, these can be good months to visit because parks are less crowded. When the heavy rains arrive in April and May, many lodges close. We were there during the end of July and were lucky enough to witness the beginning of the wildebeests' migration. The daytime was hot but the evening was cooler and we need our sweaters and additional layers.
Here is my post on what to pack for a Safari and why you need neutral color clothing.
How to get there
Angama Mara is somewhat isolated but you can get there on a 45-minute flight from Nairobi. The lodge has its own airfield which they share with the giraffes and zebras in the area. They even have their own helipad and we did see one land while we were there. There are plenty of things to do around the camp that will keep you and your family busy for 4 to 5 days at the least before you decide to move to a different camp in the area if you want to move to another camp that is!
Final thoughts on Angama Mara and Safari
The rates were inclusive of safaris, food, drinks, and even emergency medical evacuation insurance but do not include park entrance fees, tips or Spa treatments. Angama Safaris helped plan our flights and arrange for the transportations in Nairobi. It was our first safari experience and Angama has set the bar really high for us. There are no words to describe the uniqueness and awe of watching the elephants below the dining terrace or seeing them grazing in the plains from the tent's private terrace. The ultimate though is waving goodbye to the giraffes and zebras that the Angama airstrip shares with while the bush pilots take off. Angama Mara delivers a stunning, spectacular and a superlative All inclusive Luxury Safari Experience for the entire family that is going to make you want to plan repeat trips!
PIN IT FOR LATER
Note: This post may contain affiliate links, partnership or sponsored content. If you purchase an item via one of these links, we may receive a small commission at no extra charge to you. But as always images and opinions are our own. For more information on our affiliates and privacy policy at Outside Suburbia see here.
CONNECT WITH US