For as long as I remember I have been dreaming about visiting the Boulders Beach Penguins. These African penguins are also known as the Jackass penguin because of the braying sound they make. These cute fellas breed along the southwestern coast of South Africa near Cape Town. The penguins are super adorable to see! You can watch them waddling, swimming in the water, climb on the granite boulders and playing with one another. These are the only penguin species that breeds in Africa
Boulders Beach is the closest place where you can see the African penguin in Cape Town. In 1982 a couple of these little penguins settled on the soft white sand of Boulders beach between the large granite boulders that protect the beach from wind and large waves. From just two breeding pairs the penguins at Boulders Beach has grown to a big penguin colony. Currently, the estimated population of these cuties are between 2,000 and 3,000 birds. At the Boulders Visitors Centre, expert guides will give you lots of interesting information about these African Boulders Beach penguins.
After you get your tickets you walk through wooden boardwalks to get to the beach. On the way, you can see their nests and their chicks. They love this part of False Bay because of the sheltered coves and the abundant supply of anchovies and pilchards – their favorite diet. The penguins can be observed from these boardwalks but you can also get on to the beach with them for an additional fee.
Boulders Beach Penguins
Boulders Beach isn't just a great place for penguins, it is also a popular family-friendly swimming beach. Kids can climb over the boulders, explore the rock pools, and swim in the cool, clear False Bay water. Boulders and its surrounding beaches are part of the Table Mountain National Park Marine Protected Area. More information about the Park can be found here.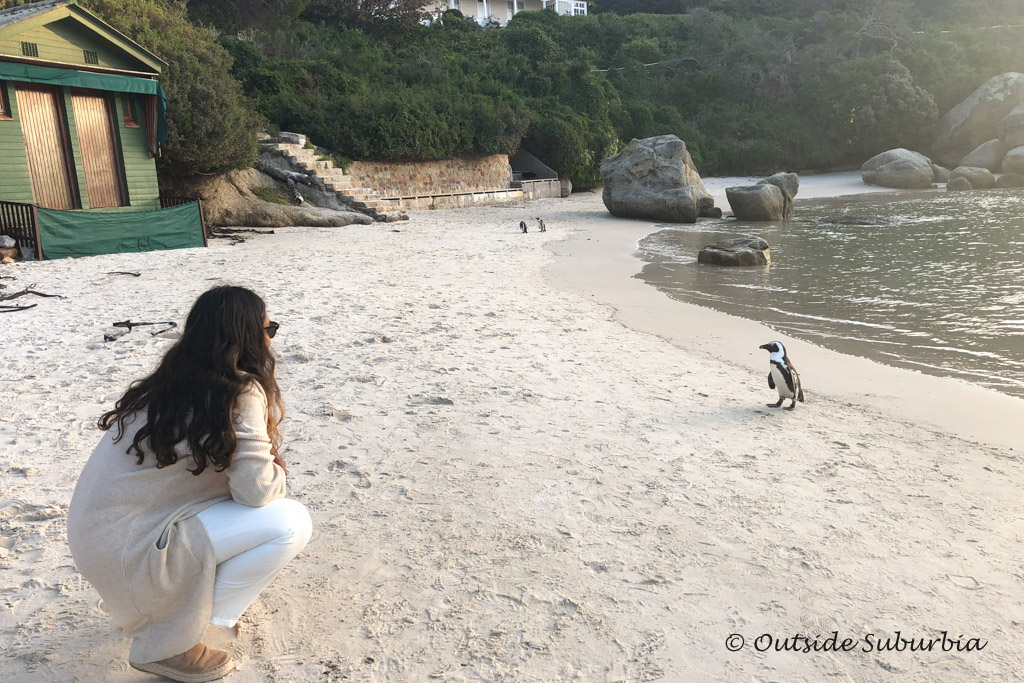 The African Penguins are an endangered species and protected. While their main enemies include sharks, seals and killer whales like orcas they do land based enemies as well. Cats and dogs steal their eggs and newborn chicks. The
Do NOT feed the penguins or come too close. While they may look cute, they are still wild animals. Don't get too close to the penguin nesting areas. The penguins are loud, they are called Jackass Penguins for a reason.
How to get there
Boulders Beach is situated False Bay, a little outside Simon's Town, on the way to Cape Point. It's about an hour's drive by car from central Cape Town. We drove from Cape Town on the scenic Chapman's Peak Drive to get to Boulders Beach but you can also take public transportation. You can catch a train from Cape Town Station all the way to Simon's Town (you might want to buy a First Class ticket). The train runs along the Kalk Bay coastline, an incredibly scenic train ride. From Simon's Town station, you can walk for about 30 minutes or so through the historic little naval town or catch a taxi to Boulders Beach.
Alternatively, you can go on a tour or take the hop on hop off City Sightseeing's Cape Point Explorer which also stops at Boulders on its way to Cape Point. It is a convenient and affordable way to arrive at Boulders Beach if you don't have a car.
There is a conservation fee of around R65 per person, so bring some cash. Bring a beach towel, hat, and sunscreen if you plan on spending the day on the beach.
We stopped for lunch and some Malva pudding at the Boulders Beach Restaurant right across the parking lot.
PIN IT FOR LATER
Note: This post may contain affiliate links, partnership or sponsored content. If you purchase an item via one of these links, we may receive a small commission at no extra charge to you. But as always images and opinions are our own. For more information on our affiliates and privacy policy at Outside Suburbia see here.
CONNECT WITH US