Chapman's Peak drive in Cape Town, South Africa is considered one of the best coastal drives in the world. With the mountains on one side and the Atlantic ocean on the other, this short 5.5-mile scenic drive is a must-do when visiting Cape Town in South Africa. Combine it with a road trip to Cape Peninsula and it makes for a perfect day trip out of Cape Town and a scenic drive in the country.
Chapman's Peak drive in Cape Town or Chappies as it is called by locals was everything it claims to be ― a stunning drive through coastal villages, dramatic mountains, beautiful beaches, a walk through a nature reserve to the tip of the African continent. The Cape Peninsula, with the Cape of Good Hope and Cape Point, is the most southwestern tip of the African continent. Make sure to allow for some time to see the African Penguins waddling, swimming and just hanging out on the beach.
What I love about travel is not just the cool places, scenic drives, beautiful destinations, and waking up to new sounds, tasting different foods and hotel room views, its the friendships you make along the way. We landed in Cape Town not knowing a single soul and left making two lifelong friends.
WHEREVER YOU GO BECOMES A PART OF YOU SOMEHOW.

ANITA DESAI
Cape Town to Cape Peninsula Day trip
Our guide and friend, Luigi from StarTravel met us at the lobby at our Cape Town Hotel and we left early morning for our Cape Town to Cape Peninsula Day Trip in his car. We stopped at a couple of beaches before we got to the scenic Chapman's peak drive portion. One of the stops along the way was at Muizenberg Beach, where we met Monika from The Flipflop Tree for a quick photoshoot. After lunch at Kalkbay, we drove to Cape Peninsula. Here is our day trip to Cape Peninsula and Chapman's peak drive map. Some towns worth exploring along the way are Clifton, Hout Bay, Muizenberg and Kalk Bay.
Few facts about Table Mountain
Table Mountain is the most iconic landmark and a top attraction in South Africa. Part of the Table Mountain National Park park which encompasses 7750 hectares, the rocks on the mountain are over 600,000,000 years old making Table Mountain one of the oldest mountains in the world. It comes as no surprise that the mountain was chosen as one of the new seven world wonders. See this post for a better view of the Table Mountain without the cloud cover.
There are about 2,200 species of plants found on Table Mountain and 1470 floral species. Many of these plants and flowers(more than 70%) are endemic to this mountain (meaning they can't be found anywhere else). The magnificent Kirstenbosch Botanical Gardens are found on the eastern foot of the mountain. In fact, the area is one of the richest floral regions in the world. You can't visit Cape Town without making a trip up the Mountain. The most popular way up is through the cable car. You see the mountain and the seven sister ranges as you drive on the Chapmans Peak drive. Table Mountain is often covered in cloud and the locals call the cloud that forms around the mountain "table cloth".
Chapman's Peak drive
Closed for many years due to rock falls, Chapmans Peak Drive was reopened in 2005 after a successful engineering project to secure the loose boulders. The drive covers a distance of 9 km(5.5 miles) and 114 curves with breathtaking views that stretch out over the rocky shoreline, the hanging cliffs. It is just amazing how they managed to construct a road like this!
The road itself is constructed on a solid granite rock base but the cuttings were done in softer sandstone rocks. It took a full seven years to complete the road which was opened for the first time in 1922. Drivers have to pay a small toll that goes toward conservation efforts of this magnificent engineering marvel.
The winding road of Chapman's Peak drive is by far one of the most scenic drives of South Africa. The road connects Noordhoek with Houtbay. With breathtaking views and dramatic rock formations around every corner make sure to allow for stops along to take in the jawdropping views. The road is really narrow and to avoid problems with traffic, busses are only allowed to drive from Houtbay to Noordhoek. The drive is best enjoyed in a car, in a convertible with the top down if you can manage it!
A few more photos from the stunning drive…
Stops on the day trip to Cape Penisula from Cape Town
Clifton
Clifton is an affluent neighborhood that has luxury apartments and vacation rentals. If you want to stay closer to the beach and not too far from heart of Cape Town, this is a great place to be. Clifton is actually made up of four beaches, creatively named Clifton 1st, 2nd, 3rd, and 4th. These are Cape Town's most popular beaches, filled with sun-seekers in the summer months. Most hang at 1st beach, 2nd attracts everyone, trendy youngsters go to the 3rd beach which is the most lively, while the 4th beach is the most family-oriented.
Hout Bay
Hout Bay Beach is a stunning beach located in one of the prestigious suburb of Hout Bay in Cape Town on the Western Cape. With soft, powdery sand dunes, turquoise waters, and magnificent mountain ranges, it is one of the popular beaches among locals and visitors in the Cape. The beach stretches almost a kilometer from Chapman's Peak towards the Hout Bay Harbour with plenty of space for games like beach volleyball, cricket, or just flying kites and enjoying the beach. The protected bay and beach are calm and family friendly and you can see horse riders, people walking their dogs, children playing and sea kayakers in the bay. Dolphins, whales and seals can be sometimes be spotted in the bay. We briefly stopped at the bay making a mental note to come back during the summer months.
Noordhoek
Noordhoek is a laid-back coastal suburb overlooking long, sandy Noordhoek Beach. We just drove through here and didn't stop. The beach is popular with walkers and horseback riders. We saw some wineries and Luigi mentioned that there are tours, tastings and nice dining options at Cape Point Vineyards. Noordhoek Farm Village has artisan bakeries, coffee roasters and juice bars if you want to make a stop during your Chapman's Peak Drive.
Muizenberg
Muizenberg is a beachside suburb of Cape Town where surfing was born in South Africa. It is a long beach that stretches all the way to the top of False Bay for a distance of over 20 km. False Bay is also known for its population of White Sharks and has a shark watch service that operates from Muizenberg, signaling alerts when sharks come in proximity of bathers and surfers. Even though the water was cold we saw a few surfers on the beach in their wetsuits. We kept our eyes peeled for sharks but all we saw a seal playing on the beach. Colorful beach huts line the beach and it reminded me of the pastel beach huts we saw on the sandy beaches of Sweden at Falsterbo.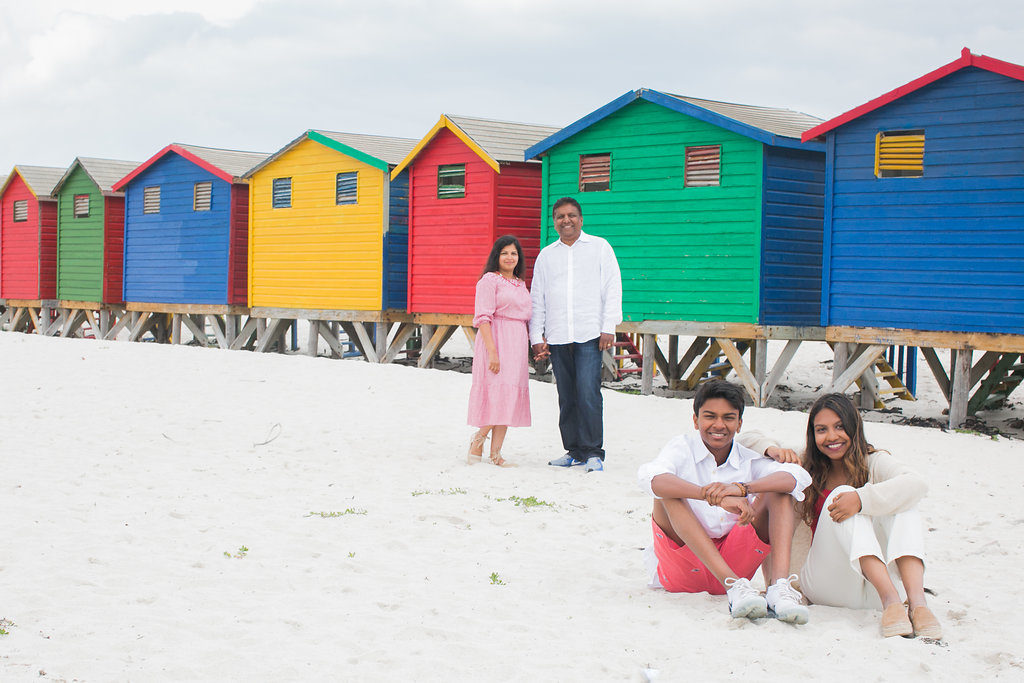 Kalk Bay
After some photos in Muizenberg, we headed to Kalk Bay for lunch at the Harbour House. Kalk Bay is a fishing village on the coast of False Bay, South Africa and is a suburb of Cape Town. It is a popular place for swimming, surfing, surf lessons, and skateboarding on the boardwalk. We had lunch at the Harbour House, a fine dining establishment that offers great food and amazing views. Sitting right on the rocks it has an amazing view of the ocean and the food was equally good. Brass Bell is another spot that comes highly recommended by our friends who live there in Cape Town.
We stopped to feed the birds and take a closer look at the fishing boats before making our way to the Cape of Good Hope in the Cape Peninsula.
Cape Point Nature Reserve
Cape Point Nature Reserve is situated at the tip of the Cape Peninsula in South Africa. It is part of the Cape Floristic Region, the smallest and richest of the 6 recognized floristic kingdoms of the world and a Unesco World Heritage Site. Many fynbos including proteas thrives on the acidic soil here. There are not many large animals here but lizards, tortoises and snakes can be seen as well as herds of zebra, antelopes and otters and water mongoose. The area offers great vantage points for whale spotting, with June to November being the popular time. If you are lucky you might spot Humpback whales, Seals or dolphins.
It has impressive scenery, hiking trails and amazing ocean views. You can spend a whole day here exploring the beautiful fauna and flora. In under two hours, you can see the highlights and it will have you wanting to come back for more.
Cape of Good Hope
A common misconception of many is that the Cape of Good Hope, i.e. Cape Point, is the most southern point of Africa. This point is where the Indian and Atlantic oceans meet but Cape of Good Hope is the most southwesterly point of the African continent. At Cape Aghulas, 150 km eastwards, the Indian and Atlantic oceans meet again which marks the southern point of Africa. But Cape of Good Hope marks the point where ships begin to travel more eastward than southward. Cape of Good Hope is a more accessible as a day trip from Cape Town.
Cape Point was an important landmark for sailors. During days when there was fog or at night it became dangerous. In 1859 the lighthouse was built and the Cape Point lighthouse is still an icon on the peninsula. The lighthouse stands 249 meters above sea level and makes an interesting but steep climb to the top from the parking area. A funicular called The Flying Dutchman takes you to the top for a small fee. While we were visiting it was out of commission but it was a clear day. We wanted to check out the views from the top and ended up climbing up to the lighthouse. Once at the top of the lighthouse, the views are just amazing. From this point, you are so so close to Antarctica, if only there was a direct flight from Cape Town!
Simon's Town
This was the favorite part of the Cape Peninsula day trip for me. For as long as I remember I have been dreaming about visiting this naval maritime town of Boulders Beach which is home to the African penguin. Also known as the Jackass penguin these African penguins breed along the southwestern coast of South Africa. At Boulders Beach you can get up close to these adorable little creatures. After you get your tickets you walk through wooden boardwalks to get to the beach. The penguins can be observed from these boardwalks but you can also get on to the beach with them for an additional fee.
Boulders Beach is the closest place where you can see the African penguin in Cape Town. You can stop here before Cape Point but I wanted to save the best for last. But it didn't work out in my favor. The sun was setting and we didn't get to see many penguins on the beach, so we decide to come back another day and spend more time at Boulders Beach and at the Cape Peninsula. See here if you want to see more photos of these adorable Penguins at Boulders Beach.
While there are many tours available(this tour is what you will need), a road trip through the Cape Peninsula is best enjoyed when you have your own car or rental vehicle. You can decide where you want to spend time and plan your own day and stop as long as you want wherever you want. We were on a private trip with Luigi who organizes tours in South Africa.
One top advice I have is to leave early since it's one of the most popular day trips of South Africa and roads and attractions can get really busy. We were visiting in August and it was not peak travel season. The water was chilly but we stopped to dip our toes in the water for a bit on the beaches. We had most places to ourselves which made driving on the scenic Chapman's Peak drive even more special.
I TRAVEL NOT TO GO ANYWHERE BUT TO GO. I TRAVEL FOR TRAVEL'S SAKE. THE GREAT AFFAIR IS TO MOVE.

ROBERT LOUIS STEVENSON
PIN IT FOR LATER
Note: This post may contain affiliate links, partnership or sponsored content. If you purchase an item via one of these links, we may receive a small commission at no extra charge to you. But as always images and opinions are our own. For more information on our affiliates and privacy policy at Outside Suburbia see here.
CONNECT WITH US