On our first morning in Cape Town, we set out to meet Monica, a traveler, storyteller, and amazing photographer.  A friend I had come to know through Instagram.  Scroll down to see some beautiful photos from Muizenberg Beach huts she captured!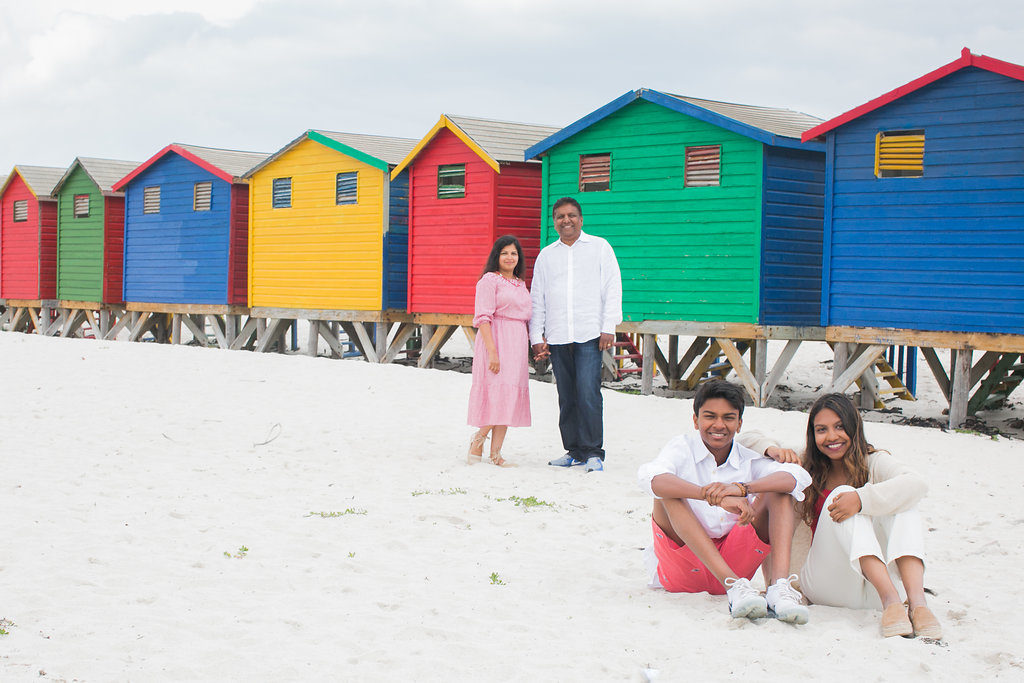 We met our guide, Luigi from StarTravel at the lobby at Hotel Taj Cape Town and drove through town as he introduced us to the culture and the different beaches of the Mother City! We stopped at Clifton's Beach first and then drove through the scenic and cliff-hugging Chapman's peak before we made it to Muizenberg Beach huts in Cape Town, South Africa.
My plan of meeting with a photographer was met with resistance from the crew.  I promised them it was on our way to go see the African Penguins in Boulders Beach, which as you can tell was the icing on the cake of our Wildlife viewing experience in Africa.  While we often carry a couple of cameras and lenses, we don't typically set time aside to do photo-shoots – our photos are captured as we go along our travels. 
Muizenberg is a beachside suburb of Cape Town where surfing was born in South Africa. Colorful beach huts line the fine, long beach that stretches all the way to the top of False Bay for a distance of over 20 km. False Bay is also known for its population of White Sharks and has a shark watch service that operates from Muizenberg, signaling alerts when sharks come in proximity of bathers and surfers. Even though the water was cold we saw a few surfers on the beach, we kept our eyes peeled for sharks but all we saw a seal playing on the beach. The colorful beach houses reminded me of the pastel beach huts we saw on the sandy beaches of Sweden at Falsterbo.
Monica Dart, the founder of The FlipFlop Tree is a beautiful and artistic soul.  On a trip to the island north of Lombok, Indonesia she went for a long walk on and out of nowhere she came across a strange tree with flipflop shoes hanging all over it.  She sat down under the tree and began to think about all the travelers who had worn those individual flipflops and the stories behind them and her company was born. 
A wedding photographer turned holiday photographer, Monica strives to tell your travel stories through the images she captures of your holiday in Cape Town and surrounding areas.  She had lots of insider trips on lovely places to eat and off the beaten path locations for us to visit. 
Monica met me for breakfast on our last day in Cape Town to deliver the images and I felt like she not only captured beautiful vacation photos but captured the essence of our family.  Needless to say we loved the photos and wished we could take her everywhere we travel…. she has a bit of wanderlust herself and something tells me she might be open to it as well 🙂
Muizenberg Beach Hut Photos
You can book The FlipFlop Tree for your holiday photo shoot in and around Cape Town, mention 'OutsideSuburbia' for $50 off your session.
PIN IT FOR LATER
CONNECT WITH US