The majestic walk of a tiger, the frightening roar of a lion, or the intense stare of a rhinoceros; wildlife sanctuaries provide travelers with this and much more. In India, wildlife sanctuaries were set up by the government to protect endangered and rare species of animals from any further destruction. These places have very strict rules about human activities in their premises. The wildlife sanctuaries have had an increasingly positive impact on the maintenance of ecological balance and keeping the animal and plant species away from extinction. These Wildlife Sanctuaries in India must be on your list if you want to go on a Safari in India and explore the beautiful and exotic Indian wildlife including but not limited to Bengal Tigers, Lions, Elephants and the great one-horned rhinoceroses.
10 Best Wildlife Sanctuaries in India
1. Corbett National Park, Uttarakhand
Set up in 1936 by hunter-turned-conservationist, Jim Corbett National Park is one of the oldest in the country. This national park is famous all around the world for its Bengal Tigers and picturesque surroundings. The variety of bird species at the Corbett National Park is awe-inspiring and lures bird watchers both nationally and internationally. This national park covers an extensive area of more than 520 square kilometers in the Himalayan foothills. Visit in the months of March to June to get the best out of your expedition here.
2. Ranthambore National Park, Rajasthan
Located at the distance of just 160 kilometres from Jaipur, Ranthambore is famous for its majestic tigers and leopards. A wildlife safari in this park is always in demand as it provides the opportunity for tourists to observe the natural beauty more closely. This national park has several rare animals like Nilgai, Sambar, Hyena, and Wild Boar among others. This park has deciduous forests and is situated between the rivers, Chambal and Banas.
Stay at the Sher Bagh, a luxury tented camp by Suján hotel. The property lies on the outskirts of Ranthambore National Park. Ranthambore lies about a 3.5-hour drive from Jaipur and a 5-hour from Agra.
3. Bandipur National Park, Karnataka
One of the most beautiful national parks on this list, Bandipur is situated at a distance 80 kilometres from Mysore. It is located near the western ghats and has a lush green forest cover across its entire area. This national park houses tigers, chital, mouse deer, sambar, etc. Bandipur National Park is especially known for its cleanliness and efficient animal and plant conservation strategies.
4. Keoladeo Ghana National Park, Bharatpur, Rajasthan
Previously known as the 'Bharatpur Bird Sanctuary', Keoladeo National Park is the bird watcher's paradise. The lovely Siberian crane is among the many species of birds that migrate every winter to Bharatpur. Keoladeo is a man-made wetland and leaves tourists stunned with its striking views.
5. Nagarahole National Park, Karnataka
Located in the Mysore and Kodagu districts of Karnataka, Nagarahole is famous for its ability to provide adventures in tiger spotting. There are several species of plants and animals thriving in this wildlife sanctuary. The dense forests are home to deer, bison, elephants, and sloth bears too.
6. Kaziranga National Park, Assam
Kaziranga in Assam is a UNESCO World Heritage Site because it is home to two-thirds of the world's total number of great one-horned rhinoceroses.  The tigers, water buffaloes, swamp deer, and elephants roam this park in increasing numbers after successful conservation efforts by the government.  November to April is the best time to visit Kaziranga national park and exploration can be done either through jeep or through elephant safaris.
7. Kanha National Park, Madhya Pradesh
Situated in the Balaghat and Mandla districts of Madhya Pradesh, Kanha is famous for tigers. The population of tigers has been booming in this national park after continuous efforts by the government toward the 'save the tiger' project.  Though the national park was primarily set up in 1955 to conserve swamp deer or 'barasingha', it has now become popular among tourists as a tiger reserve.  A jeep safari in Kanha park can lead you to spot tigers, wolves, and spotted deer.
8. Sundarbans National Park, West Bengal
A UNESCO World Heritage Site, Sundarbans is located near Kolkata in West Bengal and shares its boundaries with Bangladesh. It is the abode of the famous Royal Bengal Tiger. Sunderban national park is situated in a delta made by the Ganga and the Brahmaputra rivers. The park has beautiful fauna in form of Mangroves like the Sundari trees which are famous all around the world.
9. Bandhavgarh National Park, Madhya Pradesh
Bandhavgarh is located near Jabalpur in Madhya Pradesh. It is widely known for its tiger population which includes the exotic white tigers. Other animals in Bandhavgarh include leopards and deer. The best time and way to explore Bandhavgarh is from February to May on a Jeep safari.
10. Gir National Park and Sasan Gir Sanctuary, Gujarat
Many streams and rivers flow through this beautiful national park in Gujarat. Gir is one of the very few national parks that are home to Asiatic Lions. These regal beasts walk down the forests and leave the tourists in awe of their perfection. Gir forest is also filled with leopards and marsh crocodiles which enthrall the visitors. The best time to visit Gir is from October to July.
Whether you consider yourself a wildlife lover or not, these national parks have the capacity to captivate and enchant you with their raw and exotic magic. Do give these wonderful destinations a go on your next trip to or within India.
Have you been to any Wildlife Sanctuaries in India that need to be on this list?
PIN IT FOR LATER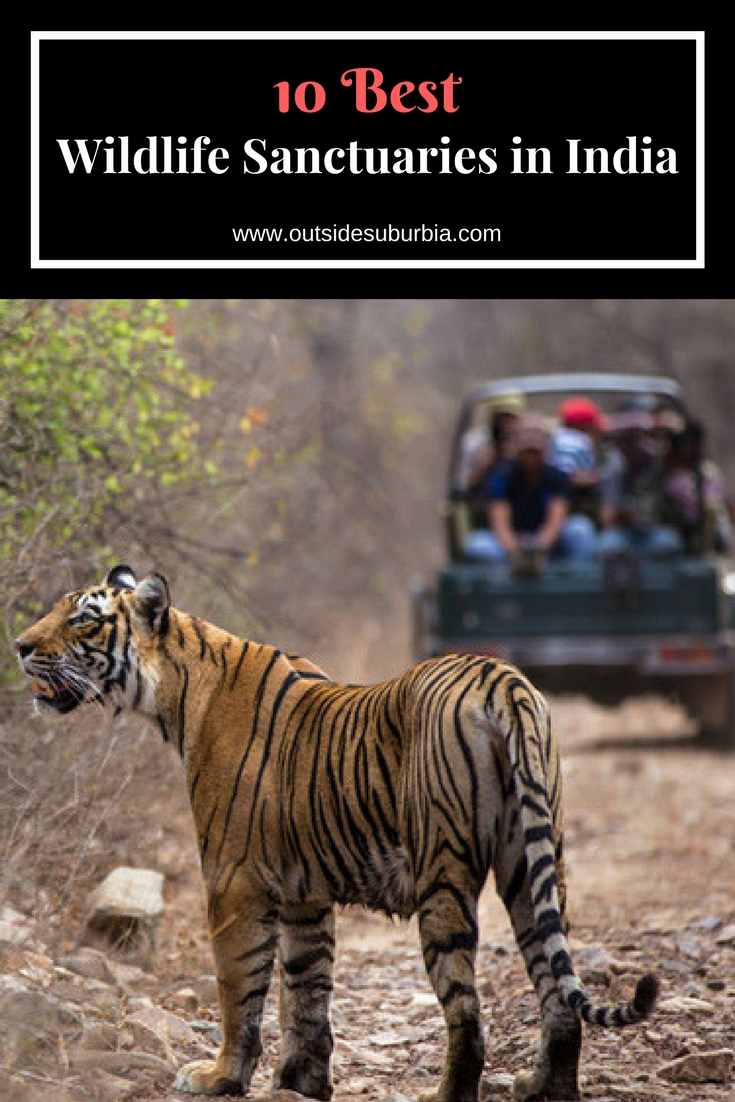 Author's Bio: Rohit Agarwal writes travel-related articles for various publications and frequently blogs on TransIndiaTravels.com. He is a nature enthusiast and eco-traveler. He loves writing and traveling and these days he often combines these two interests when he writes as a freelance travel writer.
Note: This post may contain affiliate links, partnership or sponsored content. If you purchase an item via one of these links, we may receive a small commission at no extra charge to you. But as always images and opinions are our own. For more information on our affiliates and privacy policy at Outside Suburbia see here.
CONNECT WITH US