The ancient city of Nara is known for its beautiful temples, the 15m-high Bronze Buddha statue, and sacred deer that bow for biscuits. It is adorable to see them wandering in Nara Park! Even if you spend only one day in Nara, Japan you are sure to leave with loads of memories. Nara deserves a place in your Japan Itinerary, this compact Japanese city that was once Japan's capital is small enough to be visited in a day.
Seeing and feeding the friendly deer in Nara Park was on the top of our list of things to do in Nara itinerary but there are so many other incredible attractions in this city that you can't miss. They are relatively close to each other and you can visit them during a one day trip to Nara.
We hired a car and our driver/guide drove us from Osaka, but you can easily take a train from Kyoto or Osaka and then rent a bike if you don't want to walk. Be prepared to see some incredible temples, beautiful Japanese gardens and learn about the ancient city and the Japanese culture.
See this visual story of the Nara Deer Park
Interesting facts about the sacred deer in Nara
The legend goes that one of the four gods of Kasuga Shrine visited Mount Mikasa, located in Nara. Since he was seen riding a white deer, the deer were considered sacred animals. The ancient faith of Shinto believed these gentle creatures to be messengers of the Gods. And killing one of these sacred animals was punishable by death. After WWII, the deer were officially stripped of their sacred status. But the deer at Nara Park are still protected and the Nara Park deer are designated as national treasures.
From the train station, if you walk for about 20 minutes and you will arrive at Nara Park. Stop at one of the stores, get some shika senbei or deer crackers and get your camera ready! Nara park is full of friendly deer!
Apart from the hundreds of deer wandering the park in Nara, you will find many people dressed in colorful kimonos. Locals and visitors alike come dressed in traditional Japanese kimonos to take photos alongside the sacred deer in Nara.
Similar to Fushimi Inari Shrine in Kyoto stone statues depicting foxes can be found at the Nara Park. Foxes are thought to be Inari's messengers.
Why do Nara deer bow?
Seeing the Nara deer bow for biscuits had us wondering, how did the deer in Nara Park learn to bow? Our guide explained that it is a learned behavior. The deer know that they are more likely to get more food if they do so. It certainly works! They charmed us into buying more crackers!
Tip: Keep those biscuits hidden, if not the deer can get pushy and will want all the biscuits. Hide them and give the biscuits one at a time and keep walking after you take a few photos. There is a lot to see and do in Nara!
Our One day Nara Itinerary
Nara Park is located in the center of Nara city. We landed at the Osaka airport and drove from there. But you can visit Nara as a day trip from Kyoto as well. Within the grounds of Nara Park, you will find ancient temples and shrines, including the famous Todaiji Temple.
We started with a stroll through the lovely Nara Park, feeding a few of the freely roaming deer. We then made our way to Todai-ji Temple, one of the largest wooden structures in the world, which is also located on the grounds of Nara Park.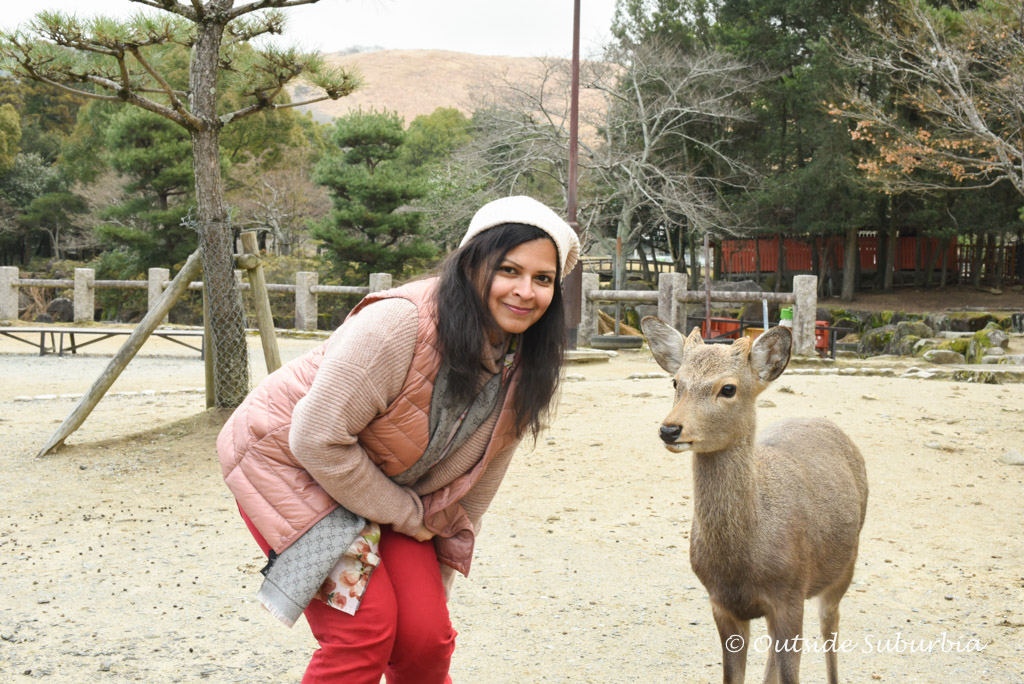 Inside the temple, we saw the immense bronze statue of Buddha, towering nearly 50 feet high. We then walked along a lantern-lined path to visit Kasuga Taisha, one of Japan's most celebrated shrines, which was established at the same time that the city of Nara was founded.
We stopped for lunch and then made a couple of quick stops at Yakushiji Temple and Heijo Palace the original imperial palace in Nara when it was the capital before driving to Kyoto.
See this luxury Ryokan in Kyoto where we stayed if you are looking for an authentic and atmospheric experience.
Nara Park
Almost 1,500 wild deer live in the park and have long been considered sacred animals in Nara. You can feed these special deer by buying shika senbei, or rice biscuits, sold by vendors throughout the park. You can get about 10 crackers for ¥150. Nara Park is beautiful year-round (we visited in December), but especially beautiful in Spring when cherry blossoms are blooming.
High on my wishlist is a return trip to Japan, especially Kyoto in Spring!
Todaiji Temple
Todaiji Temple is another must see attraction in Nara which was built in the 8th century. The ancient temple is one of the largest wooden structures in the world and is recognized as a World Heritage Site. It is said that the ancient capital of Nara was where Buddhism was first introduced to Japan nearly 1,500 years ago.
Inside the temple, the bronze statue of Buddha, towering nearly 50 feet high and is flanked by two Bodhisattvas. Todaiji is the Nara Daibutsu which is one of the three largest Buddha statues in Japan. This statue is thought to have been finished being constructed around 752, making it the second oldest of its kind.
The Great Buddha Hall where the giant bronze statue of the Buddha sits is also stunning. One of the pillars of the Great Buddha Hall has a hole in it that is the same size as Buddha's nostril. It is said that passing through this hole will bring you happiness. We of course had to try it 🙂
Kasuga Grand Shrine and the 1000 Lanterns
On the opposite side of the Nara Park from Todaiji, but connected by a pathway from Nigatsudo is Kasuga Taisha Shrine. The vermillion and white shrine buildings are lined with beautiful brass lanterns, lit twice a year in winter and summer.
Kasuga Grand Shrine is a shrine built by the Fujiwara family, who were influential in Japanese politics around the 8th century. It is a sacred site in Japan and numerous Shinto deities are thought to be enshrined here.
You will find many moss covered stone lanterns in the grounds. They are donated by merchants and lit up for special occasions – during two Lantern Festivals, one in early February and one in mid August. The shrine is also famous for wisteria flowers that bloom here in May.
Don't miss Shinen Manyo Botanical Garden, a gorgeous traditional garden on the shrine grounds you can visit.
Yakushiji Temple & the Healing Medicine Buddha
This large temple complex with eight buildings within its grounds and is another World Heritage Site in Nara. Yakushiji Temple's unique architectural style was inspired by Chang-an, the capital of China during the Tang dynasty. It was once one of the Seven Great Temples in Nara. The bright vermillion and white colors of the temple is striking and worth exploring when you are visiting Nara.
The "Yakushi Nyorai" (the Medicine Buddha) statue can be found here and is recognized as a National Treasure in Japan. Worshippers rub the statues of Yakushi Nyorai while praying for healing. They usually rub the corresponding area on the statue and then rub their own afflicted area. This is said to grant healing. You will find one such Buddha outside Todaiji Temple as well.
Yakushi Nyorai is depicted seating, draped in simple robes with right hand is often held up, palm open and facing the viewer, with fingers slightly curled. This is the mudra of Semui-in, meaning of "fear not". In his left hand, he very often holds a small jar said to contain medicine or a magical emerald that is capable of healing.
Heijo Palace, the Original Imperial Palace
Heijo Palace is the site of the original imperial palace in Nara when it was the capital. Unfortunately, the original building was destroyed, but it was reconstructed and now operates as a historical information center. Visitors can see what the area was like over a thousand years ago. It was the center of politics and culture where Tenpyo culture opened up. It is said that the Emperor lived along with 7,000 officials, including aristocrats. In addition to a museum and information centers, there is also a traditional Japanese design that you can visit.
Suzaku-mon Gate which is the important symbol of this palace, the Former Imperial Audience Hall which was used for the important rituals. The Toin Teien Garden with pond is restored and another great Nara attraction.
In 1998, it was registered as a World Heritage Site as "cultural property of Ancient Nara. It is another convenient location that you can access from Nara station on foot.
Nara Tours
You can take a JR train from Kyoto to Nara or do a tour that covers most of the sites. Here are a few Nara Tours that you might like:
3 Places we didn't make it to on our one day in Nara.
I'm saving it for next time!
Horyuji Temple
Constructed in the 7th century, Horyuji Temple is well known as the oldest existing wooden building in Japan. This temple was home to Prince Shotoku, who was the main politician and one of the first major figures of Japanese Buddhism when the temple was built around 607.
Its five-story pagoda is exceptionally popular and also part of the World Heritage Site. Horyuji is located about 12 kilometers outside of central Nara. Admission to this pagoda is free.
Mt. Yoshino
Located in central Nara prefecture, Mt Yoshino is a magnificent mountain that is on my travel wishlist. It is best known as a cherry blossom viewing spot. It has around 30,000 trees that blossom during spring. 1,000 cherry trees in bloom all at once, which has given rise to the expression hitome senbon which means "a thousand trees at a glance." If you visit during spring you can enjoy the cherry blossom festival when vendors sell food and drinks that you can indulge in while seeing the beautiful sakura.
Late March to late April is the best time to see the cherry blossoms here. See Mount Yoshino Tourist Association for more detail.
Cherry blossoms are a symbolic flower of the spring, signifying a time of renewal, and also the fleeting nature of life…. beautiful yet fragile, their life is very short. After their beauty peaks around two weeks, the blossoms start to fall and we get to wait for a year before we can enjoy them again!
Stunning views can be enjoyed at Mt Yoshino throughout the year even when it is not cherry blossom season. You can enjoy the hydrangeas during the rainy season in June, the lush green leaves in summer, fall foliage at the end of October, and wintry white snowy landscapes in winter.
Ishibutai Kofun
Kofun is a mound-shaped tomb that was built to house members of high society, similar to a family tomb. One such tomb can be found within the Asuka Historical National Government Park in Asuka Village. It is said that it is the tomb of Soga no Umako who used to conduct politics in Nara.
Only a stone coffin remains now and its surrounding is called the Ishibutai (stone stage). The weight of this stone is an impressive 2,300 tons, imagine what it would have taken to move this massive rock.
The area is said to be particularly beautiful in the spring when the cherry blossoms are in season and blooming.
We visited Nara in December when the trees in the Nara park were bare of any leaves or flowers. Visiting Nara and Japan in Spring when the cherry blossoms and wisteria are blooming is on my wishlist.
Hopefully, the deer will relay my wish to the gods, I did leave a prayer plaque in one of the temples of Nara just to be doubly sure!
If you're planning a Nara day trip from Kyoto or Osaka, then I hope this one day Nara itinerary helps you plan your adventures.
See this post about all the Japanese Food we tried during our trip!
PIN IT FOR LATER
Note: This post may contain affiliate links, partnership or sponsored content. If you purchase an item via one of these links, we may receive a small commission at no extra charge to you. But as always images and opinions are our own. For more information on our affiliates and privacy policy at Outside Suburbia see here.
CONNECT WITH US