With over 1600 temples, Kyoto has long been a favorite destination for anyone looking for a cultural experience when visiting Japan. It has the most beautiful Buddhist temples and Zen gardens. If you are looking to find some peace and quiet during your trip (which is not so easy during Sakura season or Autumn), add these Japanese Zen temples and gardens to your Kyoto itinerary.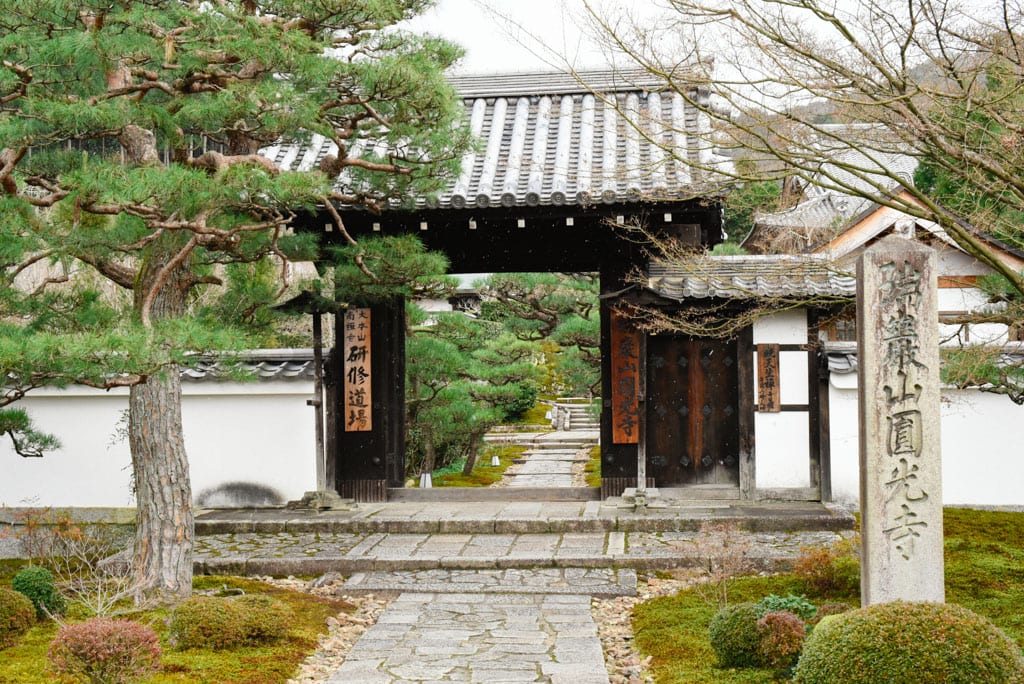 Zen is a branch of Japanese Buddhism that originated in China and was introduced in Japan sometime in the eleventh century. Zen garden in fact, not the correct term, the Japanese call these gardens – "karesansui" (dry landscape garden). While karesansui gardens can be found at temples of all Buddhist sects, they are common at Zen temples. And Kyoto has some of the best and beautiful Zen temples anywhere!
We have to walk in a way that we only print peace and serenity on the Earth. Walk as if you are kissing the Earth with your feet.

Thich Nhat Hanh
See this bucket list of 50 Temples in Asia
Zen Temples & Gardens of Kyoto
The Japanese rock garden or "dry landscape" garden, often called a zen garden, creates a miniature stylized landscape with carefully composed arrangements of rocks, water features, moss, pruned trees and bushes, and uses gravel, smooth pebbles, or sand that is raked to represent ripples in water.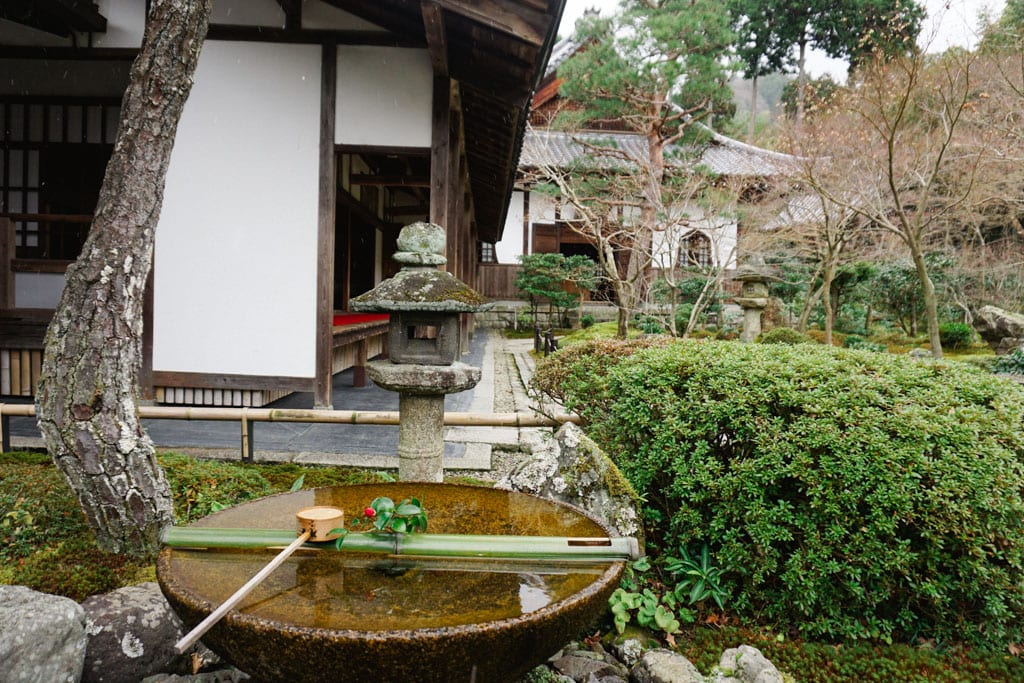 The zen gardens originated in China and were created at temples of Zen Buddhism. They were intended to imitate the essence of nature, not its actual appearance, and most importantly to serve as an aid to meditation. One thing to note about Japanese gardens is that they are beautiful no matter the season. It has something to look forward to – whether you visit during spring when the cherry tree limbs are covered with sakura blossoms or admire the lust greens in summer or golden hues in autumn or in winter when all is still and if you are lucky (like us) there might be a sprinkling of snow.
Here are a few Kyoto Zen Temples and Gardens we visited during our December trip.
1. Enko-ji Temple
Enkoji is a temple of the Rinzai Zen Sect, situated in northern Kyoto close to the Shugakuin Imperial Villa. It is famous for its autumn colors which are usually best in late November. Located in the outskirts of Kyoto, Enkoji temple is a hidden gem and it was one of my favorite Zen Gardens in Kyoto!
Enkoji was founded in 1601 by Tokugawa Ieyasu, the shogun who brought about the Edo Period (1603-1867). Enkoji's principal object of worship is a statue of the thousand-armed Kannon Bodhisattva.
The temple complex has a beautiful courtyard and a garden with a pond and many maple trees. It provides lovely views of greenery in summer and stunning fall colors in autumn. There is a small patch of bamboo trees that you can walk through and be sure to climb up the hill behind the garden, from where a bird's eye view of the temple and the city. Another feature of the garden is an underground water basin that allows you to appreciate the gentle sound of dripping water.
Enkoji , 13, Ichijojikotani-cho, Sakyo-ku, Kyoto-city
2. Ryoan-ji Temple
Ryoanji Temple is one of the most famous Japanese Zen temples and gardens in Kyoto. Registered as a UNESCO site in 1994, Ryoanji is a subtemple of Myoshinji. It was originally an estate of Hosokawa Katsumoto, a deputy of the shogun, and eventually became a temple after his death in 1473.
Symbolizing the ocean, pure white sand is raked into wave patterns. Walk beyond the moss garden to see a replica of a stone water basin. Also known as tsukubai, this basin was used for washing hands before attending a tea ceremony. Engraved on the top of the basin is the zen phrase "Ware tada taru o shiru" which means "I know only to be content," an important element in Zen philosophy.
Ryoanji, 13, Ryoanjigoryonoshitacho, Ukyo-Ku, Kyoto, Kyoto, Japan
3. Tenryu-ji Temple
Tenryuji is the most important temple in Kyoto's Arashiyama district. It is often ranked first among Kyoto's five great Zen temples and is also registered as a world heritage site. Most visitors get caught up in the beauty of the star attraction – the famous Arashiyama bamboo grove leading to the temple and don't spend enough time in the tranquil temples and Zen Garden of Kyoto. Tenryuji is the head temple of its own school within the Rinzai Zen sect of Japanese Buddhism. The beautifully landscaped garden features a central pond surrounded by rocks, pine trees and the lushly forested Arashiyama mountains as a backdrop.
In the old days, the Hatto (Dharma Hall) in a Zemple was where the master delivered his sermons and taught the Buddha Dharma to the monks. In present times it is used primarily for important ceremonial functions. You can see a large cloud dragon painted on the ceiling at Hatto in Tenryuji which replaced an 1899 painting of the same dragon.
There is so much to see here, like the Hyakka'en, a garden of flowering trees, bushes, and herbs and Sogenchi Teien, also known as the "Sogen Pond Garden." The pond garden is absolutely beautiful and can be explored and appreciated from various areas along a level path. A huge pond that stands in the center acts as a giant reflecting pool mirroring the mountains and the trees around it. Right by the pond is where you can see the Sandy Zen Garden.
Tenryuji, Susukinobaba-cho, Saga Tenryu-ji, Ukyo-ku, Kyoto
4. Kennin-ji Temple
Constructed in 1202, Kenninji is the oldest Zen temple in Kyoto and has one of the best zen gardens in the city. The patterns on the expansive white gravel are simple yet stunning. Kenninji was founded by Eisai (who was also known as Yosai), a Buddhist monk who introduced both Zen Buddhism and tea cultivation to Japan after returning from study trips to China. Don't miss the dragon murals painted on the ceiling of the Dharma Hall which was commissioned in 2002 to commemorate the temple's 800th anniversary.
584 Komatsucho, Higashiyama Ward, Kyoto
5. Daitoku-ji Temple
Daitokuji temple in Kyoto is a walled-in complex of smaller Zen sub temples, each of which has its own garden. The temple complex consists of nearly two dozen sub temples and is one of the best places in Japan to see a wide variety of Zen gardens and to experience Zen culture and architecture. The most celebrated among the sub temples is Daisenin which features beautiful rock gardens that wrap around the temple building and are considered among the best examples of karesansui.
Ryogenin temple features as many as five different dry landscape gardens on each side of its temple building. The largest of them consists of a field of raked white gravel representing the universe, and islands of rocks and moss representing a crane and a turtle which are considered symbols of longevity and health and are commonly found in Japanese gardens. If you traveling in Autumn, don't miss the maple trees in the Kotoin temple. Make time for the most unique zen garden in Kyoto – Zuihoin which features sand raked in high peaks to evoke the image of rough seas.
6. Kodai-ji Temple
The small yet beautiful Kodai-ji is located not far from Kiyomizu-dera, a celebrated Shinto temple in Kyoto. Founded in 1606 by a widow to honor her late husband, the Kodaiji temple has beautiful gardens. These include a small zen garden, a pond and a wooden bridge, as well as a tea house and a bamboo grove. It's a small Zen temple in Kyoto, but worth a visit.
526 Shimokawara-cho, Kodai-ji, Higashiyama-ku, Kyoto
7. Nanzen-ji Temple
The Nanzenji temple complex and grounds are located at the base of Kyoto's forested Higashiyama mountains. It is one of the most important Zen temples in all of Japan. It is the head temple of one of the schools within the Rinzai sect of Japanese Zen Buddhism and includes multiple subtemples.
Not far from the front gate of Nanzen-ji Temple, Konchi-in is a sub-temple of the Nanzen-ji temple complex. This karesansui masterpiece is often overlooked, the Zen garden shows the principles of shakkei (borrowed scenery), in this case, from the mountains behind the garden. The garden is said to have been designed as a two-dimensional picture, like a fusuma painting on the vertical wooden screen that often depicts landscape scenes and nature. The garden can only be viewed from the veranda of the Main Hall of the temple and looks just like a painting.
Nanzenji-Fukuchi-cho, Sakyo-ku, Kyoto
8. Tofuku-ji Temple
Located in the Kyoto Mountain system, Tōfukuji is a temple complex that has 24 sub-temples. Tofuku-ji takes its name from two temples in Nara, Tōdai-ji and Kōfuku-ji and is considered one of the Five Great Zen temples of Kyoto. It was redesigned in the 1930s by Mirei Shigemori who had studied the traditional Japanese gardens. He built his designs on the old garden design principles while also connecting them to the contemporary Japanese design of that time. One of the best Zen gardens here is the Hojo Garden. Outside of fall foliage season, it is pretty peaceful and quiet here. Make sure to stop here on the way to Nara, the Temple and Zen garden cannot be missed when visiting Kyoto.
Take the Nara line from Kyoto station towards Nara. Get off at the first stop, which will lead to Tōfuku-ji

9. Kinkaku-ji Temple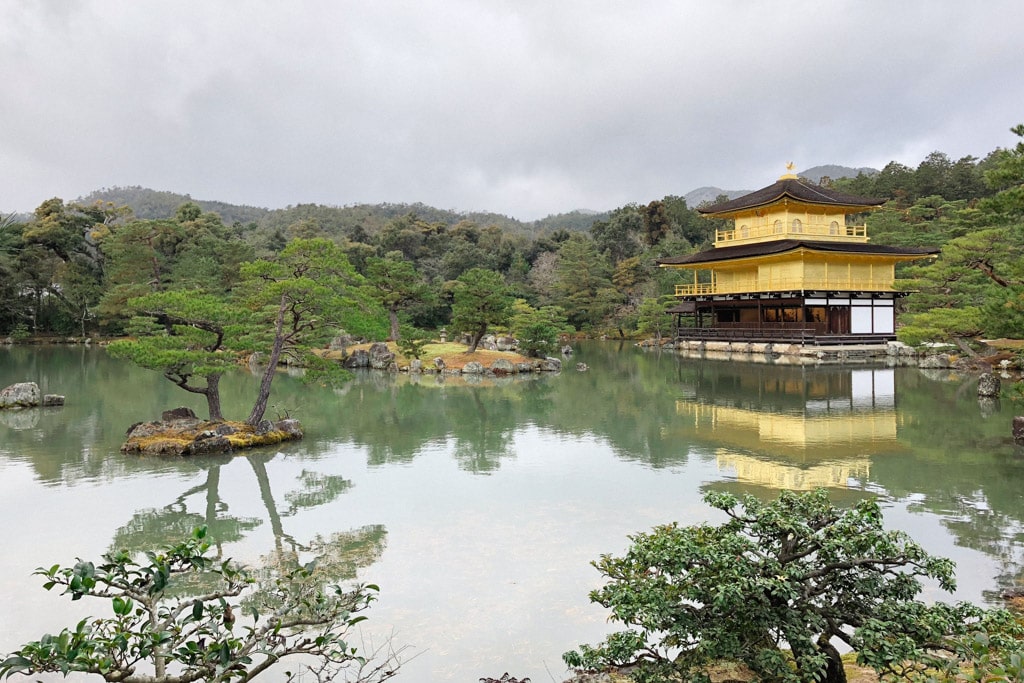 This list of Zen Temples in Kyoto would not be complete without mentioning the Temple of the Golden Pavilion. Also known as Kinkaku-ji, this is one of the most visited Zen temples in Kyoto, Japan. The temple richly adorned in gold leaf reflects beautifully in the water of Kyokochi, the mirror pond. Since it is one of the most popular buildings in Kyoto, attracting many visitors annually, it is not so quiet here at Kinkaku-ji.
The golden pagoda is said to house the sacred relics of the Buddha and the scenic Rokuon-ji garden is expansive and takes up 92,400 square meters of the temple grounds. The central Kyoko-chi pond contains islands of various sizes including the famous rock formations, like these Hatakeyama stones.
I recommend a private walking tour to the Golden Pavilion and you can also visit the Fushimi Inari Shrine, or discover a side of Kyoto off the beaten path. Hotel pickup and drop off is included.
1 Kinkakuji-cho Kita-ku, Kyoto City
When visiting Kyoto, it can be difficult to figure out which temples are worth the visit. If you want to appreciate ancient architecture, explore beautiful and natural surroundings, learn about the Japanese culture and Zen teachings, then truly a few of these temple visits are not to be missed. Whether you want to sit still and contemplate life or simply need to find a few moments of peace, add these Kyoto Zen Temples and gardens to your itinerary.
See this post about all the Japanese Food we tried during our trip!
PIN IT FOR LATER
Note: This post may contain affiliate links, partnership or sponsored content. If you purchase an item via one of these links, we may receive a small commission at no extra charge to you. But as always images and opinions are our own. For more information on our affiliates and privacy policy at Outside Suburbia see here.
CONNECT WITH US