Denmark's capital, Copenhagen, is by far the largest city in the country. Here, you'll find the Parliament at Christiansborg, the residence of the Royal Family at Amalienborg. Copenhagen has a distinctly European feel, a friendly street-life, and a unique café culture that will make you want to return time and time again. The city is perfect for wandering at your leisure, or like a local and hop on a bike, which seems to be the preferred mode of transport for many in the city. From exploring the city in bicycles to enjoying the many cafes and having cotton candy at the beautiful Tivoli gardens, here are 10 Best things to do in Copenhagen with kids and a 3 day Copenhagen Itinerary to see the best the city has to offer.
3 Days / 72 Hour in Copenhagen Itinerary
OUR PERFECT 3 DAY COPENHAGEN ITINERARY
Day 1 – Rosenborg Slot | Nyhavn Harbor |
Day 2 – Christiansborg Palace | Tivoli Garden
Day 3 – Round Tower| Christiana | Strøget Shopping Mile | Meatpacking district
Extra Day – The Louisiana Museum of Modern Art | Kronborg Castle
In 3 days, you can explore the best of Copenhagen. But make sure to plan for some time to explore the pretty Danish countryside and the coast. If you have the luxury of time I would recommend a week or two in the Danish capital.
We loved driving to The Louisiana Museum of Modern Art, an art museum located on the shore of the Øresund Sound in Humlebæk and visiting Kronborg Castle, known worldwide as Hamlet's and Shakespeare's castle. More about that soon.
Day 1 in Copenhagen
After arriving and settling in at the hotel head out for a walking tour or borrow a bike from the hotel and explore the city – Copenhagen is a bike-friendly city. The first stop would have to be Rosenborg Slot, a beautiful renaissance castle that holds the Danish Crown Jewels.
Afterward, head to Amalienborg to catch the changing guard ceremony of the Royal Guard with their bearskins and blue uniforms. After photos and lunch at Nyhavn Harbor, take a canal tour. Don't miss the colorful shore-side homes of Nyhavn and tall ships docked along the quays.
Day 2 in Copenhagen
For the second day, visit Christiansborg Palace, home to the Danish Parliament, Supreme Court and Ministry of State. Here you can tour the Palace and take a look at exquisite rooms like the Tower, Library and Oval Throne Room. There's also a number of interesting side museums featuring the Royal Carriages & Stables, the Royal Kitchens and Royal Theatre where Hans Christian Andersen worked.
Head to Tivoli Garden in the afternoon, spending the evening and have cotton candy and then dinner in one of the many restaurants inside.
Day 3 in Copenhagen
Exploring Copenhagen's Neighborhoods on day 3. Start the day by climbing up Copenhagen's Round Tower. The tall structure overlooking the city was originally built as an observatory and there's a telescope at the very top. Then, go for a walk through Freetown Christiana.
The autonomous zone is a commune exempt from law enforcement, so there is graffiti everywhere and smell of cannabis. Go only if you are curious, I would skip it and spend the time wandering the many quirky shops, restaurants and parks in the Nørrebro district or do some shopping at Strøget Shopping Mile. And then go to the Meatpacking district for dinner.
Best things to do in Copenhagen with kids
Tivoli Gardens
Tivoli Gardens, the inspiration behind the Disney theme parks, is an amusement park and pleasure garden dating from 1843. Walking from Town Hall Square and crossing H.C. Andersens Boulevard brings you to Tivoli. Here, you'll find more than 20 attractions including a roller coaster; roundabouts; halls of mirrors; pantomime, puppet, and open-air theaters; a wealth of restaurants and cafés; flower gardens; and a Moorish-styled concert hall, which is particularly pleasing when lit up at night. Don't forget to indulge in some cotton candy and other theme park treats while you are here. The park is famous worldwide and appears in many movies. It is probably one of the top attraction in Copenhagen. At Christmas, Tivoli becomes an extravagantly decorated wonderland.
Christiansborg Palace
On the tiny island of Slotsholmen is the Danish seat of government and an attraction that should be top on any visitor's agenda. Christiansborg boasts more than 800 years of history and today, the palace is home to the Parliament, the Prime Minister's Office, and the Supreme Court. In addition, several parts are still used by the Royal House, although thankfully, much is open to the public. Occupying the site where Bishop Absalon built the earliest fortifications of the city in 1167, the ruins of the bishop's castle and the medieval fortress were discovered when the present palace was under construction.
Amalienborg Castle
Less than one and a half kilometers from Rosenborg in the Frederiksstaden quarter, you'll find Rosenborg's sister palace, Amalienborg, along with its serene waterfront gardens. The four palaces facing onto the square were originally built as homes for the nobility but were taken over by the Royal Family after a fire at Christiansborg in 1794.
The palace takes its name from Queen Sophie Amalie who had a sumptuous summer retreat on the site, which also burned down in 1689. The area was designed to be a model society with the King as focal point and the aristocracy (the four palaces) surrounding him. Today, Queen Margrethe II and her family occupy the upper story of Christian IX Palace, and the Moltke Palace is used for official purposes. The soldiers of the Royal Guard with their bearskins and blue (on festive occasions red, white, and blue) uniforms are a unique symbol of the city.
Nyhavn Harbor
To the rear of Amalienborg lies Nyhavn (New Harbor), which is flanked by a street of the same name. At the end of the harbor, an anchor serves as a memorial to Danish sailors who lost their lives in World War II. Nyhavn was once a disreputable quarter of the city, but now, with its brightly painted gabled houses, many containing restaurants or cafés, it's a particularly charming part of Copenhagen that features in countless images of the city. Idyllic museum ships lie at anchor, including a lightship (Fyrskib) dating from 1885. From Nyhavn, hydrofoil and catamaran services operate to Sweden, as well as sightseeing trips around the harbor and along the canal.
The Round Tower (Rundetårn)
On Købmagergade is the Round Tower (Rundetårn), a 36-meter-high structure built as an observatory in 1642. It now also houses a small collection connected with the famous Danish astronomer Tycho Brahe. A particular treat is a platform, reached by a wide spiral ramp. From the top you can see magnificent panoramic views over the city. IMO it is one of the best things to do in Copenhagen!
Rosenborg Palace
Less than ten-minutes' walk from the Round Tower and now home to some of Denmark's greatest cultural treasures, the castle was originally built by Christian IV as a pleasure palace. Inhabited by the royal family until 1720 and after that used as a summer retreat, the castle and contents became a museum in 1838. In the basement are the Danish crown jewels and royal regalia.
Little Mermaid
You can't visit the Danish capital without seeing the Little Mermaid, so head along the waterfront from Nyhavn to Kastellet (less than two kilometers) and take in the iconic statue and surroundings. Kastellet is the former Citadel of Frederikshavn, the oldest parts of which date from 1625. The Citadel buildings are well maintained and well worth exploring. The Little Mermaid (Den lille Havfrue), which you'll see from the shore, is the official emblem of Copenhagen.
The bronze sculpture, created by Edvard Eriksen in 1913, is based on a theme from one of Hans Christian Andersen's fairy tales, which tells the tale of a mermaid who once came up out of the depths of the sea because she'd fallen in love with a prince. Sadly, as the prince didn't reciprocate, she was forced to leave the human world and return once more to the sea. You can see this when you go on the canal tour, but will have to walk over if you want a closer took or take a photo, she is pretty small!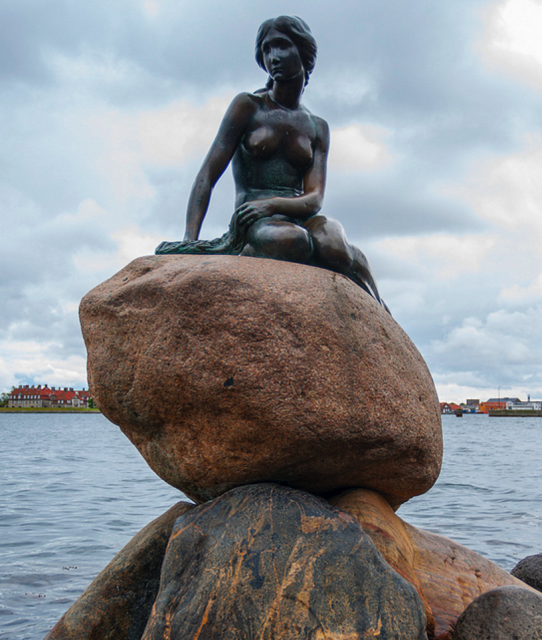 Christiania
Starting out as a hippy settlement more than 40 years ago, this unique and controversial area was firstly designated as a social experiment and is now owned by the residents. What started in 20th century as a working-class neighborhood, Christianshavn developed a bohemian reputation in the 1970s and it is now a fashionable, diverse and lively part of the city with its own distinctive personality, with residents tending to see themselves first as Christianshavners and then as Copenhageners.
Admittedly, it may not be to everyone's taste, however, it is a functioning alternative society, a place where many accepted norms simply don't apply, and people live by their own rules. Cars are banned, bicycles are the main mode of transport, and you can't take photos here. Highlights are the handmade houses and buildings and the large lake where children splash around with each other on hot summer days.

Church of our Saviour
A block away from Christiana, is the Church of our Saviour on your way back to the center. Famous for its black and golden spire, the Church offers a 360° view over Copenhagen from the top of its tour. You will have to climb up 400 flight of stairs to reach the top and the last 150 stairs are on the outside of the spire… proceed with caution!
Rådhuspladsen
Busy Town Hall Square (Rådhuspladsen) is dominated by Copenhagen Town Hall (built between 1892 and 1905), which is based on a mix of Italian Renaissance and medieval Danish architecture. For marvelous views, you can climb the tower; at 106 meters high, it is the tallest in the city. The building itself is richly adorned with sculptures and paintings. Above the main entrance is a figure of Bishop Absalon in gilded copper, and in the Great Hall are busts of Danish notables such as Martin Nyrop (1849-1921), the architect who designed the building, the sculptor Bertel Thorvaldsen (1770-1840), Hans Christian Andersen (1805-76), and the physicist Niels Bohr (1885-1962). The World Clock at the main entrance was designed and constructed by Jens Olsen in 1955 and shows not only the time and date, but also various astronomical constellations.
Jægersborggade and Nørrebro neighborhood
Nørrebro neighborhood is vibrant, colorful, casual and full of shops and galleries. The Jægersborggade street in the Nørrebro neighborhood has turned from dodgy to hip and is one of the hippest and most buzzing streets in Copenhagen. Today, the small residential street is home to around 40 art galleries, organic produce shops, vintage clothes, ceramics and jewellery designers, as well as wine bars, coffee shops and restaurants. Here you will find the Michelin-starred restaurant Relæ, not to mention some of the best coffee around, at The Coffee Collective.
You will also find the Superkilen which is an open urban space in Nørrebro close to Nørrebro Station. The park is divided into three main areas – Red Square, Black Market and Green Park, and are always busy with people, bikes and skaters. It is perfect for kids to blow off some steam and run around and explore. The Black Square is so unique and photogenic with many swirling lines. The park celebrates diversity by including monuments paying tribute to over 60 nationalities who live in the area. It is like a world exhibition filled with interesting things from around the world. In fact 108 artifacts and plants representing the ethnic diversity of Nørrebro can be found here including trashcans from England, swings from Iraq, fountain from Morocco, a sculpture from Japan and even manhole covers from Zanzibar.
Strøget Shopping Mile
A stroll of around five minutes from Christiansborg takes you to the bustling shopping area of Strøget where you'll find a wealth of boutiques, cafés, and restaurants. Strøget, a nickname from the 1800s, consists of several roads criss-crossing one another, beginning at Town Hall Square (Rådhuspladsen) and ending at Kongens Nytorv. Some adjoining streets on the north have also been pedestrianized. International brand-name stores such as Max Mara, Prada, Louis Vuitton, and Hermès tend to be at the end of the street facing the direction of Kongens Nytorv. Follow Strøget towards City Hall Square for more affordable shopping at H&M, Weekday, and Zara.
What and Where to Eat in Copenhagen
Copenhagen is home to a great number of cutting-edge restaurants including world-renowned Noma where tables must be booked months in advance. While we didn't make it to Noma, we enjoyed walking to the Meatpacking district for dinners. It was a lively place with lots of bars and restaurants and cafes with outdoor patio seating. We loved Mother, that served delicious pizzas and Pate Pate, a rustic place that served food inspired from Spain, France and Morocco.
Don't forget to try to some Smørrebrød – the Danish open sandwiches, which usually consists of a piece of buttered rye bread, a dense, dark brown bread. The topping among others can be cold cuts, pieces of meat or fish, cheese or other spreads.
We also did a day trip to Malmo in Sweden and visited the Swedish Riviera – click on the links for more on that. We did most of these on our own but if interested here are some tours including a trip to Kronborg Castle made famous as the setting of Shakespeare's Hamlet.
If you like modern art, don't miss the Louisiana Museum which is a short drive away from Copenhagen, we went with our kids, they loved it as well!
PIN IT FOR LATER
Note: This post may contain affiliate links, partnership or sponsored content. If you purchase an item via one of these links, we may receive a small commission at no extra charge to you. But as always images and opinions are our own. For more information on our affiliates and privacy policy at Outside Suburbia see here.
Follow Outside Suburbia on
Instagram | Facebook | Twitter | Pinterest | Tripadvisor