There's nothing quite like taking a stroll through the lovely English countryside. Walking around the English country gives you a sense of peace and tranquility that might be absent from your everyday life.
Interestingly enough, British people tend to describe "walking" as any trip you take on foot. Therefore, a hike to us falls under the definition of a walk to people from the UK.
Luckily, there are plenty of beautiful places in England that are fantastic for hiking. Whether you're a beginner or someone looking for a more challenging hike, there's a trail out there for you in England.
A hike in England can lead you through a steep mountainside or an easy, breezy cliffside hike. The wide array of landscapes that you can encounter on one walk is worth the time and effort.
On that note, here are nine of the best places in England for hiking:
Blencathra
Blencathra is one of the hills you'll encounter along with the English Lake District. It has six peaks that you can see. If you want to get to Blencathra's summit, there are several walking trails that you can try depending on your level of expertise. The most popular trail and also the most difficult would be the Sharp Edge trail up Blencathra.
This trek will challenge your hiking skills. Therefore, having reliable hiking footwear and a pair of hiking poles are a must-have for the trek. Trekking pole improves your balance and also helps alleviate pressure on both your spine and legs. If hiking in England during the summer bring plenty of food and water, a hat and sunscreen.
Do take note that even if you don't choose the Sharp Edge trail, Blencathra can be quite slippery when wet. Therefore, you should prepare to deal with potentially slippery footing.
Despite the intimidating reputation that Blencathra has, it shouldn't take you more than three hours to reach the top. Plus, you'll get a fantastic view of the rolling hills from atop the mountain at the end of all the trails.
Hadrian's Wall
If you're looking for a long-distance hike around in England, then Hadrian's Wall is one that you don't want to miss, especially given its historical roots. Walking the entirety of the trail along Hadrian's Wall will allow you to see the green English countryside to the fullest. This is one of the best hikes in England, it combines gorgeous scenery with some English history.
Contrary to popular belief, Hadrian's Walls does not mark the border between England and Scotland but it is actually entirely in England. Initially, the purpose of this wall was to fortify the north-west of the Roman Empire. Now, it's a popular hiking trail as well as a UNESCO World Heritage Site. The entire trail will take you around seven days or more to accomplish, given its length of about 118 km or around 73 miles.
If you plan on hiking this trail, try and get yourself the National Trail Hadrian's Wall Passport. You can get stamps in this booklet by collecting stamps from different stations along the path.
South West Coast Path, Cornwall
The South West Coast Path in West Cornwall is a 630-mile or 1,013 km national Trail along the Atlantic coastline.
The primary purpose of the South West Coast Path was for coast guards to patrol the coastline and look for smugglers. Due to this purpose, a lot of the South West Coast Path is quite near the coast, which makes for a fair opportunity to get amazing views.
In fact, you can find a variety of landscapes ranging from quaint villages to sandy beaches. This trail is also home to much local flora and fauna, from dolphins and whales to local birds and flowers.
The Pennines
When it comes to beautiful sceneries in England, the Pennines certainly can't be beaten. The Pennines are a collection of hills and mountains which people have described as the backbone of England.
The beauty of the Pennines is so well-regarded that the UK government's agencies have declared it as an Area of Outstanding Natural Beauty. Places that have received this recognition are protected and conserved due to their landscape value.
This recognition makes sense since the Pennines is the oldest National Trail of England. Therefore, it would very much interest you to go to the Pennines, knowing that it's famous for its beauty.
On that note, the most famous trail of the Pennines would be the Pennine Way. Covering a distance of 268 km or around 166 miles, you might spend approximately 19 days completing the entire trail. This trail is not for the faint of heart, so make sure that you're prepared to tackle this long-distance trail.
Malvern Hills
Another Area of Outstanding Natural Beauty that you should consider hiking would be the various trails that you can find around the Malvern Hills.
The multiple paths around the Malvern Hills offer something different in terms of difficulty. From a gentle stroll along a tree-lined path to an energetic hike along the ridge of the Malvern Hills, there's a trail that you can manage no matter your level of hiking expertise.
If you plan on traversing across the Malvern Hills and commons, stop by a local Tourist Information Center first. They can provide you with a free walking map and guide of the Malvern Hills and commons that you can reference during your hike.
Helvellyn
A hiking trail around the Lake District area that you might want to take would be the third highest mountain in the area, and that is Helvellyn.
Helvellyn is the most popular hike of all the mountains and hills around the Lake District area. Much like Blencathra, there are multiple ways you can reach the top based on your preferred difficulty. It can take you three hours to almost seven hours to get to the top, depending on your chosen route.
Again, much like Blencathra, you have to be careful when hiking up these parts, especially when you're hiking on the Striding Edge trail. But once you reach the summit you will see that this is one of the best hikes in England.
Scafell Pike, Lake District
Another hiking trail that you can find within the Lake District would be the trail leading to the Scafell Pike, England's tallest mountain.
If you want to feel like the king of England, you must try and reach the summit of Scafell Pike to get that exhilarating feeling and majestic view.
Again, like many other mountains and hills in the Lake District, there are several routes up Scafell Pike. Before hiking up the Pike, make sure that you check the weather conditions to ensure that you hike up to the summit in the best possible terms, which also mean the safest.
Malham Cove
Malham Cove is one of the few short walks/hikes on this list. Malham Cove is a rock formation made up of limestone. It has gently flowing water running through it and beautiful green rolling hills – one of the best places in England for hiking!
You can find it in the Yorkshire Dales National Park and is an excellent day hike that will only take you an hour or so to finish.
It's a circuit hike, which means it will take you back to the starting point. If you want to make the most out of your trek, you should stop by The Buck Inn for a rest and a drink. Malham Cove hike is 3 km. You can also hike through Janet's Foss which is a 4 km round trip from the parking lot. Capture photos of the gorgeous waterfalls which is best visited by following the 'Malham Landscape Trail'.
South Downs and South Downs Way
Back to our long-distance hikes, we have a 100 miles or 160 km hiking trail that's hugging the South Downs landscape, and that is the South Downs Way.
Overall, the hike can take you about an average of nine days to finish. And along the way, you'll come across five National Nature Reserves like the Seven Sisters Country Park.
Even though the trail is quite long, it is not as difficult as the others on this list. You may be able to accomplish this hiking trail with ease as long as you are in good health.
England has many hiking trails that go up to its mountains, along its coasts and all over its countrysides. Therefore, no matter what type of scenery you want or the level of expertise you have, there is an English hiking trail that you can visit. Hopefully, you'll consider one of the hiking trails on this list for your next big hiking trip.
Featured Image Image by Tom Staziker from Pixabay
PIN IT FOR LATER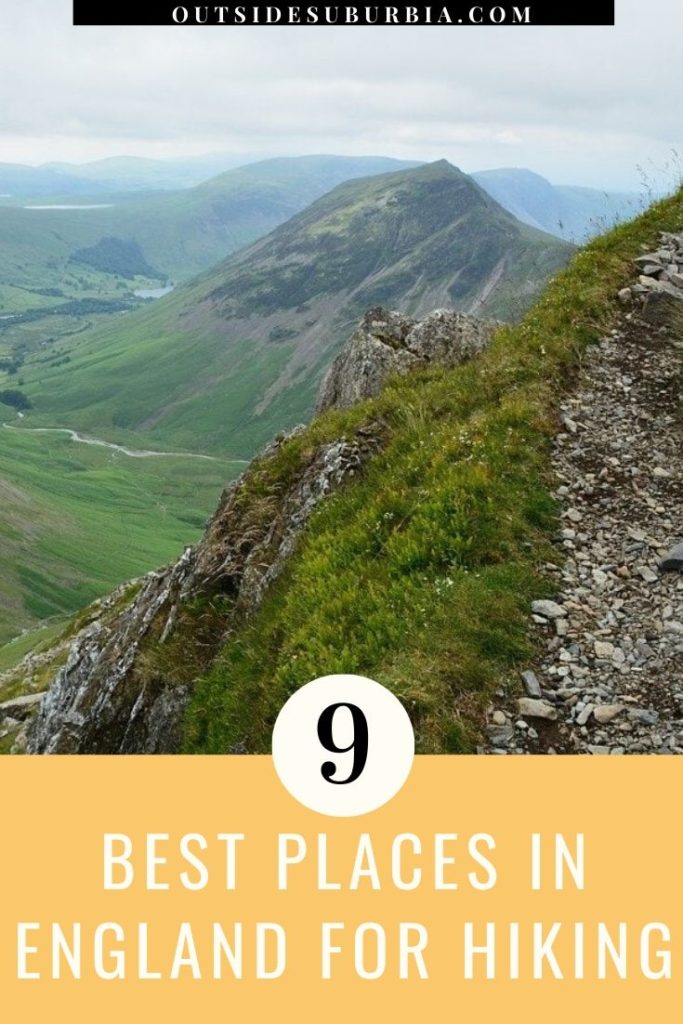 Note: This post may contain affiliate links, partnership or sponsored content. If you purchase an item via one of these links, we may receive a small commission at no extra charge to you. But as always images and opinions are our own. For more information on our affiliates and privacy policy at Outside Suburbia see here.
CONNECT WITH US