Planning a trip to Greece islands is not as simple and straightforward as visiting other parts of Europe. It takes a little pre-planning to go island hopping in Greece. But you should plan a little and leave a little to chance and spontaneity. For all you know, you might have a Mama Mia moment and decide to become a hotelier in one of the Greek islands!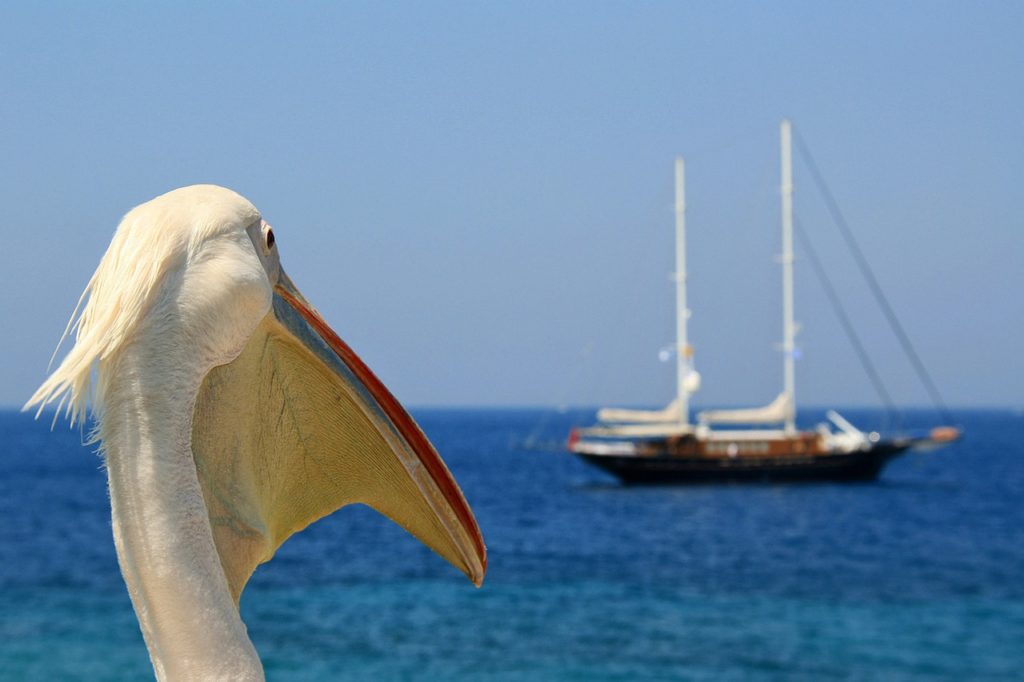 A bit of planning can definitely take you a long way in Greece. Deciding where you want to go and understanding the ferry schedules before you go will take the stress out of your vacation. But having said that, Greece is known for its laid-back attitude, and it's worth remembering this while island-hopping. Ferry schedules are always subject to change, even pre-booked and pre-paid journeys. Anything from windy weather to worker strikes can cause delay or cancellation at short notice. Building a little flexibility into your schedule is always wise. Then there is the problem of you falling in love with the blue domes and bougainvilleas and wanting to spend some extra time on the island 🙂
What are the best Greek island-hopping routes?
You can definitely pick a few options from various groups of Greek islands and create your own route, Many different ferry lines service the island groups, so planning can be easier if you stick to a single area, especially if it is your first time visiting Greece. Most likely your arrival and departure are from Athens. Arriving in the capital not only gives you the opportunity to take in its sights, but it also brings you close to the port of Piraeus for boats to the Cyclades.
Start in Athens
Include the capital of the country into your Greece itinerary. Athens is a city unlike any other and demands a day or two of leisurely exploration. I recommend setting aside one day at the start and two days in the end to appreciate the city's many historical sites and museums, wonderful bookshops, restaurants, and shopping districts.
Allowing for some time in Athens is my #1 Greece Planning Tip! Since flights and ferries do get delayed, it's best to have a day or two at the beginning and end to fall back on if it happens.
Piraeus is the most significant port in Greece. Unless taking a flight to a large Greek island, you will probably start your island-hopping in Greece vacation here. It is located only 10km from Athens.
Known your Greek Islands
The wonderful part about Greek isles is that each one is different. Santorini and Mykonos, for example, are very popular, have a lively atmosphere, and have a great nightlife. On the other hand, Amorgos is quieter, a favorite among locals, and if you are visiting Greece during Christmas, you don't want to miss Volos or Thessaloniki.
Even if you decide to spend a few days on every island, one month is still too short a time to appreciate them all in their entirety. Most of the holidays in Greece typically are 10 days or 2 weeks. That is why it is always good to read about the island attractions, beaches, villages, and excursions before arriving. Make sure to read up Greek mythology as well. Don't be shy to ask the locals about sights to see and places to eat.
First-timers' holidays in the Greek islands usually start in the Cyclades. Rugged outcrops of rock peppered with snow-white villages and blue-domed churches. This is Greece straight from postcards, sun-drenched beaches and azure seas. From Piraeus, hop a ferry to Mykonos, the most glamorous and popular of the Greek islands. Spent time admiring the iconic windmills, and exploring the flower-filled lanes and boutique shops and cafes. Then make your way to Naxos, a port town filled with whitewashed, cube-shaped houses and medieval mansions. Santorini needs no introduction!
Nestled along the coast of the Peloponnese in the Ionian Sea, the Ionian Islands have forested mountains and many olive and cypress trees. From Athens, you can fly to Corfu where you'll find Parisian-style arcades, Venetian alleyways and Italian-inspired cafes serving a variety of delicacies. Once there, you can even escape the crowds of Corfu to cypress-studded hills, lofty villages, or sandy coves. It is slightly cooler here compared to the other Greek islands.
In the Dodecanese, you can appreciate the historical influences and the cultures that have passed through — from Romans and crusading medieval knights to Byzantine and Ottoman rulers. Make time to taste the local pasta, sugary baklava, see stunning minarets, walled cities and crumbling mountaintop castles. You can get here by catching a flight to Rhodes, which has sandy beaches and buzzing city life.
See: Greek Foods I'm dreaming of trying in Greece
Popular Greek routes
Among the top routes in Greece are Athens-Santorini-Naxos-Mykonos, Athens-Crete-Santorini, Corfu-Paxos-Lefkos-Gaios, and Athens-Naxos-Paros. Once you have a basic itinerary, you can always take day trips to other islands that are nearby.
Our trip our 10 Day Greece Itinerary looks something like this:
Day 1 Arrive in Athens
Day 2 Guided Acropolis Visit | Monastiraki Square rooftop cafe Athens
Day 3 Fly or take the 4 to 5-hour ferry to Naxos
Day 4 Explore Naxos
Day 5 Historic Naxos Hike or beach day
Day 6 Cooking Class or wine tasting tour
Day 7 Naxos to Santorini | 1 hour by ferry to Santorini
Day 8 Santorini Caldera Day Hike or explore Oia
Day 9 Boat day exploring the waters around Santorini, stop at a beach, and watch sunset
Day 10 Return to Athens & Free Evening Athens
Day 11 Depart Athens
How to book ferry tickets in Greece for Island Hopping
With a network covering every inhabited island, the Greek ferry system is vast and varied. The slow rust buckets that once traversed the seas are nearly a thing of the past. High-speed ferries are more common these days and cover most of the popular routes. Local ferries, excursion boats and small private fishing boats (called caiques) often connect neighboring islands and islets.
Look into the ferry schedule and the distance between islands before planning your Greek itinerary.
Ferry Seats for island hopping in Greece
Once you have decided on the itinerary for your Greece vacation and based on ferry schedules you will need to decide on the ferry seats.
Choosing the right ferry seat also matters when Island-hopping in Greece involves taking several boat rides. Therefore, make sure you are comfortable during the voyages. This way, you are sure to reach your destination fresh and ready for exploration.
For shorter distances, deck seats are the best. They are the cheapest tickets and give you access to the deck and some indoor areas. Usually when on a boat I like to get on board early and take a seat on the top deck. The views are incredible from here. Plus you are not in direct sunlight since the seats are in the shade. This seat option is great if your ferry ride is under 2 to 3 hours.
You will want to get an indoor seat, cabin, or guestroom when taking an overnight ferry or when you are on an extended voyage. Most ferries sailing in Greece have excellent accommodations and dining facilities.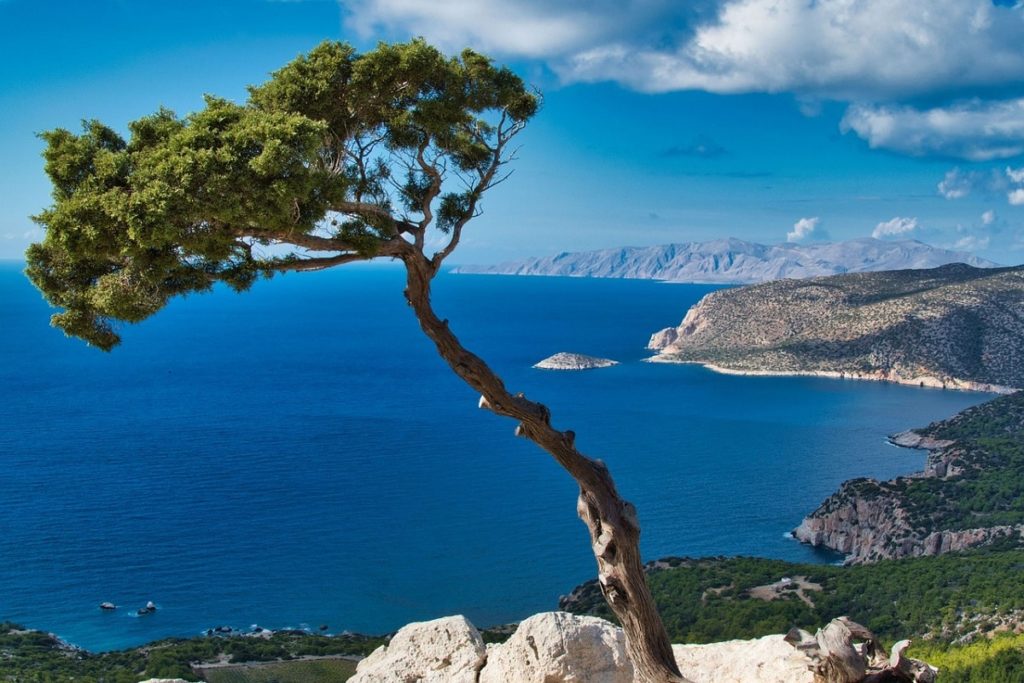 Choose the Best Time to visit Greece & the Greek islands
Some say Greece is a year-round destination, but things tend to mellow down from November to March. On many islands, this is when locals shutter their businesses and go away for holidays. July and August are the most popular season to visit Greece. This also means everything, from ferries and restaurants to hotels and excursions is more expensive during this time.
When planning on island-hopping in Greece, the best time to visit is April to June or September to October. This is of course shoulder season but the water is warm enough for a comfortable swim, there aren't too many people, and prices tend to be a tad bit more pocket-friendly.
Greece Planning Tips for visiting the Greek islands
Packing essentials aside, it's a good idea to travel as light as possible when island-hopping in Greece. Instead of conventional luggage, try to bring duffel bags. Bags with wheels that you can easily pull. While taking ferries and on islands (which are typically hilly), having something convenient and light to carry makes it easy to travel around.
From June until the end of August, Greece, and the Greek islands will have warm seawater and hot temperatures, and the meltemi (dry northerly wind) can play havoc with ferry schedules. In the winter (low season), many ferry routes cease to operate, and hotels and restaurants shut up shop. Keep that in mind when planning island hopping in Greece.
If you get to get seasick, come prepared with medications. The water can be rough, staring at the horizon and not the sea usually helps combat seasickness. Stay on deck for fresh air and don't read during the ferry ride.
If you're hoping to explore the Greek islands by car, keep in mind that bringing a car on the ferries is expensive and generally requires advance booking. Car rental on the islands is relatively cheap and available on almost every island.
While ferries do get delayed due to weather and technical issues, they do not wait for passengers. So, always remember to reach the port a good hour before your departure time.
As you can tell, I'm pretty excited about planning our trip to Greece this summer. I have been dreaming of visiting the Greek islands for almost 20 years now! Have you been to Greece, do you have any tips for us?
PIN IT FOR LATER
Note: This post may contain affiliate links, partnership or sponsored content. If you purchase an item via one of these links, we may receive a small commission at no extra charge to you. But as always images and opinions are our own. For more information on our affiliates and privacy policy at Outside Suburbia see here.
CONNECT WITH US