We have just a couple of weeks before we leave for our trip to Iceland. This is a trip that I have been dreaming about and planning for the last few months. I haven't even finished up some of my travelogues from last summer but I'm excited to write this planning post for Iceland. Like most other trips we have a tightly packed itinerary for seeing the best of Iceland in 7 days – from chasing waterfalls, snowmobile rides. The family leaves me to the planning and boy are they in for a treat this trip – Iceland is like being inside a book of adventures! Where else can you see geysers and hot spring areas, majestic glaciers, dormant volcanoes, a zillion powerful waterfalls in one trip.. not to mention all the awesome food.
Here is our itinerary for seeing the best of Iceland in a Week, whilst getting in touch with our adventurous side!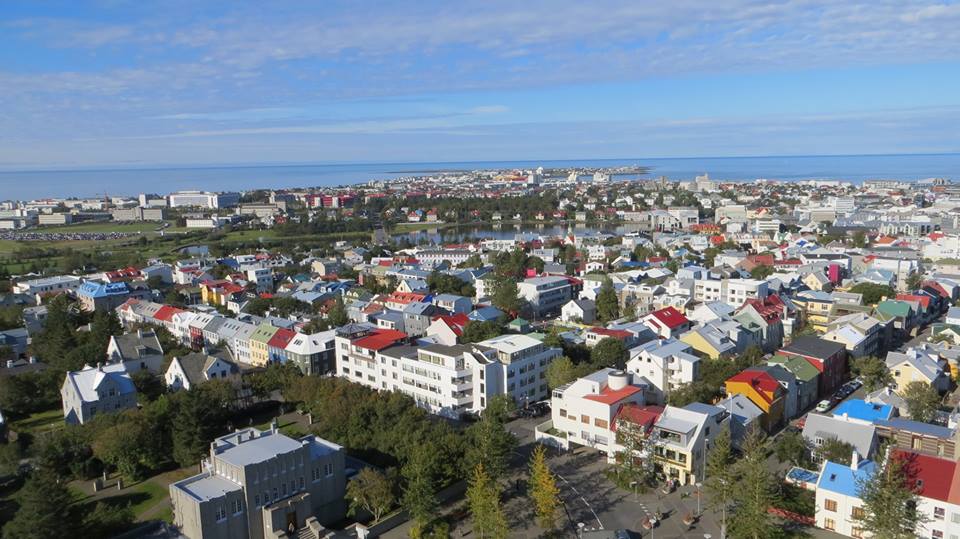 Reykjavik
• Pick up our rental car from Hertz and hit the road running at 6am after some coffee!
• We will be spending three nights at the Holt Hotel, a charming and intimate 4 star hotel in central Reykjavik. They have the country's largest private art collection and I'm looking forward to seeing some of it
• Visit the Hallgrimskirkja church with stunning views of the city from the top
• Shop on Laugavegur Street
• Exploring the Reykjavik City – See some of the museums, galleries, the Harpa concert hall, the Sun Voyager sculpture and some vibrant street art
• Hotdogs and chocolate milk at Bæjarins Beztu
• Reykjavik has an awesome coffee culture, so looking forward to some good cuppa
Northern Region
• We will be taking the domestic airline to the North to Akureyri for a day trip, we will see the incredible Dettifoss and Godafoss waterfalls.  The tour itself is organized by SBA
• Visit Akureyri and the see the whale watching hub of Husavik
• We might not have time to relax and enjoy the Myvatn Nature Baths but atleast we get to see them
Western Region
• We will be doing a day trip to the West Iceland to Snæfellsnes peninsula from Reykjavik
• Lunch at Borgarnes
• Drive to Grundarfjordur and admire the mountain, Kirkjufell
• We hope that we will have time to get to Stykkisholmur, made famous by Walter Mitty (from the movie Secret Life of Walter Mitty, which sparked our wanderlust for Iceland)
Golden Circle
• Drive the famous Golden Circle route, visiting Thingvellir National Park, Geysir, and Gullfoss
• Stay overnight at here,  Too bad there won't be any Northern lights this time of the year.  This would have been the perfect hotel to see it from.
• Ride the adorably shaggy Icelandic horse at the one of the smaller farms at Solhestar
• Stop for Icecream at the Efsti farm
• Spend a night at the beautiful ION Adventure hotel, where everything meets nothing.
Going to Iceland: How about a stay in a beautifully restored Lighthouse. I also recommend the hike to Iceland's blue waterfall, Bruarfoss, if you have time.
Southern Region
• Visit Seljalandsfoss waterfall and Skogafoss waterfall
• Ride the Snowmobile on the Mýrdalsjökull, an icecap covering one of Iceland's largest volcano, Katla. We will be able to explore and experience the wilderness and the breathtaking views over South Iceland on this ride promises Arcanum
• Check out the cliffs of Dyrholaey, black sand beaches of Reynisfjara near Vik
• Stay 2 nights at Icelandair Hotel Vik.
On Day 2 of the Southern adventure
• Visit the Svartifoss waterfall at Vatnajökull National Park
• Glacier hike near Skaftafell Vatnajokull National Park with Icelandic Mountain Guides This walk will takes us on to the Svínafellsjökull glacier tongue
• Get upclose and personal with the icebergs in Jokulsarlon in the glacier lagoon
Back to Keflavik 
• Explore the region around Reykjanes
• Visit the sulfates area at Krisuvik, Lake Kleifarvatn, Continental bridge
• Visit the Blue Lagoon and have dinner at Lava
• Stay in Keflavik overnight
• The next morning, we head to Denmark for a few days before going home.
These travel plans aren't set in stone. We are always flexible and might change things up along the way. So if you have any tips or suggestions for us, do let us know. We won't get to the Eastfjords and Westfjords this trip but it will be an excuse to return to Iceland.
What to Pack for a Summer trip to Iceland
As such, our packing list will be a bit different than for a visit across Continental Europe. Contrary to preconceptions you might have, you will not need a heavy winter coat and snowshoes when visiting Iceland in the summer. We will need some rainproof gear and some warm layers since the weather changes considerably based on the activity.  Here is what would be in our bag
• Waterproof or quick-drying pants, ski pants
• Hiking shoes
• Thermal underwear, light jackets and some light sweaters
• Gloves, scarfs and hats
• GPS device for the road trip
• Camera gear and backpack to carry it all
• Swimsuit, we won't be swimming at the beach, but in Iceland's geothermal pools
• Sunglasses and sunscreen are essential in the summer with the constant low-hanging sun and reflective terrain
• Iceland is on 220-volt system, so we will bring a converter to plug in any devices, such as a cellphone charger, hair styling tools ( We have a teenage girl travelling with us )
• Some non-perishable snacks since their prices are heavily taxed and inflated in Iceland
• A sleeping mask to help sleep, since the sun only sets for a few hours in Summer
A few Phrases in Icelandic
Icelandic looks very formidable with its strange characters "þ" and "ð" and many accented vowels and multisyllabic words, not sure if we would need these but always good to have it handy.
• Hello. Halló. (Ha-low)
• Hello (informal, to a man). Sæll. (Sight-l.)Hello (informal, to a woman). Sæl. (Sigh-l.)Hi. Hæ. (High.)
• How are you? Hvað segirðu gott? (Kvadth sey-ir-thu goht?)
• Fine, thank you. Ég segi allt gott, þakka þér fyrir. (Yeh sey-i atlt goht, thah-ka thyer fi-rir.)
• What is your name? Hvað heitirðu? (Kvath hey-tir-thu?)
• My name is ______ . Ég heiti ______ . (Yeh hey-ti _____ .)
• Nice to meet you. Komdu sæll, (to a man). (Komdu sight-l.)Komdu sæl, (to a woman). (Komdu sighl.)• • • Please. Gjörðu svo vel, (to one person). (Gyur-thuh svo vel.)or Gerið þið svo vel, (to many people). (Gyer-ith thith svo vel.)
• Thank you. Þakka þér fyrir. (Thah-ka thyer fi-rir.)
• Thanks (informal) Takk. (Tahk.)
• I can't speak Icelandic [well]. Ég tala ekki íslensku [svo vel]. (Yeh ta-la eh-ki ees-len-skuh [svo vel].)
• Do you speak English? Talarðu ensku? (Ta-lar-thu en-sku?)
• Help! Hjálp! (Hya-oolp!)
• Goodbye, (informal). Bless. (Bless; often said twice, "Bless bless".)
Iceland is expensivie but it is also possbile to visit Iceland on a budget.
PIN IT FOR LATER

Note: This post contains affiliate links. But as always images and opinions are our own. For more information on our affiliates and privacy policy at Outside Suburbia see here.