We visited Friðheimar just outside of Reykholt in South Iceland while we were on the "Golden circle" drive. Fridheimar Greenhouse is a vegetable farm where their main product is tomatoes, not just your regular tomatoes though, the tomatoes in Iceland are red and juicy owing to the volcanic-rich soil, we saw a lot of people munching on them like apples.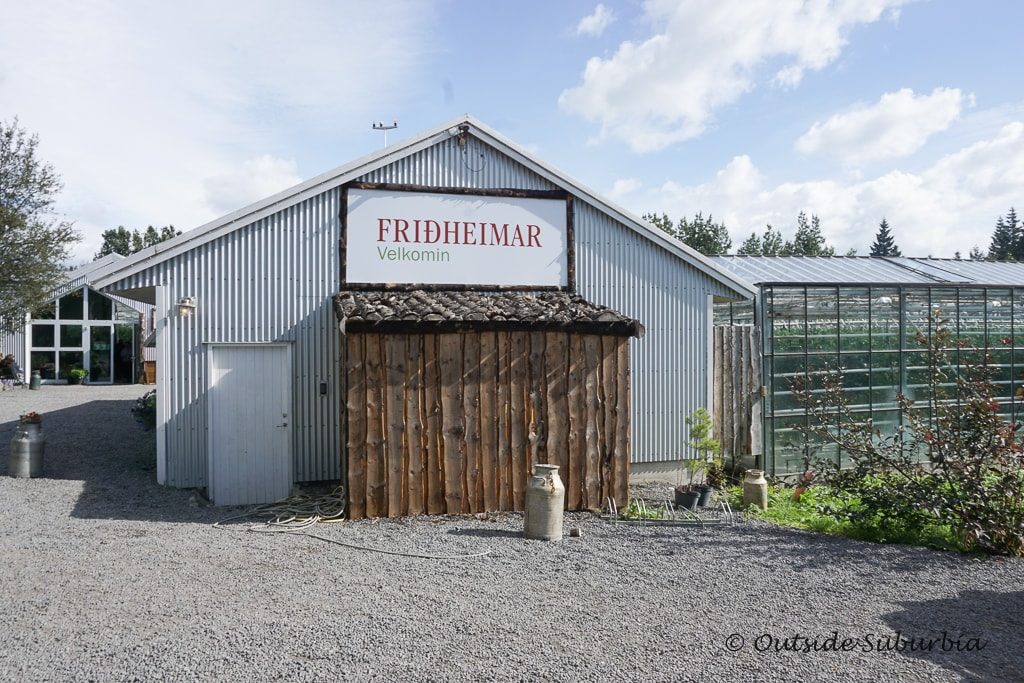 When we were seated at our tables, one of the staff at Friðheimar greeted us and told us a little bit about the greenhouse and how they grow tomatoes all year round, despite Iceland's long, dark winters, under artificial lighting in greenhouse.  The Fridheimar Tomato Greenhouse was designed and developed with the collaboration of Finnish experts since horticulture under artificial lighting is highly advanced in Finland.
Friðheimar Greenhouse
The farm has abundant supplies of geothermal water, which provides heat to the greenhouses. Friðheimar uses green energy and organic pesticides and since Iceland does not have honeybees to pollinate the flowers, they bring them all the way from Holland. We learned during our visit, that Friðheimar holds about 18% of the whole local tomato market in Iceland!
In the nursery greenhouse, seeds are planted, and the plants grow in pots for there the first six weeks, with automated watering. When the plants are transplanted into the greenhouse they are flowering on the first truss, and seven to eight weeks later the first tomatoes blush red. Walking around the greenhouse, we saw tomatoes in different stages of ripeness and also few different varies like plum tomatoes and cocktail tomatoes.
Friðheimar have opened up their greenhouses to visitors and offers delicious lunches every day between 12:00 and 16:00 where there are tomatoes in almost every dish including the water. We tried their wonderful Bloody Mary with Icelandic vodka and also a Healthy Mary, a nonalcoholic version made from green tomatoes, lime, honey and ginger, served chilled with sparkling water.
Lunch at Fridheimar Greenhouse
We were there rather late almost before they closed for lunch but still, the bread was fresh and soup yummy. We had the tomato soup, their specialty, and a variety of homemade bread and really fresh and tangy cucumber salsa. The kids had the tortellini pasta stuffed with fresh pesto and cooked in a tomato sauce.
It was all delicious and the fact we were sitting outside a bright greenhouse where the tomatoes were grown made the experience extra special. We didn't save room for dessert but they had some interesting ones like – Homemade tomato ice cream à la Friðheimar, cheesecake with jam of green-tomato, cinnamon and lime and Green-tomato and apple pie all featuring tomatoes!
There is a Little Tomato Shop next to the Atrium, which sells edible souvenirs and other specialties you might have fallen in love with. Friðheimar also has an online shop where you can buy their famous cucumber salsa, tomato jam, picked tomatoes and various other tomato sauces and even some green tomato dessert sauce with vanilla.
A few more pictures from the Fridheimar Tomato Greenhouse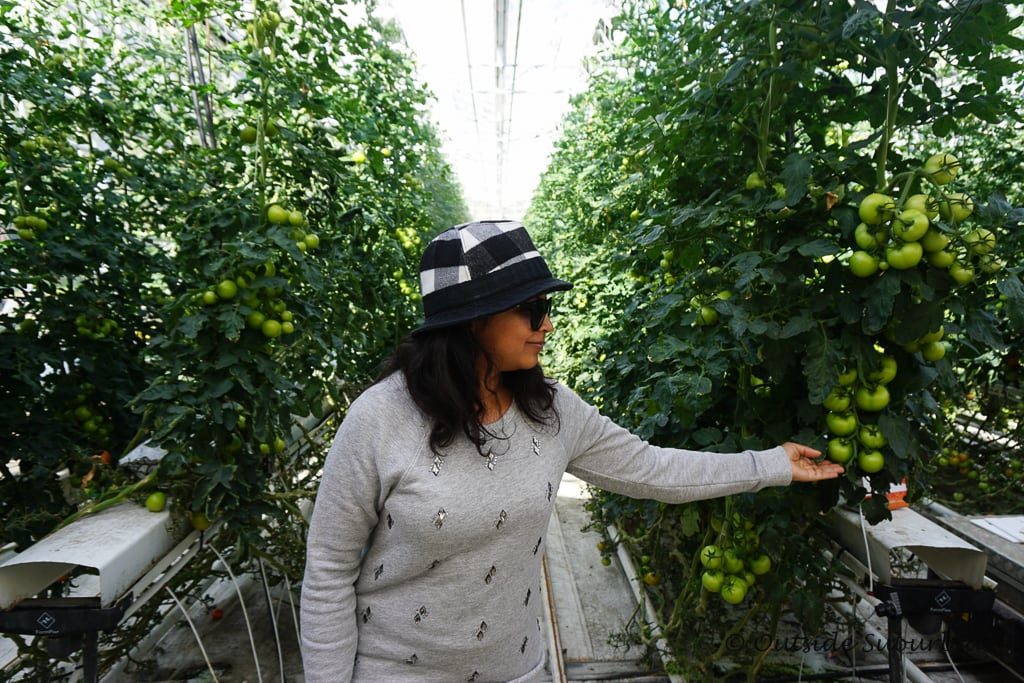 You can find more information on their website and schedule visits
Friðheimar Address
PIN IT FOR LATER
Note: This post may contain affiliate links or some sponsored content. If you purchase an item via one of these links, we may receive a small commission at no extra charge to you. But as always images and opinions are our own. For more information on our affiliates and privacy policy at Outside Suburbia see here.
CONNECT WITH US