Our one day Amalfi Coast Road Trip was everything we thought it would be. Read this One day Amalfi Coast Drive Road trip Itinerary to see how you can cover the highlights (including a visit to Pompeii) even if you have only a day here.
Costiera Amalfitana in Italian, the Amalfi coastline traces the southern shore of Salerno Gulf in Campania, southern Italy can be reached from Naples, the Italian capital of pizza. The Amalfi drive (formally Strada Statale 163) – from Sorrento to Amalfi is a narrow road along the Tyrrhenian Sea with Dramatic mountain cliffs, emerald blue waters, pastel-colored villages, scented lemon groves .. the road is twisty and narrow. We took a train into from Naples to Sorrento and based our selves there. This beautiful Mediterranean town overlooks the Bay of Naples with many viewpoints of Vesuvius and Isle of Capri.
The Amalfi Coast is a UNESCO World Heritage Site and you have to see it with your own eyes to understand why… or maybe these photos will help 🙂 We did the drive up to Positano and Amalfi from Sorrento, stopping at some breathtaking viewpoints along the way. No, we did not ride on a Vespa, that is still on my bucket list though. We hired a car and driver since it was the last stop on our Italian vacation and we wanted to enjoy the views rather than drive the narrow roads.
We stopped at the Emerald Grotto on the way and had lunch in an amazing place called Calajanara Restaurant. This place is in my Top 5 Best Restaurants I have been to so far. Amazing views of Capri and Mediterranean and equally amazing locally sourced food that tantalizes the palate. Although I would have liked to embrace La Dolce Vita – savoring and cherish the sweet Italian way of life, we managed the Amalfi Coast Drive in a day – a memorable driving trip to Positano and Amalfi from Sorrento!
Hotel Minerva Sorrento, our base for the Amalfi Drive
We stayed at the Hotel Minerva a historic hotel that was built in 1875. It had amazing views of the entire Gulf, panoramic terrace restaurant and rooftop pool which the kids enjoyed swimming in after a long day visiting the ruins at Pompeii. While we could have stayed longer and lingered in the small towns along the Amalfi coast, basing our self in Sorrento worked just as well.
View from our room at Hotel Minerva – D not happy that I asked him not to block my view through the picturesque window!
Love the red cushions against the blue backdrop – anytime I see red patio umbrella and red cushions I'm reminded of this patio and this Mediterranean view.
Don't miss the Pizza & Limoncello
UNESCO has declared Naples' trademark technique of pizza making part of the world's "intangible heritage".  We enjoyed our share of Napolatena(Neapolitan pizza) along with some house wine and finished with a Limoncello, a lemon-infused liquor made popular by the Amalfi Coast.
What is Neapolitan Pizza? 
Neapolitan pizza originated in Naples is made from simple and fresh ingredients: a basic dough, raw tomatoes, fresh mozzarella cheese, fresh basil, and olive oil–no fancy toppings here.  More sauce than cheese, it is quite soggy in the center but yummy!
A night in town and dinner at La Fenice, Sorrento was recommended by the Hotel Minerva staff and it did not disappoint – authentic Neapolitan pizza, fresh fish and pasta by the bay! What more can you ask for!
One day Amalfi Coast Drive Itinerary
There are few places as romantic or more beautiful than Italy's storied Amalfi Coast, and if you're looking for a driving itinerary with iconic sweeping views and unparalleled beaches, then this Amalfi Coast drive is a good one-day itinerary. You can, of course, linger longer and stay in the coastal towns like Praiano, Positano or Ravello. You can even rent a car and start your drive from Rome, through Naples – soaking in the culture of this famed region and making memories along the way!
Getting to the Amalfi Coast from Sorrento
To get to Amalfi, Praiano, or Positano, you'll need to head to the south side of Sorrento's peninsula along the undulating Amalfi Drive, otherwise known by its official handle, the SS163. This white-knuckle thrill ride is one of Italy's greatest wonders, 30 miles of narrow, S-curve roadway strung halfway up a cliff with the waves crashing below, green slopes all around, medieval pirate watchtowers on the headlands and colorful villages brimming with bougainvillea tucked into the coves.
Amalfi Coast Drive From Sorrento to Positano
This part of the drive takes about 35 to 40 mins, and about an 11-mile drive. This is a relatively uneventful ride, south from Sorrento and mostly inland over the tall hills of the peninsula to the Amalfi Drive on the southern side of it. The first views of the coast as you come down a hairpin road are pretty spectacular, but the not much else happens until you reach the first major stop—that postcard child of the Amalfi Coast, the chichi resort town of Positano.
The Drive From Positano to Amalfi
This part is more picturesque and takes 45–50 min. About 3km (2 miles) beyond Positano is its sister hamlet of Praiano, also a trendy resort, much smaller and less known with a majolica-domed church. Past the village of Furore, the bus pops out of a tunnel to ride a bridge across one of the coast's most dramatic gorges, the Vallone del Furore. You will see some of the most beautiful places on the Amalfi Coast on this part of the drive.
At kilometer-marker 24, outside the fishing community of Conca dei Marini, are the stairs (or elevator) down to the Grotta dello Smeraldo (Emerald Grotto). This cavern was formed above sea level, then partially sunk below the water, and the effect of light inside causes the water to glow an eerie green.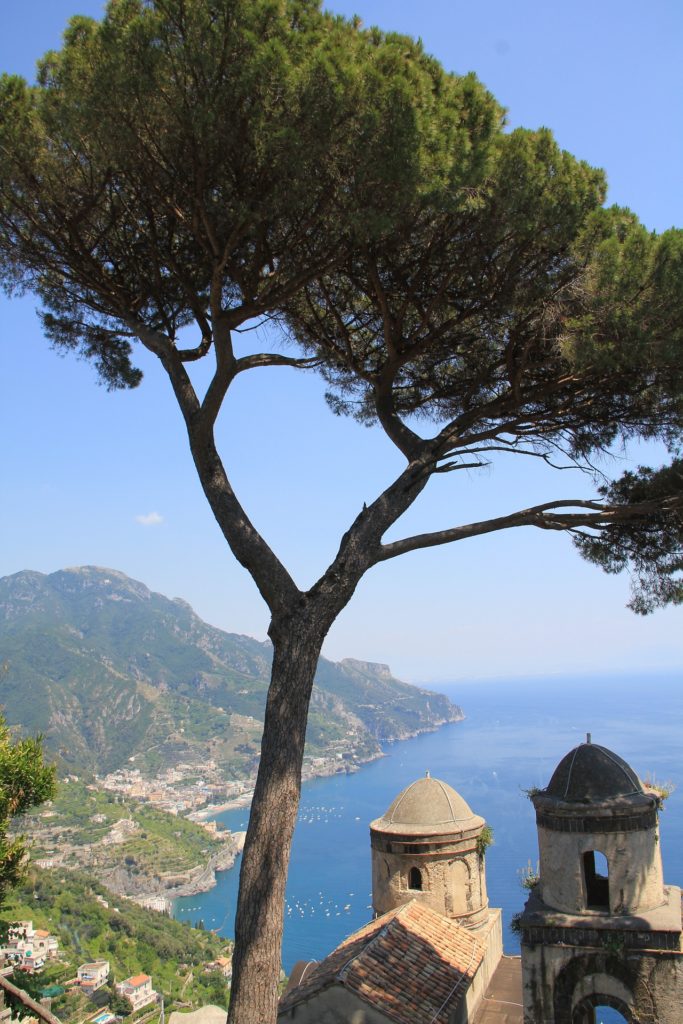 Inland to Ravello
Six kilometers inland—and 1,155 feet up—from Amalfi perches Ravello, a tiny town of crumbling villas whose flower-filled grounds and lush pleasure gardens have become public parks hosting concerts under the stars. Set high on the hills above Amalfi, Ravello is a picturesque, elegant town with incredible views and lush gardens. It's where artists such as Wagner, Virginia Woolf and DH Lawrence used to hang out. Ravello perched above a cliff and looking on to the sea, it is all about enjoying the views and idyllic setting here. Don't miss Villa Rufolo and Villa Cimbrone. Both are former 14th-century villas turned into beautiful garden grounds and have some of the best views in town.
From Amalfi to Salerno
We didn't go all the way to Salerno where the Amalfi drive ends. It is supposed to take 60–75 min. As you make your way east on the Amalfi Coast toward Salerno, you'll pass through several more small villages – Atrani, just beyond Amalfi, is the cutest—and a few sprawling resort towns, like Maiori and Minori, with nice beaches lined by low-rise hotel blocks that are favored by Italians on week-long packaged vacations.
Amazing places to stay on the Amalfi Coast
If you are not doing a 3 or 4 day road trip on the Amalfi coast, these are some nice places to stay along the way. We are hoping to go back someday and do the Amalfi coast drive at a slower pace.
Places to stay in Sorrento – Hotel Minerva where we stayed. The fabulous Bellevue Syrene 1820 or Hilton Palace are nice choices too!
Places to stay in Amalfi – Rifugio degli Dei, a country house with lovely views
Places to stay in Positano – Il San Pietro di Positano, an exquisite property or the beautiful Le Sirenuse, you probably have seen photos of it on Instagram, it is a lovely place for a night.
There are some nice house stays in Ravello and Praiano, if you want a little budget-friendly option.
Places to stay in Capri – Caesar Augustus in Ana Capri. Once a summer house of a Russian Prince, it is now a boutique hotel with killer views. The hotel, perched on a cliff over the sea in a breathtaking position in Capri, offers from everywhere one of the most beautiful views in the world.
If you would rather not drive and do a tour instead, here is a nice semi-private Amalfi Coast tour that takes you to Amalfi, Positano and Ravello.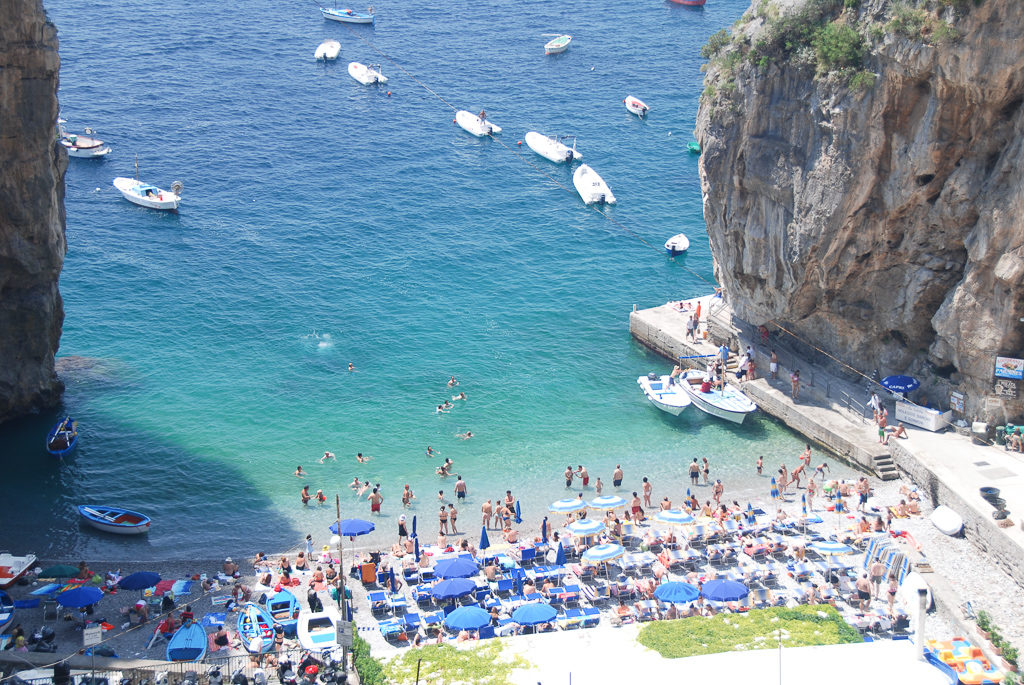 Photos and Views from our Amalfi Coast Road Trip
Tip – If you embarking on this drive with the kiddos, make sure you hold on to them, the cliffs are steep and the roads narrow with a lot of traffic. Stop in towns, park and then pose for that photo 🙂
Excuse my hat head.. focus on the bougainvillea instead, I thought I had more shots of just the flower peppered doorways and patios!
We wish we had time to lounge at the beach in Positano, but we were here for this epic drive and the views!
The baroque majolica-tiled dome atop the 13th-century church of Santa Maria Assunta – a sight you can't miss when you are in Positano
We stopped at a farmers market on the way, to gawk at the watermelon-sized lemons.. wondering what is in their water that makes these lemons so big!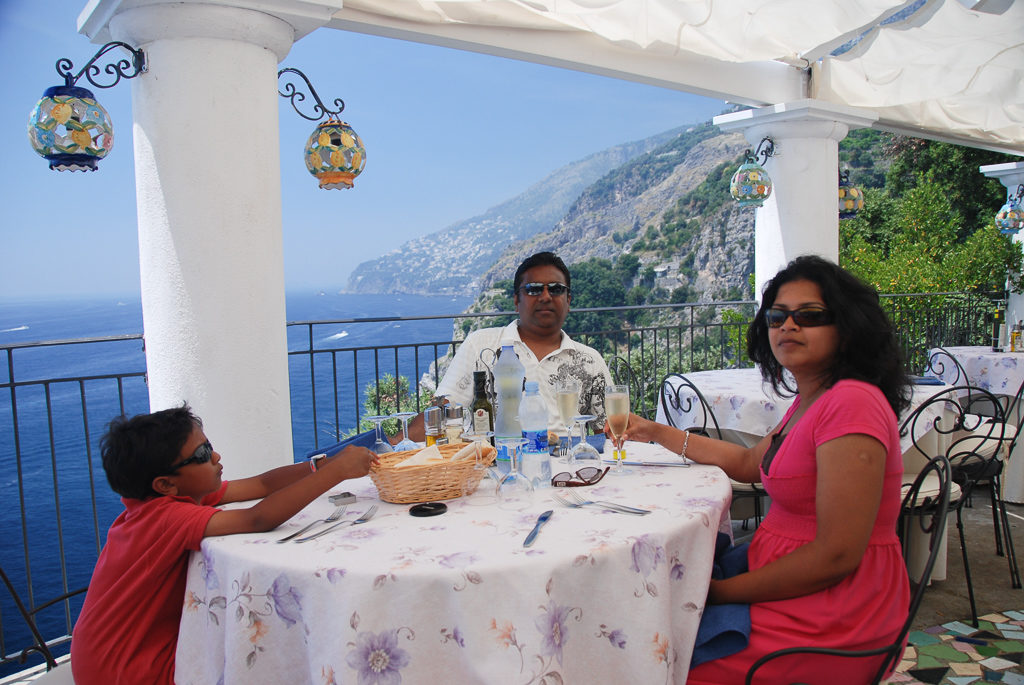 We found Calajanara Restaurant by chance on our way from Positano to Amalfi before the days of TripAdvisor and easily one of the best views and Restaurants we have been to so far. Nothing to beat a glass of chilled champagne by the coast!
We climbed the 62 steps up to the cathedral and admired its bronze doors, cast in Constantinople in AD 1044. Inside the Duomo, frescos cover the walls of the Baroque interior. Impressive 10th century Duomo di Sant'Andrea with its Arab, Norman and Gothic influences. Gelatos in Amalfi were the best, we wandered around the quaint little shops and sampled some more limoncello!
From here we drove to Pompeii, you can see more details here.
If you have more time
Take a ferry to Capri Island
You can get to Capri from Sorrento, catch a taxi or local bus down to the docks for one of five daily ferries it is as simple as that. There are multiple options – a slow traghetto (ferry), a faster Nave Veloce, or the fastest aliscafo/Jet (hydrofoil). It is a lovely place to spend a day or if time permits a night. After walking through Capri's beautiful streets, don't miss the views from Anacapri and visiting Gardini di Augusto – the Gardens of Augustus. Anacapri means "above" Capri, you can take a chairlift to the top of Mount Solaro which is 1,500+ feet above sea level and you can see gorgeous views of Capri, the Sorrento Peninsula, the Faraglioni sea stacks and Mount Tiberius from here. Plan for lunch at Marina Grande which is home to colorful restaurants.
We didn't plan for it, here is a post about Capri from one of our friends who's son wrote this for me.
While the Amalfi Coast with its dramatic mountains and the Tyrrhenian Sea gets our vote for being photogenic it is not considered the Italian Riviera. Situated between the French Riviera and Tuscany, the narrow coastal strip which lies between the Ligurian Sea and the mountain chain formed by the Maritime Alps and the Apennines in Liguria is considered the Italian Riviera. Popular destinations along the Italian Riviera include Ventimiglia, Sanremo, Alassio, Savona, Genoa, Portofino, Santa Margherita Ligure, Sestri Levante, and, of course, the incredibly popular Cinque Terre. Visiting the Italian Riviera is still on our list. See my friend Wanderlust Crew's comprehensive guide to visiting Cinque Terre.
Have you been to the Amalfi Coast? Have you driven on the Amalfi Coast? Tell us about your experiences and recommendations.
PIN IT FOR LATER
Note: This post may contain affiliate links, partnership or sponsored content. If you purchase an item via one of these links, we may receive a small commission at no extra charge to you. But as always images and opinions are our own. For more information on our affiliates and privacy policy at Outside Suburbia see here.
CONNECT WITH US