Burano Italy's most colorful town is about 45 minutes by boat from Venice. We missed out on visiting this colorful fishing town the last time we were in Venice and wanted to make sure we visited it this time around. It is very similar to Venice but a little more quiet, quaint and so very colorful. It was believed that the local fishermen painted their houses to distinguish it from a distance when returning home in the dark hours especially when it is foggy. If you find yourself in Venice, don't miss visiting Burano Italy's Most Colorful Town1
20 Photos from Burano, Italy's Most Colorful Town
How to get to Burano from Venice
We took a motorboat also known as Vaporetto from Venice's Fondamenta Nuove port. The boat stopped first at Murano on the way but we chose to skip it since we have been to the glass factory there on a previous trip. As we neared the port of Burano, it was hard not to miss the leaning bell tower – the Campanile for the Church of San Martino. This tower has been leaning due to the soft ground it stands on. The air was crisp as we disembarked with other camera toting tourists and made our way past the little colorful café as we entered the town.
Burano is made up of four islands, separated by narrow canals and connected by small bridges. The colorful houses of Burano Italy's most colorful town are all nicely lined up in narrow streets alongside the canals where the water seemed to be almost still making for some perfect reflections.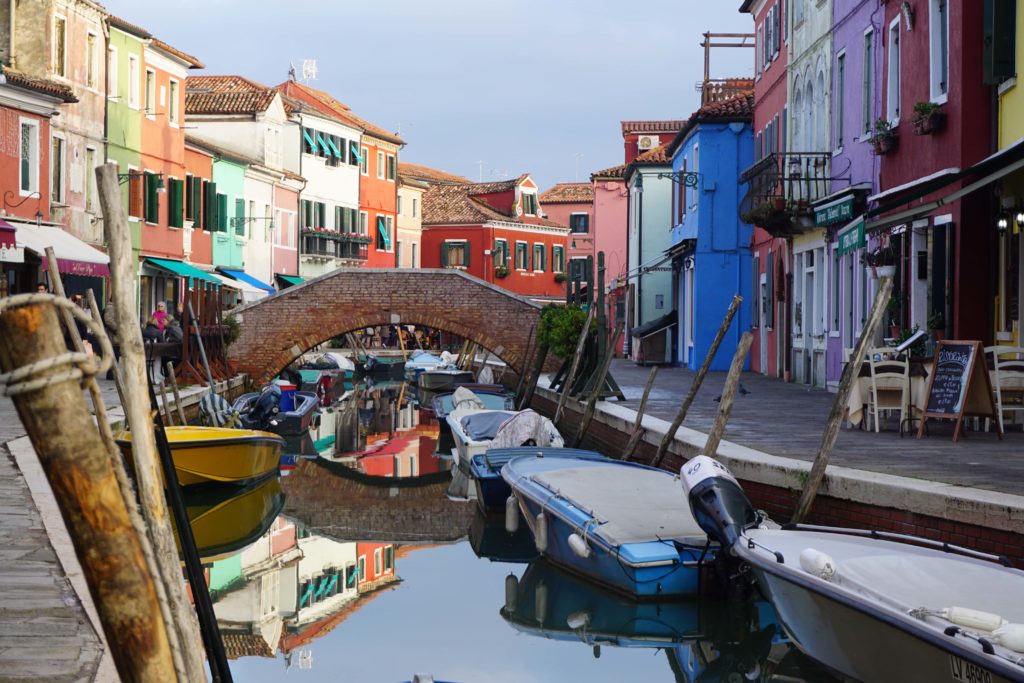 With our cameras and iPhones we clicked away hundreds of photos of the brightly colored windows, doors, buildings and houses that make this island so unique. It almost looked like it belonged in a coloring book. Read somewhere that it is against the law for adjacent houses to have the same colors, so as to ensure there is a variety of colors throughout the islands' different areas.
Wonder if people living here get annoyed with travelers taking pictures of their laundry and windows, but no one seemed to mind
What to eat in Burano
On the main street of Calle Galuppi, which was filled with lace shops, souvenir stores and bakeries, we stopped to pick up some treats unique to Burano – Bussolà of Burano. Bussolà is a typical donut-shaped cake of the island, also known by the name of buranelli. There is also a variation of these cookies having an "S" shape, because of its form they are called Burano's essi (plural) or Burano's esse (singular). The sweet has a composition rich in nutrients, such as eggs, flour, sugar and butter which, after having been cooked, have long durability.
Burano's cookies were prepared by the wives of the fishermen, when they were moving away from home to go fishing, for long periods of time. In the event that the sailors couldn't have good nutrition, the bussolà arranged to give them all the energies sufficient to deal with the sea life. It is also said that the bussolà buranello, flavored with vanilla, rum or lemon, was used to scent the linen into the drawers.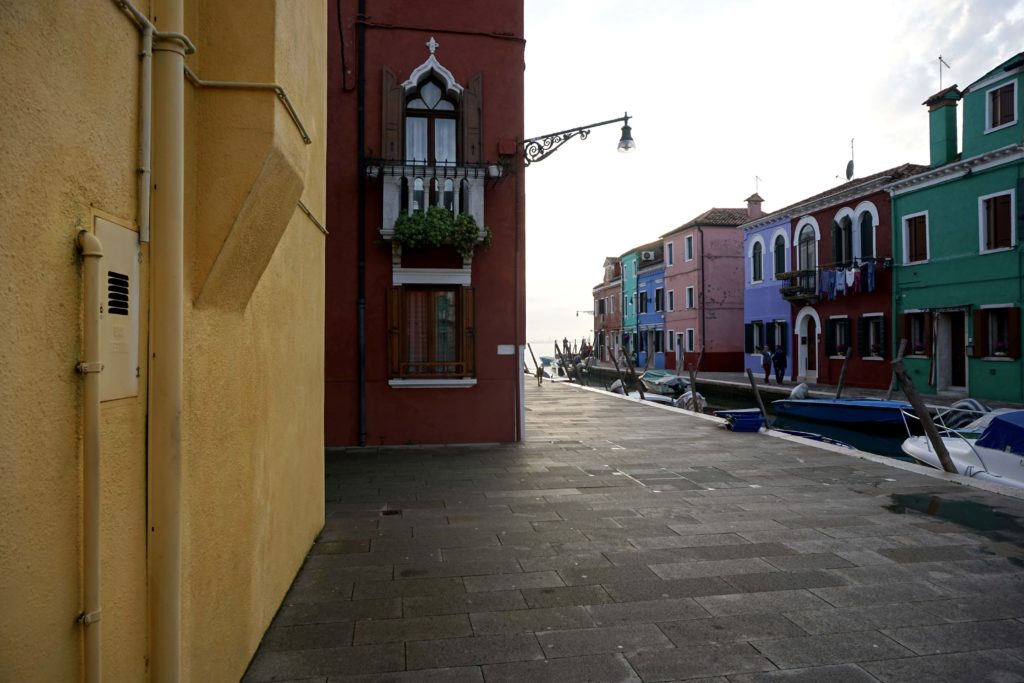 We had planned to spend an hour but ended up spending close to 5 hours and also stayed to watch the sunset from the tiny island. As the sun made it way down, it cast a bright glow to the houses making them even more vibrant.
What souvenirs to buy in Burano
Burano is also widely known for its lace-making traditions. We stopped at La Perla, a boutique store run by Bon family that was recommended by our hotel. We were welcomed with warm smiles and friendly chatter. There was an impressive display of original lace, some of which took about 5 years by different lace-makers to complete. We also got a chance to see how these laces are made, following the ancient practices. They were 2 floors full of intricate lace products – doilies, table linens, dresses, handkerchiefs and pictures on the walls that were made by lace. (Will share them in the next post)
The art of lace making is dying and most of the items sold around the island are machine-made or imported. The handmade ones are still available but with a steep price tag but there was no pressure to buy. You can also visit the Lace Museum in Burano if time permits. We came home with some small lace doilies and of course a bag of Bussolà.
I hope you enjoyed these photos from Burano, Italy's most colorful town!
PIN IT FOR LATER
Note: This post may contain affiliate links, partnership or sponsored content. If you purchase an item via one of these links, we may receive a small commission at no extra charge to you. But as always images and opinions are our own. For more information on our affiliates and privacy policy at Outside Suburbia see here.
Follow Outside Suburbia on
Instagram | Facebook | Twitter | Pinterest | Tripadvisor