Pasta made into different shapes to soak up sauces, hearty meat dishes to aperitivo, dedicated to small bites and bitter drinks, there is so much more to food in Italy and Italian cuisine. Did you know the Italian menu is set up the same way all over Italy and around the world — antipasto, primo, secondo and dessert, and a disgestivo to settle your stomach?!
Honestly, I love food in Italy and can live on Pizza and Pasta for 9 months, especially Penne Arrabbiata, I might need my curries after that! Being a vegetarian I love visiting Italy where I never run out of Italian dishes to try.
I have enjoyed learning about the different dishes during our trips to Italy over the years. Here is a list of the best foods to try in Italy beyond the mentioned Pizza and Penne Pasta.
Hope you find this Guide to Food to try in Italy useful when planning your next trip. For some of the popular dishes, I also share the best places to find them in Italy.
Pizza
Pizza is the most popular Italian food that everyone is familiar with. Along with Pasta, Pizza is the national dish of Italy. Its origins can be dated back to the Bronze Age and the word "pizza" is thought to have come from the Latin word pinsa, meaning flatbread.
The popular Pizza Margherita owes its name to Italy's Queen Margherita who in 1889 visited the Pizzeria Brandi in Naples. The Pizzaiolo (a pizza maker) on duty that day is said to have created a pizza for the Queen that contained the three colors of the new Italian flag. The red of the tomato, white of the mozzarella and fresh green basil. The Queen's Pizza was a not just a hit with the Queen but with the rest of the world!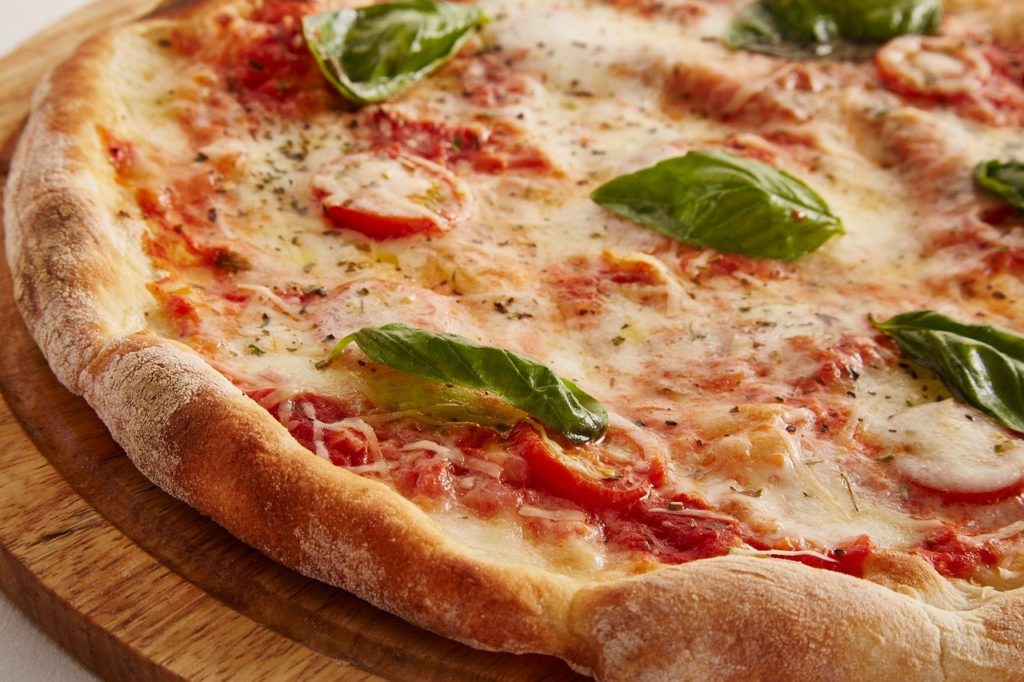 You will come across many kinds of Pizza in Italy like the saucy Neapolitan-style pizza, Pizza Rustica piled with toppings, stuffed Calzone, and a thin crust Roman-style pizza.
Neapolitan pizza is made from simple and fresh ingredients: a basic dough, raw tomatoes, fresh mozzarella cheese, fresh basil, and olive oil–no fancy toppings here. It is small and has more sauce than cheese, it is quite soggy in the center. Best enjoyed with some house wine and finished with Limoncello (more about that later). We enjoyed a few of these when we were in Sorrento, exploring the Amalfi Coast.
Pizza al taglio, also known as pizza rustica, a food staple sold everywhere in Italy, usually by weight and often piled with marinated mushrooms, onions and/or artichokes.
Italian calzone is often filled with either meats or fresh vegetables and mozzarella.
Roman-style pizza is has a thin crust and just the slightest crunch. It's sold by the slice in bakeries as pizza bianca (white pizza) and pizza rossa (red pizza).
The most unique pizza I had is a pistachio pesto pizza in Navigli, a trendy dining and nightlife area in Milan. The area is beautiful, a mini Venice with a widespread network of navigable canals, originally conceived by Leonardo da Vinci to ferry people and merchandise to Milan. It is one of the best pizza I have ever had in Italy!
Focaccia
Italy's robust baking culture has developed over the years. There are so many types of bread in Italy, and the best one is the one baked locally that morning. You shouldn't leave Italy without trying at least a few of the various types of bread, Focaccia being one of them.
Liguria is the home of the world-famous flatbread, focaccia. Reminiscent of thick pizza dough, classic focaccia is salty, drizzled with olive oil. It is often served open-faced, with toppings like sun-dried tomatoes, rosemary, zucchini, cheese, and olives. You can enjoy it by itself with a smear of pesto or as a sandwich.
Bruschetta
A classic Italian appetizer or Italian snack, rustic bread is served with olive oil, garlic and freshly cut tomatoes. A food item that tends to be in most Italian restaurants around the world, not just in Italy
Aperitivo
More than just a drink, Apertivo is the cocktail hour before dinner and usually from 7 to 9 pm. Much like the happy hour, appetizers and other light fare are enjoyed with the drinks. Traditionally aperitivo cocktail options tend to be light on alcohol and bitter on taste, and they pair perfectly with salty snacks. Usually, cured meats and cheeses are enjoyed during aperitivo hour. It is the perfect time to try a classic Italian drink, like the bitter Campari with Soda or the slightly less bitter Aperol Spritz. Both are generally mixed with soda.
If you don't like bitter drinks start with Aperol Spritz, albeit a little bitter, it is delicious with a hint of orange, a light tang of herbs, bubbly and refreshing with some Prosecco and soda water.
My favorite is the Bellini, a glamorous cocktail invented by Giuseppe Cipriani, bartender at Harry's bar in Venice. It is made of pureed peach and white sparkling wine or prosecco (remember not champagne but prosecco).
Negroni is another popular Italian cocktail made of equal parts of Gin, Bitter Campari and Red Martini shaken with ice and served in a cocktail glass.
Aperitivo is meant to stimulate your appetite and contains less alcohol and calories!
Prosciutto
A mainstay in charcuterie boards, prosciutto is one of those must-eat foods in Italy that I have not eaten. Prosciutto is an Italian dry-cured ham that can be found all throughout Italy. My son loves it as a snack and on sandwiches with some cheese. It is served thinly sliced and eaten cold.
Sicilian Eggplant or Caponata
Caponata is a regional Italian dish that is a staple in Sicily. This classic dish combines the best ingredients of Sicilian cuisine in one dish — eggplant, capers, tomatoes, olives, garlic, olive oil, and can be eaten hot or cold. It is perfect on a slice of bread as an Italian appetizer with a glass of Negroni!
Try this authentic Caponata aka Sicilian Eggplant Recipe.
Risotto
Risotto is a northern Italian rice dish cooked with broth until it reaches a creamy consistency. The broth can be derived from chicken, fish, or vegetables and the risotto rice (usually Arborio or Carnaroli ) is cooked with butter, onion, white wine, and parmesan cheese. In Italy, it is one of the most common ways of cooking rice.
Typical risotti include: risotto ai funghi (risotto with mushroom), risotto al tartufo bianco (risotto white truffle), risotto ai frutti di mare (risotto with seafood), risotto alla milanese (risotto with saffron).
We were lucky enough to try Risotto with Piedmont hazelnuts and truffles in Bergamo and Risotto laced with saffron and a generous shaving of white Truffle in Milan (benefits of visiting Northern Italy in November ;))
You can find James Beard's Risotto Milanese recipe here
Gnocchi
Considered the predecessors of pasta, this humble Italian dish largely remains a homemade food in Italy. A dumpling that is made from potatoes is thick and hearty and used in soups or served in a creamy sauce. Every region in Northern Italy has its own gnocchi variation and its own specific sauce and serving style.
In Piedmont or Lombardy, you will find potato gnocchi tossed in a simple dressing of butter and Parmesan, and passed under a grill to brown the top before serving. In Verona, potato gnocchi is traditionally served in a tomato sauce.
Try this recipe to make it home: gorgonzola gnocchi with baby spinach, topped with toasted pine nuts and a sprinkle of Parmesan cheese.
Learning to make this Gnocchi from scratch is on my to do list.
Truffles, an expensive Italian food
Truffles are edible fungi, like mushrooms but unlike mushrooms, they grow underground near tree roots. The best truffles especially the Italian white truffles are wildly, insanely, expensive, sometimes as much as thousands of dollars per pound. Specially trained dogs are employed to dig up these precious truffles and the aroma is said to last 7 to 10 days.
White truffle is considered Italy's most famous gourmet foods, has gained quite an international fame. Black Truffles can be cooked, but white truffle are usually cleaned by hand and grated or sliced paper-thin atop warm food, which absorbs the truffle's aroma.
With its magical scent and exquisite taste, the true White truffle or Alba Truffle (Tuber magnatum) is one of the most refined delicacies in the world.
Pasta, the staple food in Italy
Fettuccine. Spaghetti. Linguine. Pappardelle. Cavatappi. Fusilli, Bucatini, Penne… so many shapes, so many sauces, flavor, there is no shortage of pasta dishes to try when in Italy. My go-to Italian dish is Penne Arrabbiata — Penne pasta, with a sauce made with red pepper flakes, red onion, olive oil, whole peeled tomatoes.
On our first trip to Florence, I ate this every night with some house wine and warm rustic bread! We stayed away from the touristy area and ate at small trattorias which were filled with locals and the menu was in Italian. Now that I'm a little braver and know better, I want to try all these other pasta dishes in Italy, next time I visit!
Pasta categories mainly fall under short pasta, long pasta, sheet pasta, stuffed pasta, and dumpling pasta. Here are a few different kinds of pasta dishes you should try in Italy:
Lasagne or Lasagna
Lasagna or Lasagne as the Italians call it is a wide, flat pasta noodle, usually baked in layers in the oven. Like most Italian dishes, its origins are contested, but it is most popular in the region of Emilia-Romagna, where it transformed from a poor man's food to a rich meal filled with the ragù, or meat sauce.
Traditionally lasagna wasn't made with tomatoes, only ragù, béchamel sauce, and cheese, usually mozzarella or Parmigiano Reggiano or a combination of the two. Even today, only a bit of tomato or tomato sauce is used in a traditional ragu. See this recipe for a Vegetarian Lasagna.
If you're craving a lasagna dish at home but don't want to deal with the hassle of layering a casserole dish, try pappardelle. These soft, wide noodles have a similar texture to the Lasagna noodle, paired with your favorite spaghetti sauce, will seem like a whole new dish.
Cavatappi
Cavatappi is a type of pasta that is shaped like corkscrew spirals and make the pasta dish seem a little more fun, especially for kids.
Gemelli
Be a little wild and order a Gemelli pasta instead of rotini or penne, next time you order a pasta dish in Italy.
Bucatini
Not to be confused for plain old spaghetti, Bucatini is a long, hollow pasta that is perfect for soaking up thin, tomato-based sauces.
Orzo
Possibly the smallest of the small pasta shapes, Orzo is often mistaken for a grain. It resembles rice, and it's often found in orzo pasta salads and soups.
Orecchiette
Named for its little ear-like shape, Orecchiette is a pasta typical of Apulia, a region of Southern Italy. It is typically cooked with sausage and broccoli rabe and the shape allows for catching the sauce, chopped vegetables or meat.
Ravioli
Ravioli is square and stuffed with everything from cheese to vegetables to meat. The edges are pinched close and have a ruffled texture.
A pasta dish that is on my list of food to try in Italy is Pasta Trenette from Liguria, it is made with pesto, potatoes, green beans, and a touch of cream
Ragù alla Bolognese
If you like the meaty ragù sauce then you must try some Bolognese. Popular in Bologna, Ragù alla Bolognese is an Italian dish that can be served with any kind of pasta, "Tagliatelle alla Bolognese" being the most popular. You can ask for it with different types of pasta as well. Ragù alla Bolognese was invented sometime in the late 18th century by Alberto Alvisi, a chef of Pope Pius VII.
The base of this classic sauce is made with beef, pork or a combination of both, fresh tomatoes or tomato purée, sometimes pancetta, red bologna or very dry white wine, nutmeg, salt, and pepper.
See this recipe for an authentic Italian Bolognese Sauce
Pesto Genovese
Next to Marinara and ragu, Pesto Genovese is a sauce that is popular to dress up pasta dishes. With origins in the city of Genoa, it consists of basil, garlic, pine nuts, olive oil, and cheeses such as Parmigiano Reggiano or Pecorino. It gets it name from the word pestare, meaning to pound or crush, referring to the original method of making the sauce with a mortar and pestle. So simple yet bursting with flavor and is perfect over a warm bowl pasta – another great vegetarian dish in Italy!
Cacio e Pepe
The simplest of all the Italian dishes — Cacio e Pepe! Pecorino cheese, black pepper, spaghetti come together to make this delicious pasta dish. Cacio e Pepe is the classic dish of Rome, and one of its best and most beloved dishes. You will find it in almost every restaurant in Rome. A popular place is Da Danilo, in the Esquilino quarter, where the server doesn't just bring you a plate of pasta. They bring a huge wheel of hollowed-out pecorino to your table and make it tableside.
See an easy recipe here to make Cacio e Pepe at home
Polenta
Although we tend to associate pasta with all of Italy, until fairly recently, the staple food eaten in the northern parts of Italy was polenta. This corn mush, similar to the grits eaten in the southern states of America was originally made from whatever starches were handy. After the introduction of corn to Europe in the 16th century, it became the dominant ingredient of polenta. Polenta is served as an accompaniment to a wide range of meats, especially stewed meats, but you can also find vegetarian versions like this Campari tomato salad.
Eggplant Parmigana
Eggplant Parmesan or Parmigiana di melanzane is a classic Italian dish that has become popular around the world. While you can find Chicken Parmesan or even Veal Parmesan in most Italian restaurants in the US, these dishes don't really exist in Italy. It is my go-to dish in Italy when I'm tired of Pasta. Baked eggplant covered in a rich tomato sauce and mozzarella cheese! Yum!! Perfect food for the vegetarian in Italy!
Try this EASY Eggplant Parmesan recipe, and just like in Italy it is not breaded.
Bistecca Fiorentina, or Florentine T-Bone steak
I have not tried these next couple of dishes. But this Guide to Food in Italy will not be complete with them and from what I hear it is a must-try if you are a meat lover. Bistecca Fiorentina or Florentine T-bone steak is considered one of Italy's best dishes – a specific cut of meat from a specific cow prepared in a very specific way.
The enormous Bistecca Fiorentina is a T-bone steak cut thick (at least 5 centimeters) from the loin of a Chianina cow raised in Tuscany. It is cooked for 5 to 7 minutes on each side, depending on the thickness, until the outside is cooked and the inside remains very rare. Don't ask for medium-well done steak here, the meat is too thick.
Veal alla Milanese
Veal alla Milanese is another popular Italian dish made with a tender veal cutlet coated in breadcrumbs and then fried in butter. Popular in Milan.
Espresso or Cappuccini
Italy has a strong coffee culture and the Italians are very passionate about their coffee. While I favor the Cappuccino (the Italians call them Cappuccini), it is all about the espresso in Italy! All espresso is coffee but not all coffee is espresso. For it to be considered espresso, the coffee needs to be brewed under specific pressure. And remember Italians don't drink coffee with milk past 11 am, only shots of espresso.
Try these Italian coffees in Italy or in your favorite coffee house:
Cappuccino: equal parts espresso, steamed milk, and foamed milk
Caffè latte: espresso with more steamed milk and less foam
Latte macchiato: steamed milk with a splash of espresso
Caffè americano: Italians typically don't do drip coffee like in the United States, but you can get an americano which is espresso diluted with hot water.
Caffè lungo: This version has espresso with a splash of hot water but is stronger than the americano.
Did you know the word 'Capuchin' literally means cowl or hood in Italian, and it was a name given to the Capuchin monks for their hooded robes? The color of coffee with cream in a Cappuccino was the same lighter-brown color like the robes of the Franciscan monks, and that is where the name comes from.
Gelato
Now on to everyone's favorite food in Italy – Gelato! It has so many actual fruits and nuts I consider it a food group and not just dessert 😉 Gelato also has far less butterfat than ice cream: about 4 to 8 percent compared to 14 percent for ice cream in the United States. The low-fat content means that gelato is served a bit warmer. This is also the reason for the velvety texture and intense flavors but it does melt faster, so enjoy responsibly.
Some of our favorite gelaterias in Italy that we tried:
Amorino is a chain that offers creamy gelato in flower-shaped cones (you can find vegan & gluten-free as well). They have several locations in Italy. Other Gelato places in Italy: La Carraia in Florence, Gelateria I Caruso in Rome, Il Massimo del Gelato in Milan, Primavera in Sorrento, So many in Venice but Gelato di Natura is a favorite!
Cannoli
Cannolis are crunchy little tubes of deep-fried pastry filled with delectable cream made from ricotta, sugar, and chocolate. The authentic Sicilian version(where this Italian dessert originated from) has a filling made from citrus zest along with ricotta, sugar, chocolate and finished with chopped pistachios on top. Yum! Can't wait to try them in Sicily someday!
See this recipe to make some authentic Sicilian Cannolis
Arancini & Supplì
Another snack food from Sicily, Italy – Arancini is usually made of minced meat, fish, potatoes, or rice, mixed in egg yolk, breaded, and fried in oil or butter pan. They are typically cylindrical, but in some parts of Sicily, they can be spherical. Supplì are similar, but more commonly filled just with rice and cheese. These tasty rice balls are a great Italian snack with wine.
Tiramisu
Tiramisu, the classic Italian dessert needs no introduction. Originating in the region of Veneto, Tiramisu is a family favorite. I don't think we have come across a bad Tiramisu yet. You will find many variations of this classic dish and honestly, you should just try them all!
There a few Tiramisu recipes you can find on the internet but I love this recipe by Giada De Laurentiis, the queen of Italian food.
Digestivo, the after dinner tradition
The term "digestivo" does not refer to one drink, but a class of drinks that are enjoyed after a big meal. It is to help settle the stomach from all that cheese and carbs! The practice of drinking digestive dates back to the Middle Ages, when people all over Europe believed in the medicinal properties of alcohol mixed with sugar and herbs. You cannot say you have enjoyed a real Italian meal unless you top it off with a shot of strong disgestivo. Popular digestives include limoncello, grappa, amaro, sambuca cynar, or amaretto.
I do like the tangy citrusy limoncello, especially when enjoyed by the coast!
What do Italians eat for Breakfast?
We talked about Apertivo and Digestivo but do you wonder what Italians eat for breakfast? Typical Italian breakfast includes a cappuccino along with a pastry like a cornetto or a brioche. An Italian cornetto is crescent-shaped like the french croissant but in fact a little different. It is made with flour, milk, eggs, sugar, salt, butter and yeast and can be served empty or filled while the croissant does not have any eggs. The roundish brioches have more butter and sugar and are softer. Brioches are eaten for breakfast in northern Italy and cornettos in the central and southern parts of Italy.
While you might find eggs, pancakes or bacon in menus at cafes in Italy, but if you want to have a typical Italian breakfast ask for cappuccino e brioche.
Hope you find this guide to food to try in Italy useful and you get to venture beyond pizza and penne pasta during your next trip to Italy.
PIN IT FOR LATER
Note: This post may contain affiliate links, partnership or sponsored content. If you purchase an item via one of these links, we may receive a small commission at no extra charge to you. But as always images and opinions are our own. For more information on our affiliates and privacy policy at Outside Suburbia see here.
CONNECT WITH US