Mount Vesuvius, a volcano near the Bay of Naples in Italy, is hundreds of thousands of years old and has erupted more than 50 times. Its most famous eruption took place in the year 79 A.D., when the volcano buried the ancient Roman city of Pompeii under a thick carpet of volcanic ash. During our first trip to Italy, we decided to visit Pompeii with our kids.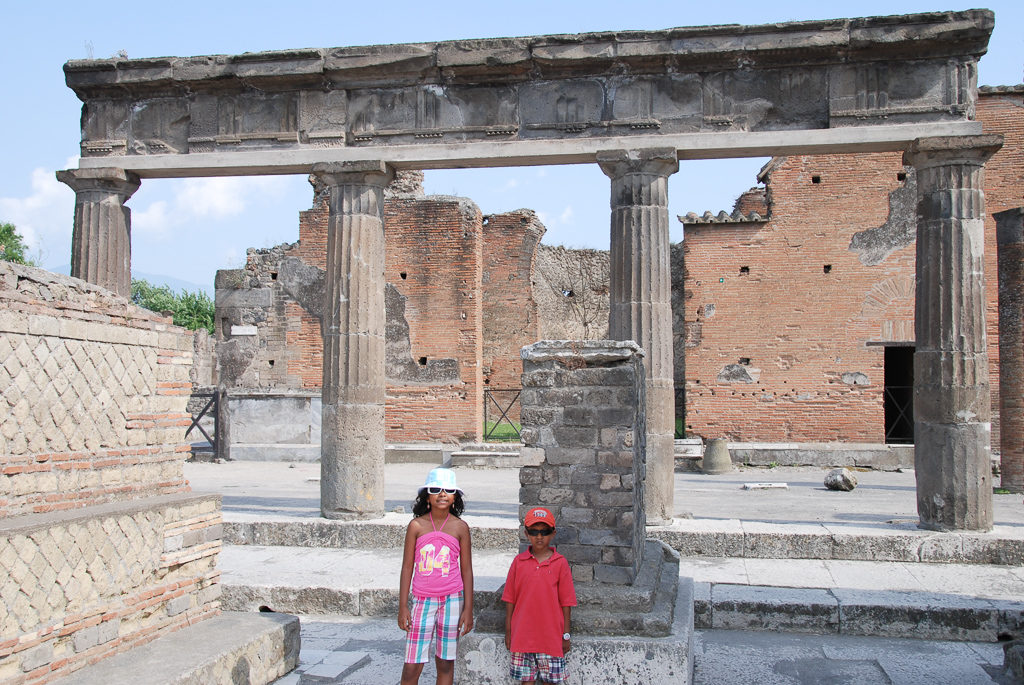 Visiting Pompeii with Kids
The dust "poured across the land" like a flood, one had witness wrote, and shrouded the city in "a darkness… like the black of closed and unlighted rooms." Two thousand people died, and the city was abandoned for almost as many years. When a group of explorers rediscovered the site in 1748, they were surprised to find that–underneath a thick layer of dust and debris–Pompeii was mostly intact. The buildings, artifacts and skeletons left behind in the buried city have taught us a great deal about everyday life in the ancient world. Pompeii is not an easy place to visit with kids, we had to tell them a little bit of the history before we got there.
Day trip to Pompeii
For our day trip to Pompeii and Vesuvian archaeological area we hired a private car and arranged for a guide. This was towards the tail end of our Italy trip and the kids were pretty saturated from all the sightseeing, so the private car although more expensive than a standard tour was a welcome luxury. The Amalfi Coast is about an hour from Pompeii, close enough that we managed to visit both on the same day.
It also helped that we had a knowledgeable guide who helped us navigate through the vast maze of ruins at Pompeii. He was able to explain life in those days and bring to life the events that happened without adding too many scary details for young kids. There were not many signs or explanations, so it helps to have a guide. Many of the artifacts unearthed during excavation are housed in the National Archaeological Museum in Naples.
You can visit Pompeii on a half-day tour from either Naples or Sorrento. A guide will show you many of the well-preserved buildings at the archaeological site that were covered by volcanic ash when Vesuvius erupted in 79 A.D. You can arrange for a 2 or 3 hour private or small group tour to visit Pompeii with kids. There was hardly anyone else in Pompeii when we visited.
Popular Pompeii Tours
PIN IT FOR LATER
Note: This post may contain affiliate links, partnership or sponsored content. If you purchase an item via one of these links, we may receive a small commission at no extra charge to you. But as always images and opinions are our own. For more information on our affiliates and privacy policy at Outside Suburbia see here.
CONNECT WITH US