Milan is recognized as Italy's financial hub and one of the world's fashion capitals, but it also has some great things to do, and see! Best way to see the Milanese way of life: sip a coffee with the view of the Duomo or take a tram through the center of Milano!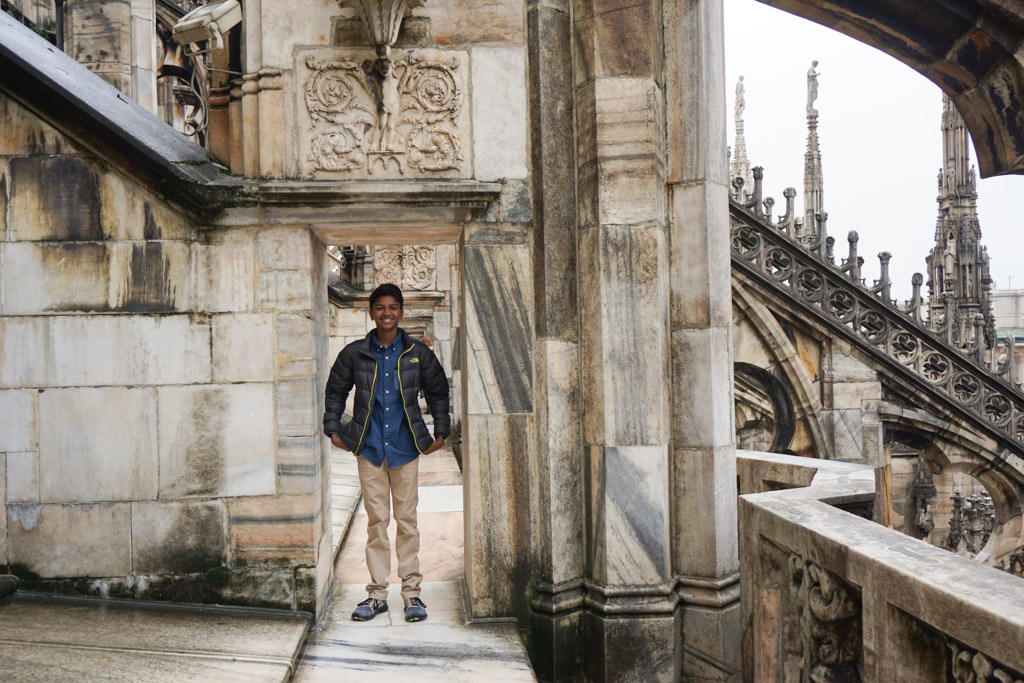 Situated between the foothills of the Alps and the River Po, the metropolis of Milan is famous for its ateliers of the Milanese Fashion District. Glass skyscrapers share the skyline with Gothic spires, shops and restaurants are nestled among 15th-century canals, and cobblestoned piazzas. We spent a few days in Milan during Autumn a couple of years ago and fell in love with the city! Here are all the fun things we discovered to do in Milan.
3 Days / 72 hours in Milan Itinerary
OUR PERFECT 3 DAY MILAN ITINERARY
Day 1: Duomo di Milan | Galleria Vittorio Emanuele II | Teatro alla Scala
Day 2: Santa Maria delle Grazie | Pinacoteca Di Brera | Brera
Day 3: Castello Sforzesco | Parco Sempione | Porta Nuova | Navigli
Extra Day(s): Visit Italian Lakes, Bergamo or Piedmont
You can spend a week or a month in Milan exploring the neighboring towns and going on day trips to the Italian lakes. We LOVED Garda and Bergamo!
If you have only 3 days or 72 hours in Milan you can cover most of the major sights and still have time to do some shopping in Milan. We were visiting during Fall and here is how our 3 day Milan Itinerary looked like.
Day 1 in Milan
Visit Duomo di Milan, stop for coffee and some shopping at Galleria Vittorio Emanuele II. Head to Teatro alla Scala (Opera House), through Via Mercanti. Walk until you get to Piazza Mercanti, to admire the architecture. Then head to the quadrilatero della moda or fashion quadrilateral for more shopping.
Day 2 in Milan
If seeing the famous Last Supper painting is on your list, head to Santa Maria delle Grazie. Make sure to purchase tickets in advance and arrive early. Visit Basilica of Sant'Ambrogio, Pinacoteca Di Brera and have dinner at Brera. Today is an artsy day!
Day 3 in Milan
Head to the Castello Sforzesco to visit the museums and spend some time leisurely enjoying Parco Sempione. Take a Tram to Porta Nuova district of Milan. Have dinner at one of the many restaurants in Navigli. We ate at Hosteria della Musica in Brera and loved it.
One Day in Milan
If you have only one day in Milan then you can visit just Duomo, Galleria Vittorio Emanuele II and stop at Navigli for dinner. You can manage to see Leonardo da Vinci's "The Last Supper," if you have arranged for tickets. Make sure to stop at Brera for lunch and a quick stop at Porta Nuova district of Milan.
Best shopping places in Milan
Galleria Vittorio Emanuele II is one of Milan's best shopping spots and perhaps one of the most magnificent shopping arcades in the world. From Prada, Gucci, you will find all the luxury boutiques here. The glass-roofed, arcaded gallery has been open since 1867 making it also one of the world's oldest shopping malls.
Even if you are not shopping for luxury goods in Milan, it is worthwhile visiting Galleria Vittorio Emanuele II to enjoy the beautifully decorated window displays and architecture. I loved the frescoes, decorated statues and colored marble floors! I bought my first Prada Bag here 🙂
Have a cappuccino or aperitivo in one of the beautiful cafes and people watch. Caffe' Zucca(aka Camparino) has been welcoming shoppers since 1867 and still maintains it's original counters and mosaics. Or try one of the new cafes. I loved the pistachio colored decor and pastries at Pasticceria Marchesi located above the Prada store.
Then check out quadrilatero della moda (Fashion Quadrangle) which is formed by Milan's most elegant shopping streets: Via Monte Napoleone, Via Alessandro Manzoni, Corso Venezia and Via della Spiga. This part of Milan is packed with high-end boutiques and brands like Gucci, Moschino, Versace, Bulgari, and other big names in the fashion industry.
Here are a few other places for shopping in Milan:
Via Monte Napoleone: Is Italy's Fifth Avenue, you will find all the famous brands here
Via Della Spiga: For High-End Boutique Shopping
Corso Buenos Aires: One of Europe's longest shopping streets, often compared to London's Oxford Street & Paris' Avenue des Champs-Élysées
Galleria Vittorio Emanuele II: For Shopping And Coffee
Via Dante: Another beautiful area in Milan
Brera district: Upscale yet bohemian indie shopping area
Stop at Corso Como, Milan's first concept store which was founded 25 years ago by Carla Sozzani, a former fashion magazine editor. The store has an art gallery, a designer shop, a bookstore, a restaurant, and a terrace bar in addition to the clothing shop.
Designer Outlet Shopping near Milan
The largest Designer Outlet in Europe, McArthurGlen Serravalle is located about 50 minutes away from Milan's city center. You will find over 300 luxury designer brands here. Sitting in the Piedmont countryside and the Ligurian Riviera, the location is beautiful as well.
Best things to do in Milan besides shopping
Besides designer shopping and sipping cappuccinos in cafes here are a few experiences in Milan we love.
Taking the Tram through Milan to Porta Nuova district
Walking in Parco Sempione
Climbing up on the Duomo Rooftop
Seeing art in Castello Sforzesco and Pinacoteca Di Brera
People and pigeon watching at the many squares
Dinner at Navigli (Try Risotto alla Milanese)
Parco Sempione
While much of Milan is marble and stone, there are pockets of lush greenery too. Right in the center of the city is the enormous Parco Sempione, much like New York's Central Park. Spanning some 100 acres, it's the largest park in Milan and host to some unique attractions.
On warm days Milanese enjoy a picnic on the grounds. Walk around the footpaths to see the famous Napoleonic Arco della Pace (Arch of Peace), the beautiful central lake, and visit a few of the museums. It's quite easy to spend an entire day at this lovely park in Milan. Kids will enjoy running around and you will find fun things to do in this Milan park.
Arco della Pace
One of Milan's many city gates, the neoclassical Arco della Pace, or "Arch of Peace", is a triumphant arch located at Porta Sempione. The arch was built under Napoleon's rule of the short-lived Italian Republic to echo the Arc du Triomphe in Paris. The arch, in fact, is built at the start of Corso Sempione, a road that connects Milan to Paris along the Simplon Pass, with the intention that Napoleon would pass through the arch on his way into Milan.
The arch is similar in design to the Arch of Septimius Severus in the Roman Forum. It stands at 25 meters high and is topped with bronze statues, including the central figure of a Goddess led by four horses and an inscription that reads Sestina della Pace (poem by peace). Below the statues are personified representations of the four rivers located within the Lombardy-Veneto region: the Po, the Ticino, the Adile and the Tagliamento.
Castello Sforzesco
Castello Sforzesco is one of the many attractions nestled within the vast grounds of Parco Sempione. It is one of the most popular attractions in Milan next to the Duomo. Constructed in the 1300s, the castle was severely damaged throughout the years after multiple attacks on the city. Francesco Sforza, the duke of Milan at the time, commissioned a new structure in the 15th century. After several expansions in later centuries, it is now one of the largest citadels in Europe and the top places to visit in Milan.
One of the most important things to see at Castello Sforzesco is what is believed to be Michelangelo's last work, the unfinished Rondanini Pieta. The Castello also contains the Sala delle Asse (ceiling painting in tempera), which is most widely attributed to Leonardo da Vinci.
Entry to the castle proper is free after 2 pm on the first and third Tuesday of every month.
The Castello Sforzesco houses several museums including:
The Museum of Ancient Art: This museum houses the Sforza family's frescoes and sculptures of great value from various eras like Antiquity, the Middle Ages and the Renaissance period. Rondanini Pietà, the last and unfinished work by Michelangelo is also here.
The Pinacoteca del Castello Sforzesco: Over 1.500 works of art created between the thirteenth and eighteenth centuries are housed here.
The Museum of Musical Instruments: This museum contains curious instruments from all over the world.
The Egyptian Museum: The Egyptian Museum houses several objects from Egypt, including statues, mummies and sarcophaguses.
The Archaeological Museum of Milan: This museum contains objects and items from the main cultures that lived in Lombardy from the Neolithic to the Romanization period.
Duomo di Milano
Duomo Milano is the top attraction in Milan and large crowds of tourists and Italian alike come to marvel at the cathedral that took 6 centuries to complete. The Duomo was started in the 13th Century and then finished by Galeazzo Visconti III during the 15th and 16th Centuries, the dome is fascinating and impressive. It is the largest church in Italy! It is the second largest dome structure in the world, next only to Rome's Duomo and can hold up to 40,000 people.
The Piazza del Duomo or Cathedral Square, where the Duomo sits marks the center of Milan, both in a geographic sense and because of its importance from an artistic, cultural, and social point of view.
Duomo building is lined with marble spires and over 2,000 marble statues. The stained-glass windows in the nave (mostly from the 15th-16th centuries) are some of the largest in the world. It is a magnificent sight to see and a great spot to captures some pictures in Milan.
Visiting the Duomo, Milan, and seeing the city from the rooftop was one of our highlights from this trip.
See: Exploring the Duomo Milan from the rooftop
Located near the Duomo, look up to spot the 330-foot (101-meter) Velasca Tower. It looks over the city center skyline and when compared with the Duomo, captures Milan's position as Italy's city of past and present, a city that is both ancient and modern.
Not too far from the Duomo is Piazza Mercanti, a picturesque square in Milan. During the Middle Ages, the plaza was the commercial and governmental center of the city. Loggia degli Osii is a striking building that has large open arches that are decorated with statues and coats of arms. It is a charming square and a must see spot, a great spot for some photos in Milan.
Piazza della Scala & La Scala
La Scala, or Teatro alla Scala in Italian, is one of the most famous opera houses in the world. It is Milan's premiere destination for enjoying opera and ballet. Like other theatres of the same period, La Scala also housed a casino during its early years. Many famous operas have had their first production in La Scala, such as Othello, Nabucco by Verdi or Madame Butterfly by Giacomo Puccini.
It is only a couple of minutes walk from Galleria Vittorio Emanuele II, there is a lovely square, Piazza della Scala with a monument of Leonardo da Vinci.
If you would like to visit Teatro alla Scala, you can only do so by either purchasing tickets to one of its operas or ballets, or by visiting the Theatre Museum. On the tour of the Theatre Museum, you will get to see parts of La Scala that are otherwise off-limits, like the boxes. La Scala's elegant are red and gold interior is gorgeous and never fail to surprise.
Basilica di Sant'Ambrogio
Saint Ambrose was a Roman governor who was made a bishop by popular vote back in AD 374. Although he refused the prestigious appointment at first, he was pressed into accepting the role, upon which he gave up all of his lands to support the poor. Now the patron saint of Milan, his remains are interred within the crypt in the basilica. You can take a guided tour of the premises to learn more about this bishop and saint, or wander around at your own pace (for free).
Santa Maria delle Grazie
Leonardo da Vinci's The Last Supper is one of the most famous paintings in the world, and the masterpiece is located in the UNESCO world heritage site Chiesa Santa Maria della Grazie.
Sadly we missed getting here due to lack of planning! Hopefully next time we will get to this masterpiece in Milan!
Tip: This is a very popular attraction and tourist destination in Milan. Because of the fragility of the work, visitors are only admitted every 15 minutes with a maximum capacity of 30 people at any given time. So, if seeing this masterpiece is on your bucket list, it is necessary to book tickets in advance.
Pinacoteca Di Brera & Brera
Pinacoteca is a must see art museum in Milan. It is housed in a palazzo that was formerly a church and monastery built by the Humiliati (Italian religious order) called Santa Maria in Brera. Napoleon Bonaparte helped establish the art gallery in 1809. It is an art lover's dream gallery that houses Italian paintings stretching back to the Renaissance. You will find paintings from Caravaggio to Raphael!
Start with Room 1 that showcases 20th Century sculpture and painting and from there your journey will begin backward in time. All 40 rooms are wonderful but the most important room is Room 6 which houses the Cristo Morto (Dead Christ). The painting is very precise in the depiction of Christ's wounds, and it is not recommended for young viewers.
There are so many beautiful artworks of Madonna and Child. I highly recommend buying a museum tour map, see their website for details.
Upscale food shops and fashion boutiques line the streets in Brera. It is fun during the day but at night the cobbled alleys come alive with glamorous Milanese dining at the sidewalk cafes and stylish restaurants. We ate at Hosteria della Musica in Brera and loved it.
Porta Nuova district of Milan
One of the best experiences in Milan is taking a Tram to the main business district of Milan, Italy called Porta Nuovo district. It is named after the well-preserved Napoleonic gate built in 1810–13. Located just near the Garibaldi Station, you will see many skyscrapers as well as the Boschi Vericali.
Bosco Verticale (Vertical Forest) is a pair of residential towers in the Porta Nuova district of Milan, Italy, between Via Gaetano de Castillia and Via Federico. They have a height of 111 meters and 76 meters and contain more than 900 trees on 8,900 square meters of terraces. The building has won many awards for its sustainability and modern architecture.
This part is different from the Milano city center but gives you a true perspective of life in Milan. Make sure to spend some time here.
Trams! Best way to get around in Milan
Milan is very compact and walkable, much like Florence, has a very efficient subway system. Buses and trams will also provide great transportation. Trams in Milan are bright yellow, extremely noisy, and slow, but they are one of the symbols of Milan.
Did you know some of these "tipo 1928" are used in Line F (Castro-Fisherman's Wharf) in San Francisco!
Nineteen tram lines in all cross Milan, taking you off the beaten track through streets and squares that even most Milanese never really discover. The most unique ones are those that are called "tipo 1928". These are the trams that were built between 1928 and 1932. There are still 163 of them running around Milan.
Tram 1 passes through many of the spots of Milan like Sempione, Arco della Pace – Arch of Peace, Cadorna, Piazza Cordusio and the Galleria Vittorio Emanuele II (both near Milan Cathedral at the Piazza del Duomo, La Scala opera theatre), Montenapoleone, Piazza della Repubblica, Giardini Pubblici, and then north to an area near Milano Centrale Station.
If you want a view of the real Milan, take Tram 4 which has been running since 1927, takes you ten kilometers through the center of Milan. The tram's interior exudes old-fashioned elegance with its wooden seats and glass lamps hanging from the ceiling.
Tram 4 route starts its journey at Piazza Castello right in front of the historic Sforza Castle, it will pass in front of Garibaldi Station and then along the Cimitero Monumentale (an old cemetery) before turning off into the bustling streets of Milan's Chinatown. It then cuts through the trees of Parco Sempione and then down the busy shopping streets of Via Mercato and Via Broletto with their wonderful churches.
The tram then zig zags through the centre of Milan, along Via Mazzini and Corso di Porta Romana and the Basilica of San Nazzaro. Take it to the end of the line all the way to Niguarda where you will find a colorful fruit and vegetable market.
Other things to do in Milan
Another famous area of Milan is Navigli, known for its picturesque canals, hip bars, restaurants, and most importantly for aperitivo. Meaning pre-meal drink, aperitivo in Navigli sometimes means free dinner. Purchase any beverage at one of the many canal-side bars around sunset and you are treated to cold cuts, bruschetta, bread, cheeses, and salads. We also had some of the best pistachio pesto pizza here at Navigli.
Navigli is a little like Venice! Charming and unique, don't miss it! It is one of the fun things to do in Milan, especially at night. You can even go on a boat tour here if you visit during the day.
If the weather is nice and you are visiting Milan in spring or summer, visit the Italian Lake and towns of Lake Como, Bellagio and Varenna. You can do on an organized tour which runs for about 10 hours or take a train to Como and visit at your own pace.
Go on a Half-day Italian Cooking Class where you cook and enjoy authentic local cuisine in a private home.
Best time to visit Milan
Spring and summer are some of the best times to visit Milan. April to May or September to October is when you want to visit Milan if you want to avoid crowds. We were there in November and it did rain a bit, but we managed to get to most of the attractions we wanted to see. There are many museums and indoor things to do in Milan. The stores were decorated for Christmas and very festive, plus we had generous shavings of truffle at restaurants since it was truffle season!
Milan Tours
Where to stay in Milan
We stayed at The Hotel Principe Di Savoia which belongs to the Dorchester collection, a smaller hotel chain with the most luxurious hotels all over the world. It is located 10 minutes taxi ride away from Milan Central station in the beautiful and busy Piazza della Repubblica.
See: Our stay at the Hotel Principe in Milan
Other Luxury Hotels in Milan that we were looking at
Bulgari Hotel Milano
Excelsior Hotel Gallia, a Luxury Collection Hotel in Milan
The Westin Palace, Milan
On your next trip to Italy, venture beyond the canals of Venice and the beaches of the Amalfi Coast, and spend a few days in Milan.
PIN IT FOR LATER
Note: This post may contain affiliate links, partnership or sponsored content. If you purchase an item via one of these links, we may receive a small commission at no extra charge to you. But as always images and opinions are our own. For more information on our affiliates and privacy policy at Outside Suburbia see here.
CONNECT WITH US