While most people start their trip at the capital of Portugal and either take the train or drive from Lisbon to Porto, we were going about it backward. We flew from Marrakesh to Porto, after spending four days enjoying the city and finding all the picturesque spot and the famous blue and white azulejo tiles we drove to Lisbon. We were blessed with sunny days and beautiful views in Porto and even extended our stay! We loved the city and our hotel where we stayed and didn't want to leave. But driving through the small towns in Portugal was one of the highlights of our trip. Here is a look at the cities we visited during our drive with myDayTrip, a sightseeing private transfer service that picks you up in a city and drops you off in another.
Óbidos, Portugal
The town of Obidos in Portugal is known as the 'wedding present town' as it was given by King Dinis to his bride on their wedding day in 1282. Surrounded by a fortified wall, Óbidos has cobblestone streets that lead up to a gorgeous historic center. The whitewashed houses with bright dashes of yellow and blue paint line up the streets of this charming town.
The main gate of Óbidos' features a chapel and a gorgeous blue-and-white-tiled baroque balcony which dates to around 1380. The city has a fascinating history and was founded several centuries Before Christ. It was conquered by the Portuguese King Alphonso I in the twelfth century, and in the eighteenth century was a favorite holiday spot for royalty. The town is a popular place to visit as a day trip from Lisbon.
Óbidos' dramatic Moorish wall surrounds the historical center of town and stretches in a completed loop and can be walked across the top. While we didn't have time to get up to the top of the wall, there are four staircases accessing the wall, but most folks climb up at the Porta da Vila, the main gate.
Some places to visit inside this quaint town are – Pousada de Óbidos (an upscale hotel set in a medieval 700-year-old castle), the Town Gate, St Peter's Church, and St Mary's Church, which at one time served as a mosque. The main gate, Porta da Vila, leads directly into the main street, Rua Direita, lined with chocolate and sour cherry–liqueur shops.
Igreja de Santa Maria is the town's elegant main church, near the northern end of Rua Direita. Go in to see the interior, it has a wonderful painted ceiling and walls done up in beautiful blue-and-white 17th-century azulejos.
Don't miss the famous cherry liqueur Ginja de Obidos that is usually served in small chocolate cups – you can choose white chocolate or dark chocolate.
Tip: Óbidos is not far from Lisbon about 50 miles and makes for a perfect stop from Lisbon to Porto. You can go just to Óbidos or combine the trip with a visit to Fátima, Nazaré, monasteries of Alcobaça and Batalha, both are Unesco World Heritage Sites.
Coimbra, Portugal
Rising majestically from the Rio Mondego, Coimbra has a rich history. It was Portugal's medieval capital for more than a century and it is home to Portugal's oldest and most prestigious university. Its colorfully stacked historic center dates to Moorish times and is atmospheric, with cobbled lanes and a monumental cathedral. It is one of the best-preserved old towns in Portugal. During the school year, it is buzzing with students and in summer evenings, you can hear the guitarra (Portuguese guitar) and the tunes of fado singers. Our history obsessed daughter loved visiting Coimbra!
Coimbra's Unesco-listed university was originally founded in Lisbon in 1290. It was subsequently relocated several times before being permanently established in Coimbra in 1537.
The University is a great place to explore and learn a little about the history of Portugal. The Pátio das Escolas is a vast courtyard surrounded by majestic 16th- to 18th-century buildings. These include Paço das Escolas, Torre da Universidade, Sala dos Capelos, Prisão Acadêmica, Capela de São Miguel and Biblioteca Joanina. You can climb up the Tower or Torre da Universidade to get a bird's eye view of the town.
The room Sala Grande dos Actos is the main room of the University of Coimbra, Portugal. It is also known as Sala dos Capelos and it is still used nowadays in the academic ceremonies. In the 17th century, this was the Throne Room. This outstanding room was designed by Master António Tavares. Some highlights are, a wooden ceiling with paintings by Jacinto da Costa; carpet-style tiles made in Lisbon and the portraits of the Kings by Carlos Falch, João Batista Ribeiro and Columbano Bordalo Pinheiro.
Capela de São Miguel is part of the main university complex. This ornate 16th-century chapel has a brightly painted ceiling, lavish tilework, Manueline features and a gilded 18th-century organ with about 2000 pipes.
Biblioteca Joanina is the university's baroque library in Coimbra's. While pretty bookstore in Porto Livraria Lello gets so many visitors, we were surprised that there were hardly 15 people waiting to visit this stunning library! Maybe because there were no photos allowed inside 😉
Named after King João V, who sponsored its construction between 1717 and 1728, the library features a remarkable central hall decorated with elaborate ceiling frescoes. There were huge rosewood and jacaranda tables. The towering shelves hold some 40,000 books on law, philosophy and theology. The walls of the library are about 6 feet wide. The most interesting fact was that the library also houses a colony of bats to protect the books which are let to fly through the library at night so that they eat the harmful insects.
Can you believe in the olden days there was a prison for students? Prisão Acadêmica sits in the basement of the Biblioteca Joanina. Originally located beneath the Sala dos Capelos, it was later transferred to beneath the library. Students who were out and about after 7 pm and misbehaving students were put in this medieval jail! I guess the university was able to operate its own separate laws back then. In 1834, after the liberal revolution in Portugal, the prison was used as a deposit for books and illuminated manuscripts from convents and monasteries.
Aveiro, Portugal
Situated on the edge of an extensive coastal lagoon system, Aveiro is a prosperous town with a youthful and energetic atmosphere. It's often called the Venice of Portugal thanks to its small network of picturesque canals.
Where the Italian city has gondolas, Aveiro, Portugal has colorful boats called moliceiros. These traditionally were used for seaweed-harvesting. but these days run the touristy route of canal cruises. It is about a 45-minute fun ride along the canal system. It is nowhere near as big as Venice though! But it is cute and colorful! Aveiro can even be visited as a day trip from Porto(it is only 45 minutes away) if you are planning on taking the train and not driving from Lisbon to Porto.
Do try the Ovos Moles de Aveiro here, they are creamy egg pastries that are a local specialty. If you are having lunch here try the Portuguese delicacy, the codfish? If you have time you can visit the nearby city of Ílhavo. It has colorful houses and you can visit one-of-a-kind museum dedicated to this codfish. It has codfish on display in a large tank. Once the food of the poor, the codfish has now evolved to be a staple of Portuguese cuisine, particularly on special occasions such as Christmas. We had some in Douro valley and found it to be a little too salty!
Praia da Costa Nova
Costa Nova is a small fishing village in Portugal with colorful striped wooden beach homes. It is more of a detour but worth it if you want to see the pretty houses. Costa Nova is about 13km west of the town of Aveiro and is a famous vacation spot. It captures the essence of the Mediterranean spirit and a surfing hangout. It must be pretty busy during the summer month but during our Winter visit it looked a little sleepy.
Praia da Barra is another beach that sits at the beginning of the Port of Aveiro and the end of the estuary. Barra Beach is both spacious and popular among sunbathers, the area takes on a new life during the summer months with the entertainment continuing well into the night at the many bars and discos and during local festivals. Right by the beach is the Aveiro Lighthouse, built over a century ago and, at 62 meters in height it is the tallest lighthouse in Portugal.

Costa Nova is the prettier of the two towns with its beachside strip of cafes and picturesque candy-striped cottages. A nice place to break your journey between Lisbon to Porto and stay for a few days if you are visiting during the warmer months.
You might also want to visit this colorful fairytale Pena Palace in Sintra.
Lisbon to Porto by Train
You might miss out visiting the small towns of Portugal if you take the train from Lisbon to Porto. But it will get you there in about 3 hours. If you are really in a hurry you can fly TAP Airlines and get there in an hour. In Lisbon, trains leave from Santa Polónia and Oriente stations. Santa Polónia is the old central station, while Oriente is the modern station in Parque das Nações and close to the airport. You can get to both stations by metro. In Porto, you will arrive at Campanhã station and will have to take another train to São Bento station in central Porto and then take a taxi to the hotel. But if you like us love taking the scenic route, either rent a car and drive or leave the driving to someone else and just enjoy the ride!
MyDayTrip Review
Our driver from MyDayTrip picked us from our hotel in Porto, loaded our bags and we were on our way. No hassle of getting to the train station, it is like a private transfer from one city to another. Our driver was very professional and friendly. Even had water and WiFi ready for the drive. The trip was great, stopping in Coimbra for lunch and visiting other sites and small towns along the countryside of Portugal.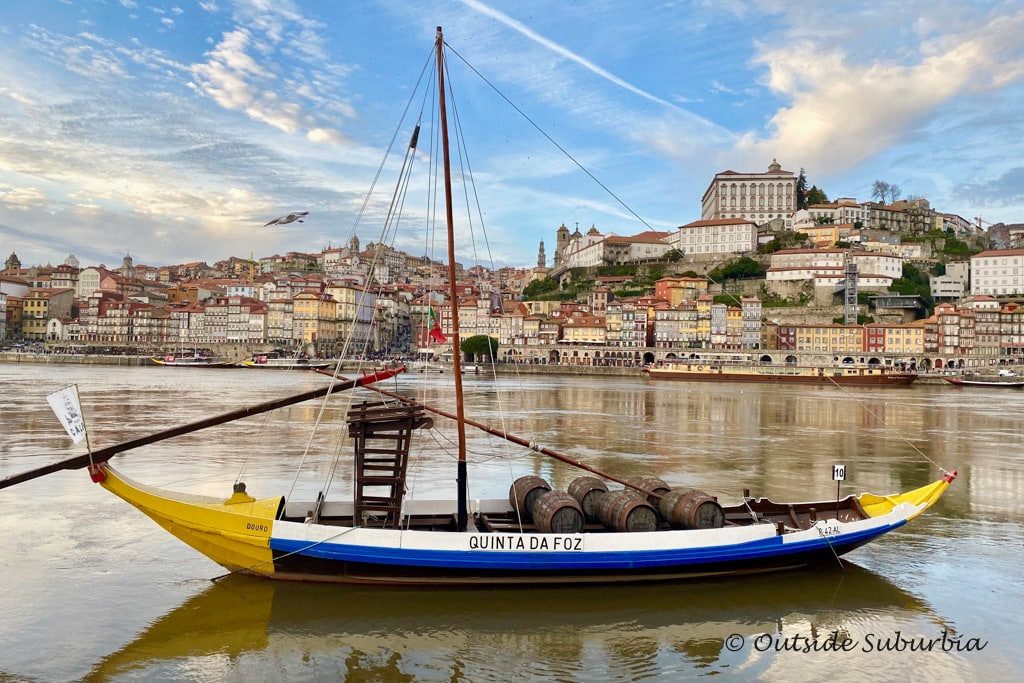 While we do love driving in Europe and have been on a road trip from Vienna to Geneva, driven through the white villages of Spain and the Amalfi Coast, we thought this was a wonderful way to travel through Europe. Have someone else do the driving so everyone can enjoy the sights! It was easy, there was no stress trying to figure out routes and parking plus it was affordable! We will be using MyDayTrip again on future trips!
PIN IT FOR LATER
Note: This post may contain affiliate links, partnership or sponsored content. If you purchase an item via one of these links, we may receive a small commission at no extra charge to you. But as always images and opinions are our own. For more information on our affiliates and privacy policy at Outside Suburbia see here.
CONNECT WITH US