When we were in Scotland we did a spontaneous Scottish Lowlands tour with Rabbies that took us through Alnwick castle, and the Scottish borders and lowlands and Northumberland, England. We stopped at Melrose for some coffee and pastry learned about the Melrose Abbey where Robert the Bruce's and his heart lay buried. From there we drove to Alnwick Castle, which was the setting for the Harry Potter movie.
Alnwick Castle
Alnwick castle was very impressive. Still inhabited by the 12th Duke of Northumberland, Ralph Percy and his family, the castle had a 'homely' feel. The castle has been in the Percy family for 700 years and all their history, priceless paintings and furniture, books, journals, photographs, personal possessions are there for all to see, from legendary kings and queens of England to the present day. Alnwick Castle is the second largest inhabited castle in England.
In recent years Alnwick castle has also taken starring roles in a number of film and television productions, featuring as Hogwarts School of Witchcraft and Wizardry in the Harry Potter films and as a location for the show Downtown Abbey. When we were there we even caught a broom flying lesson.
Then the tour took us through Berwick-upon -Tweed for a quick drive around, where we stopped for photos at the River Tweed on the way, which has changed hands between Scotland and England an incredible 13 times! On the way back to Edinburgh we sat back and listened to the story about Mary Queen of Scots. We don't do very many tours, we are more DIY exploring kinda family where we like to take our time at the sights and the tour with Rabbie's was small, personal and we never felt rushed.
Photos from our trip to Alnwick Castle where Harry Potter was filmed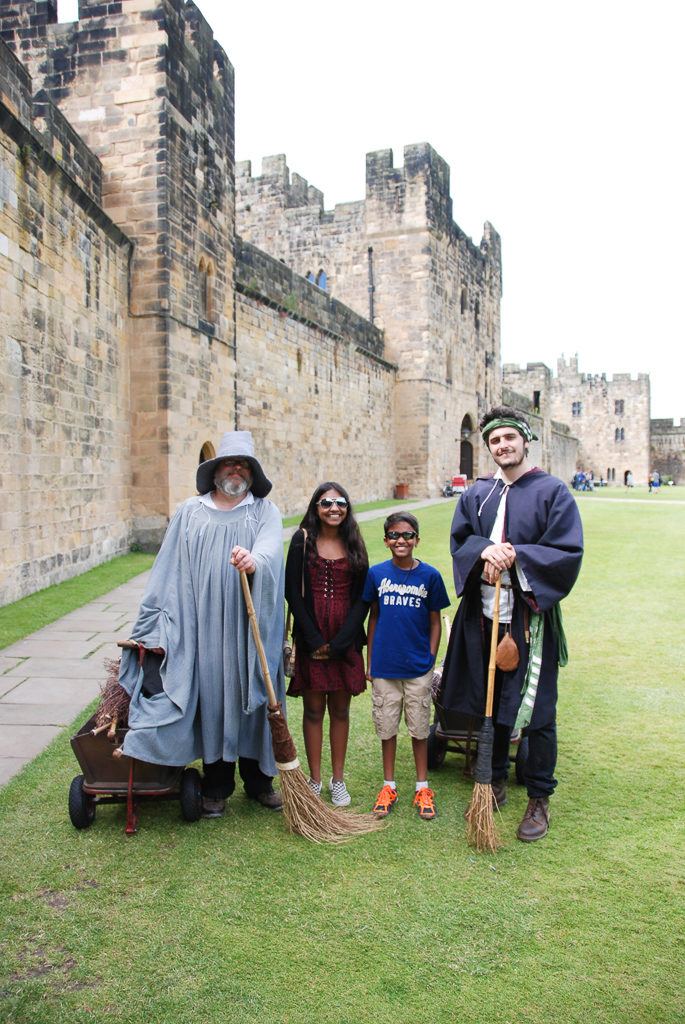 Book Alnwick Castle Harry Potter Tour
Have you been to Scotland? If so – What suggestions do you have for our next trip. We would love to go back and do a road trip.
PIN IT FOR LATER
Note: This post may contain affiliate links, partnership or sponsored content. If you purchase an item via one of these links, we may receive a small commission at no extra charge to you. But as always images and opinions are our own. For more information on our affiliates and privacy policy at Outside Suburbia see here.
CONNECT WITH US