When we were in Edinburgh we did a spontaneous tour with Rabbies to go see the magnificent beauty of Rannoch Moor, Glencoe, the Great Glen, Highland Perthshire and we went looking for Nessie in Loch Ness. This trip to the Scottish highlands was one of the best tours we have even done. We loved it so much that we signed to go on the Lowlands tour with the same tour company the next day.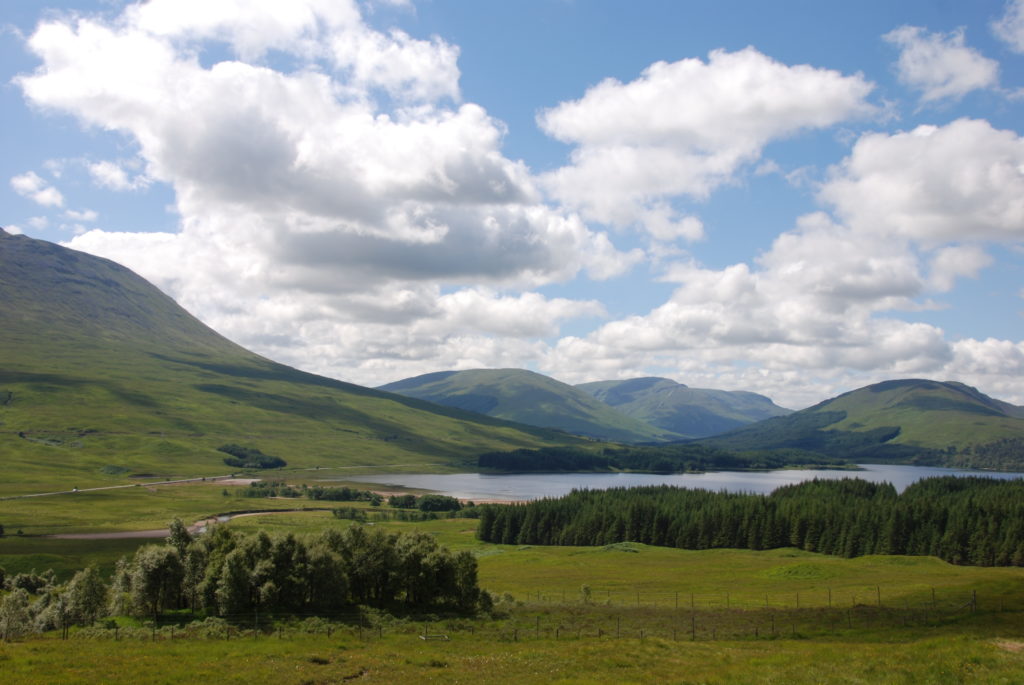 Glencoe is perhaps Scotland's most famous and most scenic glen. Glencoe is also arguably Scotland's most historic glen, and it was recently voted as Scotland's most romantic glen.
History and scenery of Glencoe
The first historical figure connected with Glencoe was Fingal, one of the greatest Celtic heroes and leaders of the Feinn, warriors of Gaelic mythology. The glen was his legendary home. We learnt about the Massacre of Glencoe in the 17th century, when disputes flared up between the Glencoe MacDonalds and the neighboring Argyll Campbells. The MacDonalds were forever associated with Royalist and rebel causes, while the Campbells became involved with the authority of government. It was a tragic battle between two very different ways of life – the carefree and somewhat lawless highlanders, and the ruthless central government.
Inverlochy Castle in Fort William
When driving through Fort William area we stopped to look around Old Inverlochy Castle. Although now a ruin this was one of the most important castles in Scottish history and has been the backdrop for two major historical events – the first and second battles of Inverlochy. The moat that surrounded the castle has long gone but the location at the western end of the Great Glen and natural defensive position against the River Lochy gave Inverlochy castle a superior advantage.
After Glencoe, we drove through a deep glacial valley, known as the Great Glen. Passing through the town of Fort William we traveled in the shadow of Britain's highest mountain, Ben Nevis, before arriving at Fort Augustus on the shore of Loch Ness. Fort Augustus boasts the Caledonian Canal, which is a great spot to relax and watch the boats sail by. We stopped here for nearly 1hour 30min. While some opted for a relaxing lunch and taking in the scenery around Scotland's most famous loch, we did a boat tour to go look for Nessie…..
Looking for Nessie in Loch Ness
Loch Ness is a large, deep, freshwater loch or lake in the Scottish Highlands extending for approximately 23 miles southwest of Inverness. At 23 miles long and over 700ft deep, Loch Ness is the largest loch by volume in Scotland. Its surface is 52 ft above sea level. Loch Ness is best known for alleged sightings of the Loch Ness Monster, also known affectionately as "Nessie". We took a cruise boat around the lake to look for ourselves. The kiddos kept looking for him in vain, D claimed he spotted this elusive monster but I will let you be the judge.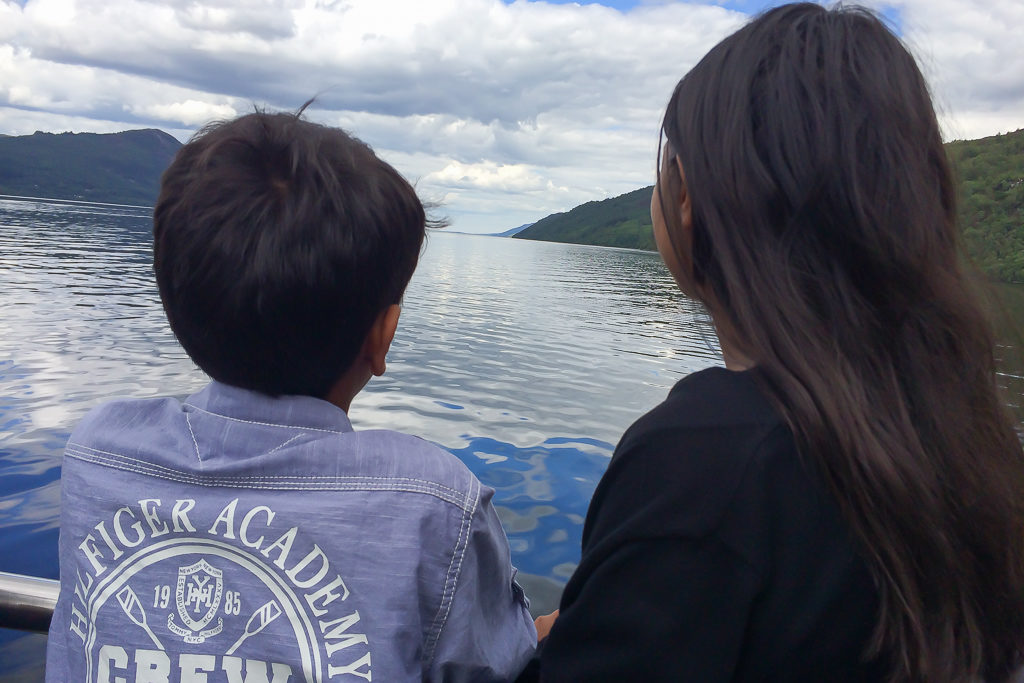 Scottish Highland Tours 
PIN IT FOR LATER
Note: This post may contain affiliate links, partnership or sponsored content. If you purchase an item via one of these links, we may receive a small commission at no extra charge to you. But as always images and opinions are our own. For more information on our affiliates and privacy policy at Outside Suburbia see here.
CONNECT WITH US