Planning a trip to Scotland? See this post for fun things to do in Edinburgh with kids. When you think of Scotland, you probably conjure up images of tartan kilted Highlanders, bagpipes, the Loch Ness Monster, castles, and Scotch Whiskey. Yes, we did see them all during our visit to Scotland with our kids, everything except that sneaky Nessie, the Loch Ness Monster.
Scotland is a land of amazing scenery dotted with shaggy Highland cows and is also the birthplace of golf. We were in Scotland for only a week which was not enough to make the drive up to Inverness and Isle of Skye. We will be back to this beautiful country to check those off the list. In the meantime here are our favorite things to do in Scotland with kids along with a 3 day Edinburgh Itinerary.
3 Days / 72 Hours in Edinburgh Itinerary
Most of Edinburgh's landmarks are within walking distance from each other and in the city center, you can cover them in 3 days. Plan for another 3 to 4 days to visit the Scottish highlands and lowlands and the Isle of Skye.
3 DAY EDINBURGH ITINERARY
1 Day – explore the Old Town of Edinburgh visit the landmarks including the Royal Mile, Princes Street and the Palace of Holyroodhouse and St Giles Cathedral.
2 Day – Visit the famous museums and in the afternoon hike up Arthur's seat and visit Calton Hill before sunset.
3 Day – explore the New Town of Edinburgh. Start the day at Edinburgh castle then visit Dean Village
We were in Edinburgh for 5 days and initially had no planned trips for 2 of those days and were able to do a spontaneous trip to look for Loch Ness Monster and one day to Alnwick Castle, Harry Potters Hogwarts Academy location.
Top things to do in Scotland with kids
Walk down the Royal Mile
The Royal Mile refers to the road linking Edinburgh Castle and the Palace of Holyroodhouse. We walked down the Royal mile in Edinburgh and got lost in some alleyways or closes as they are called in Scotland. Getting lost is the best way to get yourself oriented in a new place. We shopped for some tartan goods and rank some (Highland, lowland and Speyside) whisky!
Edinburgh Castle
Edinburgh Castle which is located in the heart of the city and built on a high volcanic rock, the Edinburgh Castle provides you not only with spectacular views of Edinburgh and beyond, but also with a deep sense of history. Plus, it's the home of the Scottish Crown jewels.
This most famous fortress has dominated the city's skyline since the 13th Century and is the most popular national monument in the country. The spectacular castle affords magnificent views of city landmarks including the Royal Mile, Princes Street, and the Palace of Holyroodhouse. Half the fun is entering the castle via a drawbridge over an old moat.
Palace of Holyroodhouse
The Palace of Holyroodhouse is the Queen's official Edinburgh residence and has frequently been at the center of Scottish history: it was where James II and James IV were each married, where James V and Charles I were crowned, and where "Bonnie Prince Charlie" held court in 1745.
When the Queen's away, public access is permitted to the stunning Historic Apartments (former home of Mary Queen of Scots) and the State Apartments, famous for their fine furnishings, tapestries and plaster-work.
Arthur's Seat
Arthur's Seat is the highest point in the 640-acre Holyrood Park. The spectacular sightseeing views from the top encompass the whole city all the way to the mouth of the Forth. (The easiest way up is from the park's Dunsapie Loch.) Also, an easy climb is the dramatic Salisbury Crags, a series of 151 ft cliffs adjacent to Arthur's Seat.
Calton Hill
We hiked up to Calton Hill, one of Edinburgh's main hills, set right in the city center. There is an acropolis here – originally called the "National Monument". Initiated in 1816, a year after Napoleon's defeat at Waterloo, it was meant to be a replica of the Parthenon in Athens, as a memorial to those who had died in the Napoleonic Wars.
The top of Calton Hill is a usually quiet place to come on any day, with its grassy slopes and panoramic views of the city, including down the length of Princes street (the main shopping thoroughfare) and Edinburgh Castle. This was one of our favorite spots in Edinburg, there is a good view North of the ruddy-colored cliffs of Salisbury Crags, Arthur's Seat, and the undulating slopes of Holyrood Park.
The National Galleries of Scotland
Scottish National Gallery of Modern Art displays paintings by Henry Matisse and Pablo Picasso, surrealistic works by Rene Magritte, Joan Miró, and Max Ernst and other contemporary paintings.
Scottish National Gallery, boasts Scotland's biggest collection of European paintings and sculptures, beginning with the Renaissance and including some Post-Impressionists.
Paintings of Scotland's leading historic figures from the 16th century to the present day can be seen in the National Portrait Gallery, don't miss these three major art galleries while in Edinburgh.
See: Best Modern and Contemporary Art Galleries and Museums in Scotland
St Giles Cathedral
St Giles Cathedral is Edinburgh's principal church. The 161 ft central tower with its eight arched buttresses forms a huge crown (the Crown Steeple) and is a favorite backdrop for photos while in Edinburg. Interior highlights include memorials to the dead of WWI, lovely stained glass windows, and a statue of John Knox, leader of the Protestant Reformation (his former home, 45 High St, is close by and contains a museum and related artifacts).
The Thistle Chapel is known for its marvelous oak carvings, heraldic emblems and seals of the "Knights of the Thistle" (Scotland's oldest order of knights). Sir Robert Lorimer designed the chapel in 1911, and it is a superb example of the modern Gothic style.
Grassmarket
Grassmarket has been one of Edinburgh's most important market squares since the Middle Ages. Mentioned in documents as early as 1477, it later became notorious as a place for public executions from 1660 (the exact location of the gallows is marked by a sobering plaque). On the north side of the market place stands The White Hart Inn where poet Robert Burns stayed and in 1791 famously penned his poem, Ae Fond Kiss for his beloved Clarinda.
Another of the inn's famous poet guests was William Wordsworth. Located just a few minutes walk from Edinburgh Castle and Princes Street, it's a bustling pedestrian-friendly area with shops and cafés that are equally as popular with students from Edinburgh University and locals as they are with tourists.
Dean Village
Dean Village which means deep valley is a former village immediately northwest of the city center of Edinburgh. It was known as the "Water of Leith Village" and was the center of a successful grain milling area for more than 800 years.
Although now part of Edinburgh, it still retains its medieval charm. Take your time here and explore the beautiful banks of Water of Leith River.
Day Trips from Edinburgh
After a few days in Edinburgh, plan for a few day trips to experience some of the most dramatic scenery Scotland has to offer. Spend time at mysterious Glencoe, cruise on Loch Ness and look for Nessie and more. If you asked my kids they would tell you looking for Nessie was their favorite activity and one of the top things to do in Scotland with kids…
Do your children still believe in folklore and tales?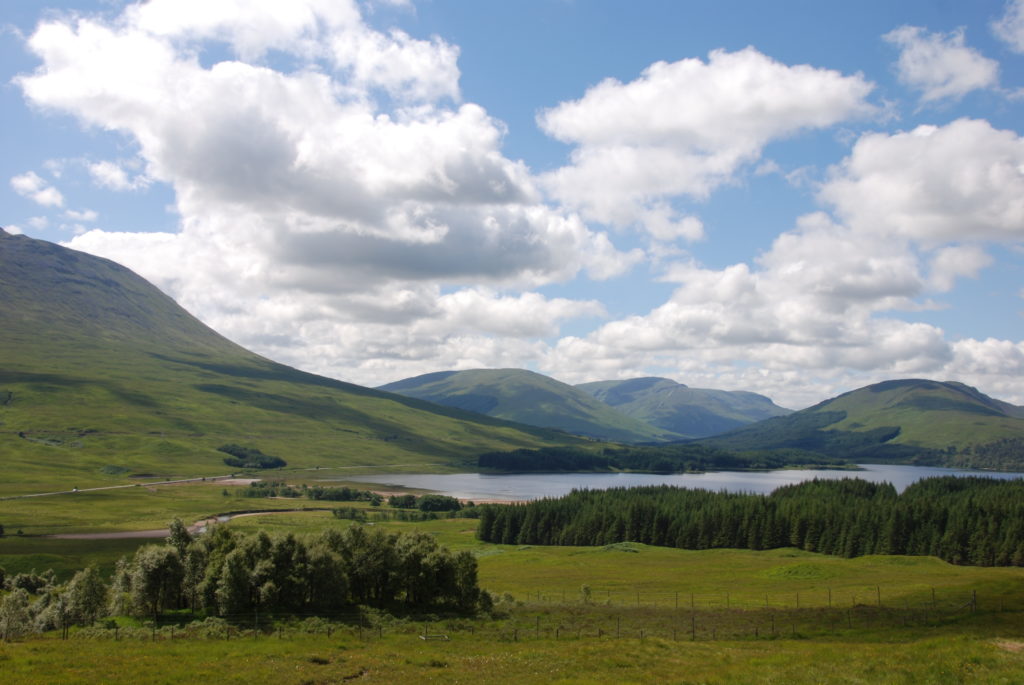 Melrose Abbey
Melrose Abbey, now a ruin, is one of Scotland's most beautiful sites in my opinion, the drive to get there was pretty as well. When King Robert the Bruce was dying he requested that his heart be taken into battle, as he was unable to go on crusade. His wish was granted and his heart now lies in an unopened lead casket in Melrose Abbey.
Look for Loch Ness monster
We went on a tour in the Scottish Highland looking for Nessie in Loch Ness. The beauty of Scotland lies in its vast green pastures, mountains, and lochs. While we didn't make it all the way to the Isle of Skye, seeing the shaggy highland cows, vast scenery was the highlight of our trip.
You will have to read the post linked to see if you really see Nessie in the photos, my kids thought they did!! This probably was the highlight of the trip for them!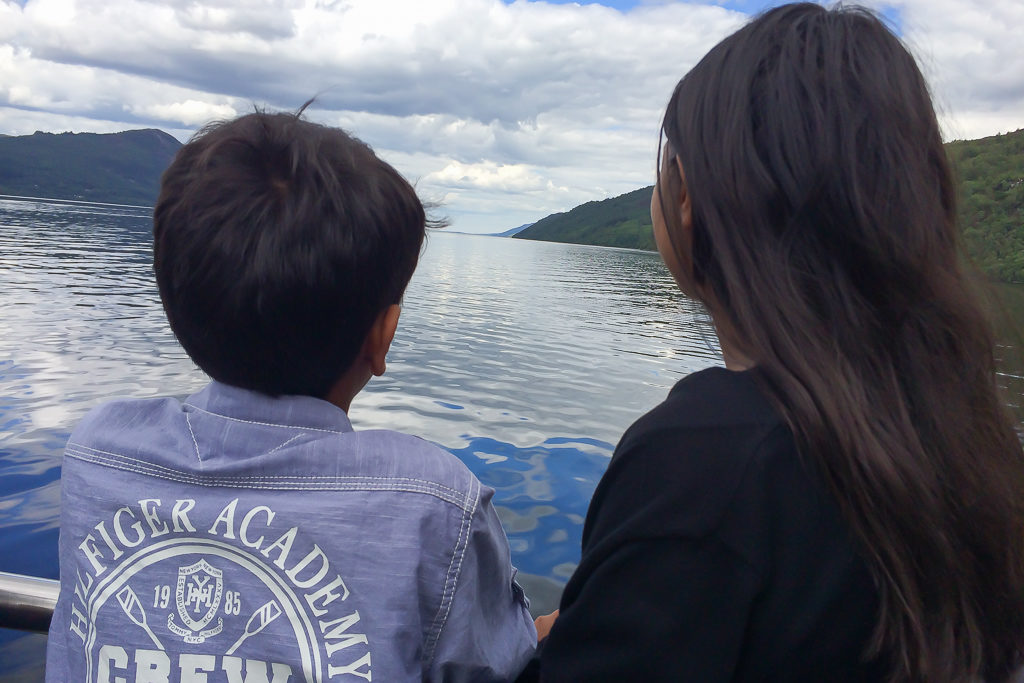 A visit to the Hogwarts Academy location
If you have kids or young adults who love Harry Potter you will have to do the Day trip to Alnwick Castle in Northumberland. It was the setting for Hogwarts Academy in the Harry Potter movie series and also Robin Hood. The kids had fun taking the castle Harry Potter tour, they even had broomstick training for the kids. We drove through the stunning scenery of the Scottish Borders and the town of Berwick-upon-Tweed.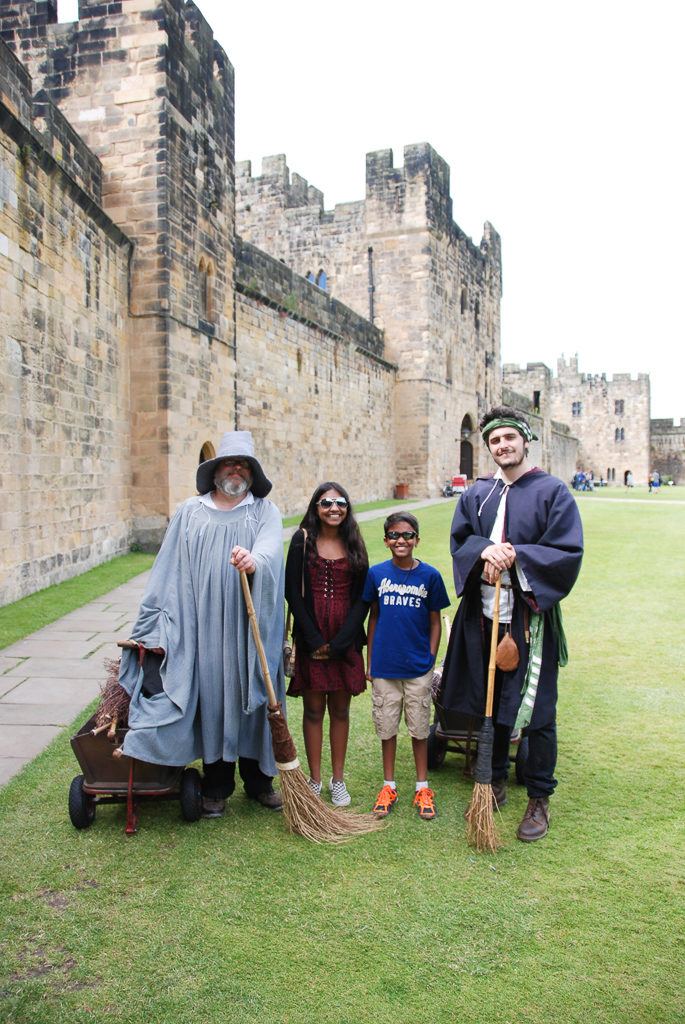 See other things to do in Scotland and book the tours
Where to stay in Edinburgh
We stayed in a spacious two-bed room luxury serviced apartment at Old Town Chamber. The kids had their own upstairs loft area with a bedroom, attached bathroom, and views of the city. We had a nice balcony, a cozy living and dining space, and a small but stunning kitchen fitted out with appliances, like a washer-dryer, fridge, and dishwasher. 
It was a welcome luxury after a few days of small European hotel rooms. There are other nice hotels in the area like Waldorf Astoria Edinburgh – The Caledonian, Radisson Blu Hotel, Edinburgh and Hilton Edinburgh Carlton as well.
Don't miss this: Whisky Tasting in Edinburgh
Don't miss going on a tour to taste the different whiskys made in Scotland (yes even if you are in Edinburgh with kids). The venue was located right off of the Royal Mile in Edinburgh. We learned a bit about how they were made and how the water and environment affect the taste.
We were served four classic single malt scotch whiskys, kids were served IronBrew. It was a great way to immerse yourself in the great cultural importance of whisky in Scotland.
Mr. Suburbia loved trying the different Scotch while D was just drinking Ironbrew not Scotch 😉
We combined this trip with a visit to London, you can see our London Itinerary and a guide to all the fun things to do with kids in London here.
PIN IT FOR LATER
Note: This post may contain affiliate links, partnership or sponsored content. If you purchase an item via one of these links, we may receive a small commission at no extra charge to you. But as always images and opinions are our own. For more information on our affiliates and privacy policy at Outside Suburbia see here.
CONNECT WITH US