Barcelona is a gorgeous city in Spain and one of our favorite places. It is also the largest city in the Catalonia region. There are so many sights to behold and places to see and enjoy in the city. So much so that it can be hard to choose which sites to prioritize. Although you can go to each one, here are fifteen of the most Instagrammable places in Barcelona that you shouldn't miss.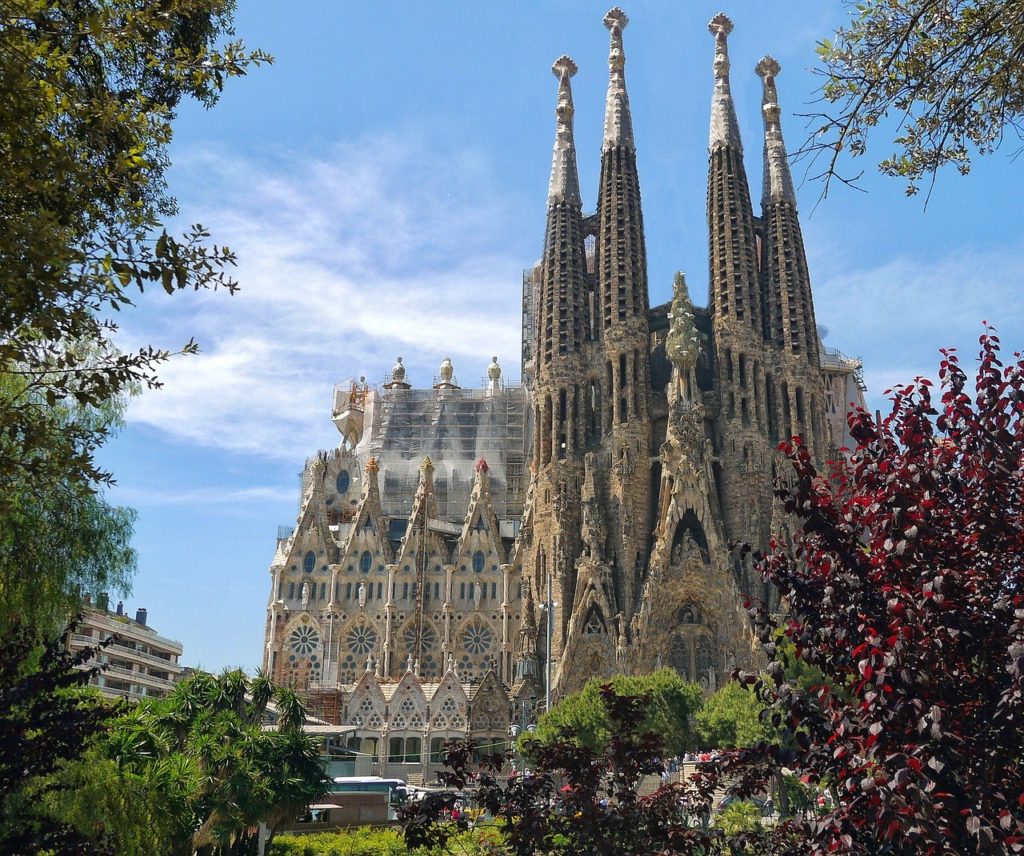 Instagrammable places & Best spots to take pictures in Barcelona
1. Casa Batlló
Casa Batlló is an architectural masterpiece that you can find at Passeig de Gràcia. Renowned Catalan architect Antoni Gaudi designed it.
Initially, this was an ordinary apartment in Barcelona, but because of the magic touch of Gaudi. It turned into something that much more. The inspiration for the Casa Batlló is colors and shapes that naturally occur in marine life. All the colors in the facade are the natural colors of corals.
Aside from the colors, another exciting thing about the face is its bone-like appearance using the balconies and pillars. All of these together make for a unique photo that will look great and unique on your Instagram feed.
2. Casa Mila – La Pedrera
Casa Mila is a few blocks away from Casa Batlló, and you can find both of them at Passeig de Gràcia. Specifically, you can find it at Passeig de Gràcia, 92, 08008 Barcelona.
Their proximity with one another isn't the only thing that's similar to both of them. Another unique similarity between these two is that they became a work of art by the ever-famous Catalan architect Antoni Gaudi.
Casa Mila's facade isn't the start of the show for this building. If you want to get to the most picturesque part of the building, you have to get to the rooftop. The rooftop terrace and the gorgeously lit stairwell exemplifies the eccentric architectural design of Gaudi.
3. Park Guell, One of the Best Instagrammable Places in Barcelona
When it comes to iconic and gorgeous icons in the city of Barcelona, you're going to expect that the works of Antoni Gaudi have something to do with it. The same goes for Park Güell, a stylish park meant for the enjoyment of Barcelona's aristocrats at 08024 Barcelona.
You can find Park Güell in La Salut, within the Gracia District. If you want to access the Park, you can also get free access to it if you have the Barcelona City Pass.
There are plenty of gorgeous sculptures and fantasy-like creations adorning the Park. The quirky art pieces and view of the city too are all excellent icons in the city. It is one of the best Instagram spots in Barcelona and has many excellent photo opportunities!
4. La Sagrada Família
Another iconic Gaudi work in the city of Barcelona is the majestic Sagrada Familia. You can find the Sagrada Familia in Carrer de Mallorca, 401, 08013. From afar, it's a gorgeous sight to behold. However, when you're up close, you're also going to enjoy the details that went into the cathedral, making it as artistic as it is.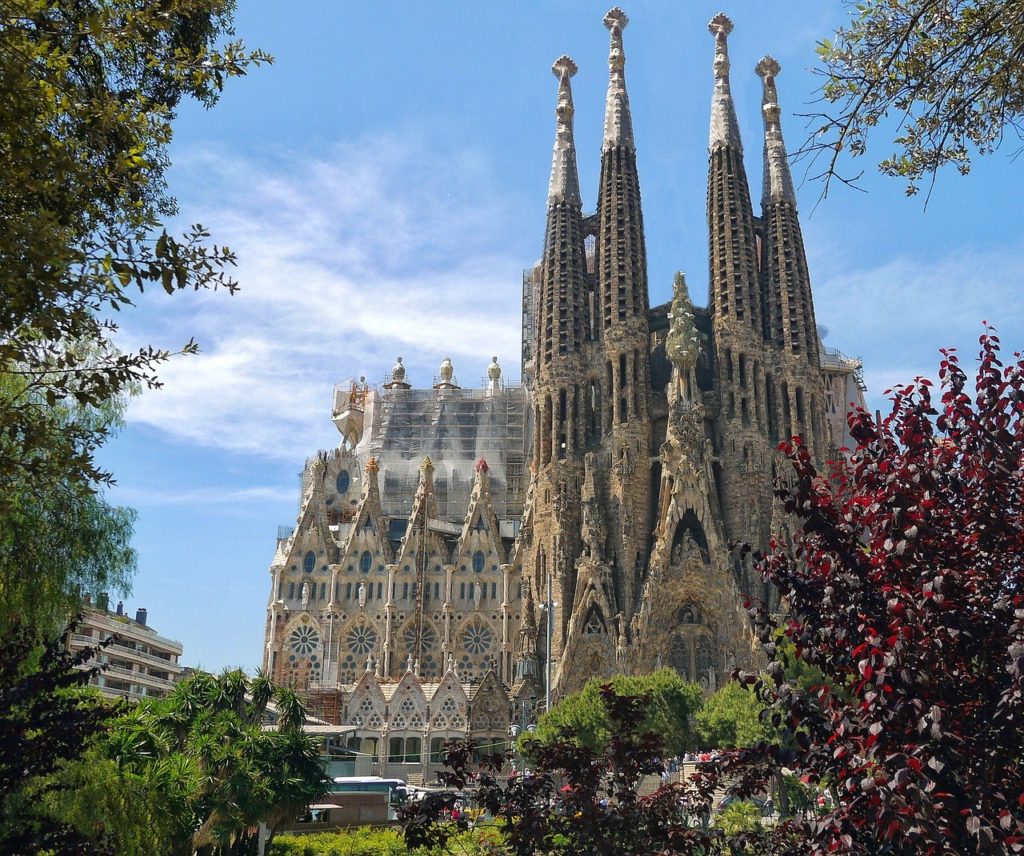 What's interesting about this cathedral is that it has been in construction since 1882, and the building is still on-going. That is the case because of Gaudi's death, so the interpretation of the plans Gaudi had is contested, from the materials to the design itself. Nonetheless, the Sagrada Familia is still a gorgeous sight to behold and is a majestic cathedral that adorns the city.
5. Barcelona Cathedral
The Sagrada Familia is Barcelona's most popular and famous cathedral. But that's not the only beautiful church available. One such gorgeous church in the city is the Barcelona Cathedral that you can find at Pla de la Seu. You can find it in the Gothic Quarter of Barcelona, and the cathedral itself is quintessential Gothic architecture too.
Much like La Sagrada Familia, the Barcelona Cathedral will shine if you take photos of the details around it. Close-up shots will get you those detailed intricacies of the architectural design of the cathedral.
It will be a challenge to take a photo with the Barcelona Cathedral without people around. However, if you want a higher chance, you need to go there early in the morning. You can find the cathedral at Pla de la Seu, 08002 Barcelona.
6. Parc de la Ciutadella
So far, many of the spots on this list focus on the city's architectural wonders, which are plentiful when you're in Barcelona. However, if you want a little bit of a change of pace, you can try going to Parc de la Ciutadella at Passeig de Picasso, 21, 08003 Barcelona.
Although the Parc has plenty of intricate architectural and structural designs, you can also enjoy its greeneries. The Park even has a collection of large tropical plants that you can find in the Umbracle, which is their greenhouse.
Another exciting part of Parc de la Ciutadella is L'Hivernacle, another garden that's best during the winter. However, it's also a pleasant place for coffee during the summer season.
7. Plaça d'Espanya
Plaça d'Espanya is the stunning square almost in the middle of the city. Given its prime location, it also serves as a major transportation center in the town.
There are plenty of sights to behold and pictures to take in the Plaça d'Espanya. Its open space and other buildings have plenty to offer both professional and amateur photographers.
8. Montjuic, a great place in Barcelona for Sunset Photos
Montjuic is a prominent hill overlooking the Barcelona harbor and has nice views of the city. Take the cable car in Montjuïc, you will love going to the top for a view of Barcelona. You can see Sagrada Familia dominating the landscape and also a perfect place to catch a Barcelona sunset.
One thing you shouldn't miss while you're in Plaça d'Espanya is the light and music show. It takes place at the Magic Fountain of Montjuïc during certain evenings. It doesn't happen every night, so make sure to check the schedule to see when they're holding this event. It's a fantastic sight to behold for locals and tourists alike. Plaça de Carles Buïgas, 1, 08038 Barcelona
9. Palau de la Música Catalana
Tucked away in the El Born neighborhood (which another great place for street shots in Barcelona), Palau de la Música Catalana is another stunning architectural marvel in Barcelona. The venue plays host to an extensive number of concerts and Flamenco shows but is also an attraction in its own right. The building, constructed between 1905-1908 by architect Lluís Domènech I Montaner, is a perfect example of Art Nouveau's influence on modern architecture. Admire the intricate mosaics, ornate ceilings & columns and colorful stained glass windows. It is easy to see why this palace of music is so instagrammable and one of the best places for taking photos in Barcelona. Palau de la Música, 4-6, 08003 Barcelona
10. Cases dels Canonges, an iconic Barcelona Photo Spot
The Barri Gòtic, or Gothic Quarter, the oldest part of Barcelona, and considering its location next to the city center, also the liveliest. The beautiful neighborhood is filled with ancient Roman buildings and narrow, winding cobblestone streets that are a perfect backdrop for photos in Barcelona. One such building is Cases dels canonges. Constructed across from a residential complex to the Palace of the Generalitat (Courts), this an iconic photo spot in Barcelona. Carrer del Bisbe, 08002 Barcelona
It is one of the great places to take pictures in Barcelona but is always crowded, so go early.
11. Picasso Museum
Picasso Museum housed in a 13th century palace is another great photo spot in Barcelona. It is located in the Gothic quarter of Barcelona at the Palau Aguilar, which belonged to the Aguilar family. The central courtyard has an open-air stairway, pointed arch gallery and flamboyant Gothic sculptures that date from the 15th century. Montcada, 15-23 – 08003 Barcelona
See more photos from the Picasso Museum here.
12. Plaça Reial
Plaça Reial is another plaza or square in Barcelona that you wouldn't want to miss. Plaça Reial, 9, 08002 Barcelona
In the daylight, it's a relaxing place to sit around and lounge, observe people, and sip on your glass of wine. There are plenty of outdoor patios available around the area.
The flowing fountain in the middle and the leaning tropical trees around give it a vibrant vibe that makes you want to relax. However, in the evenings, Plaça Reial becomes an entirely different thing.
For fans of the nightlife, Plaça Reial offers many options for you to enjoy. There are plenty of restaurants and bars that come alive even more so when the sun sets, so if you're looking for a nightcap, you might want to stop by Plaça Reial.
13. Bunkers del Carmel
If you're traveling to Barcelona on a budget, there are plenty of beautiful spots free to enter and are still gorgeous. One such place in Barcelona is a visit to the spectacular Bunkers del Carmel at Carrer de Marià Labèrnia, 08032 Barcelona.
The Bunkers del Carmel used to be underground military bunkers, but now, they offer a fantastic view of the city from above. Now, the Bunkers del Carmel is a popular spot for both locals and tourists.
You can enjoy the sun as it sets while you're there, but if you want to, you can also go there earlier in the morning so that you won't have to fight through crowds. It's also a popular spot for a quick picnic with loved ones, so if you want to enjoy a view of the city while munching on some light food, this is the place to go.
14. Arc de Triomf
In the Passeig de Lluís Companys, 08003, Barcelona is another architectural wonder with Arc de Triomf. This Arc is a monument in Barcelona meant to serve as the fair entrance at the Parc de la Ciutadella. It's one of the city's most recognizable icons, which makes for an excellent photo as well.
The Arc de Triomf's distinctive red brick structure is what makes it all the more visually pleasing, both in real life and in photos. Aside from that, it has unique symbols and art covering it. Therefore, taking a photo near and far from the Arc will give you stunning pictures either way.
15. La Barceloneta
In between all the cultural and artistic attractions in Barcelona, it is easy to forget that the city is situated right along the brilliantly blue waters of the Mediterranean. Head to La Barceloneta for some brilliant sunsets photos of Barcelona.
The 15 Instagrammable spots listed are some of the top places for photos that you must visit when you are in Barcelona. When you plan your trip, I hope you enjoy these Instagram spots and capture some beautiful photos of Barcelona!
You might also like: 10 Spanish Dishes, Drinks and Desserts you MUST try when visiting Spain.
PIN IT FOR LATER
Note: This post may contain affiliate links, partnership or sponsored content. If you purchase an item via one of these links, we may receive a small commission at no extra charge to you. But as always images and opinions are our own. For more information on our affiliates and privacy policy at Outside Suburbia see here.
CONNECT WITH US