We were visiting Girona, on a day trip from Barcelona. The Old Town of Girona is on the east bank of the river Onyar, with pedestrianized narrow streets surrounded by the old city walls. The Rambla, running parallel to the river, contains many street cafés and touristic restaurants. There are wonderful museums, galleries and Gothic churches, strung around a tangle of cobbled lanes and medieval walls waiting to be explored on the other side. But we were on a mission while visiting Girona, last Summer.
Rocambolesc Gelateria in Girona
The mission was to find the Rocambolesc, Gelateria – an Ice cream parlor by run by the brothers of "El Celler de Can Roca" (3 Michelin star restaurant, that is one of the top 50 restaurants in the world)". An Ice cream or Panet  from the whimsical Gelateria is a must when in Girona. A panet is an ice cream sandwich – a custom made Brioche sandwich with ice cream and toppings of your choice and toasted in a panel maker and served warm.
Don't let the long line outside deter you, it is totally worth the wait. The Gelateria's interior is a very Willy Wonka-esque fantasy-world within; gauges, tubes and taps heightening the sense of theatre and playfulness. The topping were so unique too, there was a pink cotton candy machine on site as well.  You can choose your ice cream from the Six flavors, and some exquisite toppings like butter cookie, cotton candy, popping-candy and fresh fruit, among others. They have prepackaged containers of ice creams as well alongside a selection of popsicles, candies, desserts and books.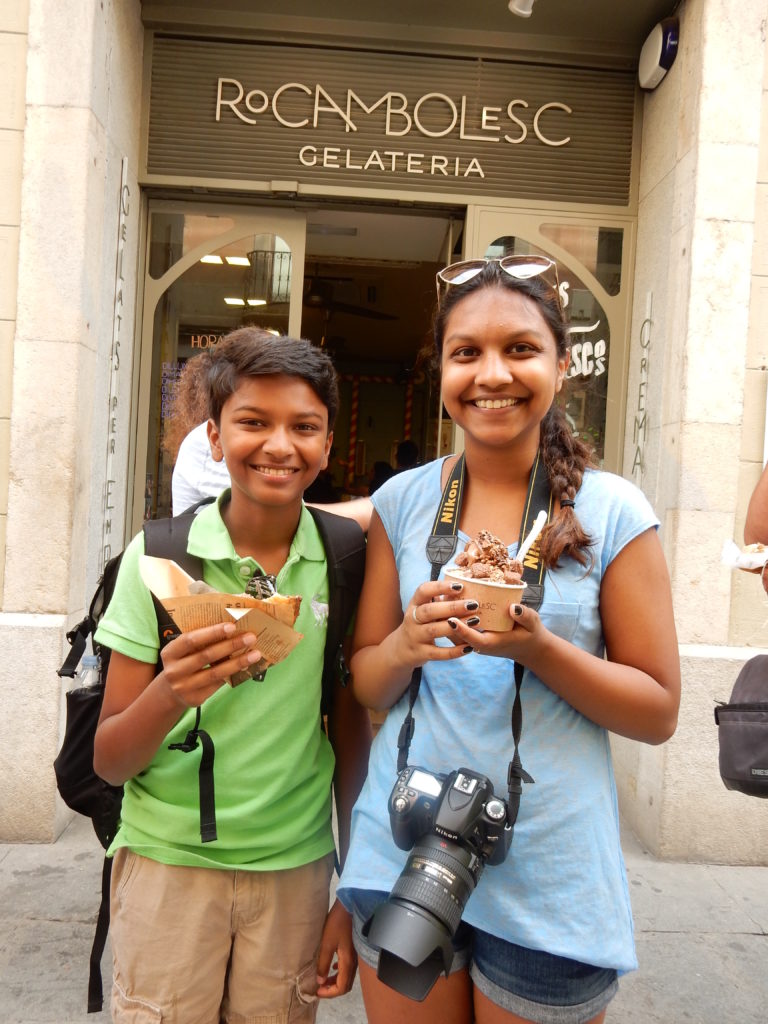 If you are in the area, don't miss this charming little place for a little taste of El Cellar de Can Rosa.
How to get there
Address for Rocambolesc: Carrer de Santa Clara, 50, 17001 Girona, Spain