Travelers who stop in Spain for a layover can get off the typical touristy things to do and see what the capital city offers. Even if you only have 24 hours in Madrid, art lovers can discover the city alternatively, through the best street art murals in Madrid.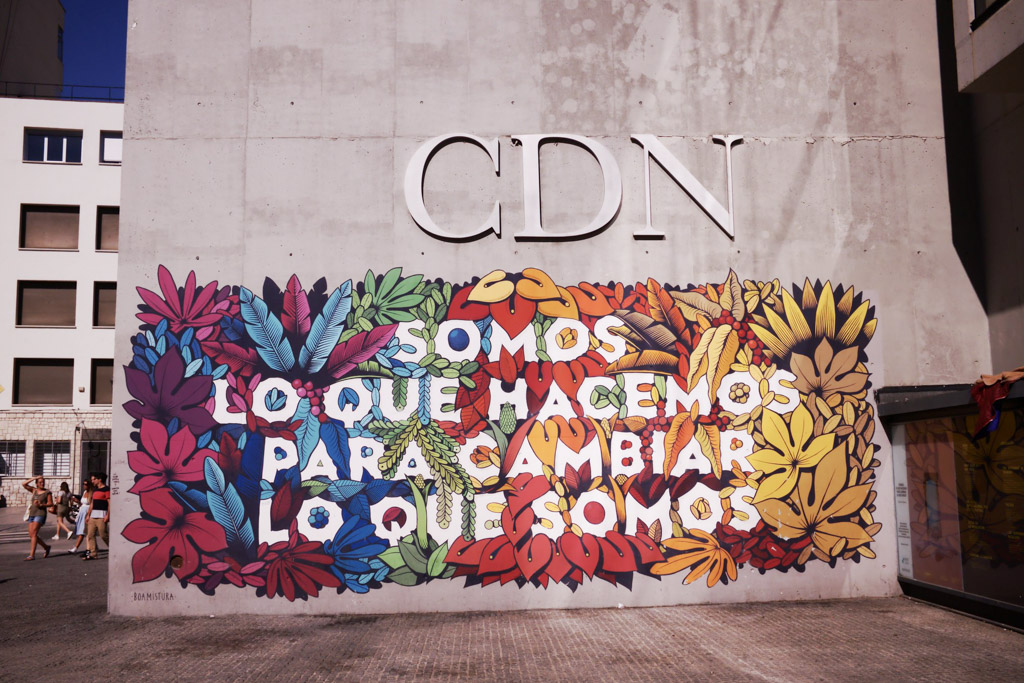 Urban art festivals and contemporary art fairs take advantage from the opportunity that the city council offers to both national and international artists. In addition, they are in charge of coloring the streets, using spray paint or regular home paint in the artistic process.
Start with some of these best street art murals in Madrid :
Urvanity art walls from the 2020 edition
Muros Tabacalera
Compartiendo Muros
Other important murals
See this post for other things to do during your 12 hours in Madrid.
Where could you find walls painted during Urvanity Art?
Urvanity is an urban art festival which celebrated its fourth edition last February 2020. Contemporary art galleries from all over Europe and other Latin American countries join forces once a year during Madrid's art week.
Thanks to different sponsors such as beer brands and liquor companies, facades located all around the city center are painted. These were the most relevant ones in the recently celebrated festival.

1. D*Face, Calle Embajadores, 21
First featured wall was presented by Stole Space Gallery. UK's number 1 street art artist painted the façade of a building located in one of most gentrified areas in town, called Lavapies.
The district is not only well known by its multicultural community but also because of its street art. Did you know that Time Out Magazine considered it as the coolest neighborhood to visit around the world?
British artist D* designed one of his typical pop art decorations with the figure of a couple. What's interesting to observe and photograph are the shades that are vanishing. Brown, red and maroon colors do fill the clothing of the human beings represented.

2. Gviiie, a local street art representative in the best street art murals in Madrid
If the international street artists names have active participation in the mural community, so the local scene does. Furthermore, it's super important to support them as they do not always count with the same support than renowned creators do.
It was thanks to La Causa Gallery that this local artist received the chance to paint a wall in Travesía del Almendro street. Gviiie's artworks could be defined with a Neo-ruprestrian style. His characters seem to have a connection with the illustrations created by cavemen and women millions of years ago.
Gviiie loves including small quotes in his outdoor canvases, as well as faces with beard or trendy haircuts. You might find Gviiie close to Puerta del Sol and Plaza Mayor

3. Never crew in Calle Augusto Figueroa, 14
Pablo Togni and Christian Rebecchi are two Italian urban art artists considered as one of the 100 most influential artists. Urban Contemporary Art Guide, a specialized magazine included them on the list.
Their message is clear, stop the climate change! Therefore, the reason why they included several polar bears on top of an iceberg.
To find this meaningful wall you would have to walk from Malasaña district towards Gran Via street, one of the most visited avenues in the city center. This is one of the best street art murals in Madrid.
The murals at a former tobacco factory
La Tabacalera is a 16,000 square meters building where more than 3,000 women worked in the tobacco labors during the XIX century. Its former use completely changed in the early 2000s when a group of local activists & artists started offering cultural workshops for the community.
The space is divided into two parts, being the first one Tabacalera Promoción del Arte, an indoor venue for contemporary art. The second area corresponds to a self-sustained artistic spot where dozens of artists share their knowledge with fellow madrileños (person born and raised in Madrid) and foreigners alike.
4. Muros Tabacalera, an urban art festival held every other year
The exterior walls located along Calle Miguel Servet feature an unfinished open air street art museum in Madrid. The mural's length is almost 300 meters and it is at least 3 meters tall.
Taking into account that the festival is sponsored by the Spanish Ministry of education, each individual artist receives a wage for their work. Differently to what happens with other street art festivals in town, this receives money from the government, which allows to bring internationally renowned artists to Madrid.
Who were some of the last edition participants?
Nemo's (Italy)
El Tono (France)
Boa Mistura (Spain)
5. The interior walls at La Tabacalera, Calle Embajadores, 53
In addition to what visitors could photograph in the exterior walls, La Tabacalera's interior also features the best street art in Madrid. As we mentioned in previous paragraphs, volunteers do run this social center and offer the possibility to participate in many workshops.
Using recycling materials to create artworks,
Learning how to fix your own bicycle,
Even practicing the best urban art.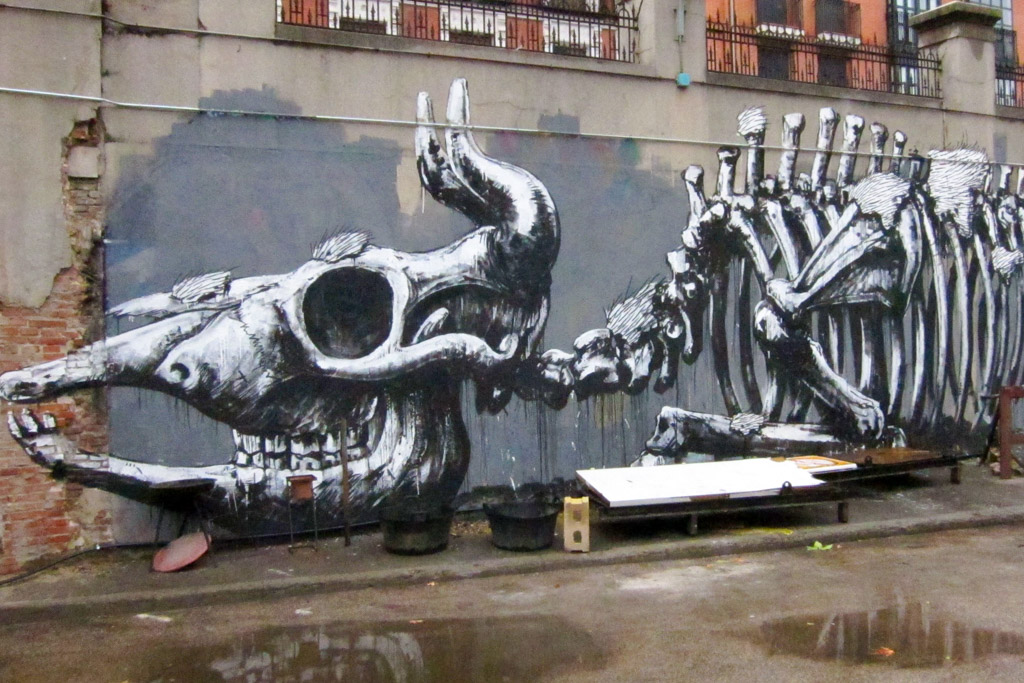 It's at the doors of these workshops where graffiti writers and urban art artists create their designs. Beautifully decorated pieces which make La Tabacalera a unique spot in town. Visitors consider this self-managed location as the mecca for modern art lovers. "A place that anybody visiting the Spanish capital city shouldn't miss" added a recent visitor from Philadelphia, United States.
Spots that you shouldn't miss around Lavapies neighborhood
After analyzing two unique spots in town, and an urban art festival, it is now time to enjoy the best street art around the national museum of modern art, Reina Sofia. It's true that alongside El Prado, they are the most visited galleries in town, but it does not necessarily mean that every single traveler is interested in commercialism.
Let's check which places could involve visiting the best street art walls in Madrid at a cero cost.

6. Esta es una Plaza, a unique urban garden in the city center
Urban landscaping is an extended practice among city councils from all over the world. Embajadores district features in Calle Doctor Fourquet such a beautiful place called Esta es una Plaza.
If we would have to define what this place is like, we would refer to it as a community garden where kids and adults alike participate in its management. It opens sunny days and most of the weekends, but we'd recommend you come visit it in Spring time, when all vegetables are starting to grow.
Similar to what happens at the exterior walls of La Tabacalera, the murals of Esta es una Plaza are painted too. In this case, neighbors participate in a project called 'Compartiendo muros' (Sharing walls). Artists are allowed to paint around different publicly owned locations after a ballot. It's the vicinity who decides what will be painted. Such a beautiful idea, isn't it?

7. CDN, the National center for drama in Lavapies
One of the most Instagrammed spots in Madrid (street art related ) is located in Calle de Valencia, 1. You will find this amazing wall just next to the entrance of Teatro Valle Inclan.
Boa Mistura, probably the most famous urban art crew in town, painted it. They quoted a famous Uruguayan writer 'Somos lo que hacemos para cambiar lo que somos'. Its English language version would mean "we are what we do to change who we are", although we prefer to use 'Be the change you want to see in the world' by Mahatma Gandhi.
The artists used brushes and regular home paint to develop it, including leaves and fruits from South America. Why from this continent? Well, you should know that this commissioned mural was sponsored by the Latin American Committee for sustainability.

Have you ever heard about the millennial goals? 17 objectives that every single country around the world should commit before 2030, in regards of:
Climate change
Equity between men & women
The end of children poverty
Sustainable economies
Which walls are of great interest for train commuters?
After all these paragraphs, it seems as necessary to differentiate between street art and graffiti. Are these two categories the same type of art? Some people think so, but from an expert's point of view, they aren't the same.
While street art is a trendy & popular artistic movement, graffiti tends to be more illegal. The later appeared earlier in history than the former one, as the first tags and throw ups were observed in Philadelphia and New York circa 1970s.

8. MOS, Meeting of styles in Chamartin railway station
The most important graffiti event in town takes place at Madrid's second-largest railway station. It is at the long stay parking lot where not only graffiti individuals painted, but whole crews participated too.
MOS is a global & united project which makes it possible that the most skillful & talented writers paint at the same time a massive wall. It is a unique opportunity to spend hours observing how they make these amazing murals.
Meeting of Styles holds events worldwide, so it would be easy for you to recognize artists from neighboring countries.
9. The mural that Okudart created at Paco de Lucia metro station
Oscar San Miguel Erice, also known as Okudart, is Spain's most international street art artist. His artworks decorate walls and facades from capital cities across the 5 continents. He basically does what every traveler would love to do, get paid for traveling and doing the thing that you like the most (which is painting, of course).
Metro de Madrid gave him in 2015 the opportunity to create a tribute to Paco de Lucia, the world's most important contemporary guitar player. His multicolored & patterned face decorates the hallway of this metro station in Mirasierra district.

10. The walls at Mercado de la Cebada, a traditional food market
Madrid is well known for its history, architecture and gastronomy, but street art is famous in town too. There exists a project which mixes all of them in a single spot.

Mercado de la Cebada is a locally owned fresh & organic products reseller. The building was modified in the XIX century, being used as a sports complex. It was in 2009 when its open space was occupied by neighbors in order to organize street art jam sessions, concerts, urban gardening…
Since that moment, and up to 2019, its walls were decorated by artists such as L'Atlas, Manolo Mesa or El Rey de la Ruina.
El campo de Cebada doesn't still any longer, but its exterior walls and domes are painted by Boa Mistura.
Thanks to Javier Garcia, CEO Cooltourspain for sharing this article and photos of the Street Art Murals in Madrid. Cooltourspain is a social, cultural and educational project founded in Madrid by Javier with an objective to enhance the world of urban art and graffiti through guided tours and workshops. They offer several art and architecture tours in Madrid, Spain.
PIN IT FOR LATER
CONNECT WITH US