After a few days of adventures in Iceland, we were in Denmark thanks to Iceland Air's Stopover fares. We saw some really awesome black sand beaches, some even strewn with glaciers glistening like diamonds, but owing to the surf we didn't really get to enjoy the water. We were really were looking for some beach time, so when I found this fishtail-shaped peninsula at the very south-western tip of Sweden with a narrow white sand ribbon that runs around it for six miles in Falsterbro, touted as the Swedish Riviera… we just had to stop by!
Falsterbo and Skanör, the Swedish Riviera
Falsterbo and neighboring Skanör are among Sweden's best-kept secrets. Falsterbo remains largely unknown to outsiders, everyone just heads to Malmo on their quest to check Sweden on their list when visiting Copenhagen in Denmark. The beach is simple, clean like Swedish design. High dunes, and, in certain places, shady pine and beech woods, keep the rest of the world at bay, while a ban on jet skis and motorboats (in the interests of marine life) helps to preserve the post-picnic nap. We saw a few families picnicking and kids frolicking in the Baltic waters. The harbor is dotted with boats of different sizes. The sand is fine, which spreads almost continuously across the fish tail-shaped peninsula, with a nearby lighthouse and a windmill that begs to be explored.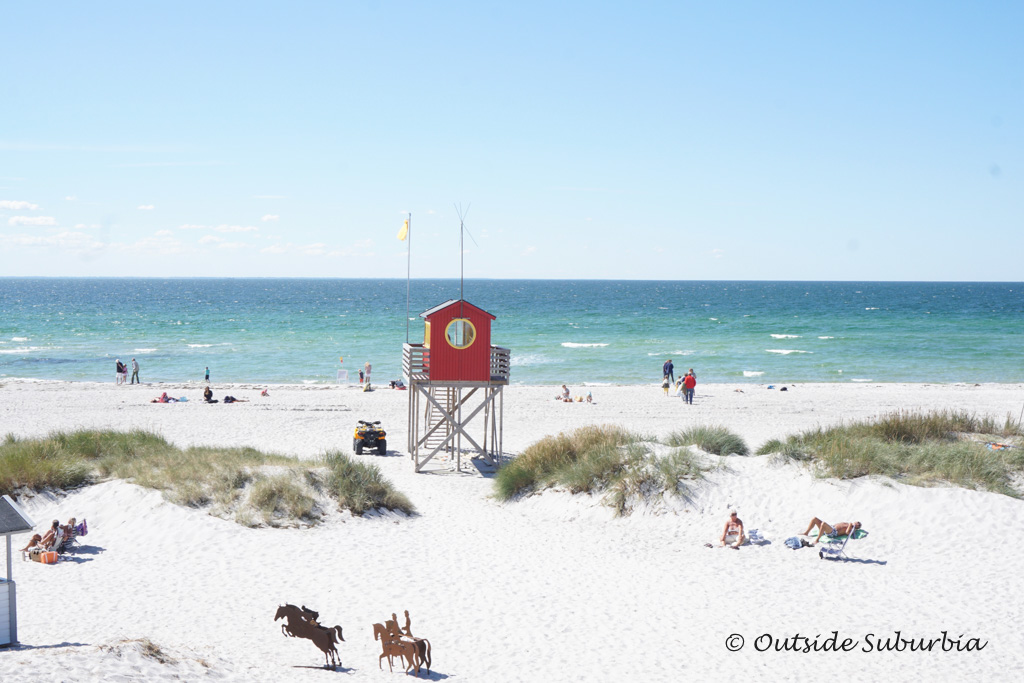 The miles of broad white sand beaches are dotted with tiny pastel-painted beach huts, holdovers from the days when changing clothes in public was a punishable offense. The small cabanas are beautifully painted in all sorts of colors. The sand is white and extremely fine and the water is crystal clear!! Falsterbo and Skanör well deserve the Swedish Riviera title!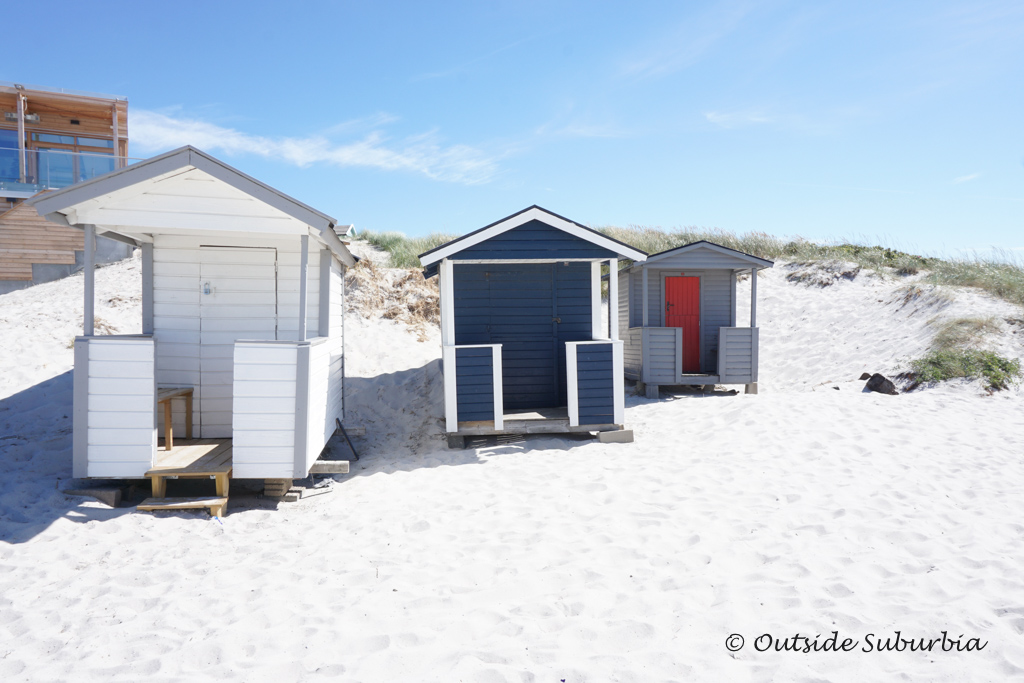 It's well worth the trouble of packing your swimming towel and lying back on the sand on a sunny summer's day, and going in for a swim! And if you crave some faster activities than sunbathing you can rent bikes and roll down the hills to the beautiful and quaint town. You can also sign up for paddle boarding, kite surfing, paddle yoga, and surfing classes at Badhytten.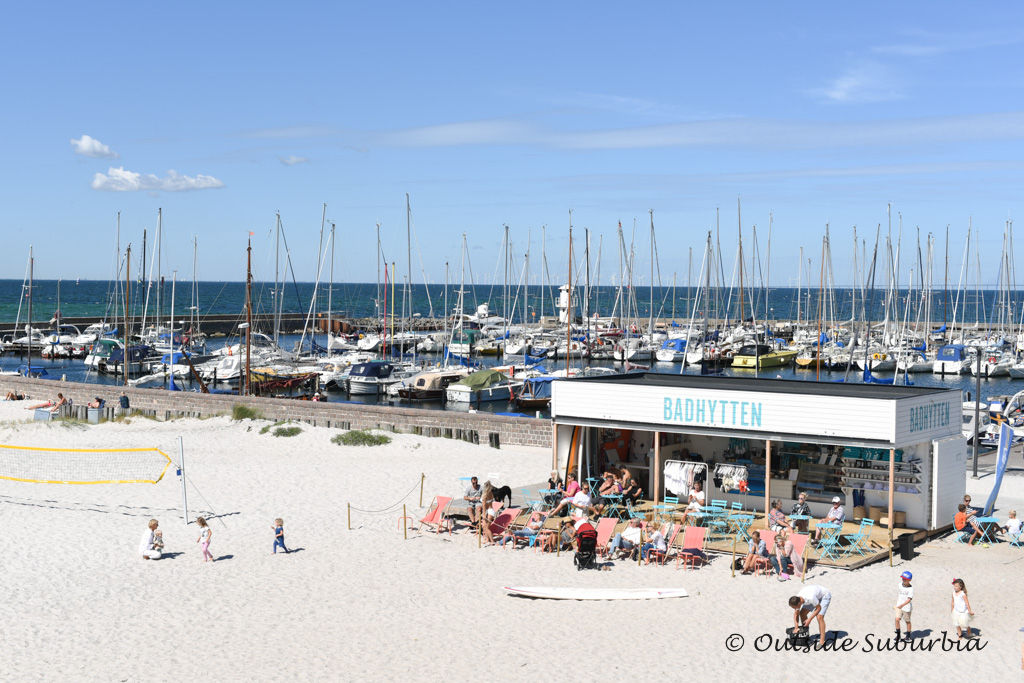 It is said that you used to be able to scoop the herring out of the sea with your hat at Falsterbo, the Swedish Riviera! For about 700 years until the mid-17th century, the Danes controlled Skane, this little fishtail-shaped peninsula that was once an important herring and produce market.
Lunch at Badhytten
Badhytten is a state-of-the-art building by a famous Swedish architecture company Fojab, architects built the new structure where the former restaurant burnt down a few years ago built. With beach views, wicker furniture, neutral interiors and natural materials and a relaxed vibe. we fell in love with the place instantly. Badhytten serves fresh food, delicious cocktails, fantastic coffee, and creamy Lejonet & Björnen ice cream.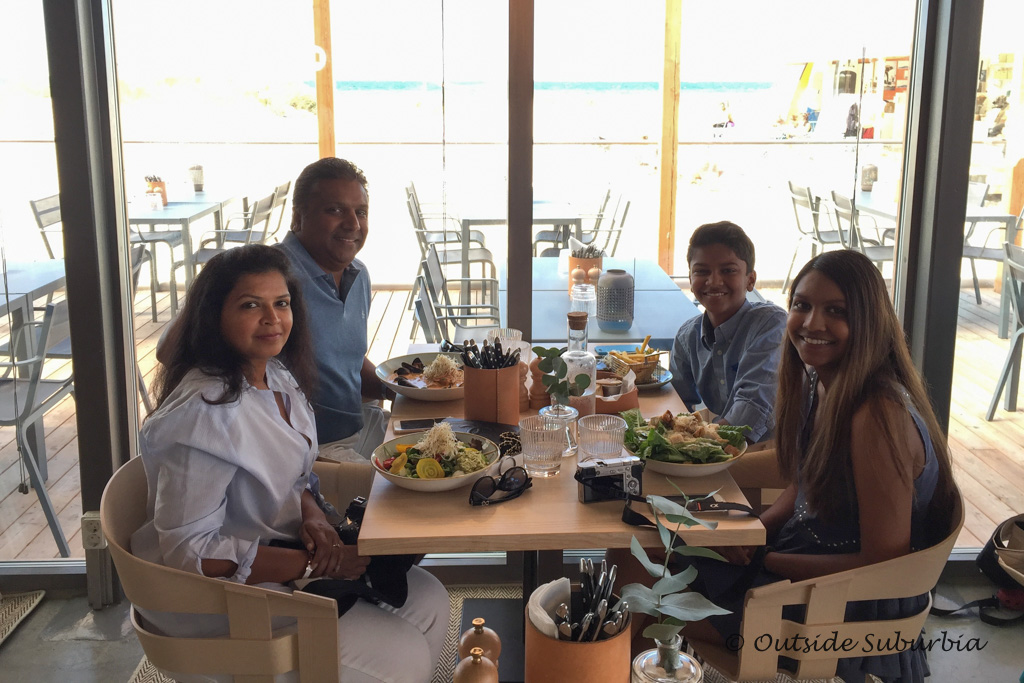 We were there for lunch… the menus were in Swedish, they probably don't get that many non-Swedish guests, but our sweet waitress helped us decipher it. After a leisurely meal, she suggested we go upstairs to the bar for a beautiful view of the sea, on a good day you can see Denmark from the terrace. The rooftop terrace with it contemporary interior design and stunning views had us wishing we had time to sit and enjoy sunset views here, bet it would be spectacular.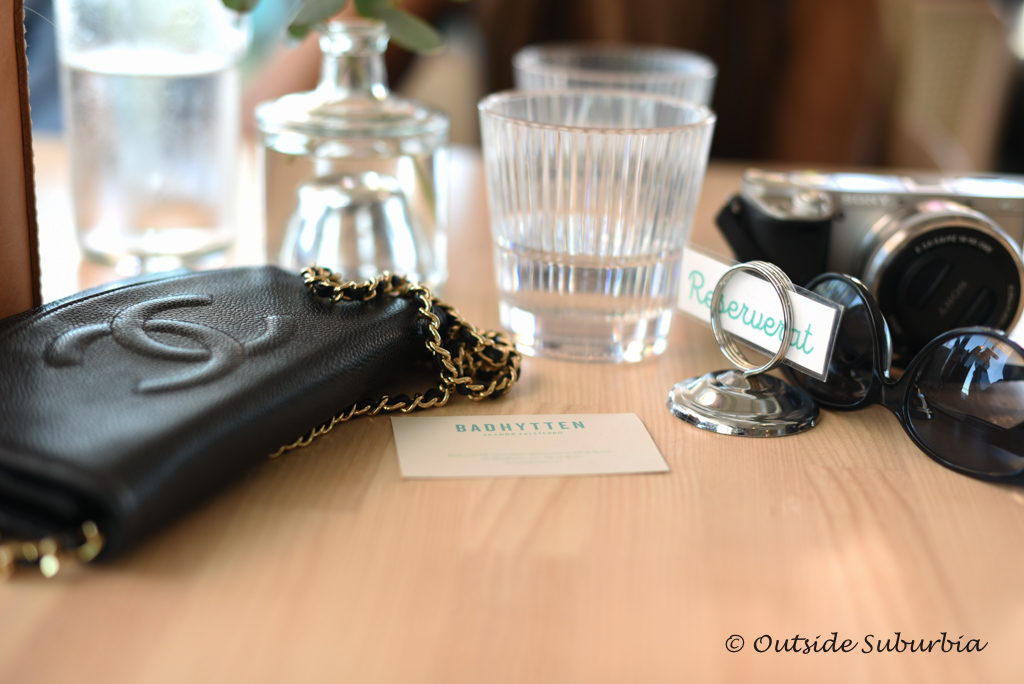 Getting To Falsterbo, the Swedish Riviera
A car is essential in Skane. We drove from Copenhagen over the Oresund Bridge that connects Denmark to Sweden, took E20 and then followed Route 100 to Skanör-Falsterbo. The drive was only an hour but we forgot our passports and lucky remembered 15 minutes into the drive and stopped back at the hotel to get them. So Pro tip here is – Don't forget the passport if you are traveling between countries even if it is only a day trip!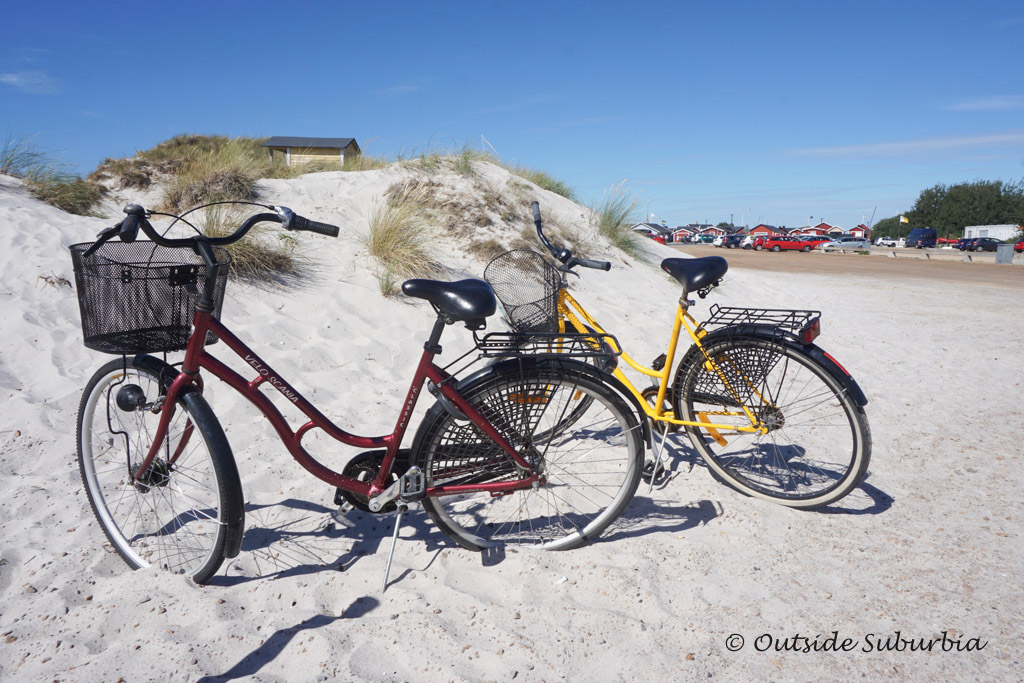 If you have more time, plan a visit to the Swedish Stonehenge
We had plans of visiting nearby Kaseberga, to see the Ales Stenar, the "Swedish Stonehenge". Because of the passport goof up and spending way too much time admiring the cute beach huts, had to save it for next time. A millennium ago, 59 massive stones were arranged here high on a bluff in the form a giant ship, some 220 feet long – that might be a Viking tomb or perhaps a solar clock. Visitors tend to touch the nearest rock, pose for a picture and then head off to marvel at the pristine seacoast below. Riding the prevailing southern winds, hang gliders and parasails get an even better view as they circle and weave overhead.
A few more Photos from Falsterbo the Swedish Riviera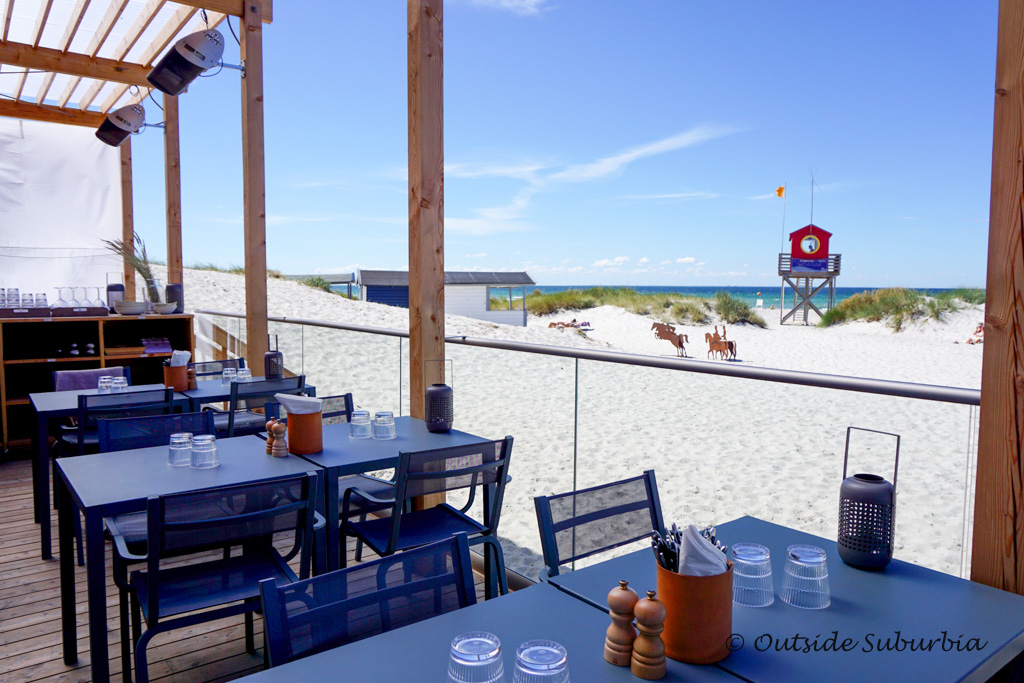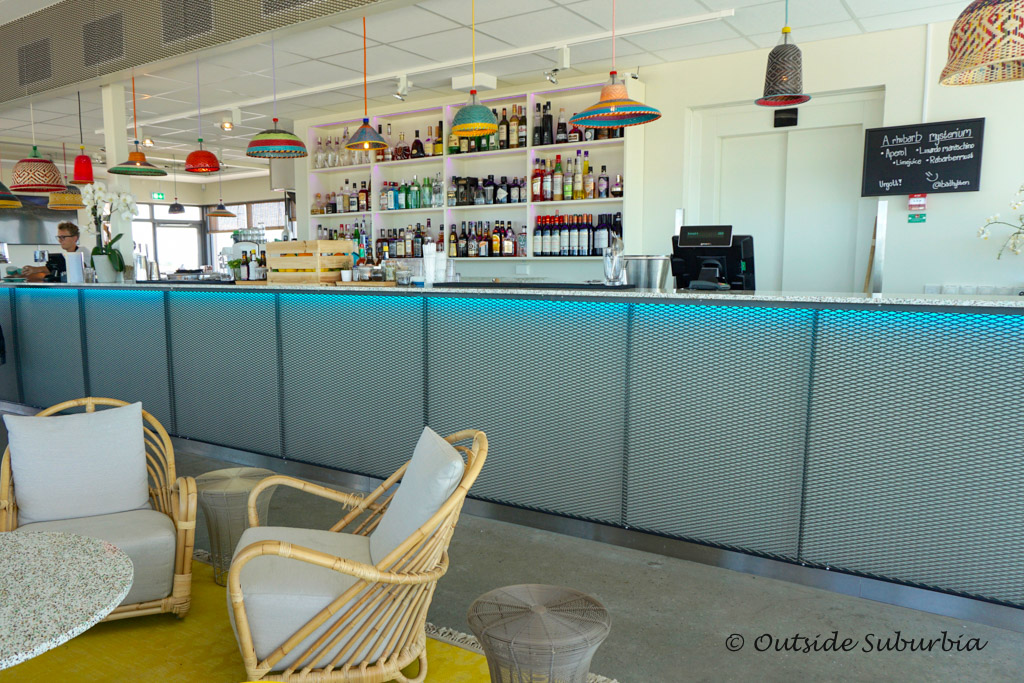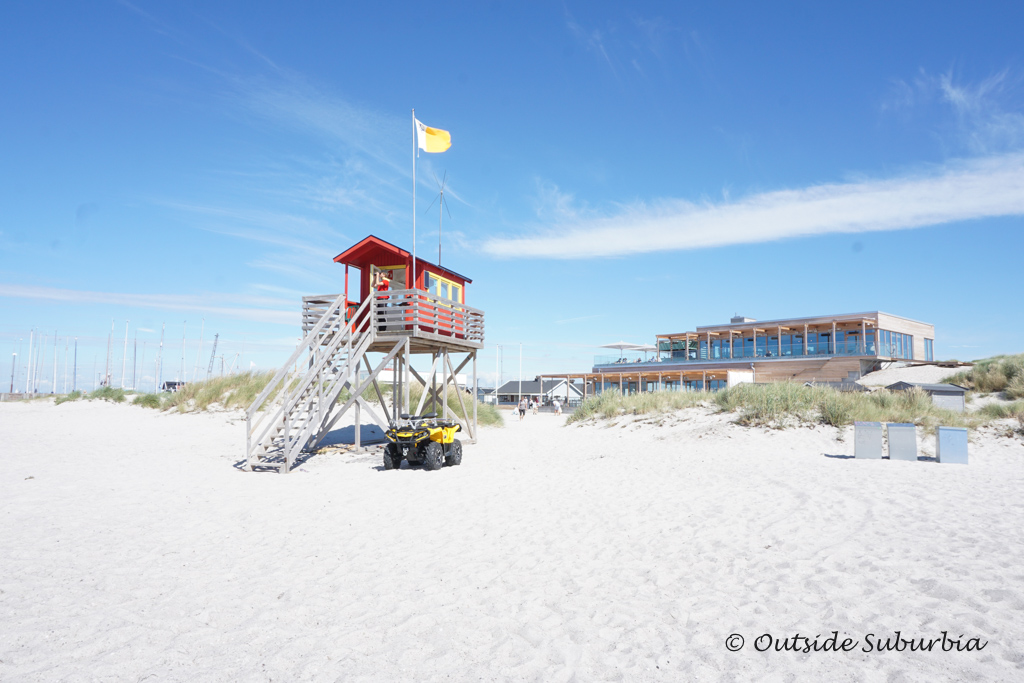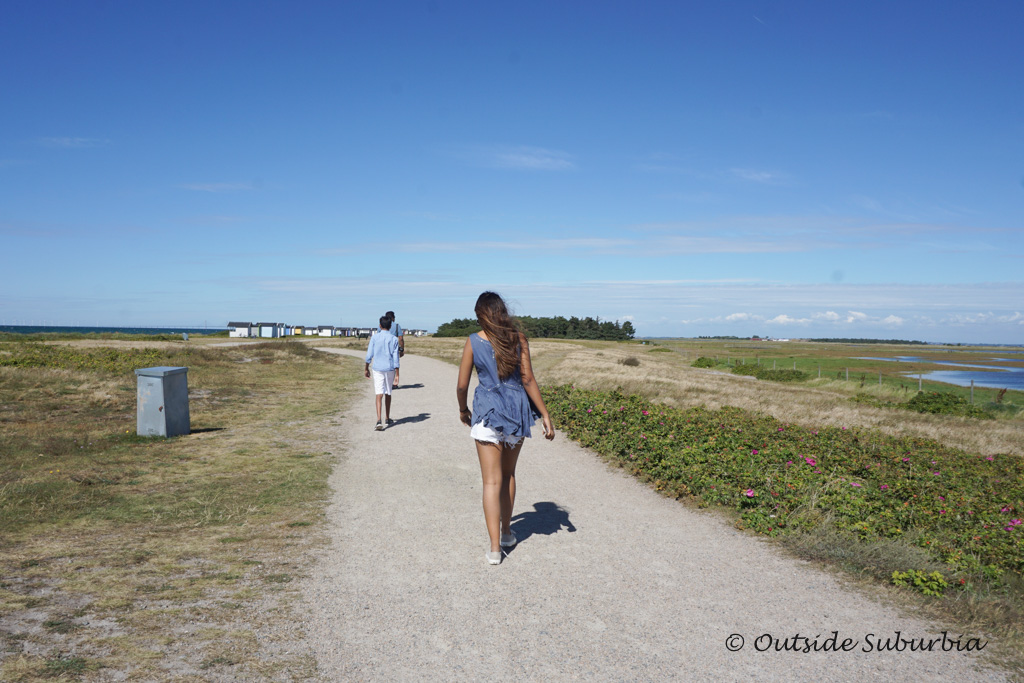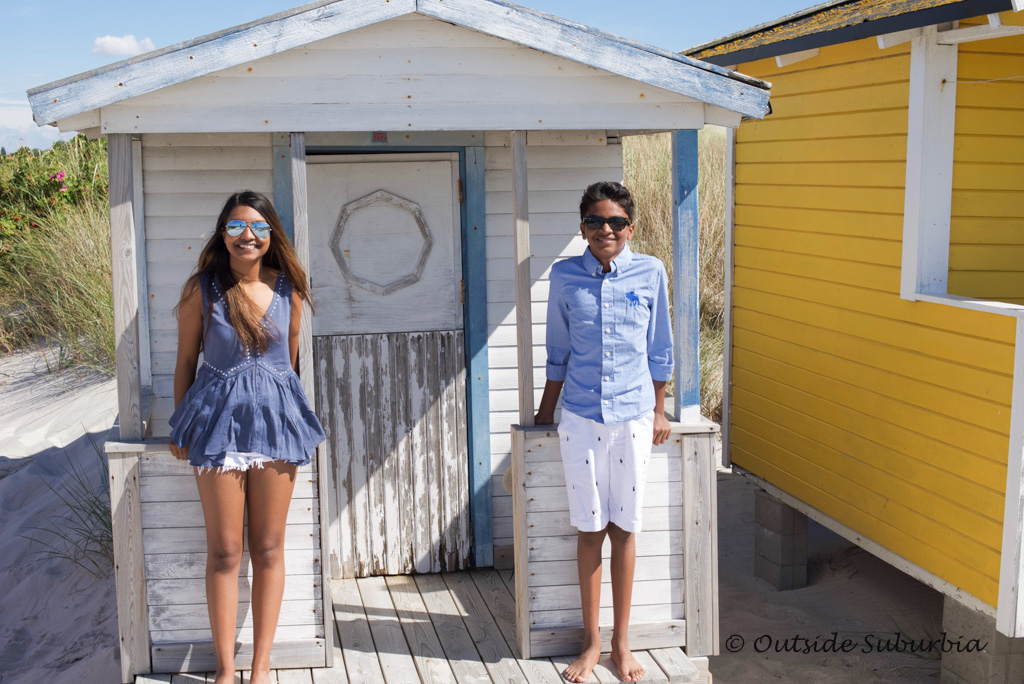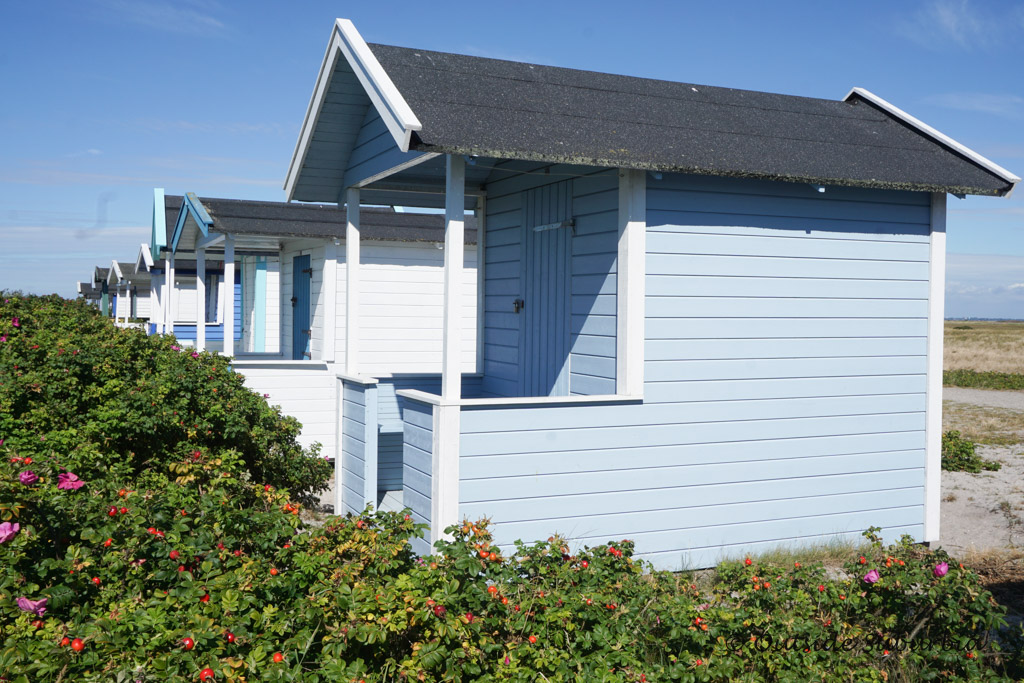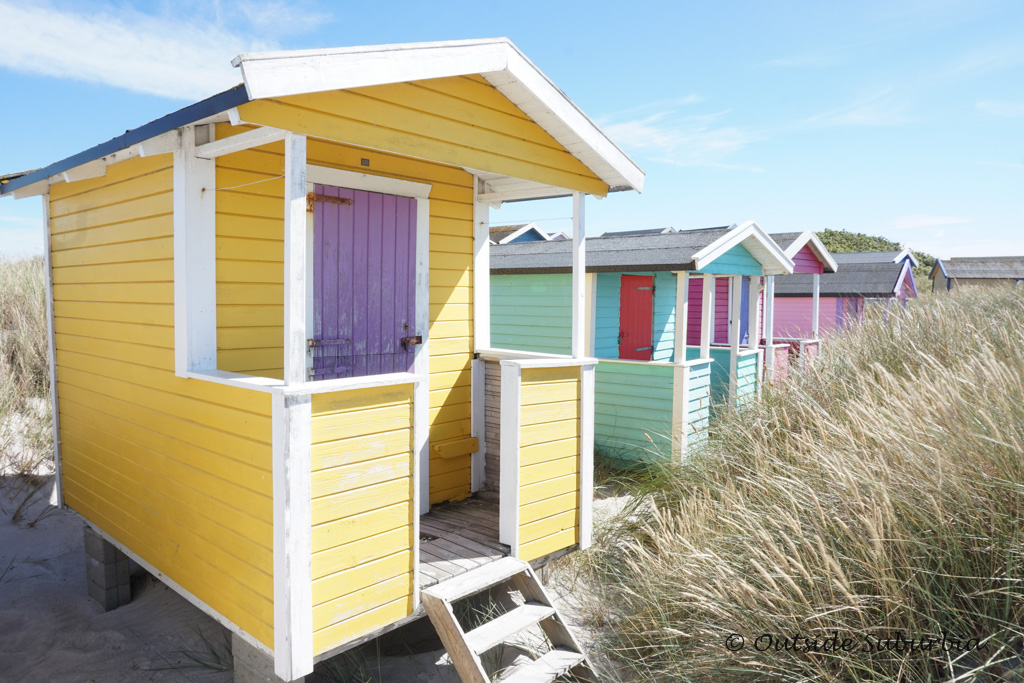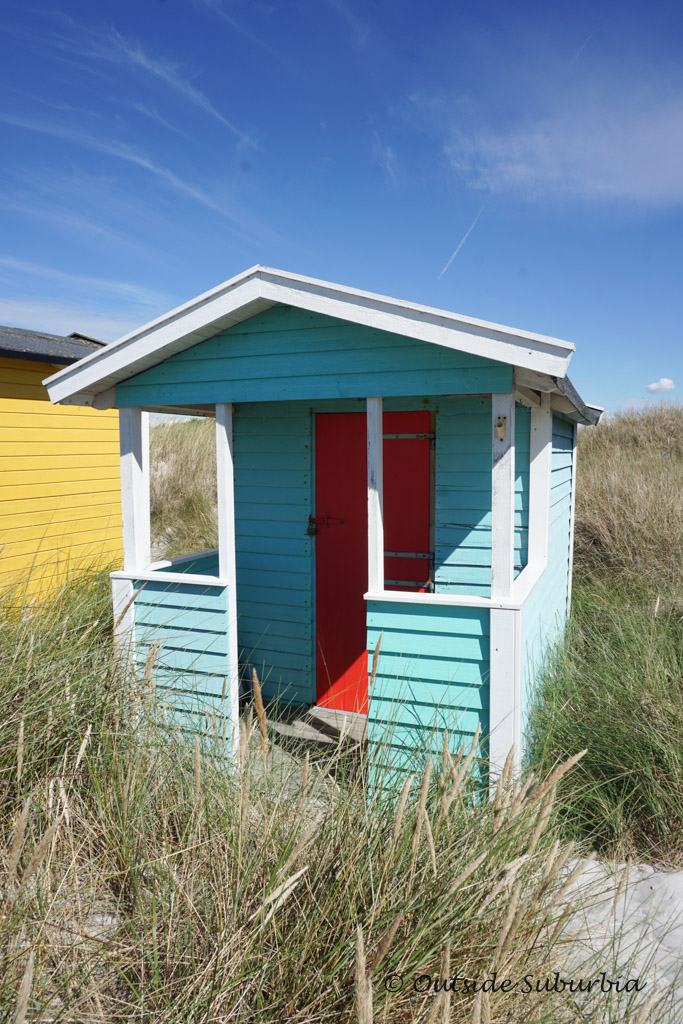 We loved the cute and colorful beach huts in Falsterbo and spent some time wandering in the sand finding our favorite ones to pose in front of!
Secret beaches of Sweden
Falsterbo and Skanor, the secret beaches in Sweden are what beaches and beach towns are supposed to be. This idyllic Swedish chic town known only to Stockholm summer visitors – quietly and effortlessly earns the title "Swedish Hamptons" or "Swedish Riviera". Have you been? Is this a beach you would like to visit someday, let us know if you know of other secret beaches known only to locals, we promise to keep it a secret 😉
PIN IT FOR LATER
Note: This post may contain affiliate links, partnership or sponsored content. If you purchase an item via one of these links, we may receive a small commission at no extra charge to you. But as always images and opinions are our own. For more information on our affiliates and privacy policy at Outside Suburbia see here.
CONNECT WITH US