Discover these golf courses in the Middle East as gems for avid golfers, as well as interesting and exciting experiences for those who may be new to the game. Whatever your level of skill, don't miss playing a round in the desert!
The Middle East might not seem like it's a great golfing destination… But you'll be surprised at some of the spectacular golf courses to be found there! Like an oasis in the semi-arid desert, the golf courses here stand out like a breath of fresh air and are well worth playing a round on if you have the time and budget.
Best Golf Courses in the Middle East For Avid Golfers
Abu Dhabi Golf Club
This state-of-the-art golf club is situated in the United Arab Emirates, just a short way from the thriving cityscape of Abu Dhabi. Its most striking feature outside of the superb golf course is the falcon-shaped clubhouse, which oversees the course like a monument.
Multiple international tournaments have been held at this club, which should give an indication of the quality of the golf. There's also a Trackman range if you enjoy a bit of simulation.
The championship National Course is the main attraction. The pros consider it a challenge but a fair one, and considering there are multiple tees, we agree.
Don't be fooled by the wide fairways—each hole is trickier than it first appears. Water comes into play on 9 of the 18 holes, so keep extra balls handy! Aside from being a good challenge for golfers of all levels, the course is visually stunning, featuring numerous lakes and palm trees for a fresh feeling.
And if you want something quicker or you want to play a full round in the middle of the night… The Garden Course is a 9-hole course that's fully lit with a floodlight system, and playing a midnight round is something every golfer should experience at least once!
Doha Golf Club
Located in Qatar, the Doha Golf Club was the first grass course in the area. It's highly regarded by the pros, having hosted many professional tournaments over the years. At 7,374 yards from the back tees, it's a monster of a course but does cater to all golfing levels with multiple tees to drive from.
It's an interesting course, with some natural rock formations, more than 10,000 trees and shrubs, and plenty of sandy bunkers. The hole to be aware of is the par-5 9th, which stretches to a monster 639 yards from the tips but is still a challenge from the closer tees!
You'll also find a 9-hole floodlit course for something a little different and more fun. It's perfect for less experienced players or those who want to experience night-time golfing.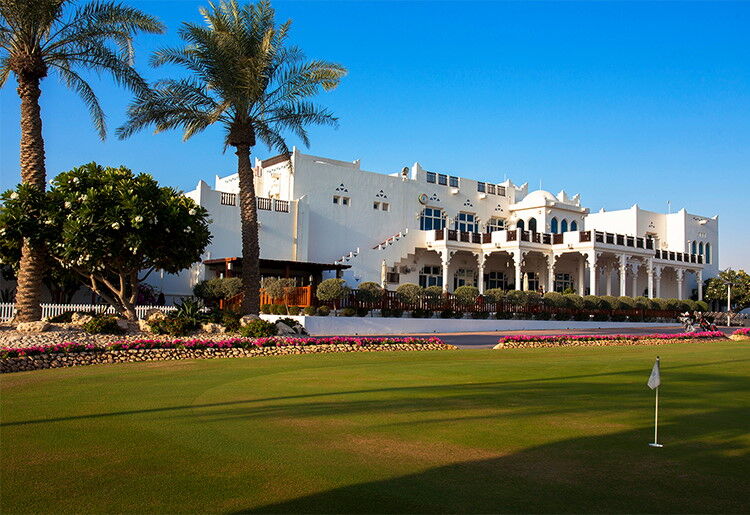 El Kantaoui Golf Sea Course, Tunisia
Situated in Tunisia, the El Kantaoui Sea Course has you playing in front of a view of the Mediterranean Sea, so take care not to get too distracted!
The front nine loops around a residential area are fairly flat. But don't let it lull you into a false sense of security—the back nine are much more challenging. Holes 12 to 15 are played alongside the ocean, and the finishing hole is the toughest on the course.
Like many golf courses in the Middle East, El Kantaoui is home to a diverse group of flora and fauna, including olive trees that date back to the Roman era.
Royal Golf Club, Bahrain
This beautiful club is pleasing to the eye in all ways. Undulating holes, deep bunkers, palm trees, and sleek buildings come together to form a unique golfing experience. It's home to Bahrain's only 18-hole golf course, so if you're in the area and looking for a round, this is a must-play.
Designed by legend Colin Montgomerie, the course has hosted multiple championships but has the capability to captivate golfers of all skill levels. However, if it does seem a little intimidating, players can instead opt for a round on the par-3 Wee Monty Course, which is also fully lit for night golf, as well as the back nine of the main course.
Emirates Golf Club Majlis Course, Dubai
The Emirates Golf Club was the first to be built in Dubai, back in the late 80s. You'll get to enjoy a spectacular backdrop of the high-rise buildings of the city, making it a unique collaboration of nature and modern technology.
There are three courses here, but we particularly like the Majlis Course. It has the distinction of being the first grass golf course in the Middle East, and its name means "meeting place". This course has received multiple accolades, but it's a decent course for players of all levels, provided you choose the right tee.
However, you'll need to be prepared for a tricky round, facing fast, slick greens and a punishing rough. Holes that are particularly memorable include the par-3 7th, which is a fun little carry over the lake, and the finisher, which has you hitting your approach shot over water to a bowtie-shaped green.
Aside from being an excellent golf course, it also harbors hundreds of indigenous creatures and plants, plus numerous freshwater lakes throughout the course. Golf isn't the only memorable experience you'll take away from this course!
Tips for playing in the Middle East Golf Courses
While these golf courses in the Middle East are absolutely worth playing, even if just for a chance to spend surrounded by green nature, keep in mind that being out on the course in a climate such as the Middle East can be dangerous if you aren't properly prepared.
Don't neglect the dangers of the heat. In a semi-arid climate, make sure to wear a protective hat that shades your face from the sun. It's a good idea to try to find one that offers protection for the back of your neck too.
Layer up on sunscreen to ensure that you don't get sunburned. Wearing climate-cool sleeves can be a good alternative to sunscreen. But above all, make sure you have enough water with you to stay hydrated on the course. Dehydration won't just ruin your round but can lead to severe health consequences too.
Once you've got those measures in place, get out there and enjoy playing golf in the desert!
Featured Image by Emirates Golf Club
About the Author
Jordan Fuller is a retired golfer and businessman. When he's not on the course working on his own game or mentoring young golfers, he writes in-depth articles for his website, Golf Influence.
Note: This post may contain affiliate links, partnership or sponsored content. If you purchase an item via one of these links, we may receive a small commission at no extra charge to you. But as always images and opinions are our own. For more information on our affiliates and privacy policy at Outside Suburbia see here.
PIN IT FOR LATER
CONNECT WITH US