Our Spa attendant handed my daughter and me a couple of paper underwear and pointed to the blue floormats on the floor using hand signs and asked us to take off our clothes – I had no idea what to expect in a Moroccan Hammam when I signed us up. I wanted our family to have a private and authentic hammam experience, and 72 Riad Hotel had promised just that. But now that I'm here, I wasn't so sure. More importantly, I didn't know if Mr.Suburbia and the boy will be up for it!
What Is a Moroccan Hammam Spa?
Visiting Moroccan hammams or Spas is part of many Moroccans' daily life. Much like a Turkish bath, a Moroccan Hammam is a Spa with a communal steam room where people go to clean themselves. This is usually a weekly ritual and a social activity in villages and towns. People would go to the souk (markets) to get their own essential bathing products and head to the hammam. Baths are separated by gender and were a gathering point where people of all social classes would meet and discuss just anything. These purifying sessions were done entirely naked and allowed men and women to really be themselves. Major decisions were often made here like business deals and arranged marriages.
The History behind this Communal Ritual
It is common knowledge that the first public bath was created by the Roman empire more than 2000 years ago. The Roman Baths allowed citizens to visit local bathhouses to cleanse themselves and maintain good hygiene. This idea caught up with the rest of the world and Moroccans embraced this ritual. Since religion is an important part of Morocco's culture, the first hammam was found near Mosques and was considered mandatory before prayer.

What to expect in a Moroccan Hammam
When visiting a public Moroccan Hammam Spa you usually get a bucket, a mat to lie on, some black soap, and exfoliating gloves. Some places will have you bring these yourself. Essentially, you scrub clean and exfoliate yourself in large steam rooms among everyone else, using your bucket and water from a tap. You can also hire someone to exfoliate you.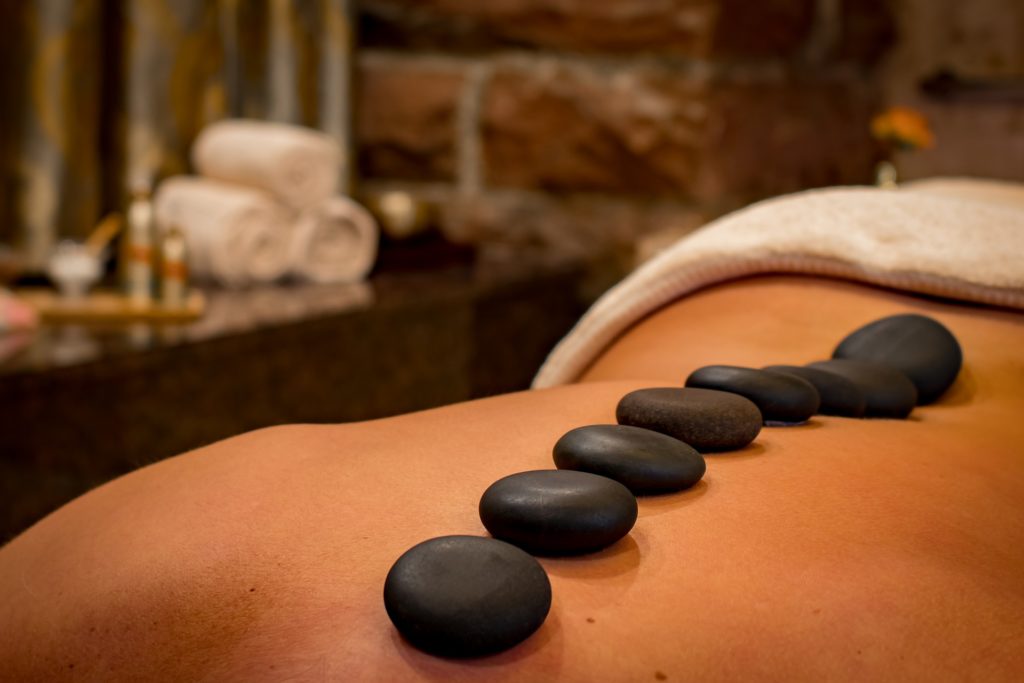 A Moroccan hammam spa at a hotel would be much different though. You will still be naked but in a more private setting. There are several Riads and Hotels in Marrakech that have Moroccan Hammams. While the treatments vary by hotel, the general process is that you first soak in water or sit in a steam room (naked), then you get rinsed, exfoliated, and massaged.
72 Riad Living
We split our stay in Marrakech into two places, Villa des Orangers and 72 Riad Living. While both are traditional Riads, one was more of a modern boutique hotel. Set in the heart of the Medina, 72 Riad Living was warm and welcoming. The rooms were individually decorated and styled, but all offer a relaxing and elegant retreat from the hustle and bustle outside. We had two rooms and each had a different vibe.
You can enjoy an expansive view of the Medina from the 72's roof terrace, watch the beautiful sunset, or even enjoy dinner under the stars. The dinner at the La Table Du Riad was one of our best meals in Marrakech. Contemporary Moroccan creations all made with fresh ingredients and plated beautifully, the restaurant was an intimate affair. If you are planning a trip to Marrakech and looking for an authentic experience, plan a meal, hammam, and a stay at 72 Riad Living.
Honestly, the reason I wanted to stay here because of the small and private Hammam. I'm somewhat of a prude and didn't think I can get naked in front of a group of women and be scrubbed down. Yet I wanted this unique Moroccan experience. Most Hotel Spas in Marrakech offer different variations of the Hammam experience, at various price points but I was after something authentic.
Our Hammam Experience
Once we checked in at the front, the hotel staff led us to the Hammam room and introduced us to the attendant. The four of us were signed up for the treatment but I and Ms.Peachy decided to go first. We had no idea what to expect from our Moroccan hammam experience.
It was a small dark and humid room. Our attendant didn't speak much English, she just communicated with hand signals. We followed her instructions and took off our clothes and wore the paper underwear that was offered (You can bring a swimsuit bottom if you like). She pointed to the mats on the floor, and we lay down while she went to fill two shiny pots with water from the trough in the corner.
While we were trying to suppress our giggles, the stocky attendant came back and poured water over my head and all over my body. She rubbed me down with black soap and left to lie on the mat for a few minutes. She put on her special Keesa glove and started to scrub my whole body. She spun me around, lifted my arms, and all exposed body parts, and proceeded to scrub every square inch of my naked body with her coarse mit. From the corner of my eye, I could see black skin peeling off my arms and legs. Old skin was grated off like cheese, leaving behind a smoother shinier layer.
Next, I was rubbed down with some sweet-smelling oil and left to lie, while she started working on my daughter. I couldn't help feeling like a baby who had just been bathed. While I watched the hammam lady at work on my daughter, I wondered if Mr. Suburbia and D would survive this. They might chicken out. After the hammam, once we were both dressed up in our robes and sipping a sweet mint tea, we decided better not to give the boys a heads up, let them have the element of surprise. We went to our rooms and sent the boys over without telling them what to expect during their Moroccan hammam 😉
A few Photos from Riad 72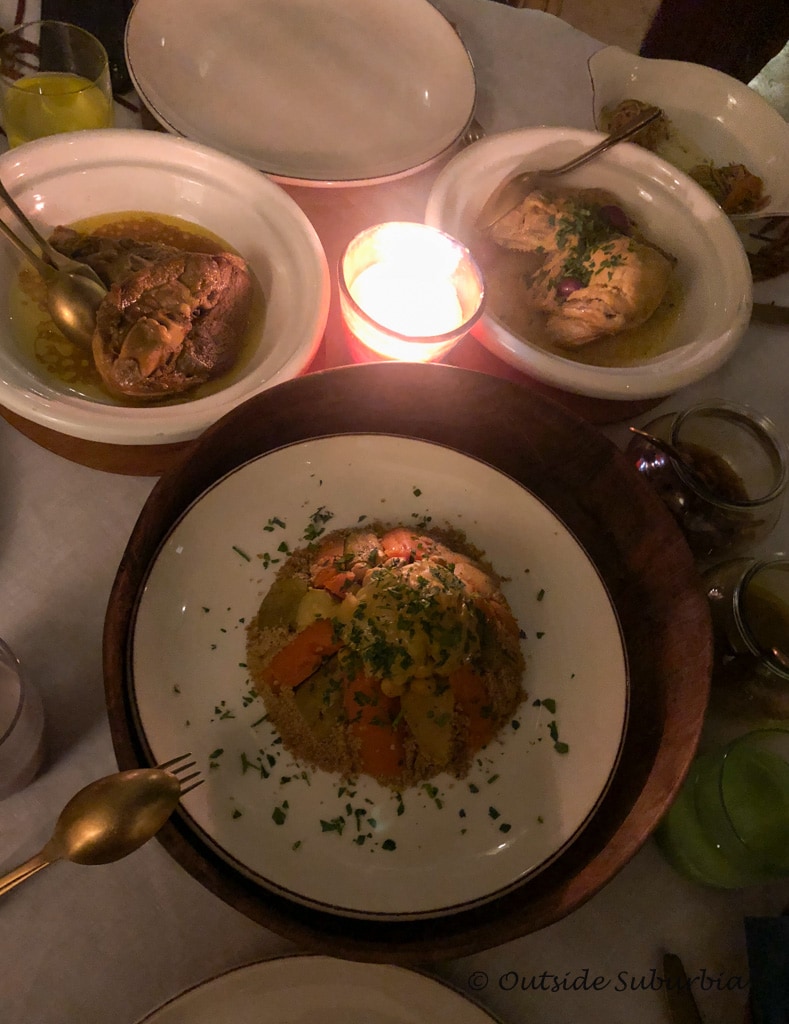 What to Bring to a Moroccan Hammam Spa
Plan ahead depending on what kind of spa you are going to. Always bring a change of underwear and clothes, your flip-flops, hairbrush and toiletries. Each spa is different, ask ahead if you need to bring your own Hammam supplies. You can buy hammam kits in the Souk which includes Black Soap, Keesa Glove, and Argan Oil Lotion. You will have to bring these if you are visiting public Moroccan Hammam but if you are visiting a Hotel Spa, they will have them for you and most likely included in the charge.
Moroccan Hammam is an experience that you can't miss. Once you get past the getting naked part and let inhibitions down, you will enjoy it, your skin will be butter-soft and your soul a little happier!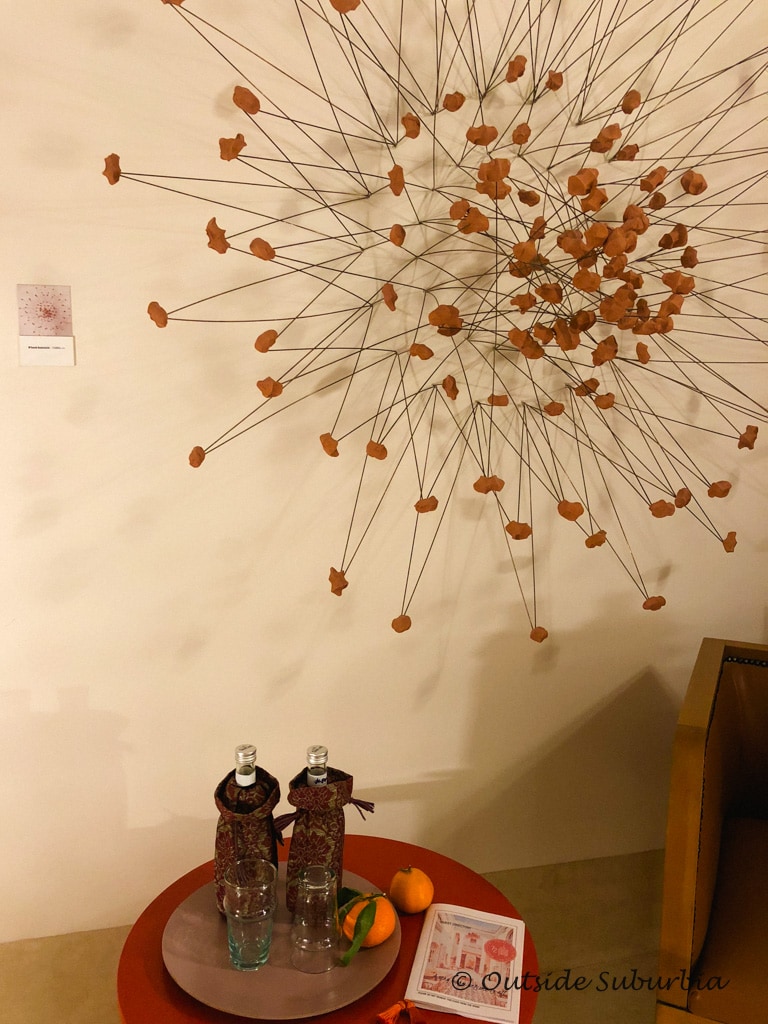 See Riad72 for details of availability and pricing information.
Note: This post may contain affiliate links, partnership or sponsored content. If you purchase an item via one of these links, we may receive a small commission at no extra charge to you. But as always images and opinions are our own. For more information on our affiliates and privacy policy at Outside Suburbia see here.
CONNECT WITH US