Spiti Valley is a desert valley at a high altitude in the mountains of Himalayas, in Himachal Pradesh, India. Spiti means "middle land" gets its name since it separates India from Tibet. To explore at leisure 10 days would be ideal but can be done in 7 days. Here is a 7-day or One week Itinerary for Spiti Valley India Road Trip.
While the idea of a road tripping on a bike sounds romantic, you might want a Toyota Innova Jeep for a more comfortable ride on the dirt roads in India
Located at an altitude of 12500 ft, Spiti Valley is a part of Lahaul and Spiti district, and it's headquarter is at Kaza, which is around 5.5 km(3.4mi) from Spiti. Kaza is located on the banks of the river by the same name i.e. Spiti river. The Spiti river originates from Kunzum range and has Tegpo and Kabzian as tributaries. After travelling for about 150 km(94 mi), it meets river Satluj in Kinnaur. Scattered with small villages of whitewashed mud-homes and monasteries, a road trip in Spiti should be on your India travel plans. This trip itinerary for travelling to Spiti valley covers many interesting places and unique places.
7 Day / One week Itinerary for a road trip exploring and visiting the Spiti Valley in India
For this itinerary you will start in the Indian Capital city, Delhi. If it is your first time in Delhi you might want to plan for 2 to 3 days to visit the city.
7 Day Spiti Valley Itinerary from Delhi
Day 1 – Delhi to Shimla/ Narkanda
Day 2 – Shimla/ Narkanda to Reckong Peo
Day 3 – Reckong Peo to Kaza
Day 4 – Kaza to Kibber/ Komik/ Langza/ Key Monastery
Day 5 – Dhankar Lake Trek
Day 6 – Kaza to Chandratal Lake
Day 7 – Chandratal – Manali – Back to Delhi
Delhi to Shimla/ Narkanda
Start late night or early morning from Delhi so that you reach Shimla by afternoon. If you want to spend the night at Narkanda, it is a further two hours upward journey. I would recommend Narkanda for two reasons. First, you would have traveled an additional 60 km for the day and it is more peaceful than Shimla. Secondly, if you are able to reach Narkanda by afternoon, you can visit Hatu peak, the highest point in the entire Shimla district.
Shimla/ Narkanda to Reckong Peo
Again, start early to reach Reckong Peo on time, as the road condition is not very good at some stretches and this may compel you to slow down considerably. The total distance to be traveled is around 170 km. And the best part is that most of it will be along the river Satluj. Road condition starts deteriorating after Jeori, which is almost half the distance (roughly 80 km). So it may take around 6 hours to reach Reckong Peo from Narkanda. Spend the night at Reckong Peo. Relax and explore the place.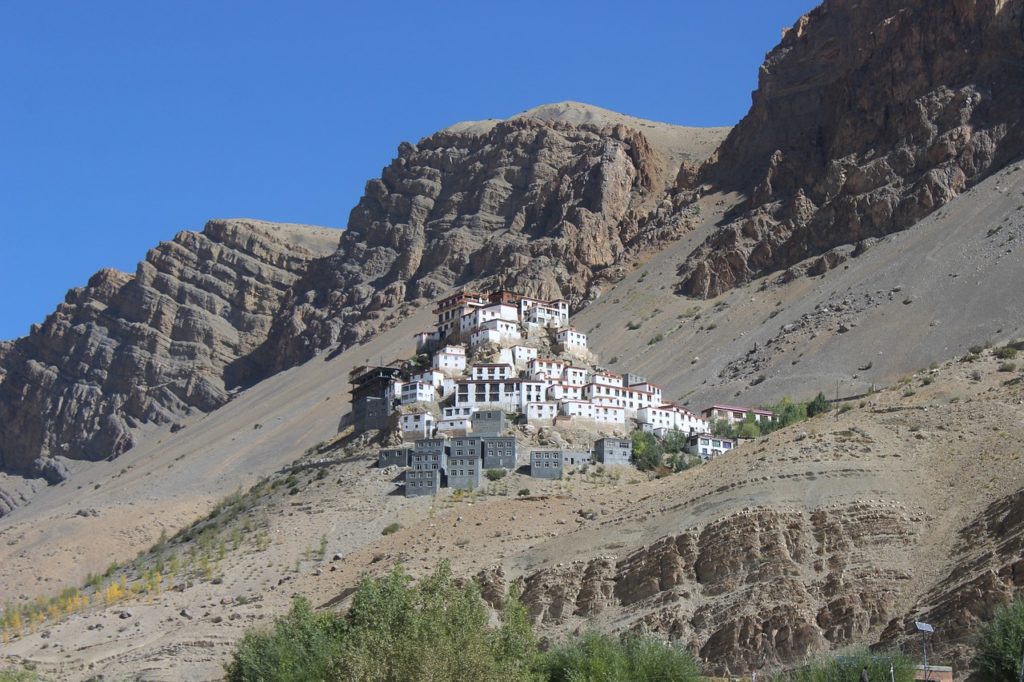 Kye Gompa (Key Monastery) is a Tibetan Buddhist monastery located on top of a hill at an altitude of 4,166 metres above sea level, close to the Spiti River
Reckong Peo to Kaza
This is going to be the most arduous journey of the entire trip. The road conditions are not that good. Particularly for the first 65 km, the roads are really bad. Although the roads improve after that but deteriorate again after Nako. So covering a distance of around 200 km may take more than 7 hours. You should, therefore, start your journey from Reckong Peo accordingly.
Kaza to Kibber/ Komik/ Langza/ Key Monastery
Today you can relax a bit and take it a little easy. Just explore the surrounding villages of Kibber, Komik and Langza, each beautiful in its own way. On the way to Kibber, you will see the famous Key monastery. Komik is the highest village in Asia and situated at a height of 4,513 meters. This farm-village has a population of 84 people, living in utter isolation, cut-off from the rest of the world for most parts of the year. This little village brings you thousands of miles away to a place of soft brown pastures and snow covered white mountain peaks. You might even see some animals of the region – Tibetan wolf, blue sheep, red fox, hare, snow cock, Himalayan griffin, rock pigeon etc.
However, there are no roads here so you will be mostly travelling on dirt trails. And depending on the availability of time, you may also visit Hikkim village so that the total stretch covered will be around 100 km. Return to your hotel in Kaza in the evening and relax.
Kaza to Dhankar Lake Trek
On day 5, you can go for the Dhankar lake trek and enjoy the beautiful surroundings. If luck favors you, then you may come across various birds and wild animals along the way. There is a very beautiful village which is much greener than the rest of the area. And trek to the lake will take another two hours from here. Return to Kaza in the evening.
Kaza to Chandratal Lake
This is the most exciting and adventurous part of the trip. If you want to travel by car then you first reach the Kunzum pass. From Kunzum pass move towards Batal. After about two km you will come across a narrow road which goes to Chandratal lake. You must drive carefully as the road is just enough wide for one car to pass. From here, Chandratal is about 14 km. Once there, you can stay in any of the camps available there. Chandratal lake area is colder as compared to other places in Spiti valley. Seeing the lake and the crystal clear sky at night is a memorable experience. You may also trek to Chandratal lake. It will take around 5 hours to reach here from Kaza.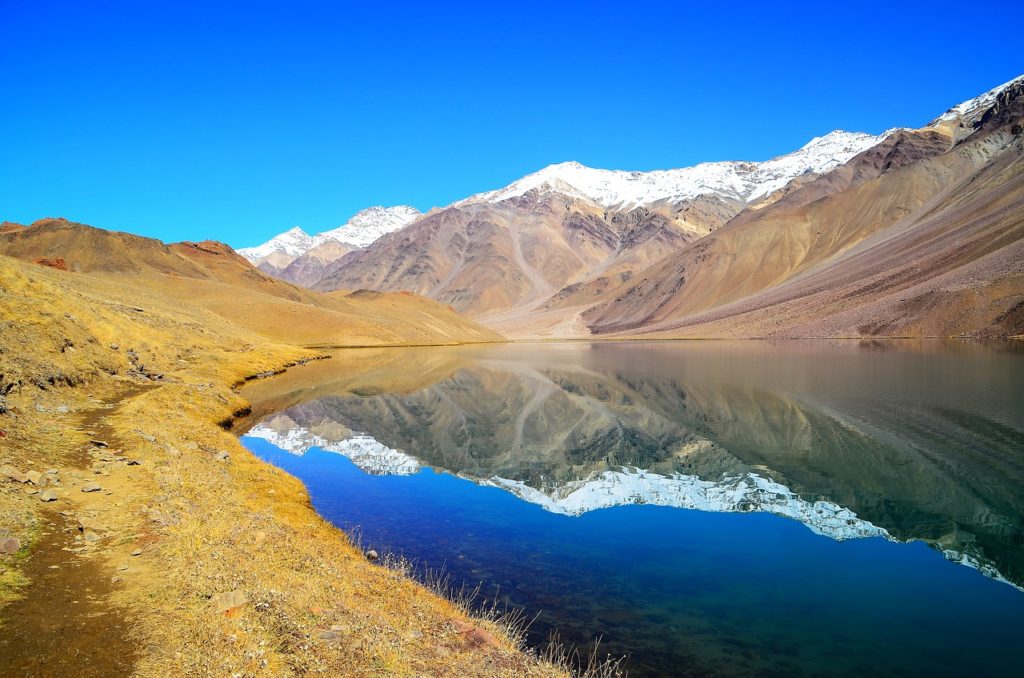 Chandratal Lake – Manali – Delhi
Time for the return journey. Start early as the road from Batal to Gramphoo is really bad. So it may take up to 8 hours to reach Manali itself. However, you will encounter a number of streams on the way to lift your spirits. Once in Manali, you may decide to continue your journey towards Delhi or to take a break.
Where to stay in Spiti Valley
While there are some hotels in Spiti, homestays are a great option. A few rest houses and tourism guest houses are available along with some hotels in Kaza. A lot more accommodation is available in Keylong, which is the headquarter of Lahaul. Guest houses are available in Kaza, Tobo, Losar, Poh and Sagna as well. You can get Indian and Tibetan food in and around Kaza. And there are some ethnic restaurants in Spiti, which specialize in Tibetan and local delicacies.
Tip – Keep enough food and water with you wherever you go in Spiti valley as in remote villages and while trekking, you may find it difficult to get them.
I hope this 7 day itinerary helps you plan a road trip to the Spiti valley in India and spend the summer in the mountains. You can find more details about the Spiti Valley here. If you are short on time you can also fly into the nearest airport Kullu, which is about 247 km(155 mi) from Spiti Valley. From here you can hire a taxi to get to Spiti valley and start the hikes.
Cheers!
About the author – Vimal Bhatia, a passionate traveler and keen travel blogger writes about stunning but unexplored places. An engineer by training, after over 30 years of Industrial and corporate career, Vimal decided to do what he likes most – travel, explore and write about it. He believes he has covered only a minuscule part of this beautiful planet and there is a lot more to uncover. The sheer mention of travelling to a new place brings out a childlike joy from inside him. A solo traveler so far, he is hoping to find his travelling companion someday, maybe on one of his sojourns.
Words – Vimal; Photos – Pixabay
PIN IT FOR LATER
CONNECT WITH US