On a recent trip to the Maldives, we flew on SriLankan Airlines from Chennai to Colombo and then Colombo to the Maldives. There is no better way to fly this route than SriLankan's Business Class. It was an experience of comfort and traditional SriLankan hospitality and warmth, not to mention the best meal that I have ever had at 37000 feet. Here is a quick review and look at SriLankan Airlines Business Class.
Launched in 1979, Sri Lanka's National Carrier is an award winning airline with a solid reputation for service, comfort, safety, reliability, and punctuality. The airline's hub is at Bandaranaike International Airport in Colombo, providing convenient connections to its global route network of 94 destinations in 44 countries. Sri Lanka's national carrier has an impeccable safety record, with not one single crash or major accident recorded since it was launched in 1976. Also known as Katunayake Airport and Colombo International Airport (CMB) is the main international airport serving Sri Lanka.
SriLankan Airlines was the first airline from the Indian Subcontinent to gain entry into the prestigious global airline alliance oneworld.  SriLankan Airlines flies alongside some of the largest and premier brands in the airline business which are members of oneworld –  American Airlines, British Airways, Cathay Pacific, Finnair, Iberia, Japan Airlines, LATAM, Malaysia Airlines, Qantas, Royal Jordanian, and S7 Airlines.
Lounge Access
The Business Class experience is evident at the airport, where you receive priority check-in at the silk route and complimentary access to the Serendib Lounge at Bandaranaike International Airport. We relaxed with a complimentary Ayurveda massage and enjoyed the delicious local food prepared in-house. Located on the first floor of the departure hall, overlooking the Aircraft Parking Bay, Serendib is an exclusive lounge run by SriLankan Airlines.  Our flight left on time, there was hardly any lines as we were the last to board in business class.
SriLankan Airlines Business Class Review
Both our flight legs – from Chennai to Colombo, and from Colombo to Male were operated by the same two-class A330-300 aircraft. Like all A330-300s in SriLankan's fleet, the plane featured the carrier's new Business Class product. 
All Business Class seats – 28 in total – are located in one cabin behind the cockpit. There are 7 rows of 4 Business Class seats each, with all seats having direct aisle access and a lot of privacy due to a 1-2-1 alignment in a herringbone layout. The Business Class seats on the sides are angled toward the window with about 2 windows per seat, while the seats in the middle are angled towards each other. This is my favorite Business Class seat type, especially when flying together as a family of four. Most oneworld partners like American Airlines and Cathay Pacific feature the same Business Class seat arrangement.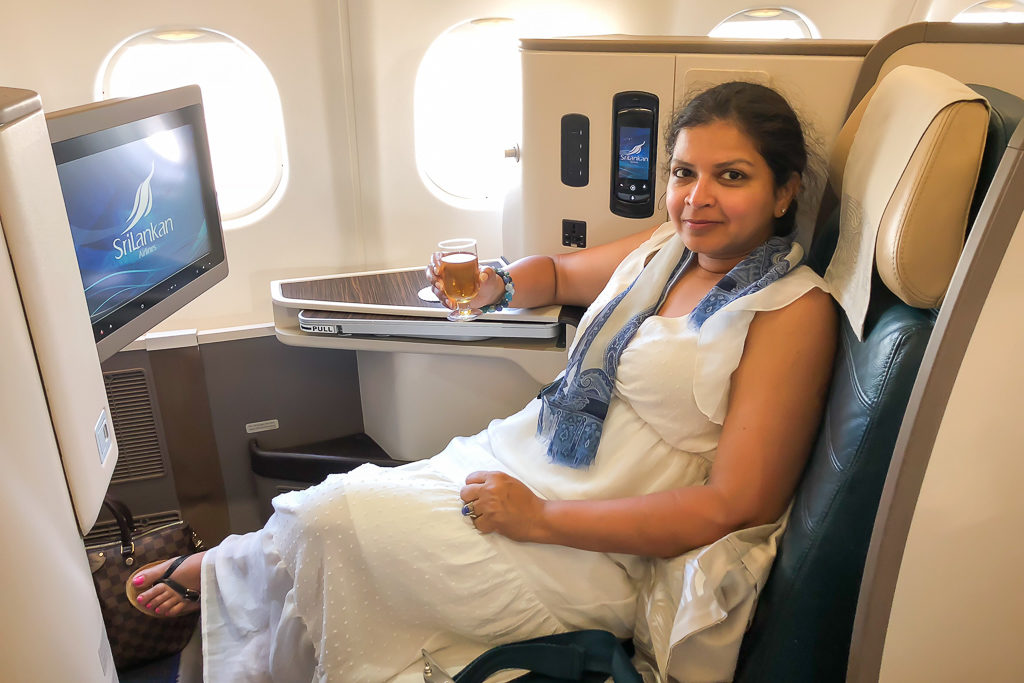 Food and Service
I was surprised that a full meal service was offered on both our short, one-hour 30 minute flight but that didn't stop me from enjoying more of Sri Lankan food. I indulged in delicious plates of string hoppers, vegetarian curry and potatoes served with traditional coconut sambal. Sambal is a ground coconut mixture similar to chutney and is good with everything. There was a wide array of other healthy options including meat dishes and fresh fruit. It was one of the best airplane meals ever and was an unforgettable culinary experience at 37000ft. There was complimentary wine available but I was too stuffed to indulge and opted for the tea, which was divine!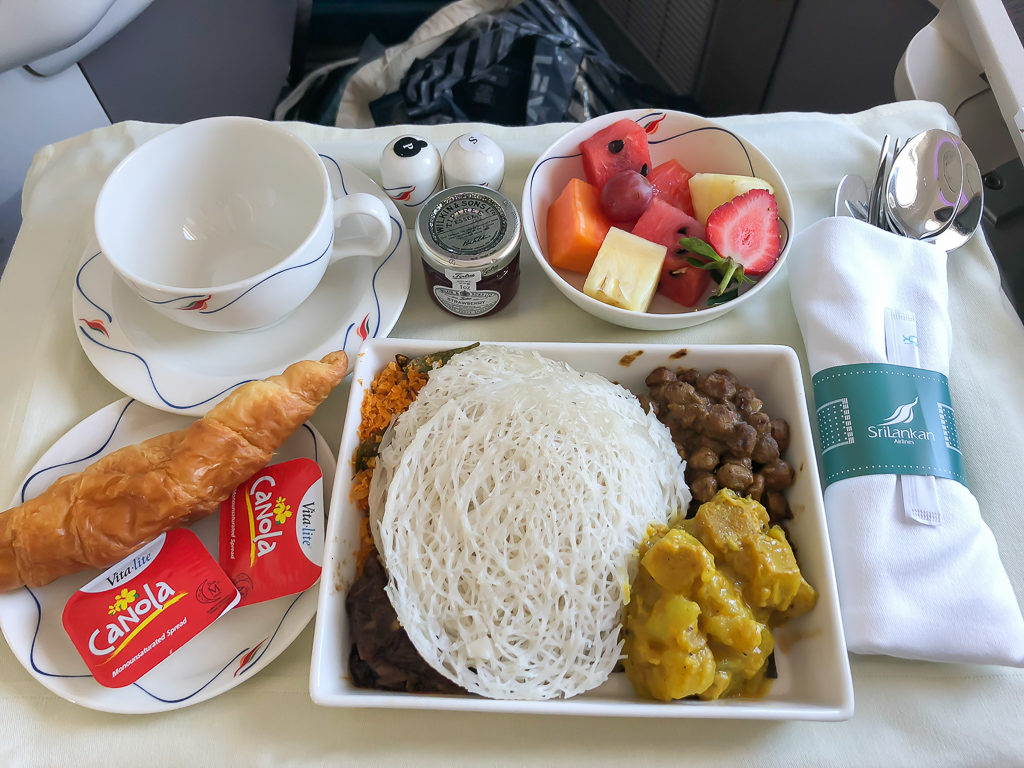 Our experience flying SriLankan Airlines
The cabin crew onboard the SriLankan Airlines flights on all four of our segments were warm and friendly.  I especially loved their peacock themed sarees. On a flight from Chennai to Colombo one of the kids passing through the Business Class saw the apple juice that was offered and wanted some when her parents tried to explain to the little toddler that their seat is further down, she started to cry.  One of the flight attendants offered her some juice, which the little girl happily drank forgetting her tears – a very little act of kindness but showed us the warmth and kindness of the SriLankan Airlines.
Amenities and Entertainment
The state of the art AVANT in-flight entertainment system had the latest blockbusters from Hollywood and Bollywood, and a collection of other classics. The Business Class seats featured a 15.4 inch screens, with over 50 TV channels, 120 movies, an extensive library of audio CD's and radio channels, and a large number of games for all age groups. On both flight legs, noise-cancelling headphones, a pillow and blanket were provided. However, since it was such a short flight there was no amenity kit.
And the destination… The Maldives aka Paradise!
When you go
When you plan your trip check SriLankan Airlines website for more information on routes and rates.
PIN IT FOR LATER
CONNECT WITH US