Iceland is a sprawling, sparsely inhabited country of incredible beauty, with so much to offer a tourist looking for an alternative holiday. If sunny beaches and sangria have left you feeling bored, then a trip to Iceland could be just the tonic you need. It boasts wonderful dormant volcanoes, a chance to see the northern lights and you can try your hand at driving a snowmobile to famous film locations that were featured in Interstellar, Prometheus and Oblivion.
You could also check out one of the many attractions that cover Iceland's proud heritage as an important Viking country. With many important historical sites and museums explaining their heritage, you can immerse yourself in the world of the Vikings. Settlers from Denmark and Norway first voyaged to the island around 870 AD, determined to make Iceland their home. Even today, sixty percent of the total population of 330,000 Icelanders are of Norse descent. If exploring Iceland's Viking and Norse Heritage is the reason for your visit to the island then we recommend you visit these fascinating sites. Start with this article to learn about the Norse Gods – Odin, the father of Gods to Thor, the famous red-haired God of Thunder.
The National Museum of Iceland, Reykjavik
The National Museum of Iceland boasts a wide variety of exhibits that not only cover the Viking period but also later periods in Iceland's history. Whilst the building may look unassuming from the outside, it's a treasure trove of Viking culture and a must-visit location for any tourists interested in that period.
It has a permanent display that illustrates Iceland's history from the early Viking settlements to the present day, showing the evolution of the country from those early times. The main exhibition has over 2,000 artifacts, many of them Viking in origin, that have been discovered around the country.
The crowing treasure in the museum's collection is the world-famous Valthjófsstadur door, which features carved scenes from the 12th-century tale 'Le Chevalier au Lion'.
Viking World, Reykjanes
The Viking World museum offers you a unique chance to see the replica of the Gokstad Viking Ship. The original Gokstad Viking Ship is on display in Oslo, but the replica displayed here sailed across the Atlantic to Newfoundland, to celebrate the millennium. It then sailed to New York before returning to Iceland.
The ship is suspended in the air so you can marvel at the craftsmanship under the hull before stairs take you into the ship to sit down and experience the sensation of being in a real Viking vessel.
There's also a permanent display called 'Vikings: The North Atlantic Saga' which will add extra context to the ship's original purpose and journeys.
Asatru temple, Öskjuhlíð
If you want to get out of the museums and exhibits and find a real slice of Viking culture, then the soon-to-be-completed Asatru temple should be high on your list of places to visit. It's the first purpose-built 'Hof' in 1000 years and will act as a focal point for the Asatru religion, who base their faith on Norse mythology and the 'old gods'.
Norse mythology has become incredibly popular in recent years, with Marvel character Thor bringing new relevance to the age-old tales. In addition, series such as Vikings and Neil Gaiman's books on Norse Mythology have further enhanced interest.
Even in games and common culture, Icelandic and Viking culture have become common. Foxy Games has a range of titles based on Norse culture including Thor's Lightening, Vikings Unleashed, and Valhalla. In addition, acclaimed PlayStation games such as God of War are loosely based on Viking themes.
With such interest seeing two million tourists a year visiting the country, the Hof is sure to be popular when it opens soon.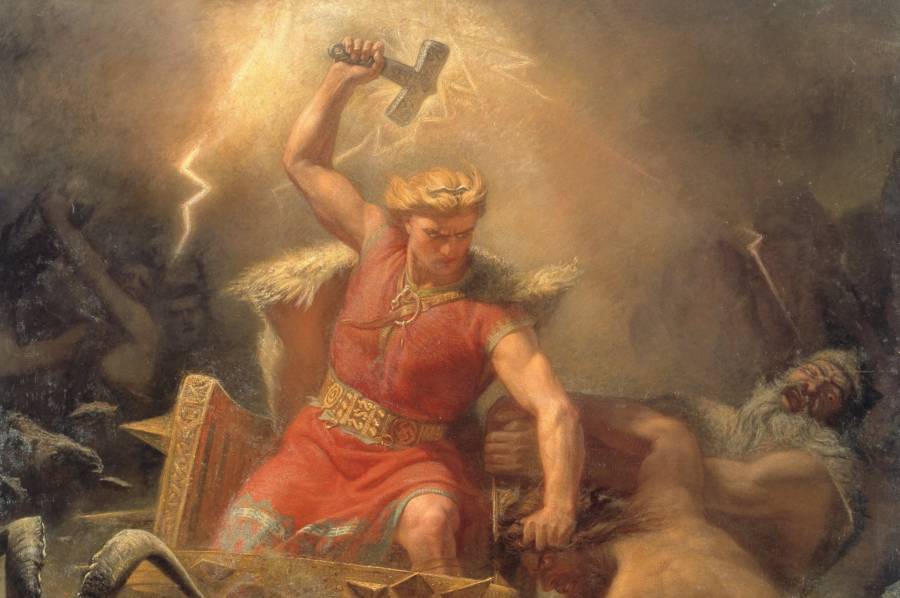 The Settlement Exhibition, Reykjavik
Being able to see the remains of a real longhouse in the middle of bustling Reykjavik is a real treat and it makes the Settlement Exhibition a must-visit site.
It is built around an excavated 10th-century longhouse which was once inhabited by up to 10 people. You can visit the remains of the longhouse, as well as learn all about Viking architecture. Not only are there real ruins to see, but also 3D models of how the building would have looked and how those who lived in it would have lived their lives.
It's a truly remarkable glimpse of what everyday life was like for the Vikings and an essential part of any Viking pilgrimage to Iceland.
Thingvellir National Park, Laugarvatn
You need to visit Thingvellir to fully appreciate the wonderful scenery around Iceland. Thingvellir National Park is known for playing a huge role in Viking history – the 'Ting', or parliament, started here in 930 AD, becoming one of the first democracies in world politics, albeit on a primitive level.
It also played host to a much more recent slice of common culture. An article by Fan Girl Quest reveals that it was used as a location for scenes in the popular Games of Thrones television series.
Thingvellir is one of the most popular sites in Iceland, because not only is it a great place to soak up Viking culture, but also a wonderful example of the landscapes on offer in this beautiful country.
PIN IT FOR LATER
Note:  This is a contributed piece and may contain affiliate links. But as always images and opinions are our own. For more information on our affiliates and privacy policy at Outside Suburbia see here.
CONNECT WITH US