As the temperature starts to drop it is time for some fall festival fun around town. Who am I kidding – the temperatures don't really drop around here in Dallas till November but we Texan love to celebrate the season! From Diwali – a festival of light celebrated by most Indian households to Oktoberfest around town, here are a few of our favorite fall festivals around Dallas… Do you know of others that should be on the list?
Fall Festivals around Dallas
1) Watch the balloons soar over Plano at the Balloon Festival
This is a family tradition, we show up every year with picnic blankets and cameras to watch the hot air balloon light up the Plano sky. This year marks 40 years of Ballooning in Plano and InTouch Credit Union will be hosting it as usual. Plano Balloon Festival runs from September 22-24 2019 at Plano's Oak Point Park. Join in the Celebration of this spectacular three-day event beginning at 4:00pm Friday, September 22nd at Oak Point Park, 2801 E. Spring Creek Parkway, Plano, TX 75074. More information about tickets, tethered balloon ride and half marathon can be found here.
2) Catch a wiener dog fashion show at the Steinfest
Steinfest is an Oktoberfest-style event hosted by the Historic Downtown Plano Association that celebrates outstanding beer, great food and the right kind of polka music to get you and your friends dancing in the street. This year's Steinfest will be on Sat, Oct 26, 11 AM – 11 PM at Haggard Park. It will include the finest beer, German-inspired cuisine, live music, an artist village of craftsman and makers, a wiener dog fashion show, keg bowling, a kid's zone, and a VIP beer garden. The iconic West, Texas bakery Czech Stop will be selling their famous kolaches at Steinfest this year.
3) Stomp some Grapes at the GrapeFest
GrapeFest is a four-day event full of food, fun and wine! It will be held Sept. 12-15, 2019 at Grapevine. Annual GrapeFest – A Texas Wine Experience, is the largest wine festival in the Southwest United States. A celebration of the best of Texas wines this four-day family-friendly festival is one Grapevine's most anticipated events.
4) See Fall colors at the Dallas Arboretum
We love going to the Arboretum in Autumn, Fall colors are hard to come by in Dallas, so you don't want to miss the Arboretum which is one of the few places where you can see pumpkin patches and some fall foliage. A couple of years ago Dallas Arboretum hosted a show by Seattle Glass artist Dale Chihuly, when elements of glass art mixed with nature to create a kaleidoscope of fall colors. Named one of America's Best Fall Festivals, the Dallas Arboretum fall festival runs from September 21 to October 31, 2019, and you can buy the tickets here.
5) Try all the fried food at the State Fair of Texas
There's nothing that says fall in Texas more than the State Fair. This annual three-week affair offers everything from the coolest in cars, hottest concerts, livestock shows, a chili cook-off, butter sculptures, art exhibitions, rides and pretty much anything fried you could imagine! BigTex will be there to welcome festival-goers! Festival is held at the Fair Park from September 27 to October 20, 2019, you can find tickets and schedule here.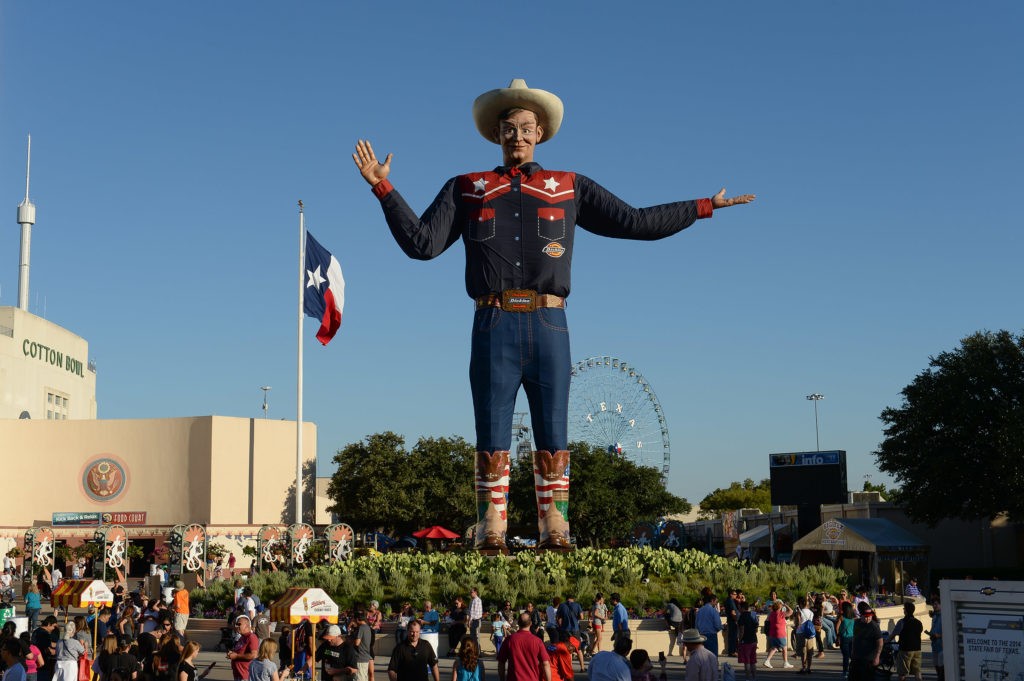 6) Dress up in Drindle for the Addison Oktoberfest
An authentic recreation of the Munich Oktoberfest, Addison's event features more than 30 hours of continuous family-oriented entertainment. Serving special "Oktoberfest" Bier along with incredible German culinary fare, the festival also includes a Marketplace, music, and kid-friendly options like rides, midway games, and much more. It will be held September 19-22, 2019 – Not sure why Oktoberfest is in September! If you missed it this year, mark your calendars make sure to attend next year!
7) Dress in white for the Diner en Blanc
Diner en Blanc is an epic pop-up picnic that originated in France and was first held in Paris and now has gained so much popularity internationally. As the name states, everything had to be in white – from dresses to shoes to tablescape! Everything for the event, the tables and chairs, cutlery, food and wine had to be brought by the guests. The guests gather at a secret location with the sole purpose of sharing a gourmet meal with a date or good friends at the heart of one of their city's most beautiful locations. Participants arrive and then depart in unison by chartered bus or organized public transportation. They setup and decorate their tables and wait for the napkin wave to start off the festivities! One year it was at the Dallas City Hall and at the Dallas Arboretum on another! This year the event takes place in October.. so excited!!!
8) Eat Healthy at the Texas Veggie Fair
If you love eating healthy and clean, get yourself to the annual Texas Veggie Fair. Learn about a healthier lifestyle, enjoy chef demos, children's cooking classes and other activities. Last year we got mini massages and hung out at a beer garden complete with a 100% vegan menu. After seven great years at Reverchon Park, Texas Veggie Fair is moving to the Dallas Farmers Market for their 2019 event. It will be held on Saturday, Nov 2, 2019, more details here.
9) Celebrate with food and fireworks at Diwali Mela
Diwali, the festival of light is celebrated with great pomp at CottonBowl in Fair Park. There will non-stop entertainment, Bollywood dance performers, delicious South Asian cuisine, kids corner filled with games and the night will end with spectacular fireworks. Dress up in formal South Asian attire and enjoy the celebrations on Saturday, 2 November 2019. More details here.
Updated August 2019
CONNECT WITH US