Fall is a fun time in Dallas, when the temperatures are still in the seventies, the Texan sun is shining and the foliage starts turning into shades of gold, gorgeous oranges and reds. While we don't have the typical New England or Maine kind of acres and acres of leaf-peeping opportunities, but you can still find some spots that have fall colors in Dallas Fort worth. Remember though it is a short season, fall colors in Texas typically last from last week of November to the first week of December.
Where to find Fall colors in Dallas
If you are looking for Fall colors in Dallas — Japanese maples at the Dallas Arboretum in East Dallas is where you can find them. Some spots around the White Rock lake has some fall colors as well but the colors are not as intense. The two-acre Nancy Rutchik Red Maple Rill has a fabulous collection of over 80 varieties of signature Japanese Maples planted along the stream. A large weeping Japanese maple, nearly 100 years old, anchors the center of the garden. The Arboretum has a fun pumpkin patch and other fall themed flowers. A couple of years ago they hosted a show by Seattle Glass artist Dale Chihuly, when elements of glass art mixed with nature to create a kaleidoscope of fall colors.
Where to find Fall colors in Fort Worth
While 90% of the Fort Worth Botanic Garden is free to the public, you will have to pay a small admission fee to see the fall colors in the Japanese Garden. Stroll the garden, the winding paths lead you through tranquil landscapes and water features. The Garden consists of 7.5 acres filled with cherry trees, Japanese maples, magnolias, bamboo, bridges, and ponds which are home to over 1,200 Koi fish. The garden hosts a fall festival when you can enjoy traditional Japanese dance, martial arts, sword demonstrations, raku pottery and traditional tea ceremonies in the garden. Here are a few photos from our trip to see the fall colors this year.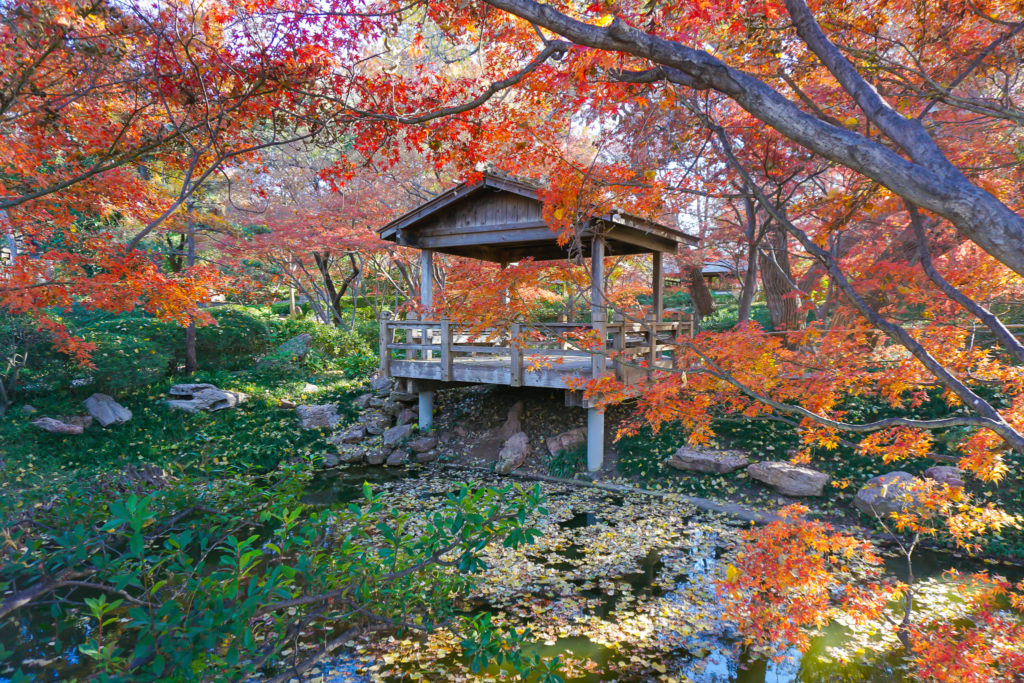 Scenic Fall drives in DFW
If you love looking at the fall colors and want to go on a scenic fall drive in the DFW area, here are a couple of best options for seeing the fall colors in the DFW/Dallas Fort Worth area.
White Rock Lake
Just 30 minutes from the suburbs but the drive to White Rock Lake always seems worlds away, at least for me! It is a great spot to go for a drive and see some fall colors. You can find many open spaces in White Rock Lake to bring a blanket, some wine and cheese to enjoy a picnic at the lake. One of my favorites is the Sunset Bay (Put 830 East Lawther Drive in Google Maps). It is near the Stone Tables but sits right on the shore of White Rock Lake. There is even a pier for fishing and there are always lots of ducks and geese playing in the water. You can park the car on the hill and go for a walk or watch the sunset.
Cedar Ridge Preserve
Drive up to the Cedar Ridge Preserve to get both a great view of fall foliage and a nice view of the Metro area. It's only about 20 minutes from Dallas. With more than 600 acres and 10 miles of hiking trails, you'll find a lot to see. The preserve is at 755 feet above sea level, so you can look out and see pretty far. The Cedar Ridge Nature Preserve is one of my favorite places and fall is the best time to explore this nature preserve without being overwhelmed by Texas' famous triple degree heat. Not as vibrant as the gardens, this is the place to see and enjoy fall colors in the Dallas Forth Worth area in a more natural setting.
Palo Pinto Mountains and Possum Kingdom State Park
The Palo Pinto Mountains are a short drive from the Metro area, but they are absolutely stunning in fall. The acres of trees provide plenty of opportunities for pictures and for hiking. Mineral Well State Park, located in the mountains, is a great place to camp out and relax. Another park, Possum Kingdom State Park, is also near the area. Bring a canoe and take a ride down the Brazos River. Take a drive on Farm Road 4 or Highway 16 to see some of the best fall foliage.
Dinosaur Valley State Park
Pick a spot anywhere in North Texas and you're bound to see some spectacular fall colors. Yet Dinosaur Valley State Park has even more for those who are adventurous enough to seek it out. Explore the park's hiking trails and you'll be treated to an awe-inspiring ocean of oranges, reds, and yellows. Once you reach the pristine Paluxy River, keep your eyes peeled for the massive tracks left by dinosaurs long ago. There are other ways to immerse yourself in Dinosaur Valley State Park's wheel of fall colors, including mountain biking, fishing, and camping. Not only is this one of the best places to see fall foliage in Texas, it's also just an hour southwest of Fort Worth.
Tyler State Park
A majestic forest of 100-foot-tall trees envelops a scenic 64-acre spring-fed lake, creating a beautiful East Texas retreat. Tyler State Park is a stunning recreational area located just north of the city of Tyler. Each fall, the park is a showcase of all the colors of the season, as the sweetgums, maples, dogwoods, oaks, and more adopt a dizzying array of yellows, reds, and oranges. While you can see all the shades of the fall season throughout the park, there are some spots you can't miss. Explore the Lakeshore Trail for awe-inspiring views of the lake and the colorful trees, then traverse the Whispering Pines Trail that takes you to a rock waterfall. Another great way to see the foliage is by renting a canoe or kayak and paddling to the center of the lake, where the view can't be beaten. A hidden gem if you ask me, another great place for Fall colors near the Dallas Fort Worth area and makes for a great day trip!
Fall is a short but sweet season here in Texas, it usually lasts two weeks from Thanksgiving weekend to the first week of December. Last year we were in Japan caught a glimpse of the last few fall leaves. Thankful that we were able to experience these gorgeous colors at the Fort Worth Japanese garden this year.
To quote French philosopher and journalist Albert Camus – "Autumn is a second spring when every leaf is a flower."
PIN IT FOR LATER
Follow Outside Suburbia on
Instagram | Facebook | Twitter | Pinterest | Tripadvisor
Updated November 2019