November in New York is relatively mild, temperatures are comfortable to explore the city. October and November are good months to see fall colors in New York City and the best place to go leaf-peeping in Central Park. If you don't mind the crowds you can catch a Parade or tree lighting and see some holiday decorations on 5th Avenue.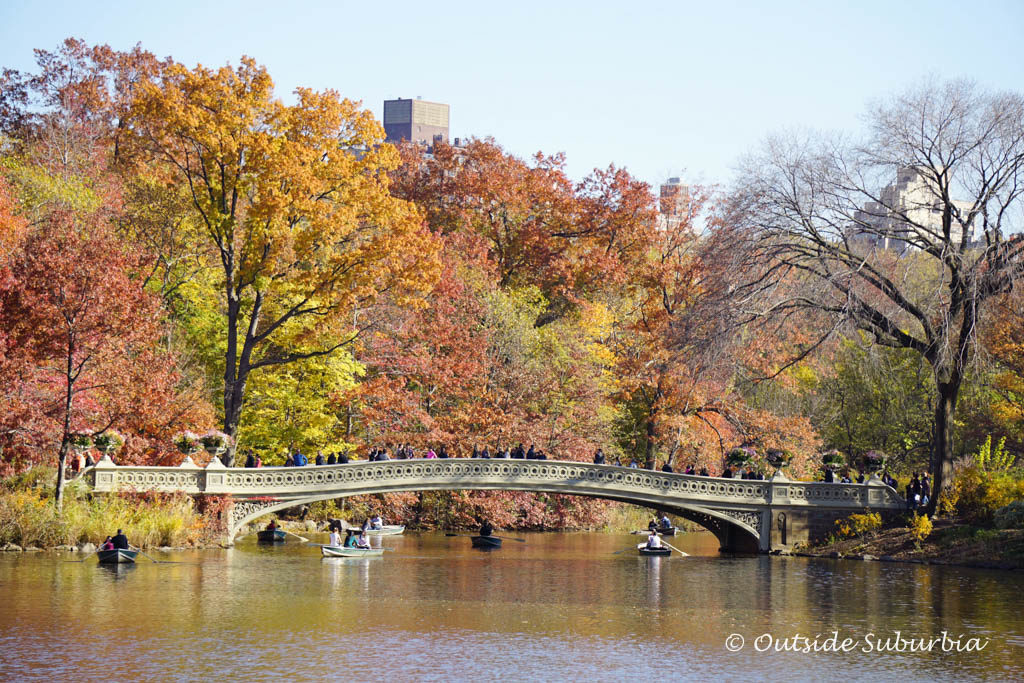 We were stopping in New York for just 36 hours this time and wanted to experience and enjoy the city at a slower pace as much as we can. A couple of museums, some shopping and a visit to Central Park were the only things on the itinerary for this trip.
Fall Colors in Central Park
Central Park is the most visited urban park in the United States, with almost 40 million visitors a year and one of the most filmed locations in the world. A wooded area with mature oak, cypress, and beech trees, ponds and pictures bridges… all surrounded by the tall building of NYC! We were lucky to have been there on such a sunny and pretty day.. with the leaves changing colors! New Yorkers were enjoying their weekend just like us…
We stopped at Strawberry Fields – On what would have been John Lennon's 45th birthday, New York City dedicated 2.5 acres of the park to his memory. The memorial is a triangular piece of land falling away on the two sides of the park, and its focal point is a circular pathway mosaic of inlaid stones, with a single word, the title of Lennon's famous song: 'Imagine'.
Countries from all around the world contributed trees, and Italy donated the iconic Imagine mosaic. It has since become the site of impromptu memorial gatherings for other notables and, in the days following the September 11, 2001 attacks, candlelight vigils were held there at this spot.
You can rent bikes and explore the park at your own pace. Don't miss attractions like Belvedere Castle, Alice in Wonderland, Bethesda Fountain and the many bridges around the park. Named for the Italian meaning "beautiful view," Belvedere Castle offers park goers panoramic views that include some of Central Park's most beautiful landmarks.
One of Central Park's most cherished sculptures is a depiction in bronze of Alice and her friends, the characters from Lewis Carroll's Alice in Wonderland. Paddleboats and canoes are available for rent as well. Pack a picnic and enjoy the outdoors while the kids play in the playgrounds. There are about 20 different playgrounds inside Central Park.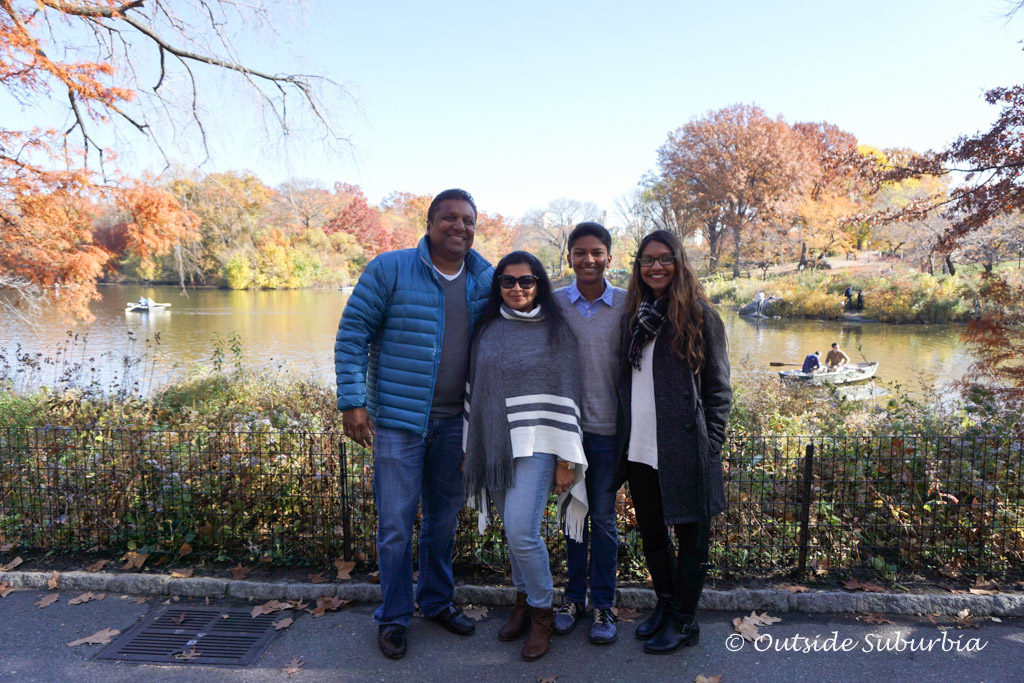 Things to do in New York City in November
There are fun holiday events and parades in the city that you can enjoy if you are visiting New York City in November. Bring layers and comfortable walking shoes since it does get chilly this time of the year. Don't miss the festive holiday displays in the storefront windows of Tiffany & Co., Saks Fifth Avenue, Macy's, Bloomingdale's and other stores in Midtown. Another fun thing to do when visiting New York is a Film
Veterans Day Parade in NYC is the country's largest Veterans Day event and honors those who have served in the U.S. military. Veteran's Day takes place on November 11th every year, which is when the New York City parade is held. The parade usually starts at 11:00 a.m. and go on until about 3:30 p.m. The parade marches up historic Fifth Avenue from 26th to 48th Streets. It passes historic landmarks such as the Empire State Building.
Macy's Thanksgiving Day Parade is a beloved annual parade and one of the world's largest. The parade features huge balloons of popular characters. The day before the parade the balloons are inflated outside the American Museum of Natural History. If you are spending Thanksgiving in New York City, you won't want to miss the Annual Macy's Thanksgiving Day Parade, which begins at 9 a.m. at Central Park West. You can get some great views from 6th Avenue. See Map of the Parade Route here.
Ice skating at Rockefeller Center is a great New York City experience in November. The rink at Rockefeller Center typically opens Columbus Day weekend in October and stays open through early April. The famous Rockefeller Center Christmas Tree Lighting happens in the first week of December and a great thing to do and see in NYC during the holiday season. The tree is over 75 feet tall and every year since 1933, there has been a public lighting ceremony for the giant Christmas tree that presides over the ice-skating rink. The tree remains lit through early January.
Another fun thing to do when visiting NYC is a TV & Movie Tour, which will lead you to New York City's best filming locations. It is a fun guided sightseeing bus tour that takes you to over 60 NYC locations featured in your favorite TV shows and movies. You can visit locations from Friends including their apartment building, NYC sites from The Office, Modern Family and the famous Soup featured on Seinfeld. Not just in November, fun to do any time of the year!
We love visiting NYC Museums and there are more than a few that are still on my list. You can find 5,000 years of art history at The Metropolitan Museum or explore billions of years of evolution at the American Museum of Natural History. My favorites are the modern or contemporary art at The Museums of Modern Art (MoMA).
Designed by the great American architect Frank Lloyd Wright Solomon R. Guggenheim Museum is home to one of the finest collections of modern and contemporary art the building in itself is a masterpiece. Whitney Museum is another great NYC museum located in a building designed by world-class starchitect Renzo Piano.
November in New York is also a great time to catch some Broadway shows. From lavish, all-singing and dancing Broadway musicals to dramas, there are shows that cater to everyone's tastes.
If this is your first time in NYC you probably want to go top of the Empire State Building, take a ferry to see the Statue of Liberty and Ellis Island, seeing Manhattan from the water is always beautiful. Walk across the Brooklyn Bridge and make a visit to China Town.
Where to stay in NYC
November in New York City was beautiful! If you are looking for a luxury hotel in NYC you might like the one we stayed at. We stayed near the busy Times Square but our hotel was a haven of refined elegance and perfectly located. More details about our stay here.
Planning a trip to New York during Spring, see this post for tips to enjoy the cherry blossoms in Central Park.
How to Spend a Day in New York City
Thinking about moving to live in the big apple, consider these pros and cons of living in New York City, before packing your bags 🙂
PIN IT FOR LATER
Note: This post may contain affiliate links, partnership or sponsored content. If you purchase an item via one of these links, we may receive a small commission at no extra charge to you. But as always images and opinions are our own. For more information on our affiliates and privacy policy at Outside Suburbia see here.
CONNECT WITH US