Ski season may be the most popular time to visit the Tetons, but summer and fall are by far the most beautiful! There are plenty of soft adventures to be had in Jackson Hole, Wyoming. It is also the gateway to Yellowstone and Grand Teton National Parks and here I'm sharing all the best things to do in Jackson Hole in Summer and Fall. When planning a family getaway, many people don't give western Wyoming a thought, which makes Jackson Hole valley relatively isolated. But is easy to get to with an airport right inside the Grand Teton National Park – in fact, the only commercial airport located inside a National Park!
The two towns of Jackson Hole Valley
What makes it a bit confusing at least for me and probably other first-time visitors is that it is really two towns that make up the valley. The two towns of Jackson Hole are 12-miles apart. Jackson is the old town with wooden sidewalks, cowboy hat-wearing police on horses, flower pots brimming with blooms, a town square with arches made of shed elk antlers and old western town charm.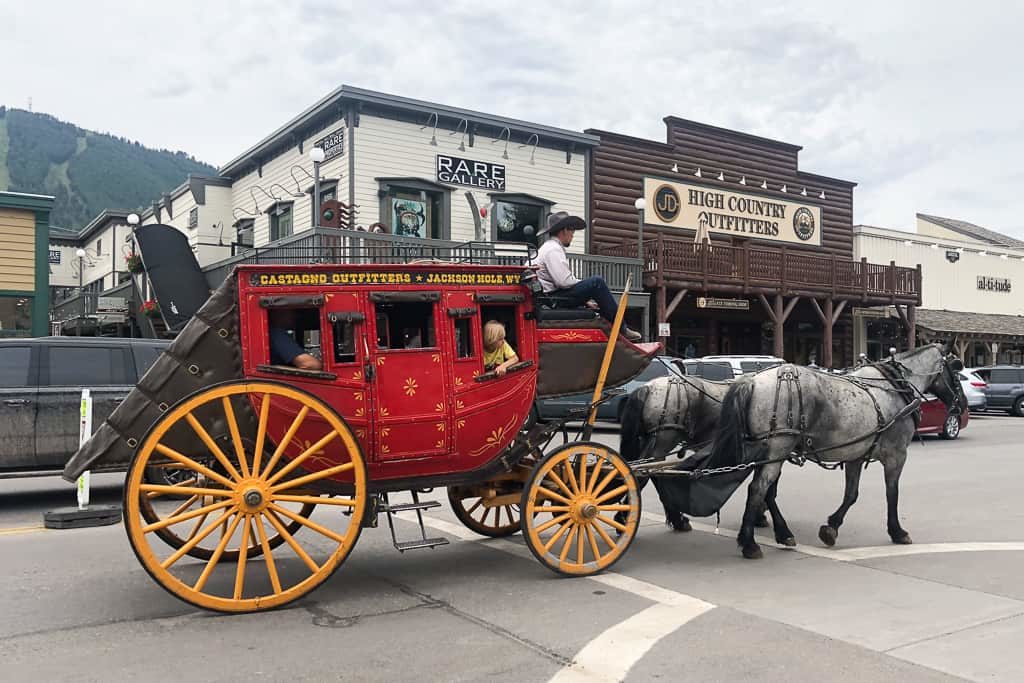 Teton Village
Teton Village is the ski-in/ski-out more modern resort area at the base of the ski mountain – Rendezvous Mountain. It has a much smaller selection of cafés and eateries. But it has nice bike trails, horseback riding and other soft adventures. Teton Village is more convenient if you are visiting to go skiing. Jackson Hole slopes are known to be the highest vertical drop in the United States and some of the most difficult trails beyond double blacks.
Jackson
Jackson has more of everything non-skiing, and most visitors find themselves splitting their days between the two which is what we did as well. We loved the summer mountain adventures in Snow King Mountain and walked up to the town square for catching the western cowboy shoot out at 6pm and dinners. There were hanging pots with flowers everywhere and of course I had to snap a couple of photos! We went on a private safari, saw some wildlife and did some fly-fishing and rafting on the snake river.
Best things to do in Jackson Hole during Summer and Fall
If you are wondering what to do in Jackson Hole Wyoming, a town known for its ski runs, snowshoeing and winter adventures, read on to see what we got around to during our recent summer trip. It is unfortunate that most people spend just a day or two in the area and hurry up and get to Yellowstone! While Yellowstone is stunning, no doubt there, we loved it too… you can easily spend 4 to 5 days in Jackson Hole exploring the town and enjoy some grand adventures in Grand Teton National Park.
Go Fly Fishing for trout
While I caught up on some work Mr. Suburbia and D went on a guided flyfishing trip. They spent a few hours on a little boat somewhere on the Snake River and came back beaming with photos of the fish they caught and released. It was fine spotted trout which is local to the area and the lakes and rivers around Jackson are really the best places for fishing – you can catch brown trout in the Snake River or go fishing at Jenny Lake for lake trout.
Make sure to have sunscreen and Wyoming fishing license. One of the best things to do in Jackson Hole if you enjoy views of clear lakes, snow-capped high mountains. and fresh alpine air! As someone once said Fishing is rarely about Fishing!
Want to try fishing? See these fishing tips for beginners to get started
A Scenic Raft tour on the Snake River
We are a little chicken when it comes to white water rafting! But scenic rafting is kind of our deal – a perfect soft adventure minus all the work and water in your face situation. We were picked up at our hotel by Cody from FlytheFish and we went rafting on the calm Snake river. We had views of the Tetons and the mountains ranges for most of the time and even stopped at a little secret back for coffee and snacks. If you do a dinner raft, then this is the spot when he will cook you a burger to enjoy with view of the Tetons.
Wildlife Safari to spot Bison, Elk, Moose and more
Grand Teton National Park is home to over 60 species of mammals, including bison, moose, elk, wolves, bears and countless birds. Jackson Hole remains first and foremost the heart of mountain country, with rugged trails and miles of open space that recall a time before the West was won. With more than 2,500 acres of ski terrain that sees an average of 500 inches of snowfall each year, Jackson Hole is also one of the top ski destinations, but we were here for the animals and summer adventures, not the snow.
We did a private wildlife safari with Jackson Hole Safari and ran into Elks, Bison and more. It is one of the best things to do in Jackson Hole in Summer and Fall!
Visit the National Elk Refuge witness the Elk Bugling
Elks are easy to spot around Jackson Hole. Each fall, Jackson Hole visitors can witness one of nature's eeriest concerts. The elk mating season, or rut, begins each September and is marked by the otherworldly calls of male elk looking for companionship. Known as "bugling," the male elk's cry is half-bellow, half-squeal, and unlike anything else you'll hear. Elk bugle from early September through October before migrating out of the high country. Yellowstone and Grand Teton National Parks are premium spots to observe Elk Bugling.
The National Elk Refuge was established to provide a winter habitat for the Jackson Elk Herd. When winter approaches and cold weather creeps in, elk migrate down from the high country to the valley floor. Thousands of elk make their winter home on the National Elk Refuge and it is quite a sight to see. A migration of epic proportions similar to the Wildebeest migrations in Serengeti and Masai Mara, only their journey is not as treacherous!
If you are visiting Jackson Hole in winter there will be daily sleigh rides on the National Elk Refuge, a truly unique and amazing way to see thousands of elk and other species of Wyoming's amazing wildlife up close. This magical winter Jackson Hole adventure is available from mid-December through early April.
During spring, thousands of elk wintering on the National Elk Refuge lose their antlers before they migrate to their summer home. In late April each year, the Jackson Hole Boy Scouts assist with harvesting the shed antlers, scouring the 25,000-acre refuge for the elk racks they will then auction off to bidders during the Jackson Hole ElkFest on Town Square.
75% of proceeds from the auction is donated by the Boy Scouts to be used for long-term habitat improvement projects at the National Elk Refuge. You will find Elk antlers all around town – made into lampshades, arches, and other decorative items.
Alpine Adventures in Snow King Mountain
You can get to Snow King Mountain Resort in under 5 minutes from Jackson Town Square. From the Top of Snow King Mountain, you can see the Tetons, Snake River, Elk Refuge, and the Town of Jackson stretched out before you. If you are looking for exciting & exhilarating things to do in Jackson Hole Wyoming during Summer and Fall, you have to stop by here!
Jackson's only Alpine Slide zooms, dips and curves you around Snow King Mountain with incredible views of the Tetons and the town of Jackson! It was a highlight for the kids and needless to say, we went a few times on that slide! It ended up being one of our favorite Jackson Hole summer activities.
The alpine coaster glides on track and you can control the pace and ride down a half-mile track with 350 vertical feet at speeds up to 25 miles per hour. Go once to enjoy the views of the Tetons and a few more times to zip down at full speed! Fly through turns and hairpin thrills at one of two parallel tracks or race each other 😊
While I opted out and stayed on the forest floor, the kids harnessed up, clipped in and went flying through the trees on zip lines, balanced over suspended bridges, scrambled up nets and swinging logs. I watched in awe as both Ms. Peachy and D went on their aerial adventure on Snow King Mountain. There are seven courses at increasing difficulty for kids or adults available. There is a smaller one for the little kids at the beginning. You can easily spend half a day on adventures in Snow King Mountain!
Hiking in Grand Teton National Park
Popular hikes include in the Grand Teton National Park are Phelps Lake, Bradley-Taggart, Emma Matilda, and Two Ocean Lake. Be prepared for some backcountry hiking and do your research and have knowledge of the area, if venturing on your own. Bring water and food, and bear spray or hire a guide. This is probably one of the top Jackson Hole summer activities if you enjoy summer in the mountains and spending time in nature!
Standing on the shore of the small Jenny Lake, you will understand why it is one of the world's most beautiful lakes. It enjoys a great location right at the base of the Tetons. You can hike around the lake to Inspiration Point or Hidden Falls, again make sure you have your bear spray – this is bear country.
Boat rides on Jackson Lake
Jackson Lake is a larger lake about 400 feet deep and 20 miles wide glacial lake is located at the base of the Tetons. While it is a natural lake, its size increased significantly with the construction of a dam in the early 1900s. With visitors flocking to Jackson Lake's shores for fishing, boating and camping it is one of Jackson Hole's popular attractions and things to do in Jackson Hole especially in summer.
Take the Big Red Aerial Tram
The aerial tram at Jackson Hole Mountain Resort affectionately called as "big red" whisks you up 4,139 vertical feet in just 12 minutes to the top of 10,450-foot Rendezvous Peak. From the top, you can see amazing views of the entire valley. Plan for some hikes around the trail with plenty of wildflowers in summer. Stop for the best Nutella waffle on top of the mountain at Cobert's Couloir. The tram and lifts run from the middle of May to the first week of October for summer and fall activities in Jackson Hole.
3 popular hikes on the Rendezvous Mountain are, Top of the World Trail, a .5 mile easy hike with stunning views of the Snake River and the Grand Teton. Cirque Trail, a moderate hike that takes about 1 to 2 hours. You hike through stunning rock formations and beautiful views of the Tetons on this 4 mile round trip trail. Both trails start at the summit of the Rendezvous Mountain. Wildflower Trail is a single-track trail from the Teton Village and takes you uphill on an 8-mile hike.
See the Bird's eye view of the Tetons
You can go paragliding or take a scenic flight and get a bird's eye view of the Tetons as you soar high above Teton Village and experience the breathtaking beauty of Jackson Hole, the Teton Range and the Snake River Range from the air. If you schedule a sunset flight and you catch the alpenglow. High on the list for us to do in Jackson Hole, WY next trip!
Visit the Galleries in Town
During the warm summer months, the main square is the place to be and one of my favorite things to do was popping into the many galleries in Jackson. The beautiful building that houses the National Museum of Wildlife Art is located on a butte overlooking the 20,000-acre National Elk Refuge and holds about 5,000 cataloged works of art. If you like art don't miss the many great art galleries in Jackson – we stopped at a couple including the Wilcox Gallery, located on the east side of the Jackson Town Square between the elk antler arches. It houses some neat Western Art.
American nature and wildlife photographer Thomas D. Mangelsen has a gallery in Jackson that we loved visiting. He traveled throughout the world for over 40 years observing and photographing the Earth's last great wild places, you probably have seen his work in National Geographic, BBC Wildlife and more.
Best spots in Jackson Hole for Fall Colors
Fall is a great time to visit Jackson Hole! It is hard to miss the golden leaves of the aspen groves, a Rocky Mountain species with its white and gray bark, during fall in Jackson Hole Wyoming. The trees go through the progression from green to gold and peaks sometime in late September before emptying their branches and getting ready for snow. Cottonwoods also turn to vibrant yellows during the season.
A few great spots in Jackson Hole for Fall colors are Oxbow Bend in Grand Teton National Park as well as Ditch Creek/Shadow Mountain area. Vibrant colors can be found in the Snake River Canyon and Munger Mountain is home to some of the most extensive aspen groves in the valley. A drive down the Moose Wilson Road will yield a myriad of fall colors as well as possible moose and bear sightings.
Best views and photo spots in Jackson Hole, Wyoming
If you like me are enamored by the mountains and want to go home with some nice memories and photos of your trip here are some of my favorites. By the way, did you know that the Tetons are called that because the French explorers thought that they looked like "Tetons" as in French for … yep, tits! And the name stuck!! It is pretty picturesque to see them Tetons rise up from the valley filled with sagebrush plants – kinda reminded me of our Iceland trip and the fun adventures we had there.
Town Square Antler Arch
Located in the heart of downtown Jackson, Wyoming the Town Square is marked by four antler arches at each corner of the park. It is one of the Jackson Hole attractions you can't miss! The arches are made from local elk antlers and are iconic Jackson Hole landmarks. Most of the four million visitors who come to Jackson (including us) want a photograph in front of the arches that have come to symbolize Jackson Hole, the most popular arch being the one on the southwest corner of the Square. Don't miss a photo at this popular Jackson attraction 🙂
Did you know that each arch is made up of around 2,000 antlers and weighs between 10,000 to 12,000 pounds?! The first one was built in 1953 and the remaining three were constructed more than 10 years later.
Grand Tetons National Park Sign
While we didn't get to many hikes that I would have like to have, we did want a photo with the National Park sign. As you go from Jackson to Teton village, you will see the pullout with the sign, hard to miss.
Snake River Overlook
This is where Ansel Adams the famous landscape photographer took his world-famous shot of the Tetons. While we didn't make it there, this is one iconic photo you might not want to miss if you are looking for the best photography spots in Grand Teton National Park. You can find a roadside overlook on the main highway with a car pullout just north of Moose. Go at sunrise for the best photo of the Tetons.
Schwabacher's Landing
Just a short drive from Jackson, this stopping point on the Snake River is the perfect place to capture the Teton Mountains and their reflection in the water.
Mormon Row Historic District Barns
These iconic homesteading structures are some of the most well known barn and regularly photographed landmarks in Jackson Hole. The Mormon Row Historic District is located about 15 miles north of Jackson off of the main highway on Antelope Flats Road. Keep in mind that Antelope Flats is a dirt road and a little off the main highway and it closes seasonally from November through spring where there is a lot of snow.
Jenny Lake
This is one Insta-famous lake. Our safari guide from Jackson Hole Wildlife Safaris told us that it has gotten very popular after it got geotagged one too many times and everyone wants to go there now for a photo. So always be responsible – #KeepWyomingWild Go for the experience than the photo – there is a boat ride you can do here on the alpine lake even if you don't go on a hike to Inspiration Point. We had Mr. Suburbia's dad with us and didn't attempt the hike.
Jackson Lake
Jackson Lake is a much larger lake is the gem of Grand Teton National Park and not to be missed! Jackson Lake is beautiful around sunrise or sunset with views of the mountains around it. You can enjoy some of the best of the lake from Jackson Lake Lodge, where you can stop for a meal even if you are not staying there. It is one of the popular things to do in Jackson Hole in summer. The lodge was developed by Rockefeller to help make parks accessible to all Americans.
The Oxbow Bend
We stopped here on the way to Yellowstone National Park. Go early in the morning for the reflection or late in the day. It is pretty washed out by the sun during the day. It is a great spot to see some wildlife so bring your binoculars. There are ravens, eagles you can spot on the trees. Fall is a great time here as well when the trees turn golden and the color strikes a great contrast against the mountains.
On top of Signal Mountain
We went to Signal hill to spot wildlife rather than for photos, we were lucky to see a huge elk bedded down. Once we got up to the top, there is a viewpoint where you can walk up to see Lake Jackson and the valley floor. It is pretty amazing – you might be able to spot some bison from up there.
Where to eat near Jackson Wyoming
Our first meal in Jackson was pizza and some local beer at Pinky G's, a tavern-style hangout popular with Jackson Hole Locals. The can was so pretty and the beer light and refreshing, I had a couple more during the trip (not a beer aficionado so don't ask me for details). Persephone Bakery is a chic spot that looks like it belongs in Europe. We loved lunch here, where we sat outdoors and enjoyed sandwiches and coffee. Vegetarian food in Jackson Hole was easy to find! I even had a really nice veggie burger at Local, a modern American steakhouse and bar located on Jackson's historic town square.
In Jackson, there are two must-visit historic bars, both of which are perfect for après skiing and summer adventures. The bustling Million Dollar Cowboy Bar is famous for its barstools topped with saddles, and pool tables! The quieter Silver Dollar Bar features a drinking surface inlaid with over a thousand uncirculated 1921 Morgan silver dollar coins. Both are must-sees if you ask me, so get a beer or vice of choice at each. A hidden gem we loved is Bin 22, a warm and welcoming wine bar attached to a liquor store with tons of interesting and delicious small plates, house-cured charcuterie and cheese platters, lots of wine and beer by the glass.
Where to eat near Teton Village
The Jackson Hole Mountain Resort has excellent on-mountain dining and the newest offering is Piste Mountain Bistro, which is atop the main Bridger gondola. Piste serves an elevated lunch at an elevated place! Upstairs from Piste is Couloir, the mountain's fine dining option with a seasonal menu that focuses on ultra-local and high-quality ingredients, with Idaho trout and Wyoming raised bison and produce. Couloir is not just the best eatery on Jackson, but in all of Jackson – mentioned some of the locals but we get a didn't get a chance to eat there.
We ate at the Handle Bar at Four Season Jackson – it takes a whimsical and Western approach with dishes like elk chili, elk & bison meatballs. Don't miss the soft pretzels served with a cheese dip made from local beer. They have a great wine selection as well, I loved my glass of Domaine Carneros! You can watch the gondolas from the patio while enjoying a cocktail or two.
The Kitchen, Momo, King Sushi, Wild Buffalo and Teton Thai were other restaurants in Jackson Hole that were highly recommended by locals.
Best Icecream shops in Jackson
When you are in Wyoming or Montana you got to have some huckleberry ice cream and the best place to have these handcrafted goodies was Moo's Gourmet Ice cream and Cream and Sugar. Surprisingly the Haagen Dazs in town also had a nice huckleberry smoothie that was delicious.

What and Where to Shop in Jackson Wyoming
Huckleberry vodka is a thing around Wyoming and Montana and you can taste it at Spirits and Spice in Jackson Town Square even if you don't want to take it home. We stopped to stock up for our Yellowstone trip since alcohol is not that readily available inside the park and I wanted some rose while we enjoyed our little picnic lunches!

Western wear is always a popular thing to buy when visiting Wyoming, we stopped at a couple of stores to look at the cowboy hats and boots! I wish I had bought one, came home with just this photo and a scarf!
Gaslight Alley is another quaint shopping area you might want to wander into, it is located just off the Town Square. The many stores lining the alley feature handcrafted jewelry, artwork, upscale souvenirs. The moose mural is right across the street from Gaslight Alley.
Jackson Hole Hotels
Like I mentioned about you probably want to split your time between Jackson and Teton Village when visiting Jackson Hole. Four Seasons Jackson Hole is located in Teton Village is the perfect base for some summer adventures in the area. The biking paths are relatively flat and you can get ride the big red tram for some hiking and mountain adventures. Alpenhof is a beautiful Swiss ski resort, during winter months they even have complimentary fondue house parties!
If you feel like splurging, stay at Amangani, located 20 minutes away from Teton ski slopes, it promises great wildlife spotting and magnificent views of the Grand Tetons and the Snake River Range.
We stayed in Jackson for 3 nights in the private log cabins at The Rustic Inn, which is a great Jackson Hole hotel. It has many lodging options, from standard cabins and spa suites to private log cabins. Our cabins were decorated in traditional local themes with elk-horn chandeliers, Western art, and patterned Aztec throws. Located within walking distance from the town square it was a perfect base to get to all the things to do in Jackson Hole!
How to get to Jackson Hole, Wyoming
You can fly from major airports into Jackson (JAC) the only commercial airport located inside a National Park. We got there in under 3 hours from Dallas on a direct American Airlines flight. Ms. Peachy was flying in from University and flew a smaller plane and had a stopover at Salt Lake City, she was flying Delta. So getting there is easy, leaving is hard!
While Ouray nestled in the San Juan Mountains in Colorado is known as "The Switzerland of America" we thought the snowcapped mountains, pristine lakes and charming towns reminded us of the Swiss Alps and the Grand Tetons deserve the title as well!
See a visual story here
I hope this inspired you to plan a Jackson Hole vacation! There are lots of exciting adventures and fun things to do in Jackson Hole Wyoming in summer, fall, winter… truly all year round! Come for the mountains, stay for the outdoor summer adventures in Grand Teton National Park!
PIN IT FOR LATER
Note: This post may contain affiliate links, partnership or sponsored content. If you purchase an item via one of these links, we may receive a small commission at no extra charge to you. But as always images and opinions are our own. For more information on our affiliates and privacy policy at Outside Suburbia see here.
CONNECT WITH US