Yes, a safari in Africa is one of those bucket list experiences but did you know there are some wonderful places in North American where you can see wildlife.  Grand Teton and Yellowstone national parks have more wildlife than anywhere else in the lower 48 states.  You can see bison, grizzly bears, black bears, wolves, foxes, elk, deer, moose, pronghorn if you are lucky maybe even a mountain lion or wolverine.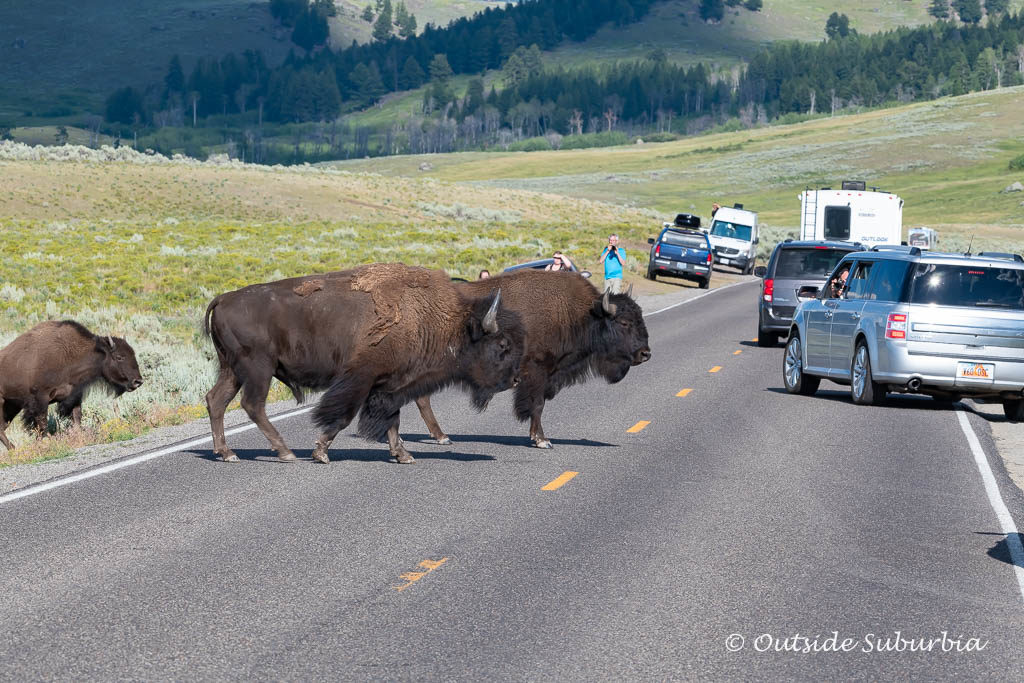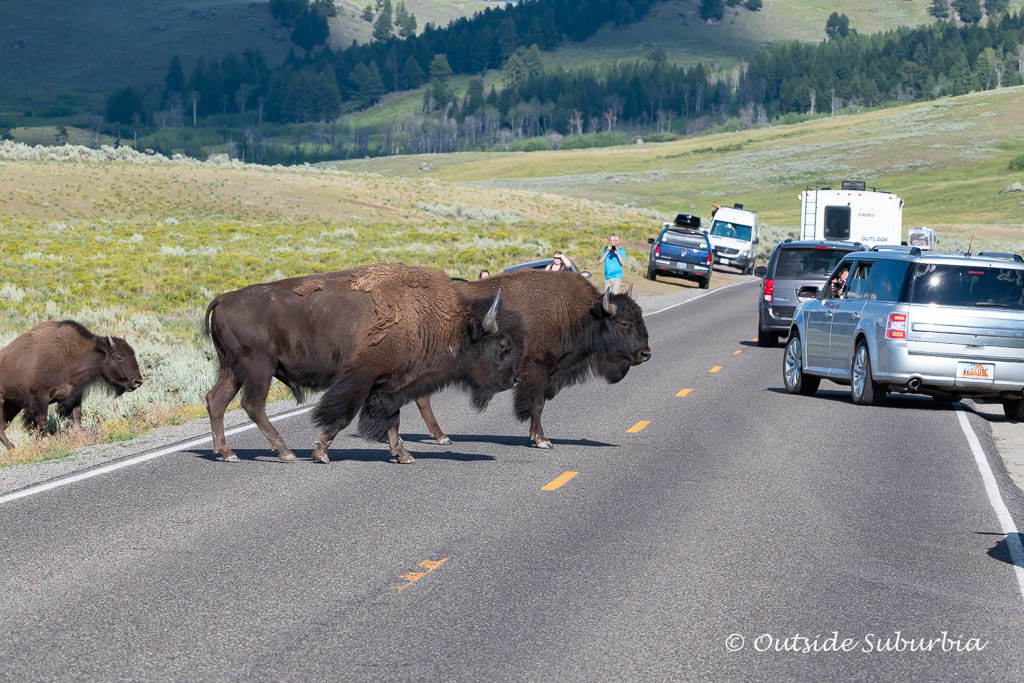 While summer is a great time for some mountain adventures, fishing and hiking, it is also is a perfect time for a safari.  We wrapped our summer break with a trip to Safari in Wyoming at the Grand Teton and Yellowstone National Parks and the trip was just as special as our trip to East Africa last summer (at 1/10th the cost!)
Wildlife Safari in Wyoming at Grand Teton and Yellowstone
Benefits of a Private Safari in Wyoming at Grand Teton and Yellowstone
Right after we landed in Jackson inside the Grand Teton National Park and made our way to our lodge, our guide from JacksonHole Wildlife Safari picked us up for our first North American Safari!  Kyle picked us up in his white suburban fully equipped with binoculars and scopes to spot wildlife and plenty of snacks and water in re-fillable water bottles. 
Since it was a private safari we were able to decide where we wanted to go and what we wanted to see.  We opted to look for wildlife and also stop at some scenic spots along the way like Mormon's Row, Jenny Lake and a lookout on top of Signal Mountain with a great view of Lake Jackson surrounded by mountains the plains below.
Kyle our safari guide spotted some bison from the viewpoint up on Signal Mountain and later drove us up close.  We managed to see a couple of big Elks, pronghorns and a moose but sadly had no luck spotting any bears. No grizzly or black bears around!  During fall, black bears are known to frequent the bushes full of berries. It was a little early in the season for huckleberries that the bears come looking for mentioned our experienced naturalist guide. Kyle has a great understanding of the area which comes from years of exploring and studying and the Greater Yellowstone Area.  
Jackson Hole Wildlife Safaris is guide owned and operated and is committed to a culture of sustainability.  They can organize multi-day safaris to Yellowstone.  Since we were planning on driving to the park and spend a few days there we opted for a full day safari in Jackson Hole.  We would have to plan for the popular 2-day bear and wolf wildlife photo safari tour in the future! Maybe in winter when it easier to see them in the dramatic snowy landscape.
Where to see Wildlife in Grand Teton National Park
Jackson, Wyoming has a National Elk Refuge where about 10000 Jackson Elk Herd migrate to during Fall and Winter. The National Elk Refuge is a 25000-acre swath of protected land that provides, preserves, restores, and habitat for this Jackson Elk Herd. It was established in 1912 by the people of Jackson and the best place to see them in big herds during Fall through early Spring. A unique way to experience the refuge during winter is by horse-drawn sleigh!
You can see moose, elk and bison in and around Grand Teton National Park – Elk Ranch Flats, Willow Flats and Moose Junction are two prime spots. The partially unpaved Moose-Wilson Road is a popular area to scout for Moose that hangout in the ponds and willows. A scenic river raft on the Snake River or on the trees near the Oxbow Bend is where you can spot bald eagles.
Bison is the largest North American mammal and adults can weigh up to 2000 pounds. These giants are herbivores and happy just grazing but can attach when provoked. Sometimes referred to as buffalo, they are not related to the African or Asian species.
Where to see Wildlife in Yellowstone National Park
Yellowstone National Park is the only place in the United States where wild bison have lived since prehistoric times and the best place to see them is in the Lamar Valley – which is often referred to as the Serengeti of North America.  While you can also spot wolves and foxes here and a few bears (we were not lucky, we saw one way in the distance), there are plenty of bison, elks and moose in the park. 
Located mainly in Wyoming, Yellowstone National Park is massive, stretches over 3 states including Idaho and Montana as is over 2.2 million acres!  So naturally, you need to know where to go to see wildlife and have some patience while trying to spot them.
Hayden Valley is north of Yellowstone Lake is another good place to see wildlife in Yellowstone National Park.  In summer you can manage a DIY safari as we did but if you are visiting in the shoulder season in the winter months it is better to arrange for a safari with a guide.
During a morning drive through Hayden valley we saw bison. A Ranger was not too far away. He warned when people got too close to the animals and at one point asked us all to get in the car since the herd looked like they were making their way up from the valley.
Some tips to spot Wildlife in Wyoming
First and foremost – Bring a Binoculars and a nice camera and lens if you want to photograph them as well.  Most photos here were taken with a Nikon with a Nikkor Telephoto 200-400mm lens.   The best time to spot wildlife is at dusk and dawn.  While we were doing our own DIY Safari in Yellowstone, we woke up early to look for wildlife in Hayden valley, took a break then drove to Lamar Valley in the evening. 
We stopped at the Roosevelt Lodge area for coffee and went looking for wolves at around 7 pm.  Instead of wolves, we spotted a Fox, who was snacking on a rabbit.  Bonus – you get to catch a killer sunset on the way back!

Wear neutral clothing that will help you blend in with the natural surroundings. Always drive slowly and stop frequently to scan the landscape for wildlife. Stop when you see a group of people looking in the same direction, and ask if they spotted some animal. Distances are vast in the parks, with plenty of room for the animals, be patient.
Maintain a healthy distance from wildlife, at least 100 yards away from bears and wolves and 25 yards away from other wildlife. Bison are faster than they look and will charge, they can jump a 6-foot fence from a standstill and gallop up to 35 mph.
Take those selfies from a safe distance!
Best time to go on a North American Safari in Wyoming
While summer is a popular time to go on a safari in Wyoming at Yellowstone and Grand Teton, traveling during fall or winter increases your chances to see the wildlife.  We were there in summer and were able to see most of the animals we were hoping to see.  If you want to avoid the crowds and have a better chance of seeing wildlife, plan a trip during a shoulder season, like May or October. 
Seeing the wildlife in a winter landscape is whole another experience, we are hoping to make this trip again just to see those animals with their furs dusted with snow.  Keep in mind though Grand Teton National Park is open year-round, parts of Yellowstone are inaccessible during the winter months.
With nearly 500 species of animals in Wyoming, a safari definitely was the highlight of our trip. Like the reusable water bottles we got from Jackson Hole Wildlife Safari says – A Life lived Wild is a Life Well Lived! 
Social media allows us to geotag really specific places, which means that the places get overrun by selfie takes and Instagrammers, who end up trampling on fragile landscapes and wildlife to go to those places, and in turn, ruining destinations. Remember to geotag responsibly and help Keep Wyoming Wild!
PIN IT FOR LATER
Note: This post may contain affiliate links, partnership or sponsored content. If you purchase an item via one of these links, we may receive a small commission at no extra charge to you. But as always images and opinions are our own. For more information on our affiliates and privacy policy at Outside Suburbia see here.
CONNECT WITH US