Whether you believe in sacred vortexes and spiritual energies or not Sedona is the perfect respite from bustling city life and a beautiful destination for a family getaway. After a few days of checking out Spring training baseball games in the Phoenix area we headed to Sedona to slow down and enjoy some time in nature – to go a few tranquil hikes, watch crimson sunsets and recharge.  Having been there a couple of times, I strongly believe Sedona is one of the best places in the world!  But it is sadly often overlooked by everyone heading off to the Grand Canyon area.  If you are on a road trip driving through Arizona, you will have a hard time looking away from the windows – from super tall, tree sized Saguaro cactus to striking red rock formations – the scenery is simply spectacular.  Once you get to Sedona – it's a whole another world – its almost like you stepped into another planet. Here are 3 Easy Sedona Vortex hikes we ventured on during our last visit there….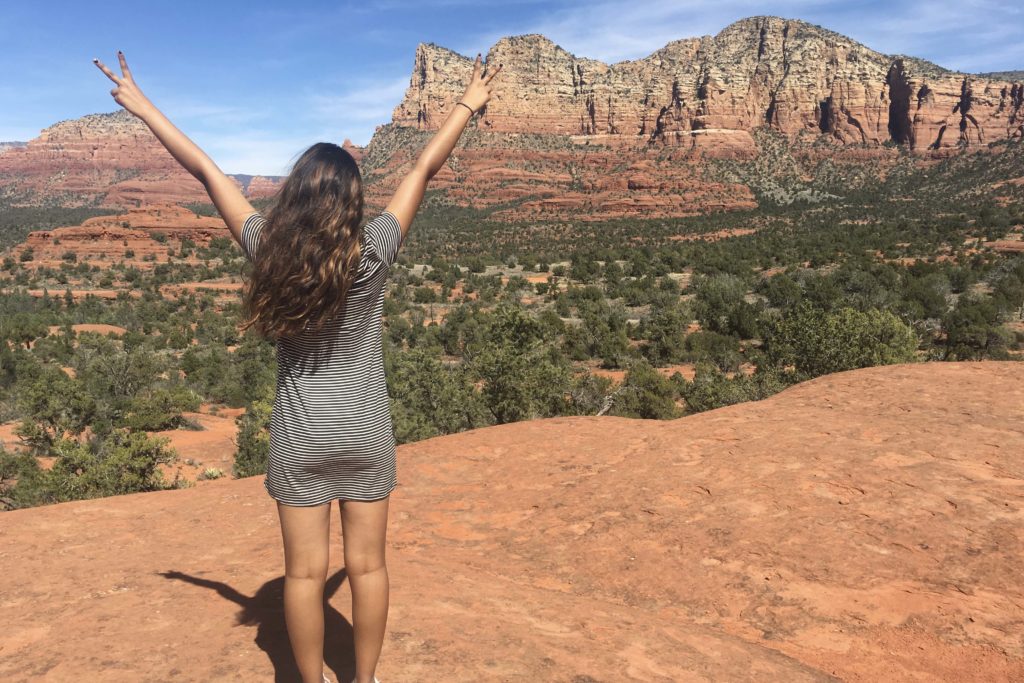 Sedona is listed as 10 Most sacred Spots on Earth since the area is famous for its vortexes, powerful centers of kinetic energy that can have a deep effect on those who visit them.  Mother Nature's red-rock temples are a perfect place for spiritual and personal enrichment of the body and the soul.  It is believed a vortex intensifies everything and that makes Sedona an enormous amplifier. Everything you are feeling will be amplified a thousandfold. If you are happy in Sedona, you will border on euphoria. If you are feeling love, you will be ecstatic. If you find yourself in Sedona, take your time and spend a few days here, at least a night or two to connect and feel these special vibrations.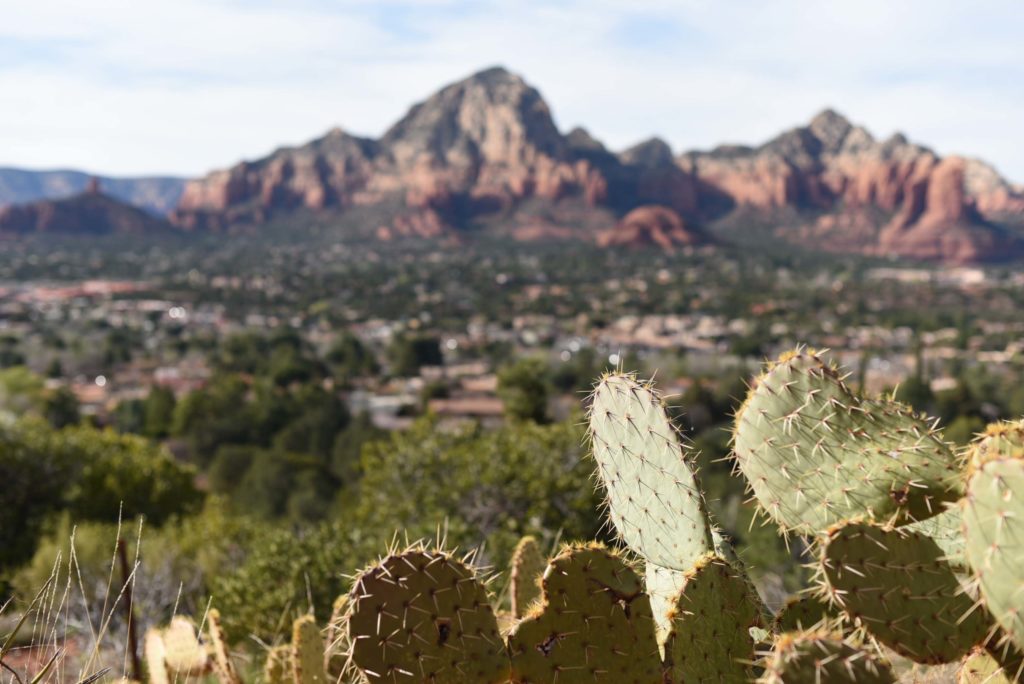 It was surreal to surrounded by these giant red boulders, mountains and green valleys. The deep red colors of the rocks is due to iron oxide or rust.  It is believed that Sedona's geological landscape of dolomite, hematite, and limestone, create powerful and healing interactions with our bodies.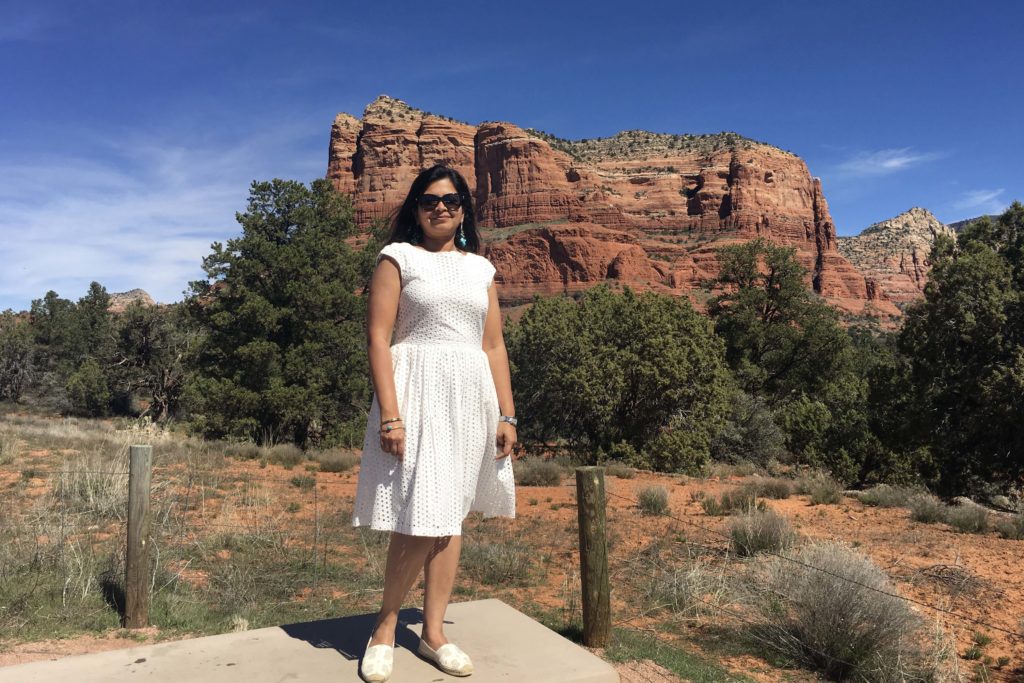 3 Easy Sedona Vortex Hikes
Sedona is commonly known as a healing destination due to the powerful electromagnetic vortexes in the area. It is believed that the ancient native people used to come to this area to meditate and perform rituals. There are seven vortex sites around Sedona, and Native Americans believe the vortexes aid in spiritual transformation. There is no denying there is a different energy in Sedona – you can even see it in the trees that grow in spirals instead of straight up!  These magnetic energies are supposed to be nurturing… So put on your hiking shoes and get up to these three amazing hikes in Sedona and see if you can feel the natural energy flowing out of the earth…
Bell rock Hike in Sedona

The Courthouse Butte Loop Trail is a great moderate hike for the whole family.  Many healers, spiritual counselors and yogis come for the "energies" on Bell Rock, we saw a few of them chanting and meditating on the clear space midway on the hike. The real beauty of this area unfolds as you do the entire loop. You will have a choice on the southern side of Courthouse of doing the Courthouse Loop or taking the Big Park Loop (which we prefer). As you loop around the eastern and northern side of this great butte, you will see the most scenic, tranquil views of the trail.  We saw a few families with kids and dogs on this hike.  There was even a bridal photoshoot at one of the plateau areas. To get to the Trailhead From the 89A / 179 "Y" – take 179 south 6.4 miles; parking lot is on your left just before Bell Rock Blvd.

Hiking Distance: 4.5 miles
Trail Difficulty: Easy to Moderate

Cathedral Rock Trail in SedonaThis is a short, steep climb into the saddle points or "gaps" of Cathedral Rock.  The gaps are where you can supposedly feel the energies.  The towering side rocks keep the saddle points shaded and breezy; but the lower portion of the trail is bare red rock with total sun exposure – be careful if you're doing this in the summer.  To get to the Trailhead From the 89A / 179 "Y" take 179 south 3.4 miles; turn right on Back O' Beyond Road for 0.6 miles. Parking lot is on your left.  With an elevation change of 600ft Cathedral Rock Trail is a little steep hike, but easily doable with kids in decent shape.  I did this hike on a previous trip.Hiking Distance: 1.5 miles
Trail Difficulty: Moderate

Airport Mesa Sedona

This loop trail at Airport Mesa gives you panoramic views of Sedona's best-known red rock landmarks, as a added bonus you can see some vintage aircraft if you are lucky.  To get to the Trailhead From the 89A / 179 "Y"  take 89A west 1.1 mile; turn left on Airport Road for 0.5 miles; parking lot is on your left.  This is a easy to do hike for the whole family, we got up to the view point and saw a couple of people playing the drums and banjo. May be it was the vortex may be or the heart pumping from hiking all day or it was just being out in nature – the air was certainly charged with positive energy!

Hiking Distance : 3.5 miles
Trail Difficulty: Easy to Moderate

Devils bridge Hike

Devil's Bridge is a well known spot and one of the best hikes, so you shouldn't have any trouble finding it.  There a few ways to hike the trail.  You can do about 1 mile each way, 2 miles round trip from the Devil's Bridge parking area: 2 miles each way, 4 miles round trip from the parking area on Long Canyon Road or 6 miles from the Dry Creek Vista parking area. As we were short on time, we picked the 2 miles trail. The main parking area is located on FR 152. FR 152 is a very rough dirt road so a high clearance vehicle and 4-wheel drive are strongly recommended. It will be easy walking until you get to the base of the arch, but then you'll have to go straight up. It is about 1 mile to the arch and the view of the arch is well worth the climb. The trail splits about 3/4 miles up. The right trail goes to the top of the arch and the left trail goes beneath the arch. You'll be climbing up then on the way back, down some steep natural stone steps (with no hand rails) so if you have a fear of heights, don't attempt this. If you have hiking poles, they will be handy. This hike up the natural stone arch is ok for teenagers but not for little kids, that's why I didn't include it in the 3 easy hikes. Although we didn't climb up the stone arch, we enjoyed the hike and the views and could easily see why it is one of the popular hikes in Sedona.

Hiking Distance : 2 miles
Trail Difficulty: Easy to Moderate

Tlaquepaque

Nestled beneath the shade of the sycamores on the banks of beautiful Oak Creek in Sedona, Tlaquepaque is the most distinctive shopping experience to be found in the area. Tlaquepaque (pronounced T-la-keh-pah-keh), is an Arts & Crafts Village fashioned after a traditional Mexican village. Tlaquepaque, means the "best of everything," and you can find art, jewelry, Southwestern ceramics, textiles and woven items.   Its vine covered stucco walls, cobble-stoned walkways and magnificent arched entryways give you the feeling that Tlaquepaque has been here for centuries. Tasteful galleries and unique shops live in harmony with its lush natural environment and perfect for spending some time after a hike. There is a cute candy shop and our favorite lunch spot is also in here. We stopped for lunch before heading to the Airport Mesa – which was our last hike for the day.

The Secret Garden Cafe

We had a lovely lunch at the Secret garden Cafe inside Tlaquepaque.  Their veggie burger was home made and pretty awesome. Another spot that came highly recommended is ChocolaTree Organic Eatery. This vegan restaurant offers breakfast, lunch, and dinner, and if the weather cooperates a beautiful garden to eat your meal in. There are a few more places that you must try during your stay in Sedona, Arizona including Indian Gardens, Paleo Brio, and Mariposa.

Where to Stay in Sedona

We stayed in Four Seasons Scottsdale for a week during Spring training in March and drove to Sedona as a day trip.  But I have this beautiful L'Auberge de Sedona on my wishlist to stay at, next time we visit. It is located right in the center of Uptown Sedona and is walking distance to Main Street, which is full of shops and restaurants. L'Auberge has two of Sedona's best restaurants on property and about 80 rooms and cottages all with stunning views of the red rocks or Oak Creek.  There is a Hilton nearby as well. You can go on hot air balloon rides, visit the sacred vortexes and go on hikes and horseback rides through streams, desert landscape and canyon walls.

So the big question – Did we feel the vortex and the sacred energy? Well, we originally had not even planned on hiking, we were going to do a leisurely drive and check out Tlaquepaque and have lunch at the Secret garden.  But after climbing up Bell rock, we were hooked and wanted to check out a few other spots.  We did see the twisted trees and trust me even if we didn't feel any magical energies – there was a certain calmness in the air, we felt rejuvenated and left inspired – may be that is what is special about Sedona!

Have you been to Sedona? Do you believe in spiritual or supernatural energies?

PIN IT FOR LATER

Note: This post contains affiliate links and some sponsored content. But as always images and opinions are our own. For more information on our affiliates and privacy policy at Outside Suburbia see here.