If you are looking for family friendly beaches with sugar white sand and emerald waters, South Walton, Florida is just the place. There are 26 miles of beautiful beaches in South Walton that stretch from Miramar Beach near all the way to the Bay County line where Panama City Beach is located. It is located in the northwest Florida panhandle, which is known as the Emerald Coast due that jewel toned waters I mentioned earlier. South Walton is home to many small beach communities affectionately called the beaches of 30A by families who live here, have beach homes in the area or visit on a regular basis.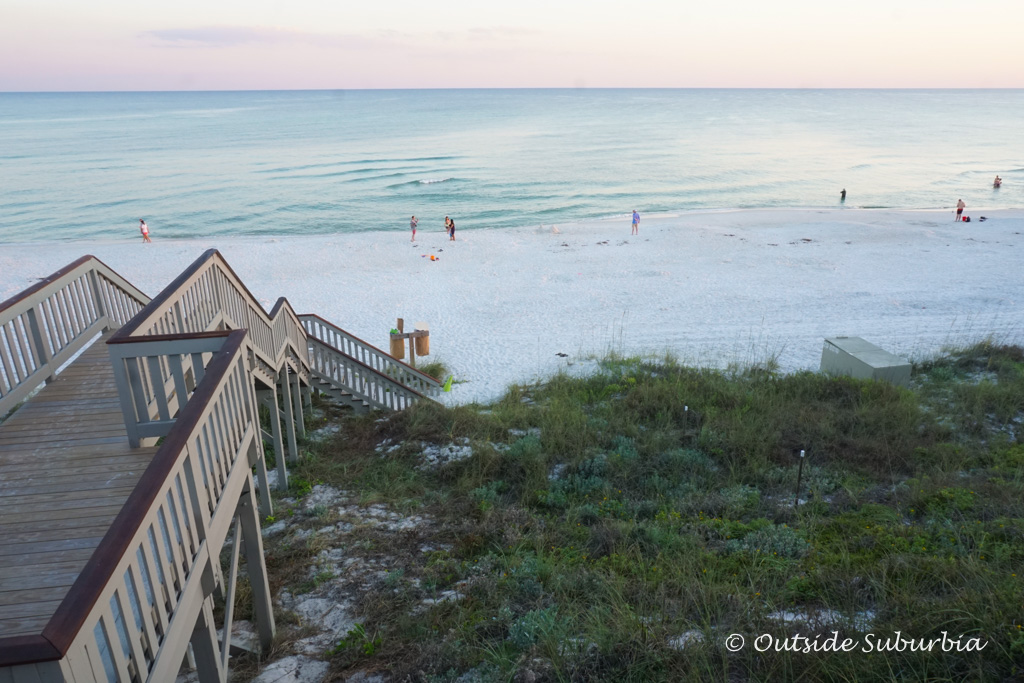 South Walton includes the coastal communities of Dune Allen Beach, Point Washington, Miramar Beach, Inlet Beach, Rosemary Beach, Seacrest, Alys Beach, WaterSound, Seagrove, Seaside, WaterColor, Grayton Beach, Blue Mountain Beach and Sandestin, among others. We were there during our Fall break and enjoyed lazy days in the beach house relaxing with cocktails by the pool, biked to the different communities, witnessed killer sunsets, saw the Milkyway at night and just fell in love with South Walton.
A Family Guide to 30A & South Walton, Florida
The sixteen coastal towns of South Walton, from east to west are Inlet Beach, Rosemary Beach, Seacrest, Alys Beach, Watersound, Seagrove, Seaside, WaterColor, Grayton Beach, Blue Mountain, Santa Rosa Beach, Gulf Place, Dune Allen, Sandestin, Miramar Beach, and Seascape. The beach towns are connected by two highways, scenic Country Road 30A (the reason why the area is called 30A), and the faster Highway 98.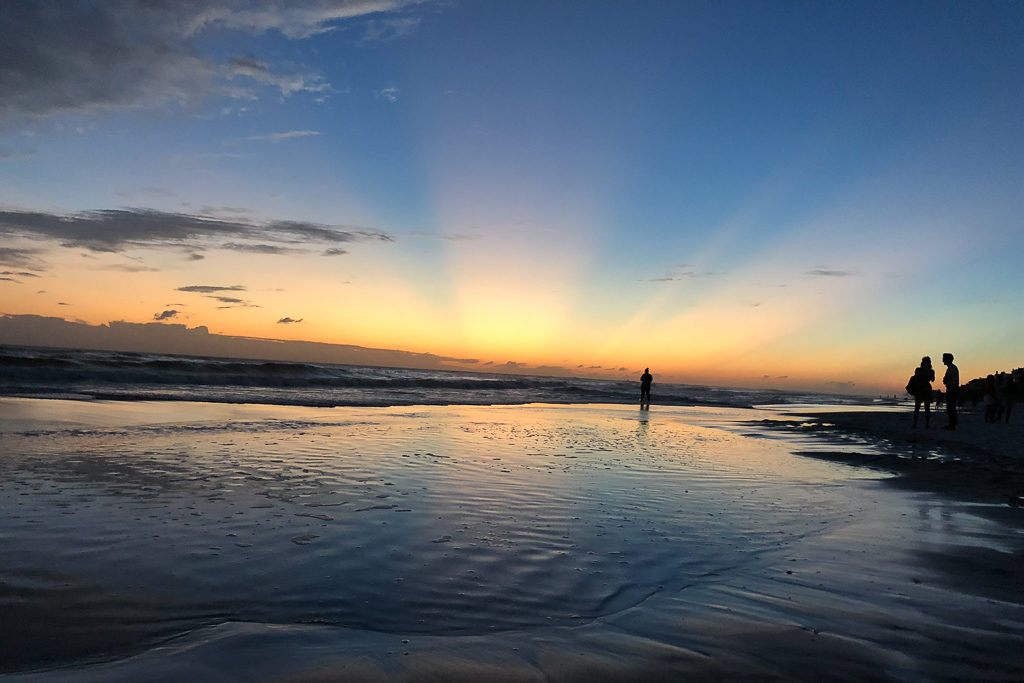 These beaches of South Walton have been rated as a Blue Wave Beach by a national organization that conducts extensive research of hundreds of beaches across the nation measuring pristine cleanliness and natural beauty. This stellar twenty-six-mile shoreline has a highly coveted designation as being the longest continuous stretch of beach nationwide. Forbes Magazine recently reported that Grayton Beach State Park was listed last year as being one of the most beautiful beaches in the nation.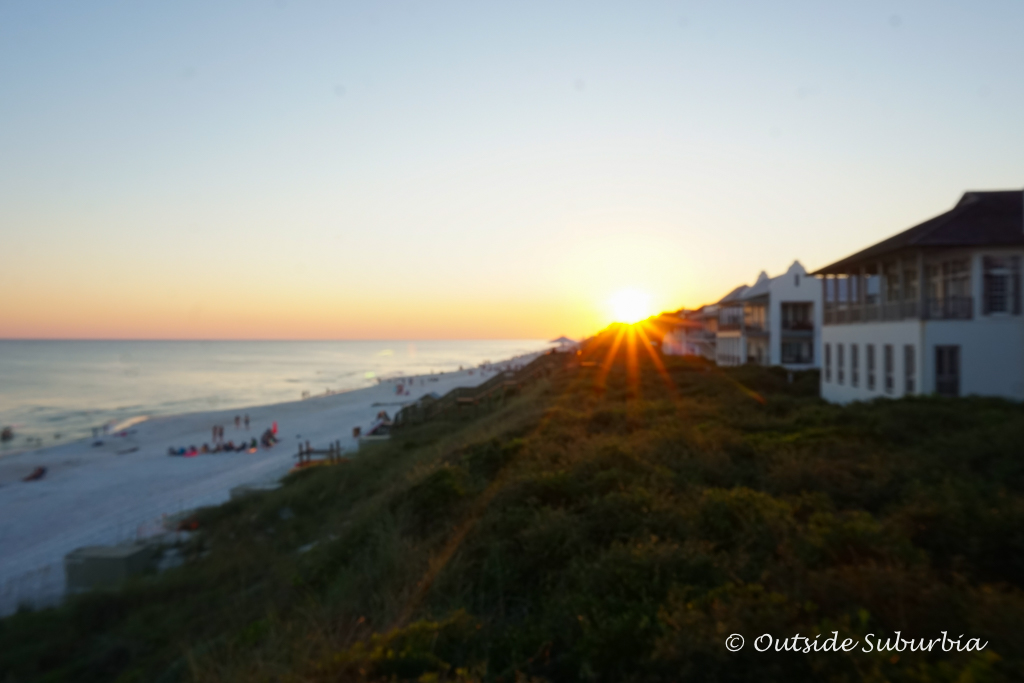 While it is true that Florida's coastal regions are increasingly threatened by hurricanes and red tides, both of which we have encountered during our trips (we were narrowly escaped Hurricane Michael), South Walton is taking a proactive approach to protecting its shores. The beach communities on Northwest Florida's Gulf Coast are building beach accessible artificial reef systems, creating habitat for a wide variety of marine life.
Plan a trip and see for yourself why National Geographic included South Walton in their list of 28 places to travel in 2019 and Forbes calls it the Hamptons of the South. If that got you wondering where exactly are these scenic beach towns and South Walton, here is a map of 30A.
Map of 30A, South Walton, Florida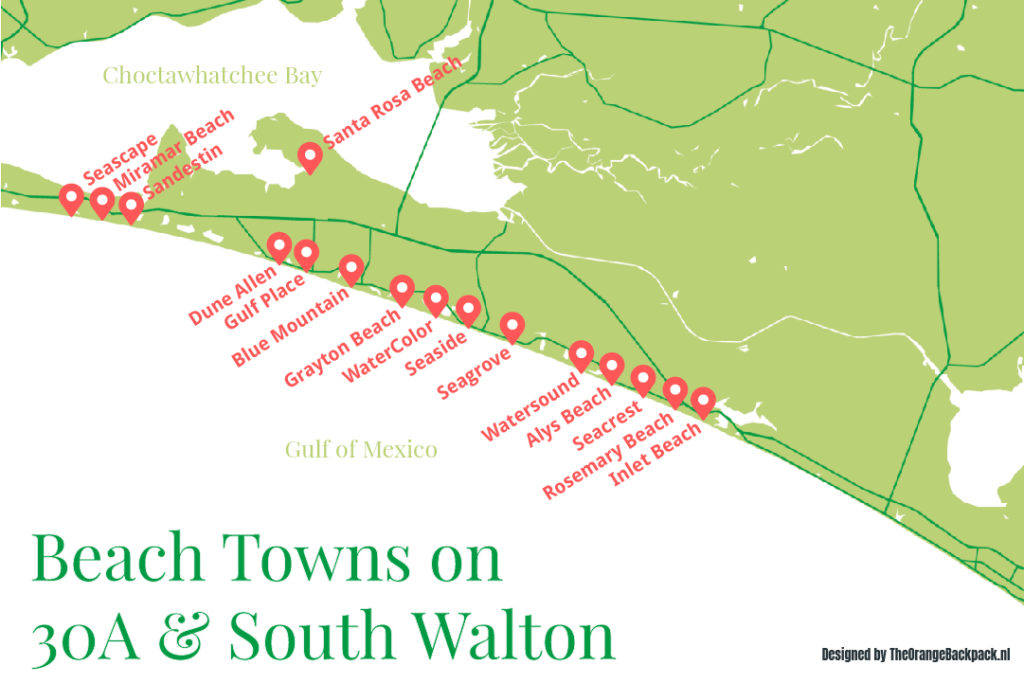 The Best Beach Towns in South Walton (on 30A)
Although Walton County has been around since 1824, very few folks used to differentiate it from Destin. Fifteen years ago many the picture perfect preplanned coastal villages along Scenic 30A did not exist either and County Road 30A was not designated as a scenic route. Since that time developments in Santa Rosa Beach, Blue Mountain Beach, Watercolor, Watersound, Alys Beach, Seacrest Beach, Rosemary Beach and Inlet Beach popped up almost overnight.
On what used to be land owned by St. Joe Company, a timber and paper operation now sits South Walton's 16 unique beach community along with many excellent restaurants and shops. You will find endless family-friendly activities here.
There are no spring breakers or crazy parties like Destin or Panama City beach. Just quiet pastel-colored homes, green spaces for kids and pets to wander, whitewashed post offices, family friendly cafes and clear turquoise waters and powder-white beaches! But the time that you spend together as a family is what matters most.
Because … What happens at the beach is laughed about all year!
Here are the best 30A beaches and beach towns for families, that you should visit if you are in South Walton:
Santa Rosa Beach
Santa Rosa Beach was recently named Travel & Leisure's "Top 5 Towns in America" – from excellent restaurants and shopping to exciting nightlife and entertainment, this lively beach town has everything you need for a memorable family vacation. Dive into the Gulf, explore the bayous and creeks near Choctawhatchee Bay, or visit the local galleries and museums in town. You won't run out of things to do in Santa Rosa Beach.
Rosemary Beach
With a charming, small town feel, Rosemary Beach will make you feel like you are in Europe. There are several boardwalks that weave past luxurious homes, upscale boutique shops, casual restaurants, playgrounds, tennis courts, and more. You can spend the afternoon browsing through the Rosemary Beach Farmer's Market, bike to get ice cream, go swimming, surfing, or paddleboarding in the Gulf. Rosemary beach on 30A is also home to a large grassy area where a variety of kid-friendly festivals, concerts, and events are held throughout the year.
Seagrove Beach
Tucked between the other beach communities along South Walton, the quiet shores of Seagrove have everything you need for a relaxing beach vacation. This laid-back yet luxurious retreat offers a private and serene setting, yet it is near all of the main area attractions. You can explore miles of hiking trail at Deer Lake State Park, take the kids paddleboarding on Eastern Lake or simply lounge on the beach and enjoy spending quality time together.
Grayton Beach
Families have been coming to Grayton Beach for generations. As South Walton's oldest community, it has been a long-time favorite for both locals and visitors alike. The streets are lined by art galleries, historic cottages, and several quaint shops and restaurants. You can go on a four wheeling adventure down the beach, take a pedal tour to town, or look for wildlife at Grayton Beach State Park. When the sun sets, you can gather around a beach bonfire and roast s'mores or go out for drinks and live music at Red Bar.
Blue Mountain Beach
If you are looking for a quiet beach escape, then Blue Mountain Beach is a great option. This small beach community offers uninterrupted views of the shoreline, two coastal dune lakes, and several nature trails just waiting to be explored. Walk to the local restaurants and boutiques, check out the local crafts at the Blue Mountain Art Studio, and then spend a leisurely afternoon biking together along the scenic Timpoochee trail. Afterward, you can go out for homemade ice cream at the Blue Mountain Creamery.
Seacrest Beach
This easygoing beach is the perfect place to escape for a beach vacation and unwind with strolls along Seacrest's sugar-white sand. A lively community gathers in Seacrest's Peddler's Pavilion. Sip coffee on an outdoor patio, stock up on homemade sweet treats, or rent a bicycle if your beach house doesn't come with a few and go exploring.
WaterSound
WaterSound is a series of residential enclaves where the houses are set further from the water's edge. You will find dunes, coastal dune lakes, pines and magnolias. The town meaders along Camp Creek and Deer Lake and the homes here have New England style of pitched roofs, fancy balconies, and ornate gables. Walking here makes you think you are in the seaside town of Nantucket or Newport. You can rent homes or stay at one of the condo-type rooms in WaterSound Inn, it has private balconies, overlooking the WaterSound Beach Sundial and Yacht pond.
Seaside
The beach town that put 30A on the map is still a popular place for family getaways. The candy-colored beach homes with white picket fences was a radically different approach to waterfront homes when Robert and Daryl Davis created in 1981. The master planned community of Seaside has that aesthetic that makes people coming back and has had over one million visitors. The downtown area with its shops, galleries and restaurants is a perfect stop for a day trip if you are in the area.
WaterColor
Located right next to Seaside, WaterColor is another great place for families looking to vacation on the beaches of 30A Florida. In the town of WaterColor, you have access to a beach club, multiple community pools, tennis courts, parks and gardens, docks, BoatHouse and Marina Park. Stay at the WaterColor Inn, which is nestled on nearly 500 acres of sugar-white sand beach and is surrounded by 1,400 linear feet of beachfront and pine forests alongside Western Lake, the state's second-largest naturally occurring coastal dune lake.
Alys Beach
The town of Alys is elegant and exudes luxury! A nod to Spanish and British colonial architecture, the homes here remind you of Bermuda, Antiqua or Guatemala! A pair of butteries stand at the entrance of the town along with rows of Medjool date palms on either side of the road. You will find secret gardens, courtyards, beautiful verandas, rooftop terraces in the whitewashed homes of the master planned community designed by the same team of designers ( Duany Plater-Zyberk & Company) that built Seaside and Rosemary.
Drive down further on 30A from Miramar and you will get to Destin, another great beach town to base yourself in for a Gulf Coast vacation. With museums, boat tours and lovely beaches, you won't run out of things to do in Destin with kids!
Marine Life in South Walton
South Walton's sugar-white sand beaches are a big draw for visitors, but they're also home to some of the area's tiniest residents. During the months of May through October, endangered sea turtles build nests in that sand. The two most common species of turtles in South Walton are Green Sea Turtles and Loggerheads. In the late spring and early summer, female sea turtles that were born in South Walton return to build nests. Later in the summer and in the early fall, the turtle eggs in the nests begin to hatch, and the hatchlings use light reflected off the surf to guide them into the ocean.
If you drive a little further to St. Andrews State Park which is situated on a peninsula at the far eastern edge of Panama City Beach. Bordered by the Gulf of Mexico to the south, the St. Andrews Pass to the east, and the Grand Lagoon to the north you can go on a boat ride to see dolphins in the wild.
To add to all the fun, the South Walton Artificial Reef Association has deployed more than 150 artificial reef structures that lie close to shore and at easy-to-reach snorkel depths. Each of the four reef systems has been constructed to create a fun design of a marine animal native to South Walton waters: Dolphin Snorkel Reef at Miramar Beach, Seahorse Snorkel Reef at Topsail Hill Preserve State Park, Turtle Snorkel Reef at Grayton Beach State Park, and Cobia Snorkel Reef at Inlet Beach.
These reefs provide some amazing opportunities to see some of the marine creatures that live and thrive around reefs in the Gulf of Mexico.
Where to Stay in South Walton
South Walton does not have many big resorts, vacation rentals are the way to go. You can find beautiful beach houses at different budgets. From colorful carriage houses to whitewashed contemporary beach houses – the options are endless! Steps away from the Rosemary beach, with spectacular views and a nice terrace and bar, is the Pearl Hotel, Watersound Inn and Watercolor Inn are nice options (linked above) if you would rather have room service and nice staff to take care of you and your family.
For our group trip, we stayed at a three-story beach house on Seacrest that had 7 bedrooms, 2 of which had bunk-beds that the kids shared. Perfect for our big group. The house was stocked with enough towels, linens and Aveda bath amenities. The house had many living areas and a nice chef's kitchen and a nice outdoor pool that the kids hung out during the day. The house came with a few bikes and we loved the nice balcony where we watched the sunset from a couple of nights.
I recommend biking or walking to the beach for the sunsets though, nothing beats watching the sky burst into shades of pink and purple and the calm water reflecting it all.
We were right across from Seacrest Drive Access on Scenic 30A at the intersection of Seacrest Drive, about 1/2 mile east of Camp Creek Lake. A short boardwalk leads to a dune high atop a bluff overlooking the Gulf of Mexico. There was a little bit of red tide and we didn't swim at the beach as much as we would have liked.
Red tide common name for the algal bloom caused as a result of the movement of certain ocean currents in the area. It causes fish to die and some throat irritation in humans. We biked over to Rosemary and Alys beach a few times and saw many families around playing on the beach, making memories, savoring those last sun's rays.
Restaurants on 30A in South Walton
From casual seafood shacks serving from airstreams in Seaside to upscale Seafood restaurants with views of the Gulf in Rosemary Beach, there are many restaurants to indulge in when visiting 30A in South Walton. Here are a few of them we like:
Bud & Alley's: This is one of the top restaurants in Seaside that comes highly recommended. Go during sunset hour and ask for a seat by the window. Better yet try to get a seat on the top level deck and listen to the bell that is run at sunset.
Pescado: Go for brunch if you want to take the kids. Located in Rosemary it is 18+ for Lunch and Dinner. Pescado also has an inside bar & outside rooftop bar overlooking the Gulf of Mexico.
Pizza by the Sea: Our kids love pizza, who doesn't! We ordered 'Take and Bake' pizzas from the Seacrest location one night. It was the closer to Rosemary Beach where we stayed. They also have a location in WaterColor.
Perfect Pig: They have locations in Seagrove, WaterColor and are open for breakfast, lunch, and dinner. We love the breakfast options here.
Black Bear Bread Company: It is a neighborhood bakery, coffee shop and café that everyone raves about. Best lattes, breads and cookies on 30A! Love their tartines.
La Crema: A cute place on Rosemary beach that serves tapas, chocolate and wine – what is there no to love about that?!
George's at Alys Beach: Located in Aly's, George's is another great restaurant on 30A. The menu features items made with local produce.
Piper's located at Aly's is open daily for breakfast and lunch. The Gulf fish and brisket tacos are crowd favorites, I love the spicy cauliflower.
Chanticleer Eatery: Another neat place located in Grayton Beach they serve some of the best shrimp and grits. Get their pineapple mojito, one of the best ever and a slice of their homemade carrot cake for dessert.
The Bay: This waterfront restaurant in Santa Rosa Beach features Southern gulf coast cuisine, sushi, a 12-draft beer system, excellent wine selections, and bar-crafted cocktails. We didn't make it there but it is on the list for next time.
North Beach Tortilla Co: Owned by Chef Jim Shirley( who also owns the Bay) is another place in Santa Rosa that is on our list to try. The open-air beach bar overlooking Choctawhatchee Bay and the 331 Bridge, it is a North Florida taco and tequila joint that boasts 100 tequilas.
Frost Bites: In Seaside on AirStream Row, there are some vintage airstreams serving up crepes, grilled cheese and BBQ, grilled cheese, gyros among others. Frost Bites serves some shaved ice options that are perfect after catching some sun on the beach.
Amavida Coffee Shop: A great place to grab a coffee after your morning walk. They serve organic and fair trade coffee and have locations in Rosemary and Seaside.
30A Burger: A dog-friendly spot located in 30Avenue, we got burgers from here a couple of times. The fries and shakes are good too, they also serve beer & wine.
If you like to cook at your beach home, stop at the Publix on Hwy 98 to load up on supplies and get some seafood at the market store Goatfeathers. You can find fresh fish homemade sauces and soups at their locations on 30A.

How to get to South Walton Beach
While the 12 hour drive from Dallas is not a bad option, you can fly from Dallas Love Field to Panama City Beaches International Airport on Southwest, or recently American Airlines has added some direct flights from DFW to ECP. From the airport, the vacation homes are just a 25 to 30-minute car drive if you have a rental car or you can get an uber… You won't even need a car at the beach anyway.
Best time to go to South Walton, FL
During the summer months, you'll catch a bit of summer high season traffic, but if you can stand the crowds you'll be rewarded with warm temps (mid-80s for the air and low 70s in the water) and plenty of open attractions. For more affordable rates and lesser crowds consider visiting in September or October when the weather is still warm (highs in the mid-80s and 70s) and there is more lodging availability.
The only caveat: This time period falls directly in the Atlantic hurricane season, which lasts from June through November. The heaviest rains fall is during July and August. March is Spring Break so it brings big crowds, expect more traffic and longer waits at the restaurants. April, May, June are ideal times to visit, with lesser crowd and pleasant temperatures.
We have always loved Florida, from visiting the theme parks in Orlando to making memories in Miami but the beaches in South Walton is so family-friendly and is perfect for a relaxed, elegant, idyllic coastal vacation that makes you come back year after year.
PIN IT FOR LATER
Note: This post may contain affiliate links, partnership or sponsored content. If you purchase an item via one of these links, we may receive a small commission at no extra charge to you. But as always images and opinions are our own. For more information on our affiliates and privacy policy at Outside Suburbia see here.
CONNECT WITH US