Rosemary Beach, Florida, is slowly becoming one of our favorite vacation destinations. Relatively unknown to many this beach town in South Walton is popular with well-heeled families and celebrities from the south, that Rosemary Beach Florida is often dubbed as the Hamptons of the South.
We fell in love with the family-friendly vibes, charming Caribbean architecture, emerald waters, sugar sand beaches, and epic sunsets. It was the only place we visited in 2020!
Read on to see what we LOVED, some of our favorite things to do in Rosemary Beach, and why we decided to make the long drive from Dallas.
With a charming, small-town feel, Rosemary Beach (and its neighbour Alys Beach) will make you feel like you are in a European town or somewhere in the Caribbean. You can spend the afternoon browsing through the many stores at the Rosemary Beach Market area, bike to get ice cream, go swimming, surfing, or paddleboarding in the Gulf. There is plenty to do in Rosemary Beach!
Or simply spend your time at the beach soaking up some sunshine or looking for shells and sand dollars. Rosemary Beach, Florida is also home to a large grassy area where a variety of kid-friendly festivals, concerts, and events are held throughout the year and is where revealers gather to watch the sunset. After sunset, gather your clan and enjoy a beach bonfire.
Where is Rosemary Beach?
Rosemary Beach is a community located along the Florida panhandle's scenic Route 30A between Panama City and Destin. The 100 acre, Gulf-front town was designed in 1995 to offer residents and visitors alike a sense of community, neighborhood, and convenience.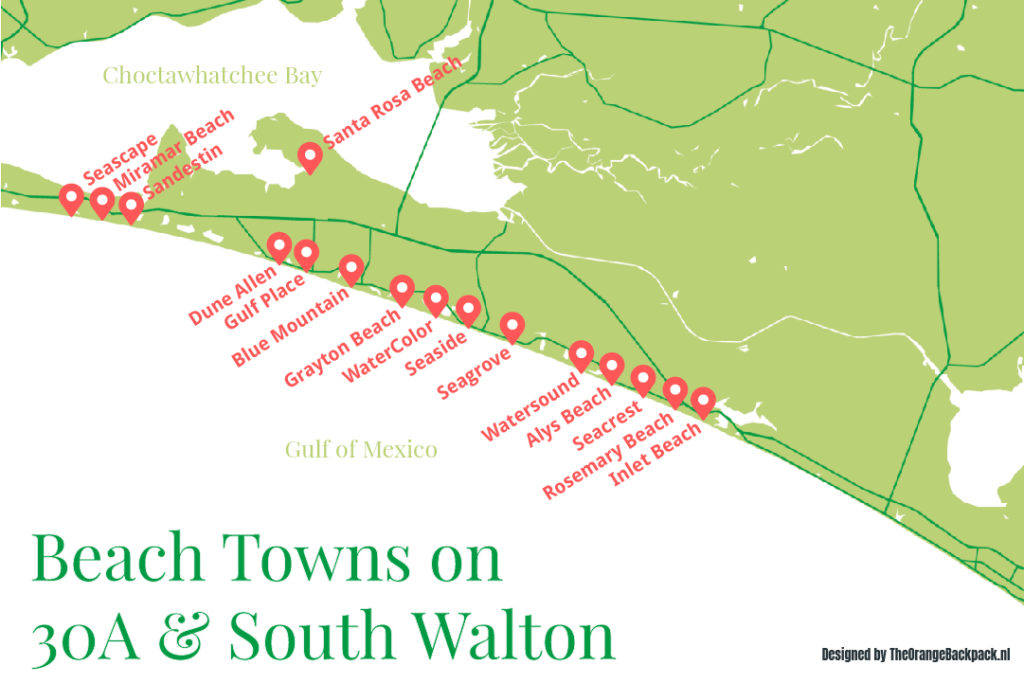 Although Walton County has been around since 1824, very few folks used to differentiate it from Destin. Fifteen years ago many picture-perfect preplanned coastal villages along Scenic 30A did not exist either and County Road 30A was not designated as a scenic route. Since that time developments in Santa Rosa Beach, Blue Mountain Beach, Watercolor, Watersound, Alys Beach, Seacrest Beach, Rosemary Beach, and Inlet Beach popped up almost overnight.
Rosemary Beach is Family Friendly
Rosemary Beach is nothing like other beach communities in Florida, it is well-planned town that is very family-friendly and safe. There are no big hotel chains, high-rise buildings, or party scenes here, just multi-generational families spending their holidays with loved ones.
The Sand is Sugary Soft
The sand on Florida Gulf coast beaches is made up of quartz crystals, produced by the weathering of continental landmasses and Appalachian mountains. The quartz is washed down America's great rivers into the Atlantic and the Gulf of Mexico where it is carried onto the beaches by water currents and waves. It is sparkly, soft, and sometimes squeaky.
Shallow Emerald Waters
Whether you like tanning with the warm sun shining down or hiding under an umbrella while sipping on cool drinks and catching up on good books, the Emerald Coast will steal your heart! The water is warm and shallow and a pretty shade of green.
Beautiful Beach Homes
With wrap-around verandas, outdoor courtyards, and boardwalks that lead up to the beaches, the tastefully decorated beach homes in Rosemary are perfect for families seeking some privacy and wanting to spend time away from the crowds. You won't find big hotel chains or high rises here, just vacation rentals and owners who come back to enjoy their second or third home away from home.
Farmers Market on Sundays
I love visiting the farmers' market on Sunday mornings to buy fresh produce and peruse local vendors. From flowers to freshly prepared bread and desserts, you can find many artisan products at the Rosemary Beach Farmer's Markets. One time we even found some Srilankan Chicken curry at the Farmers Market in Rosemary.
Easy to get there
Rosemary Beach is relatively easy to get to. It was a 10 hour drive for us from Dallas, Texas. There are also many other metropolitan areas within driving distance. Atlanta is just over five hours away by car. Nashville is seven hours away. New Orleans is about four hours away.
In the past, we have taken the direct flight from Dallas into Panama City airport also known as Northwest Florida Beaches International Airport, which is about half an hour away. You can also fly into the Pensacola airport which is less than two hours from Rosemary Beach.
Best Sunsets and Beach Bonfires
30A has some of the best sunsets, DO NOT MISS IT! You will find that most people freshen up after a day at the beach, come to watch the sunset, and take family photos on the beach at Rosemary.
I sometimes like to bring a picnic to enjoy while watching the sunset!
The beaches of 30A are also magical at night. You can book a beach bonfire from providers like Live Well 30A who will come set up with beach chairs, tables, and tiki torches. You can enjoy hot chocolate and s'mores and go with the kids to hunt for crabs on the beach by flashlight.
Bike & Pedestrian friendly
Rosemary Beach had paved sidewalks that are completely pedestrian and biker friendly. The 18 mile bike trail winds through coastal dune lakes and beach communities and is perfect for biking with the whole family. A number of surrounding state parks, such as Point Washington State Park, even offer biking and hiking trails where you can observe Florida's beautiful vegetation and wildlife.
You can rent bikes from Bamboo Bicycle Company or other bike rental companies in the area.
Ride the bike along The Timpoochee Trail which runs all along the side of 30a. The 18.6 mile bike trail is paved and fairly flat, and goes all the way to Dune Allen.
Deer Lake State Park and Topsail Hill Preserve State Park are worth a visit as well! Riding the bikes on the family friendly paved paths is probably our favorite thing to do in Rosemary Beach! Right after playing in the emerald waters of course!
Golf Courses
This one is still on the to-do list for us! There are over two dozen courses in the 30A area and many of them were designed by PGA golf giants. Here are a couple of popular ones: 50 year old Santa Rosa Golf & Beach Club features Gulf of Mexico views, white sand bunkers, mature trees, and well-manicured fairways. Minutes from Alys Beach and Rosemary Beach, is Camp Creek Golf Club, a Tom Fazio masterpiece.
A few more photos from Rosemary Beach, Florida
Rosemary Beach Restaurants
Rosemary Beach has an excellent food scene with many restaurants that serve creative coastal cuisine. For such a beach small community, Rosemary Beach, Florida has some of the best restaurants in the area.
Here are a few Rosemary Beach Restaurants that we usually eat at:
Charlie's Donut Shop: Start with some donuts at the adorable donut shop located in Alys, you can also find their donuts at the stores in Rosemary.
Pescado: Go for brunch if you want to take the kids. Located in Rosemary it is 18+ for Lunch and Dinner. Pescado also has an inside bar & outside rooftop bar overlooking the Gulf of Mexico.
Pizza by the Sea: Our kids love pizza, who doesn't! We ordered 'Take and Bake' pizzas from the Seacrest location one night. It was the closer to Rosemary Beach where we stayed. They also have a location in WaterColor.
La Crema: A cute place on Rosemary beach that serves tapas, chocolate and wine – what is there no to love about that?!
George's at Alys Beach: Located in Aly's, George's is another great restaurant on 30A. The menu features items made with local produce.
Piper's located at Aly's is open daily for breakfast and lunch. The Gulf fish and brisket tacos are crowd favorites, I love the spicy cauliflower.
Amavida Coffee Shop: A great place to grab a coffee after your morning walk. They serve organic and fair trade coffee and have locations in Rosemary and Seaside.
30A Burger: A dog-friendly spot located in 30Avenue, we got burgers from here a couple of times. The fries and shakes are good too, they also serve beer & wine.
If you like to cook at your beach home, stop at the Publix on Hwy 98 to load up on supplies and get some seafood at the market store Goatfeathers. You can find fresh fish homemade sauces and soups at their locations on 30A.
From casual seafood shacks serving from airstreams in Seaside to upscale Seafood restaurants with views of the Gulf, there are many more restaurants to indulge when visiting 30A in South Walton. See the others here.
Other Beach communities on 30A
While Rosemary Beach will keep you busy, don't miss visiting some of the other beach villages on 30A. One of my things to do is driving up to Seaside, the town that put this area on the map. It was the setting famous for being the film location of The Truman Show and we love checking out cafes on airstream row.
Rosemary Beach, Florida is popular but still is somewhat undiscovered and underrated. We rarely visit a place twice, but this little beach town had made its way into our hearts and has me dreaming of owning a home here someday!
PIN IT FOR LATER
Note: This post may contain affiliate links, partnership or sponsored content. If you purchase an item via one of these links, we may receive a small commission at no extra charge to you. But as always images and opinions are our own. For more information on our affiliates and privacy policy at Outside Suburbia see here.
CONNECT WITH US