Charmed by the city's fun atmosphere, incredible history and scrumptious food, a few of my girlfriends and I planned a weekend trip to New Orleans. Since it was only 500 miles from Dallas, we decided to do a road trip to NOLA. Whether it's food, art, or music you love, there seem to be festivals, parties, and celebrations almost every weekend in New Orleans.
There is plenty to see, do and of course, eat in NOLA, here is a quick guide and some ideas to help plan an epic girls getaway weekend trip to New Orleans!
A stop at Natchitoches
Since we were driving from Dallas(See this post for a Girls Getaway Weekend in Dallas), we stopped at Beau Jardin in the City of Natchitoches located on the banks of the Cane River. We walked around the quaint Natchitoches Historic District, wishing we had planned to stay longer in the charming little town.
Established in 1714, Natchitoches retains its European flavor through its architecture and heritage. It is an original French colony and also the oldest settlement in the Louisiana Purchase.
Visit French Quarter and the Jackson Square
The French Quarter is the most popular area in New Orleans among tourists, and for good reason. You can easily wander around while taking in the unique architecture, incredible and historic sights of the French Quarter. Jackson Square is the French Quarter's main plaza.
While the square and the surrounding buildings date back to the 1700s, today the area remains as lively as ever. You will see street performers and artists and the beautiful St. Louis Cathedral is a landmark you can't miss.
Where to eat in New Orleans
Start with breakfast at Cafe Du Monde – it's hard to miss the bright green striped canopy. The cafe just serves beignets, coffee, and drinks, but it is worth enduring the long lines and extra calories – the beignets are sweet and coffee chocolate-y.
From amazing seafood to classic dishes like gumbo, it is hard to go wrong when eating in New Orleans. We even managed to find some veggie po'Boy (with a twist on the New Orleans classic) at a vegan place.
If you are looking for vegetarian or vegan restaurants in New Orleans, don't miss this cute place called Green Goddess that serves an eclectic mix of international cuisine in a courtyard on Exchange Alley.
We splurged on a fancy dinner at one of New Orleans' best restaurants – Antoine's, a 175-year-old restaurant famous for its French-Creole fine dining.
Don't forget to have a mint julep or two at the Carousel Bar, which actually rotates when you sit down. It is located at the Hotel Monteleone, a historic French Quarter hotel, get there early since it gets pretty crowded.
Fun Ideas & Activities for your Girls Getaway weekend in New Orleans
On our first day, we decided to do the Segway tour. After some initial instructions on how to balance and ride the Segway, our guides at Segway tours escorted us around the French Quarter and beyond as they pointed out New Orleans history, music, architecture, and of course…food!
Our New Orleans Day Segway Tour was the best way to get oriented with the city before we set out to explore on our own. Please excuse the quality of the pictures here, they were captured with an iPhone while on the Segway 🙂
Some of our stops were: The French Quarter, Mississippi River, The Treme Neighborhood, Louis Armstrong Park, Congo Square, Jackson Square, Bourbon Street and The Old U.S. Mint.
As beautiful as New Orleans is, the city has quite a haunted history. To learn all about the creepy tales and haunted homes of NOLA, you will want to join a Ghost Tour of New Orleans. You will learn about real ghost stories at haunted locations throughout the French Quarter which have been verified by historical research done at each property – this is not about theatrics. It is a historically accurate tour.
Just a short drive from New Orleans, you can visit Honey Island Swamp, a wildlife preserve that is one of the last protected wetlands in Louisiana. During this 2-hour boat tour, you will visit a Cajun village only accessible by boat and also learn about the animals and plants in the lush swamps.
Where to party in New Orleans
A girl's trip to NOLA wouldn't be complete without a night out on the town – New Orleans nightlife is world-famous.
Start your night off by heading to Bourbon Street, a wild and fun street lined with bars and filled with tourists looking to experience some New Orleans nightlife.
You will see many visitors enjoy simply hanging out on Bourbon Street. You can even take alcoholic drinks in to-go cups as there are no laws against open containers in NOLA.
For live music and dancing, head over to Frenchmen Street.
Other Girl's Getaway Weekend Ideas near New Orleans
For history buffs, take a tour of the French Quarter, visit a historic home, or check out the National World War II Museum.
Art lovers will enjoy the New Orleans Museum of Art, the Ogden Museum, and the Contemporary Arts Center. Martin Lawrence gallery has many original works by Picasso, Dali, and other famous artists.
Take a walking tour of the Garden District which is located a little less than 3 miles southwest of the French Quarter for a peek at some of the city's most beautiful homes. This historic residential neighborhood is laden with trees, ivy, and beautiful gardens.
Even if you're not in town for the actual festival, you can go behind the scenes of one of America's most renowned celebrations. Mardi Gras World offers a close-up look at some of the flamboyant floats and costumes used during New Orleans' famous party. This is more of a warehouse than a museum – where current floats are in the process of being completed and old floats are stored.
A day trip to Oak Alley Plantation
Just outside of New Orleans lies the beautiful Oak Alley Plantation, originally built in 1839 and known for the 29 oak trees that welcome visitors to the home. You can tour the plantation, named after a double row of live oaks planted nearly 300 years and watch guides in period costume bring to life the history of Oak Alley Plantation.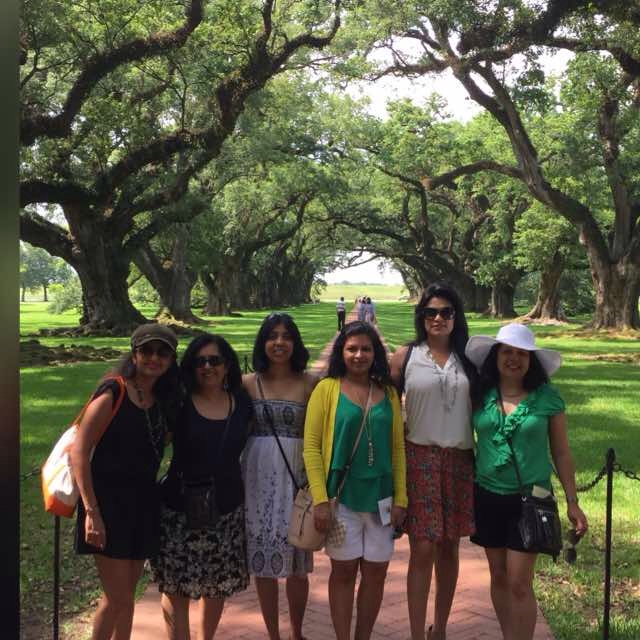 Best time to visit New Orleans
The best time to visit New Orleans is from February to May when the temperatures are comfortably cool and the celebrations are in full swing. The city celebrates the Mardi Gras festival in February, you can partake in the festivities and see the massive parade floats. If you want a quiet getaway weekend in New Orleans, plan to visit in December or January,
Where to stay in New Orleans
While there are plenty of quirky hotels in and around New Orleans, we opted for the familiarity and comfort of the Ritz Carlton that sits on the edge of the French Quarters. We loved our stay at the luxurious features decor reflective of antebellum mansions and modern amenities. We loved starting our days with breakfast in the courtyard, walking over to the French Quarters, or taking the trams to other parts of the city.
See reviews of other hotel options for a fun New Orleans weekend.
New Orleans Tours
Photos from our Girls Getaway weekend in New Orleans
Here are a few photos captured mostly on the Phone during our fun Girls Getaway weekend trip in New Orleans!
I hope this post gave you some ideas and inspired you to plan your weekend trip to New Orleans!
PIN IT FOR LATER
Note: This post may contain affiliate links, partnership or sponsored content. If you purchase an item via one of these links, we may receive a small commission at no extra charge to you. But as always images and opinions are our own. For more information on our affiliates and privacy policy at Outside Suburbia see here.
CONNECT WITH US