There are a million places to visit and things to do in Chicago as you would expect in any big city! I got to visit this vibrant and artsy city with my daughter and here is our list of best things to do in Chicago on a Girls weekend getaway.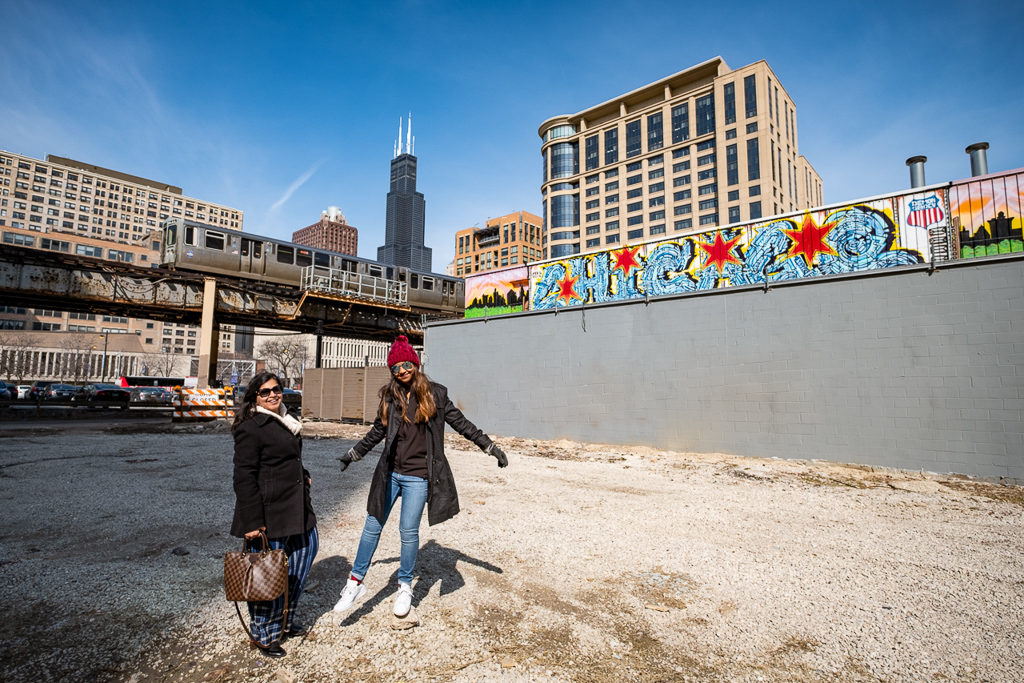 Did you know Chicago is the third-largest city in the US, right after New York and Los Angeles? We had only a weekend to visit during my daughter's spring break and we planned around things that we really wanted to do on our mother-daughter trip and chalked up a weekend itinerary of art museum visits, a show, some shopping, spa and of course some great eats (hello deep-dish pizza).
Girls Weekend Guide to Chicago
The Windy City often tops the list as one of the Best Big Cities in The World! It is known for its architecture and its sports teams, but Chicago is perfect for a girlfriend getaway. There is a great theater scene and you can catch some nice comedy shows at the famous Second City. During summer the city hosts a wide variety of summer festivals in the many parks and outdoor venues.
I don't think I will survive winter in Chicago but Spring and Fall are a great time to visit when the city is less crowded. You can conquer your fears on the skyscrapers and do some shopping on the Magnificent Mile, eat some deep dish pizza, pamper yourselves with spa time at one of the many luxury hotels in the city and catch a show.
Our 3 day weekend in Chicago
We got there late at night on Thursday and went to bed at our Hotel on the cultural mile. The next morning on Friday we hit the ground running with a stop at the Millennium Park to see the famous Bean. We then went up to the Art Institute of Chicago, had some sandwiches at Pret right across the street. We then dressed up to watch Broadway's hit musical and award winning show – Hamilton. Saturday we spent some time shopping and conquering our fears by visiting both Sears Tower and 360 Chicago. We got to a Spa and enjoyed some sips and a great meal.
Sunday we met up with Teresa Peek from Tour through a Lens, who took us on a tour to see all the cool murals around downtown and gave us an insight into some of the architecture and other art in the city. We took the late flight back to Dallas after catching up with a friend. Pack some layers if you are visiting Chicago in Spring or Autumn since it is will be chilly and possibly windy.
Best Things to do in Chicago on a Girls Weekend
Visit the Millennium Park
Millennium Park which was once a railway yard is a must stop for many reasons. Housed in the west of Grant Park, the city's largest park, the Millennium Park rubs shoulders with major cultural institutions such as the Art Institute of Chicago, the John G. Shedd Aquarium and the Field Museum of Natural History.
This 24.5-acre park features Frank Gehry's Pritzker Pavilion and serpentine bridge, sculptor Anish Kapoor's 110-ton Cloud Gate (a.k.a. The Bean); and Jaume Plensa's Crown Fountain, with its ever-changing array of locals' faces. The Lurie Garden has year-round flower displays and monthly garden walks.
We spent some time playing with the refections at the 110-ton structure that captures the surrounding skyscrapers in its mercurial body. The Bean has become synonymous with Chicago and Ms. Peachy wanted to get some photos there, you can't miss doing this in Chicago during your Girls Weekend.
Conquer your fear of heights
Sears Tower
As the tallest building in Chicago and the second-tallest in the U.S., the Willis Tower (which will always be the Sears Tower to me) is undoubtedly one of Chicago's biggest attractions. Get up to the 103rd-floor Skydeck for bird's eye view of Chicago.
It is pretty popular and if you want to skip the lines, get the $40 Fast Pass ticket that will get you to the top in no time at all. If you dare step on The Ledge, a glass balcony extending four feet outside the 103rd floor of Willis Tower. Your brain stays it is ok but your legs have a hard time moving!
360 Chicago
Formerly known as the John Hancock Observatory, 360 Chicago offers dining, sights and an interactive tour from above the city streets. At 1,000 feet up on the 94th floor, you can see up to 55 miles out and four states. A thrilling new addition is The Tilt, which allows you to step onto an enclosed platform that extends from the building tilts to a 30 degree angle.
Stop for a drink at the bar of the Signature Room, located on the 95th floor of the John Hancock building, which offers equally stunning views without the hassle. On a clear day, you'll be able to see all of the city plus Illinois, Indiana, Wisconsin, and Michigan.
Visit a few world-class Museums
Chicago has some world-class museums all located in and around the Museum Campus. The Field Museum is home to the largest and most complete Tyrannosaurus rex fossil ever found, at the Museum of Science and Industry you can watch stunning science- and space-related films at the huge Omnimax Theater, the John G. Shedd Aquarium is home to sharks, beluga whales, dolphins, and penguins.
Don't miss the Adler Planetarium where you can see the restored Gemini 12 flown by Buzz Aldrin in 1966. Being art buffs we spent most of our time at the Art Institute of Chicago. See this post for my version of a virtual museum walk at the Art Institute.
No trip to Chicago is complete without a visit to the Art Institute. Consistently rated among the world's top museums by TripAdvisor travelers, the Art Institute of Chicago is home to the greatest collection of Impressionist paintings outside of Paris, including works by Monet, Renoir, Seurat, and Van Gogh.
Explore the Modern Wing designed by Renzo Piano with its extraordinary collection of works by Chagall, Dalí, Matisse, Picasso, and Pollock. Visit the Ryan Learning Center, a free space offering programs and art-making, a fun activity to do in Chicago during your girls' weekend.
See some Murals and Public Art
It was too early in the season to check out the Chicago Riverwalk, Navy Pier or River Cruise. We missed the opening by a week but we made up for it by going on a tour with Teresa Peek from Tour through a Lens, who took us on a tour to see all cool murals around downtown and gave us an insight into some of the architecture and other art in the city. The tour was one of my favorite things to do in Chicago!
Public art is plenty in Chicago. If you like art, allow for some time to track some of these amazing murals and sculptures during your Chicago Girls Weekend. We saw some vibrant murals, stopped at the Rookery a building redesigned by Frank Lloyd Wright, we saw the Tiffany glass mosaic panels at Marquette building lobby and the beautiful and elegant Palmer House. Teresa shared with us her secret Batman spot, you can see it here and more of the art we saw in Chicago including Picasso's unnamed statue located in Daley Plaza and Alexander Calder's 53-foot red Flamingo.
Attend a Broadway Show
Honestly, we had planned our trip to Chicago around the Broadway show Hamilton, the new-age musical about the life of American Founding Father Alexander Hamilton.
We had been wanting to go see the award-winning show but the dates they were in Dallas didn't work out for Ms.Peachy. So we decide to plan a trip to Chicago (a city that has been on our list for a while) and go see the show at the Chicago CIBC Theatre. In one word it was EPIC! Everything you heard about the musical is true, go see for yourself if you get a chance. I was mesmerized the entire time!
Go Shopping on the Magnificent Mile
Also called the Magnificent Mile, Michigan Avenue is a shopper paradise, from leading luxury designer shops like Gucci, Burberry and Louis Vuitton to brands like Zara department stores like Nordstrom and Neiman Marcus. You can also find things for the home at stores like Crate and Barrel and Williams-Sonoma. Even if you are not wanting to shop, you can go window shopping 🙂
If you want your Chicago shopping experience to extend beyond this one avenue, Wicker Park and Bucktown are notable for their independent clothing and jewelry boutiques, antique furniture shops, and specialty thrift stores. At Roscoe Village, you'll find children's boutiques, women's apparel, and home décor shops.
Relax in a Spa
A girls' trip is not complete without some Spa time, right? After some shopping, we stopped at Four Seasons Hotel Chicago for some treatments – a relaxing Magnificent Mile Massage and a Lake Shore Hydrating Facial. The luxury hotel located right on Magnificent Mile have a Spa Happy Hour that allows guests to choose from two 25-minute services like express facial, express pedicure, scalp massage or shoulder massages if you are short on time. But if you can go ahead and spend the afternoon at the Spa and then stay for some cocktails or dinner at Four Seasons Hotel Chicago.
Enjoy the Chicago Riverwalk and Cruise
If you're looking for breathtaking views of some of Chicago's most gorgeous architecture, you have to take a stroll along the Riverwalk. A series of public walkways offer access to boats and water taxis as well as waterfront cafes and restaurants. Chicago has some of the best "Architecture" and you have to go on a walking tour or boat tour to appreciate it better.
River Cruise
Did you know Chicago is the birthplace of the skyscraper! Partly destroyed by the Great Fire in 1871, the city of Chicago was inspired to entrust the reconstruction of its center to its Institute for Architecture and Urbanism. By equipping the new buildings with steel frames and glass façades.
One of the best ways to learn more about the city's architecture is to join a Chicago Architecture Foundation River Cruise. You can admire the city skyline while slowly cruising along the river as the expert guides interpret over 50 buildings nestled along the Chicago River.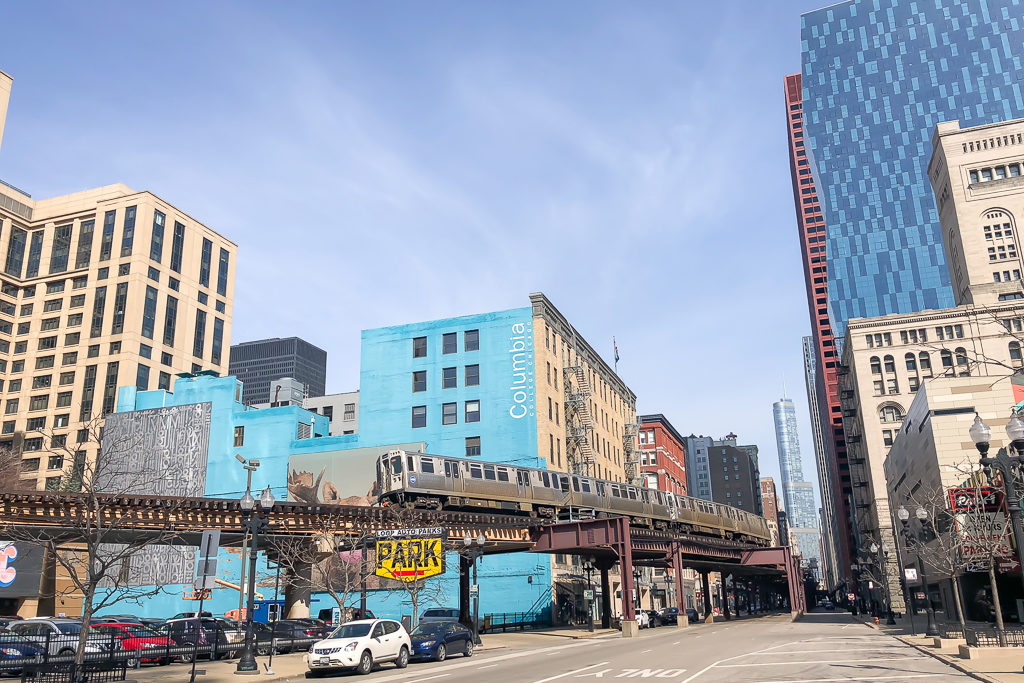 Known as the 'L' (short for "elevated") The Chicago Metro Trains are a great way to get around the city, they serve over 140 stations located throughout the city and nearby suburbs. They run on elevated railways, in subways, or on the ground. There are places in the downtown area where you can see the metro train tilt as it turns on the elevated tracks.
Other family friendly things to do in Chicago that we didn't have time for:
Wrigley Field
If D was with us during our trip to Chicago, Wrigley Field would have been on the top things to do in Chicago. Even when baseball's not in season, there's plenty to do at this legendary stadium of the home of the Chicago Cubs. Constructed in 1914 and reinvigorated by an ownership change in 2009 Wrigley Field was the first place to allow fans to keep foul or home run balls. Seasonal tours offer an insider peek at this legendary stadium.
Navy Pier
Navy Pier is a tourist hot spot with shops, eateries, an IMAX cinema and a place from where you can go on Chicago sightseeing boat tours. Pier Park is home to a 150-foot-high Ferris wheel, an old-fashioned swing ride and a18-hole mini-golf course. Chicago Children's Museum and a rotating roster of live entertainment can be found on the Family Pavilion Stage. It is a fun place for people-watching and has loads of family friendly entertainment.
North Avenue Beach
Chicago's most popular beaches, North Avenue Beach is a unique lakeside beach with sand where you can go swimming in Lake Michigan. It features a unique beach house inspired by a beached ocean liner. There are volleyball courts, restaurants where you can grab a snack or rent a bike. You can also find kayak rentals, jet ski rentals and other watersports rentals during the summer months.
Lincoln Park Zoo
You can some 1,200 animals, from apes to zebras, at the oldest and one of only a few free zoos left in the country. Lincoln Park Zoo is small, only 35 acres, but has attractions like the Kovler Lion House and the Regenstein Center for African Apes pack a big punch. You have to see The Regenstein Macaque Forest, where snow monkeys swing through trees and relax in a hot tub just like in Japan!
Best spots to see the Chicago skyline view
If you want to get some photos with views of the Chicago skyline, you can see them from outside the Alder Planetarium. It was pretty windy when we were there, I just snapped one photo before heading inside the Planetarium. When the weather is nice and sunny, it is a great place to see a sunset.
Chicago is also called "The City in The Garden," and has more than 7,600 acres of parklands over 570 individual parks. Summer is a great time to visit the Windy City but Spring and Fall are ideal times since it won't be crowded. You can see brilliantly hued trees against Lake Michigan and the Chicago skyline during Autumn and the best views are from the top!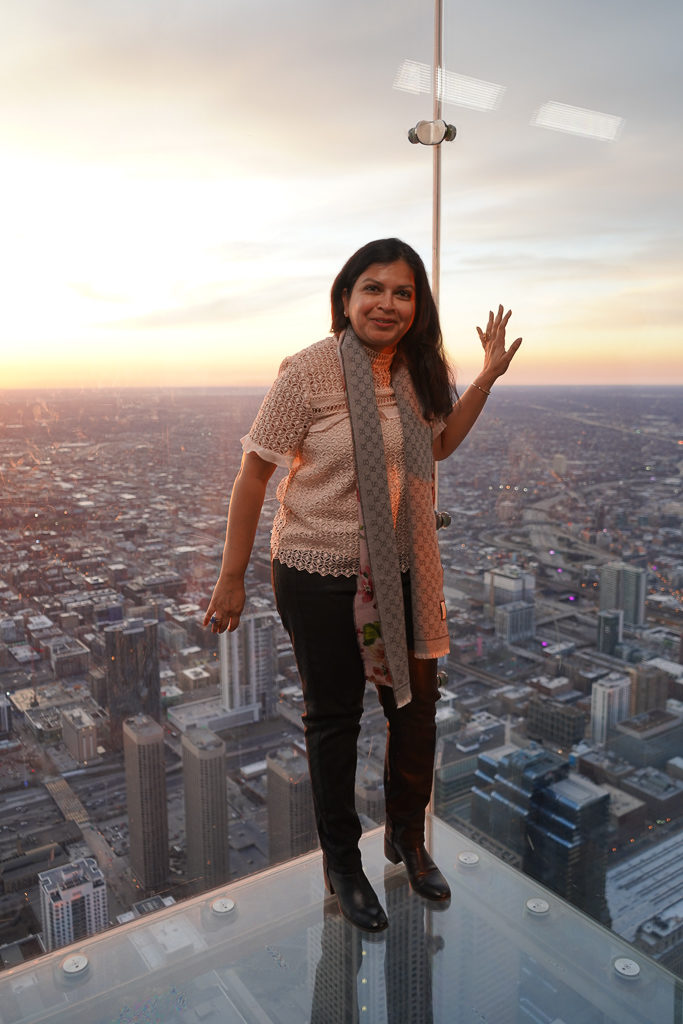 Thanks for capturing these photos for us Amit Thakral
The best spots to see the views of Chicago from the top are the Skydeck at Willis Tower(Sears Tower) and the 360 Chicago Observation Deck. Rooftops bars in Chicago offer some great views as well but since Ms. Peachy was not 21 yet, we didn't make it to any this time.
We loved our mother daughter Spring break trip to Chicago. See here for other fun activities to do in Chicago with kids in Spring.
Here is how to save on tickets to Chicago attractions
You can get the most out of your trip to Chicago and enjoy access to five of the city's top attractions with the Chicago CityPASS. These are the best discount tickets to Chicago attractions. The booklet grants you free entry into sights including the Shedd Aquarium, Field Museum, Art Institute of Chicago, Adler Planetarium, Skydeck Chicago, Museum of Science and Industry and 360 Chicago. Plus you can enjoy a wealth of useful Chicago tips and other savings at other venues and retailers.
Best Chicago Tours
Where to Eat in Chicago
Voted Best Large City in the U.S. three years in a row Chicago is a foodie Mecca and has many places for fine dining. Looking for a special place to eat in Chicago, see this list of Michelin-rated restaurants in Chicago.
Deep-dish Pizzas
My girl was more interested in the Classic Chicago style deep dish pizza, we tried a couple of places. Giordano's makes the best ones with their own twist to the classic Chicago-style pizza by doubling up on the crust and stuffing it with cheese. The Cheese pull is epic when you slice it! Lou Malnati's Pizzeria and Pizano's are great places for those pizza pies as well. Chicago also has a reputation for having some great Italian restaurants.
The classic Chicago style hot dog is another must-try. If you are wondering what exactly is a Chicago style hot dog? It is an all-beef hot dog on a poppy seed bun, topped with yellow mustard, lots of relish, diced onions, tomato wedges, a pickle spear, sport peppers, a dash of celery salt and most importantly, no ketchup! You can go on a food tour to find the best foods in Chicago.
Dinner at ETA in Loews Hotel Chicago
One of my favorite meals in Chicago was our dinner at ETA. ETA Restaurant + Bar inside Loews Hotel Chicago is warm and welcoming. The wood-ensconced dining room captures the essence of Midwestern luxury and takes you back to an era of fine inns and taverns. Ms. Peachy had a mocktail, while I enjoyed a Portland Rosé made with gin, pureed strawberry, black rose liqueur and brut Rosé. ETA's cocktails are not just delicious, they pay tribute to the bustling railway transportation era of yesteryear!
ETA serves traditional American fare but made some custom vegetarian dishes for us in addition to what was on their menu. We enjoyed a custom made flatbread, some truffle mac and cheese, crispy brussels sprouts and bucatini with walnuts and kale. We finished with some blood orange Creme Brulee with vanilla cookie crumbs and hibiscus sorbet and some chocolate mousse served in a jar.
Where to Stay in Chicago
We stayed at The Blackstone, a historic hotel that is now managed by Marriott's Hotels Autograph division. We loved that it was located on Cultural Mile and surrounded by some of the city's most legendary cultural attractions, including The Art Institute of Chicago, Adler Planetarium (which we could see from the window). We had the Heart Our Art package which included In-Room Canvas with Paints, and Coloring Book with Colored Pencils. Perfect amenity for a Girls' trip if you ask me!
The family-friendly Loews Hotel Chicago and Four Seasons Hotel Chicago are other great options if you are looking to do be near Michigan Avenue shopping areas and the restaurant scene in Chicago.
See here for other fun outdoor activities in Chicago and a Visual story of Weekend Getaway in Chicago
PIN IT FOR LATER
Thank you to The Blackstone, Four Seasons Hotel Chicago, Loews Hotel Chicago, 360 Chicago, Skydeck Chicago and Choose Chicago for hosting us and making our Chicago girls weekend special.
Note: This post may contain affiliate links, partnership or sponsored content. If you purchase an item via one of these links, we may receive a small commission at no extra charge to you. But as always images and opinions are our own. For more information on our affiliates and privacy policy at Outside Suburbia see here.
CONNECT WITH US