When we landed in Bermuda for a girls' trip a couple of years ago I was pleasantly surprised – our resort was gorgeous, the sand on the beach was pink, men looked snazzy in Bermuda shorts, jacket and long socks. I was amazed at the beauty of this oldest and smallest yet affluent British Overseas Territory that I hadn't heard much about! I have been wanting to plan a trip back with the family and hoping it will work out this year. Here is the scoop on all the best things to do in Bermuda… from lounging on pink sand beaches, riding bikes to exploring caves. Make yourself a rum swizzle and read on…
If you are wondering where Bermuda is.. it is actually closer to Nova Scotia than it is to the Caribbean. Comprising seven interlinked islands and a few islets, Bermuda is 1000km east of the US coast. Colonized in 1612, its allegiance has since been to the UK.
Located in between Britain and the United States, it has more direct flights from the East coast of the US and Canada. While many Americans think it's quaintly English, Brits probably find Bermy rather American… regardless of where you stand on that, you will won't run out of awesome things to do in Bermuda!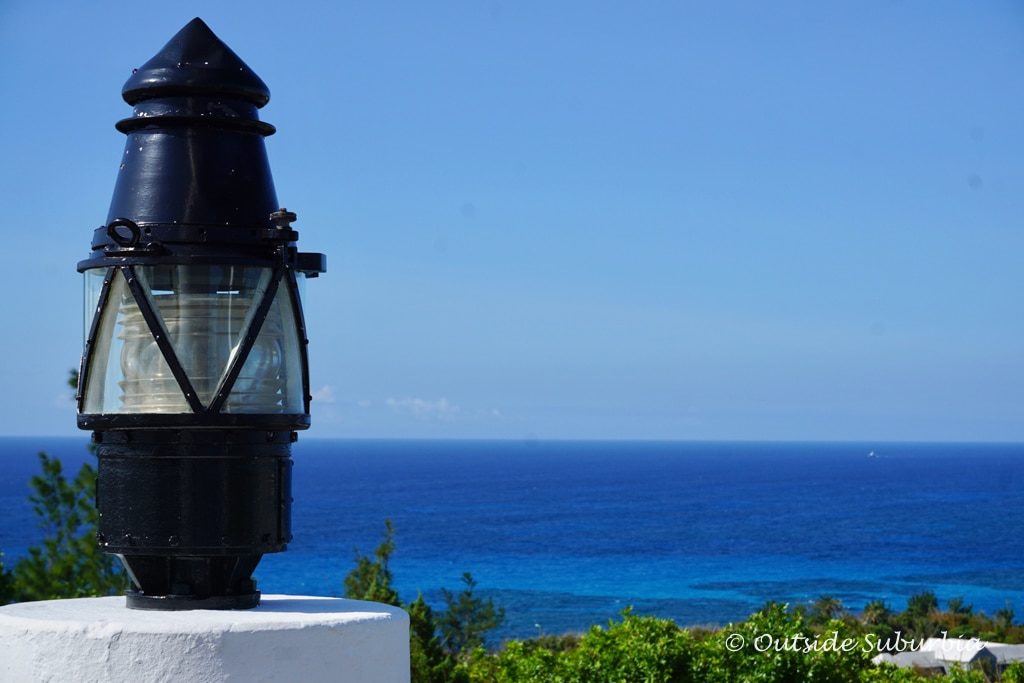 Bermuda beaches are like no other, dotted with black rocks against an aquamarine ocean and soft pink – yes really pink sand beaches. I didn't really believe it till I actually saw it. The pink sand is the result of millions of tiny red sea creatures, such as clams, mollusks as well as other invertebrates, that have been crushed by the powerful waves of the mid-Atlantic ocean. When they wash up on the beach, they blend with the sand, turning it an amazing pink color.
Wash your hands after if you play in the sand and do not try to bring it home. It's not allowed. To take back home a sample of pink sand, you can visit souvenir shops that sell small bottles filled with pink sands.
Sink your toes in the Pink Sand Beach at Horseshoe Bay
The South Shore of Bermy has the best pink sandy beaches and pretty coves.  Horseshoe Bay is considered Bermuda's most popular beach.  Located in Southampton parish, this beach has been consistently ranked among the top beaches of the world!
This crescent shaped beach is one of the longest uninterrupted beaches in Bermuda, approximately 1/3 mile in length.  It is perfect for families with children, as the waves are gentle, the water is crystal clear, and it is shallow. While this is the most popular beach in Bermuda, we went on a tour to discover a few more beaches and coves.
The best beach for snorkeling is Church Bay in Southampton Parish. It is a narrow pink sand beach but the shallow reef has a multitude of parrotfish and angelfish. In Warwick Parish, we stopped at the picturesque and sheltered Jobson's Cove, another beautiful beach. If you plan to spend some time in the secluded coves, bring your own towels and a picnic lunch. We didn't see any refreshment stands around.
Tip: The water in Bermuda is calmest and warmest from May through September. Just keep your eye out for the ferocious barracuda and a jellyfish that stings called Portuguese man of war. On the rare occasion, you run into either just head back to land.
Explore Crystal and Fantasy Caves
Bermuda's scenery doesn't stop at the beaches, they have caves and nature reserves. You can go on an underground guided tour to discover the beauty of Crystal Caves and Fantasy Caves. It is located in Hamilton Parish and was formed during the Ice Age and discovered in the early 1900s.
You can see dramatic limestone formations of hanging stalactites and stalagmites surrounding a crystal clear lake. It is said that author Mark Twain was the first tourist to descend into the Crystal Caves in 1908. This is probably one of the top attractions in Bermuda.
Tip: The caves are a big tourist attraction and one of the unique things to do in Bermuda, and if there's a cruise ship in town it's likely to get very crowded by mid-morning, so arrive early. Keep in mind that there are about 80 stairs each way to get into each of the two caves.
See the Smallest Bridge in the World
Bermuda is relatively small at 21 square miles (56 kilometers) in total land area. Compare that to the USA's 9.629 million square kilometers! It is a cluster of small islands. 6 main islands and 120 others. It is actually one of the nine smallest places in the world in total land area.
The main islands are connected by bridges and you can see one of the smallest bridges in the world here. The Somerset Bridge is a small bridge in Bermuda connecting Somerset Island with the mainland in the western parish of Sandys.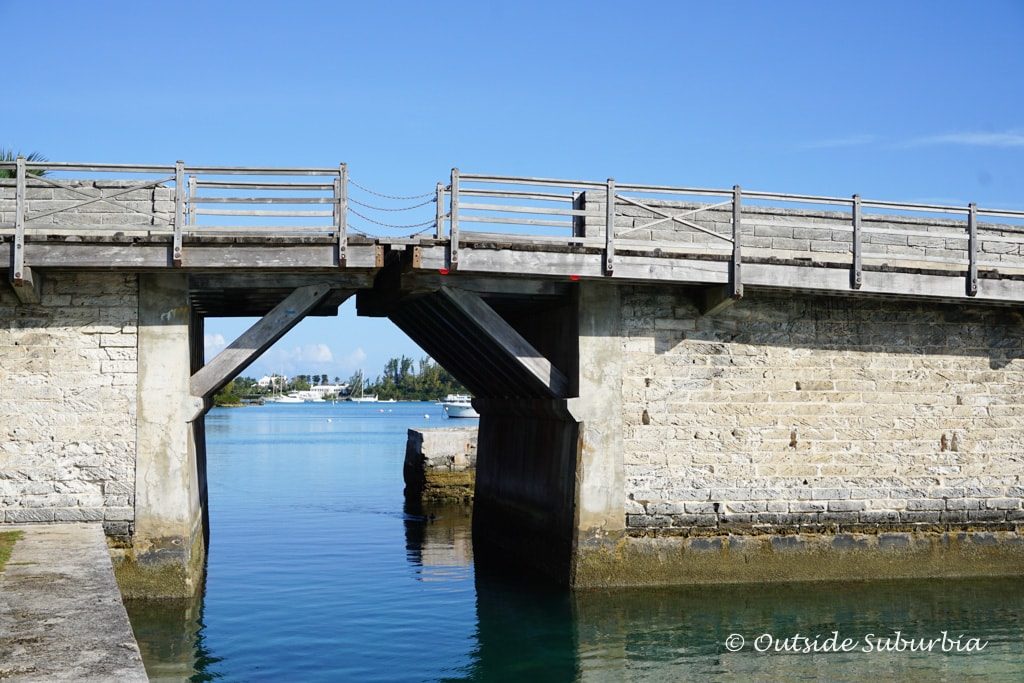 Hike or bike along the old Bermuda Railway Track
Spanning from one end of the island to the other, the Railway Trail in Bermuda follows eighteen miles of abandoned railbed that winds through picturesque landscapes and along rocky coastlines. You can explore the trail by foot or rent bikes at the Royal Naval Dockyard and head south on a leisurely ride. It is full of breathtaking views and natural wonders. Allow for enough time and bring water you will want to stop to discover the postcard-worthy beaches, secluded coves along the way.
The trail's origins go back to a time when the Bermuda Railway was the primary means of transportation for islanders. The train, known as the "Old Rattle and Shake," operated from 1931 to 1948, running from St. George's Station to Somerset Station. If you are not up to riding a bike you can rent a moped or scooter. You can't hire cars in Bermuda, while taxis were available everywhere.
Visit the Dockyard
National Museum of Bermuda is also at the Dockyard which houses cannons, shipwrecks, small watercraft and artwork in buildings of a former Fort. Don't miss the dramatic mural depicting four centuries of Bermuda history by local artist Graham Foster. There is an outdoor playground where kids can zip down a lighthouse slide or crawl through a jumbo eel. It is especially popular with people visiting Bermuda on a cruise.
Shop the Hamilton's Boutiques
If you're searching for souvenirs, local art or stylish bermudas, you will find it in Hamilton. Bermuda's capital city is the main hub for charming boutiques and artisans.
Wandering down Front Street, Hamilton's bustling waterfront promenade, you will find colorful storefronts and happy faces. Get something in pink to remind you of the beaches or a vial of pink sand and get a pair of TABS (The Authentic Bermuda Shorts) from A.S. Cooper & Sons. And remember there is no sales tax when you shop in Bermuda.
Go on an off the beaten path Island Tour
There is nothing like learning about the island and exploring with a local guide. There are various tours and excursions available, we opted for a tour with Heidi of Bermuda Tours. Her 6-hour tours revolve around her deep historical knowledge and passion for Bermuda's beauty.
Heidi picked us up from our hotel and we got to experience an in-depth and personal perspective of the island as we explored villages, secluded coves, backroads, saw private estates and all the top things to see in Bermuda.
Climb up Gibb's Hill Lighthouse
We saw Bermuda off the beaten path while on our tour with Heidi Cowen who is a fifth-generation Bermudian. She comes from a long line of Gibbs Hill Lighthouse keepers. She lived and grew up here in a house below the lighthouse, so naturally, we wanted to climb up to see the views and hear the stories. Gibb's Hill Light House is a great attraction in Bermuda and offers a fabulous view of the island and Ely's harbor from the top.
Visit St.George
St George Parish is located at the eastern end of Bermuda. The Town of St. George is the main center of the parish. This is where the first settlers of Bermuda landed up in 1600 and started the British settlement in the early 17th century and the town is steeped with history. The town is full of ancient buildings and narrow twisting lanes, ringed by forts dating from 1612 to WWII. Slaves, blockade-runners, preachers and pilots have all left their mark on the parish. Bermuda Airport is also located here at St George.
Unfinished Church in St. George's, the original intention was to replace the damaged Church of St Peter just down the road. However, thanks to a combination of financial problems and local disagreements, the church replacement never happened. Parts of the church are currently closed due to safety concerns, but you can get a sense of it from the outside.
This unassuming grey frontispiece of St. Peter's Church, which rises in the very heart of the historic St. George's Parish is a 400-year-old worshipping house. It is hailed as the oldest Anglican church outside of Great Britain, and is actually still in use by the locals. There are plenty of things to do in St. George, UNESCO World Heritage site.
Tobacco Bay is a popular public beach located in the far north of Bermuda. It is close to the town of St. George's and to the historic Fort St. Catherine. It is also one of Bermuda's best beaches for snorkeling, owing to its crystal clear, shallow waters.
Sea Glass Beaches in Bermuda
Apart from pink sand beaches, you can also find sea glass beaches in Bermuda! There are loads of colorful sea glasses ranging from green to ruby to clear glass.
Locals say that once there used to be a glass making factory and all the glass waste was dumped into the sea and eventually the sea gave them back in the form of lovely sea glasses.  You can find the sea glass on a couple of tiny beaches. They are located in Sandy's at the western end of Bermuda and quite close to the dockyard.
Black Bay and Sea Glass Beach are close to each other. As you come up the stairs from the Sea Glass beach, turn right, after a short walk you can get down to Black Bay beach.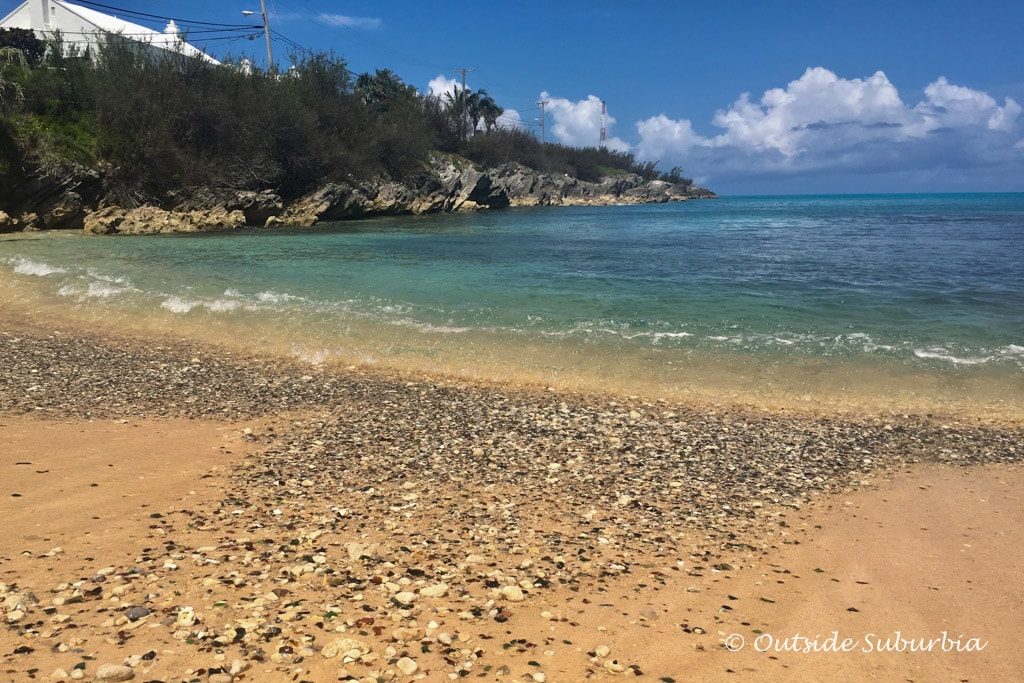 Dring some Rum Swizzle
A Rum Swizzle is a rum-based cocktail often called "Bermuda's national drink". Made with rum, fruit juice which is often a mix of lime, orange and pineapple juice, along with a flavored sweetener such as falernum or grenadine. The drink is generally shaken or stirred with ice. The Swizzle Inn is known as "the home of the Rum Swizzle" and is one of Bermuda's oldest pub and a favorite drinking hole of locals. Also try the national dish, fish chowder.
We had our share of Rum Swizzles at Devil's Isle café. Devil's Isle serves up an eclectic menu of falafels, ramen, sandwiches, salads, crêpes, shared plates, and bowls for lunch and dinner.
Another traded marked signature cocktail in Bermuda is the Dark 'n Stormy which is made with dark Gosling's Black Seal Rum. Since Bermuda has a strong British influence there are many places you can indulge in afternoon tea.
Enjoy a picnic at Flatts Village
Flatts Village is a sleepy village where we stop for lunch while on our island tour. My friends had some stacked fish sandwiches on raisin break with a generous slathering of tartar. We found a bench to sit and stayed to enjoy the pretty and pastel-colored houses and boating bobbing in the water. Time permitting you can visit the Botanical Garden, Flatts Inlet or Palm Grove Garden, a private estate open to visitors.
The Aquarium in the Flatts Village is a must stop for families with kids.  The Aquarium showcases more than 200 species of fish and delicate marine invertebrates from the shallow coastal waters of Bermuda both from coral reefs, and the deep ocean. 
The spectacular 140,000-gallon North Rock Exhibit showcases live corals and predatory fish, including sharks. There are exhibits of harbor seals and marine turtles, some of them rescued after injury.
We stopped at a few more South Shore Beaches, some of these lovely sandy beaches & coves were less crowded. We stopped by the Astwood Cove and Warwick Long Bay Beach among others.
Where to stay in Bermuda
For our girls' trip to Bermuda, we stayed at Fairmont Southampton. It was a beautiful property located in Southampton Parish. Perched on the highest point of the island, Fairmont Southampton Hotel overlooks the surrounding lush gardens, pink sandy beaches and its own 18-hole lush golf course.
The Hamilton Princess, a Fairmont managed hotel is located by the harbor offers elegant rooms and suites of varying sizes and decor, many with private balconies and overlooking the Hamilton harbor. Some suites continue to offer the old colonial charm with wooden furnishing and hardwood floor. The hotel has undergone multi-million dollar renovations in recent times and has added several amenities including an infinity pool and a restaurant offering alfresco dining with a lovely view of the harbor. They also do a nice afternoon tea!
Spread over 200 acres of land area in Rosewood Tucker's Point, is one of the best Bermuda resorts! The hotel and the rooms offer wonderful views of the Atlantic ocean as well as Castle harbor and Harrington Sound. It has 88 rooms with a private balcony or patios. Some suites have fireplaces, dining areas and wet bars. The rooms are mostly painted with shades of green and yellow with stone toning. The hotel has its own private beach and many other exclusive amenities including a great in-house spa and it's own 18-hole golf course.
Perched in spectacular limestone cliffs, The Reefs is an award-winning resort and overlooks one of the most beautiful private beaches. This boutique beachfront retreat is a relatively small but exclusive resort. It's a perfect place to relax, unwind, and enjoy a romantic getaway, honeymoon or family vacation.
Best time to go to Bermuda
When we were visiting Bermuda in May and it was pleasant with sunny skies. While it was ideal for tennis, biking, golf, and beachcombing, spring is usually a tad too cool for swimming in the ocean. Locals traditionally wait until May 24, Bermuda Day, before their first swim of the year. The most popular months to visit Bermuda are April through October. Winters are lovely, even if a little crisp.
I hope this post inspired you to plan a trip to this little island and helps you find all the fun things to do in Bermuda!
PIN IT FOR LATER
Note: This post may contain affiliate links, partnership or sponsored content. If you purchase an item via one of these links, we may receive a small commission at no extra charge to you. But as always images and opinions are our own. For more information on our affiliates and privacy policy at Outside Suburbia see here.
CONNECT WITH US