The Art Institute of Chicago is consistently rated among the world's top museums. The art museum is home to the greatest collection of Impressionist paintings outside of Paris, including works by Monet, Renoir, Seurat, and Van Gogh. You can explore the Modern Wing designed by Renzo Piano with its extraordinary collection of works by Chagall, Dalí, Matisse, Picasso, and Pollock. We stopped at the museum during our mom and daughter's trip to Chicago last spring. Here are a few highlights that caught my eye including some of my favorite Van Goghs and Gaugins. I hope you enjoy this virtual museum walk at the Art Institute of Chicago.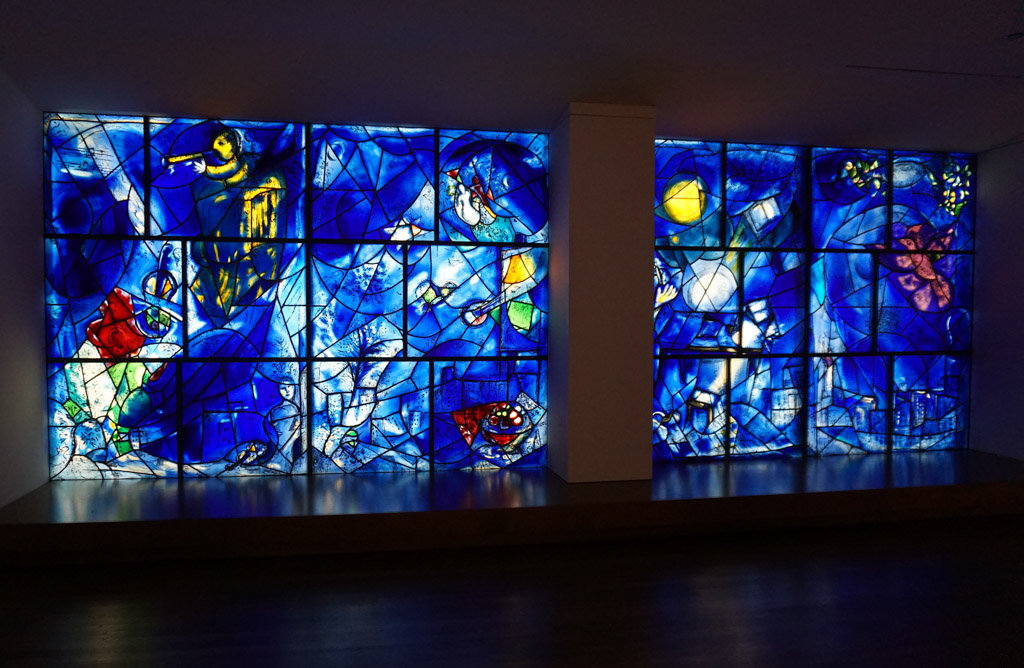 A virtual museum walk at the Art Institute of Chicago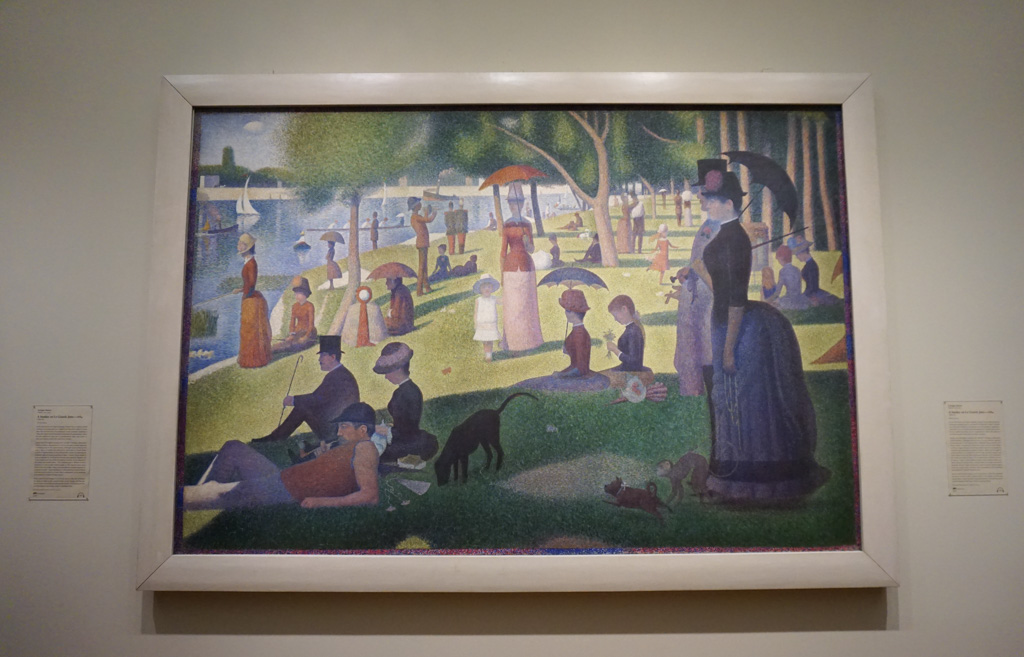 Georges Seurat's greatest work, and one of the most remarkable paintings of the nineteenth century, A Sunday on La Grande Jatte—1884. With what resembles scientific precision, the artist tackled the issues of color, light, and form. Inspired by research in optical and color theory, he juxtaposed tiny dabs of colors that, through optical blending, form a single and, he believed, more brilliantly luminous hue. The very immobility of the figures and the shadows they cast makes them forever silent and enigmatic. To make the painting even more intense, Seurat surrounded the canvas with a frame of painted dashes and dots, which he, in turn, enclosed with a pure white wood frame, similar to the one with which the painting is exhibited today at the Art Institute of Chicago.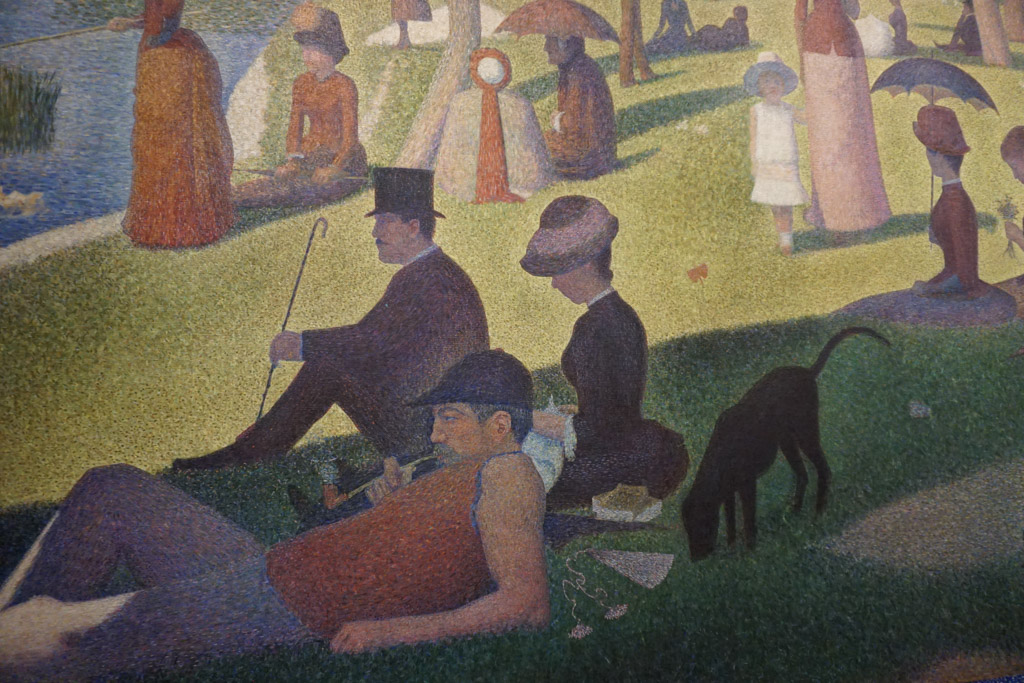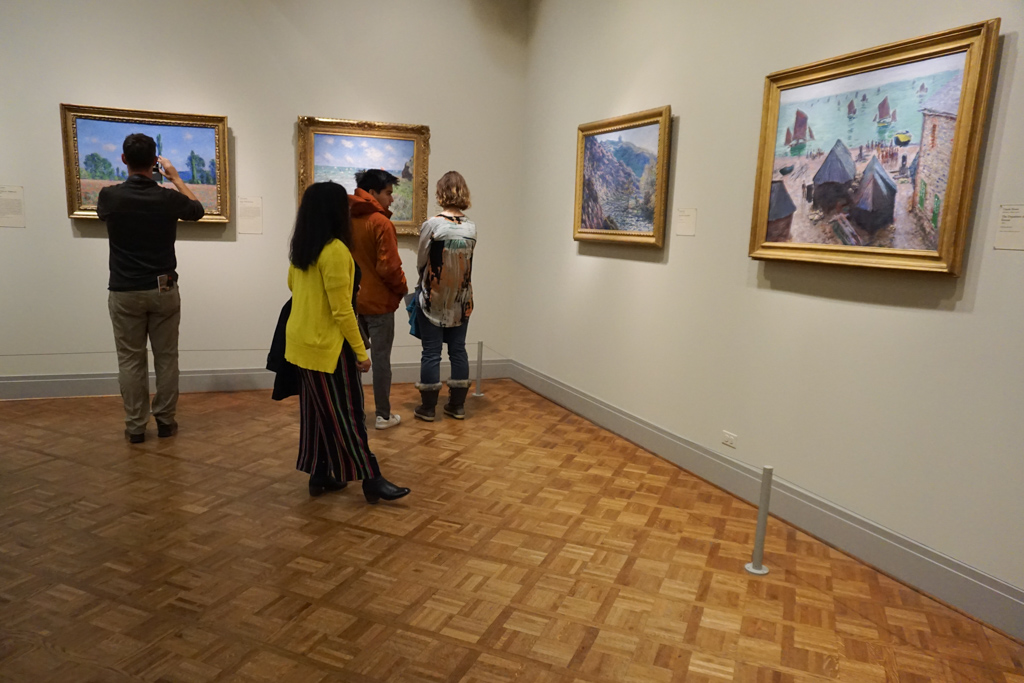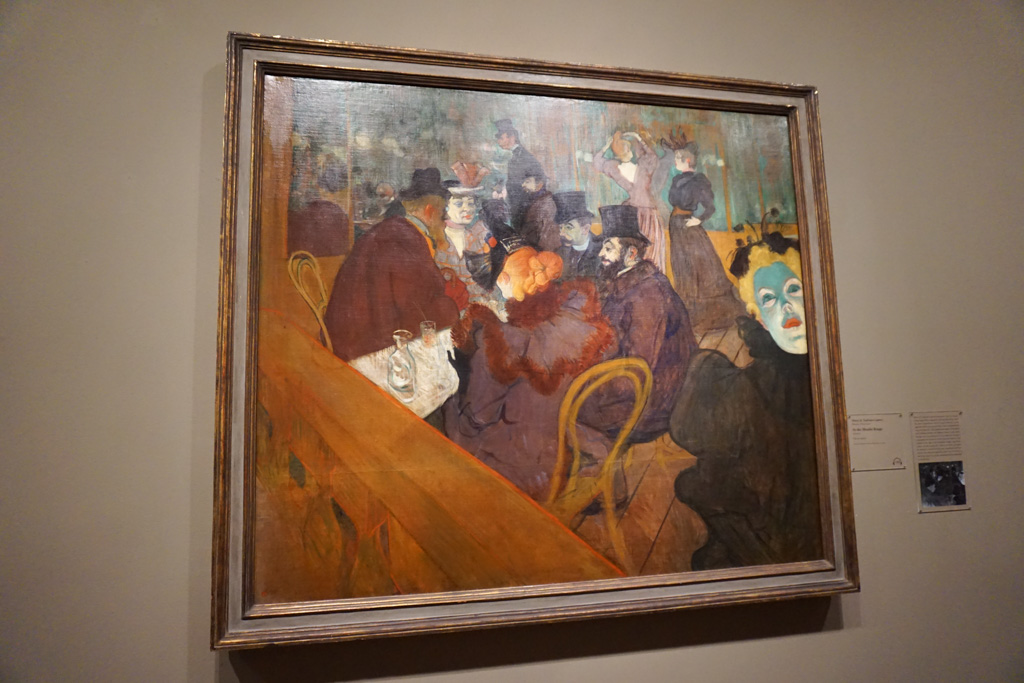 Impressionist Paintings at the Art Institue
The Art Institute of Chicago has a wonderful collection of Impressionist paintings by Édouard Manet, Edgar Degas, Claude Monet, Camille Pissarro, and Pierre-Auguste Renoir, and more. Here are a few of my favorites.
In this painting by Édouard Manet of a woman sitting in a Parisian cafe, the scene behind her is actually one of Manet's paintings, and the table, magazine, and other objects are props set up in Manet's studio. This highly Impressionistic painting, with its free brushstrokes and light colors, is typical of Manet's later works.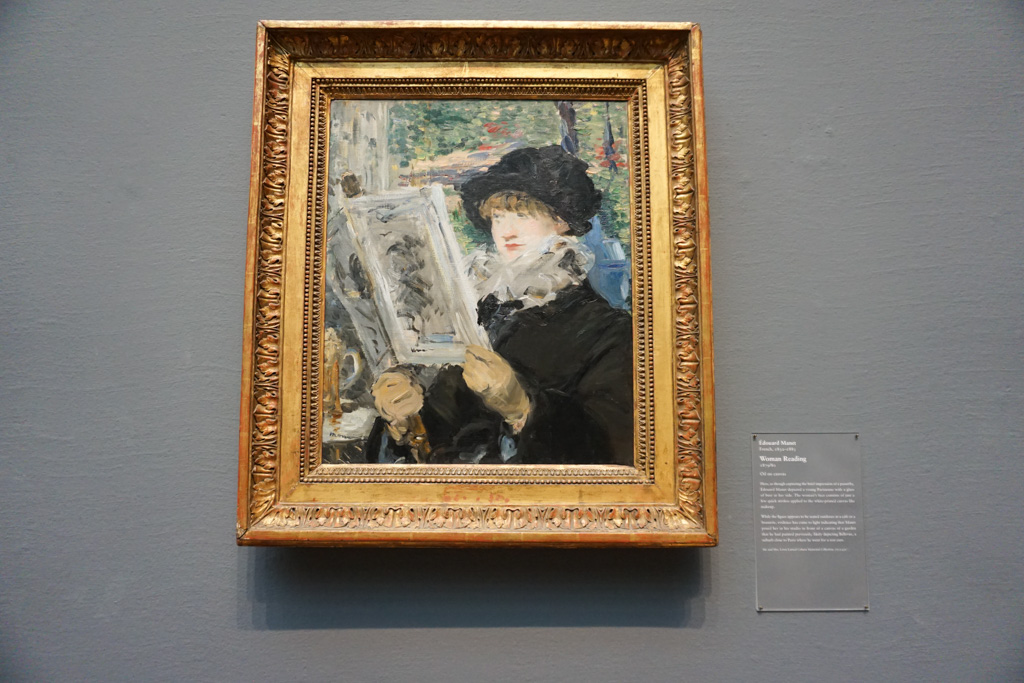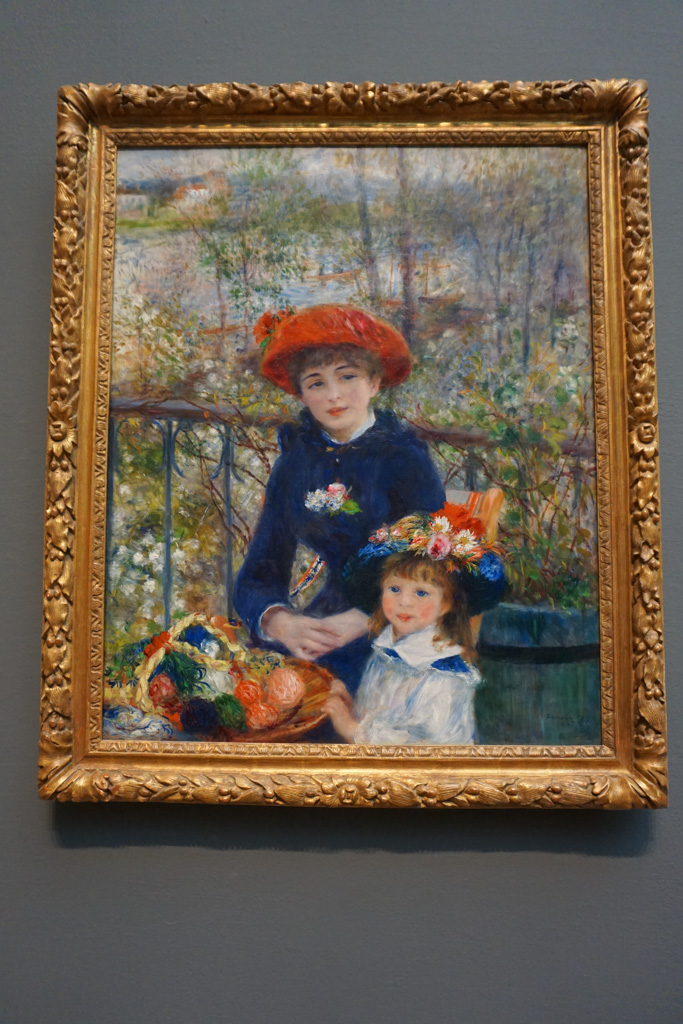 Two Sisters (On the Terrace) by Pierre-Auguste Renoir is one of the most popular paintings in the Art Institute of Chicago. Renoir depicts the radiance of lovely young women on a warm and beautiful day.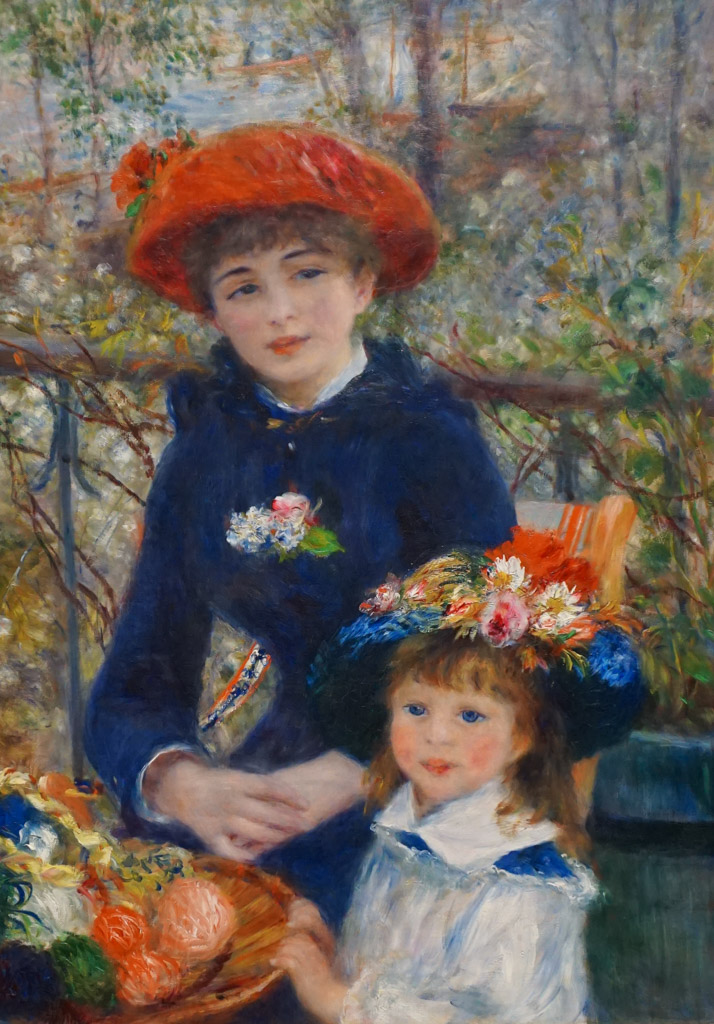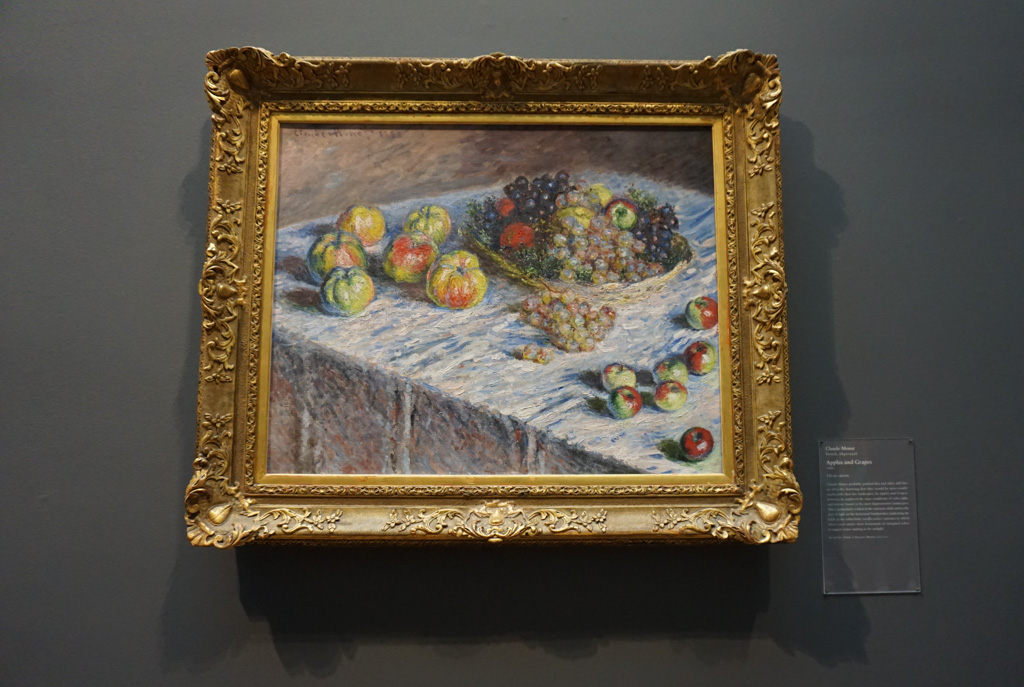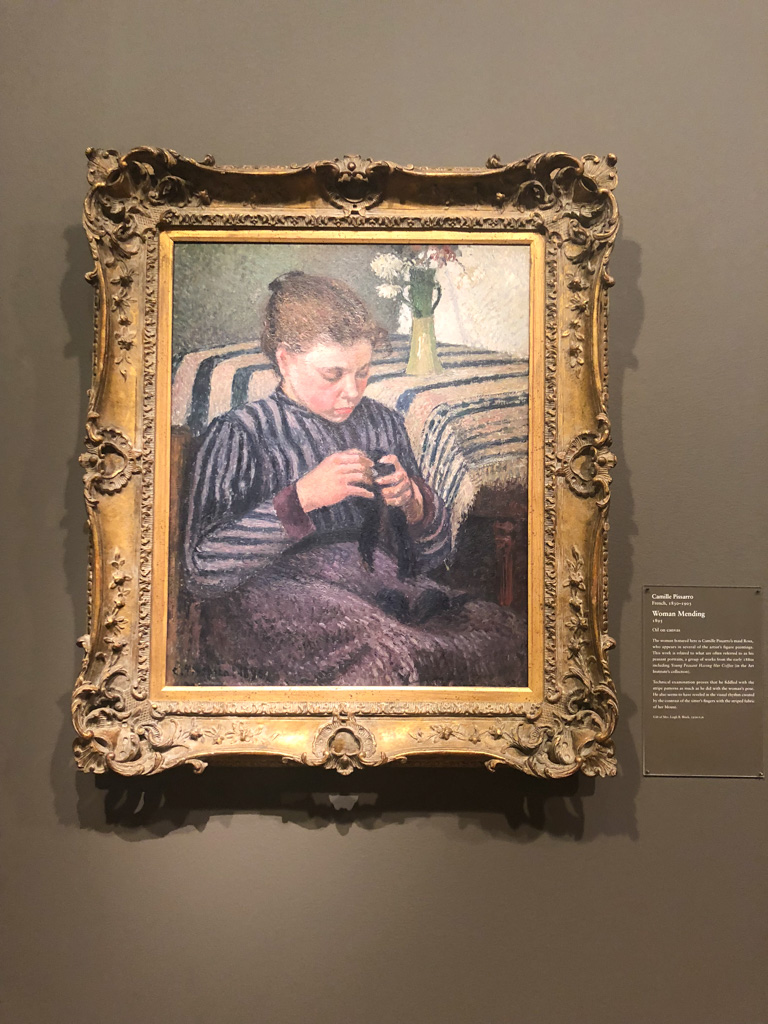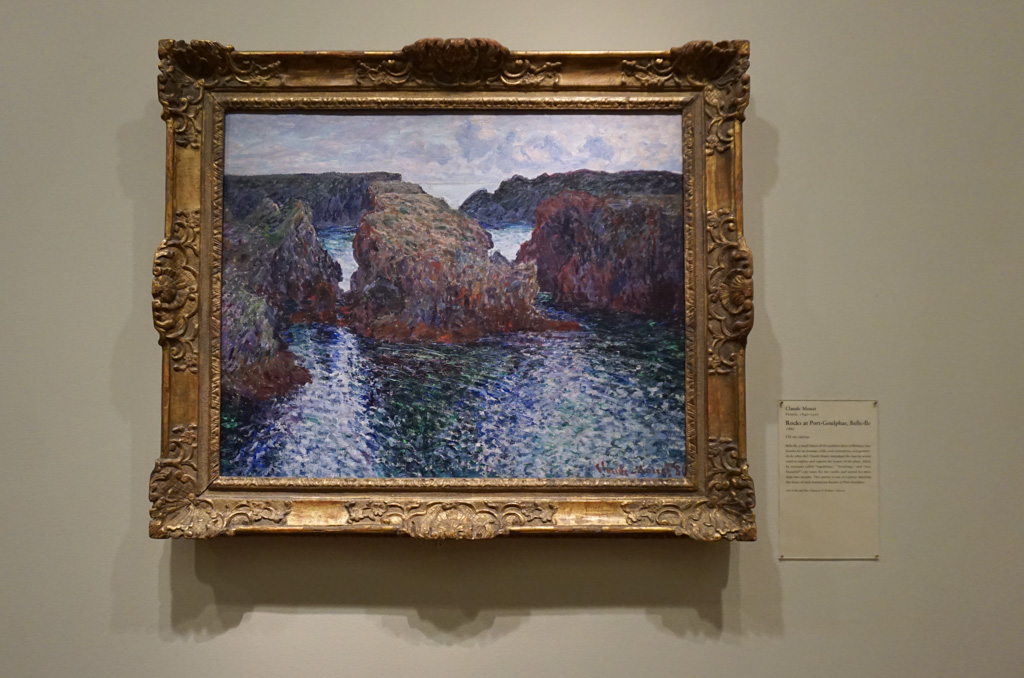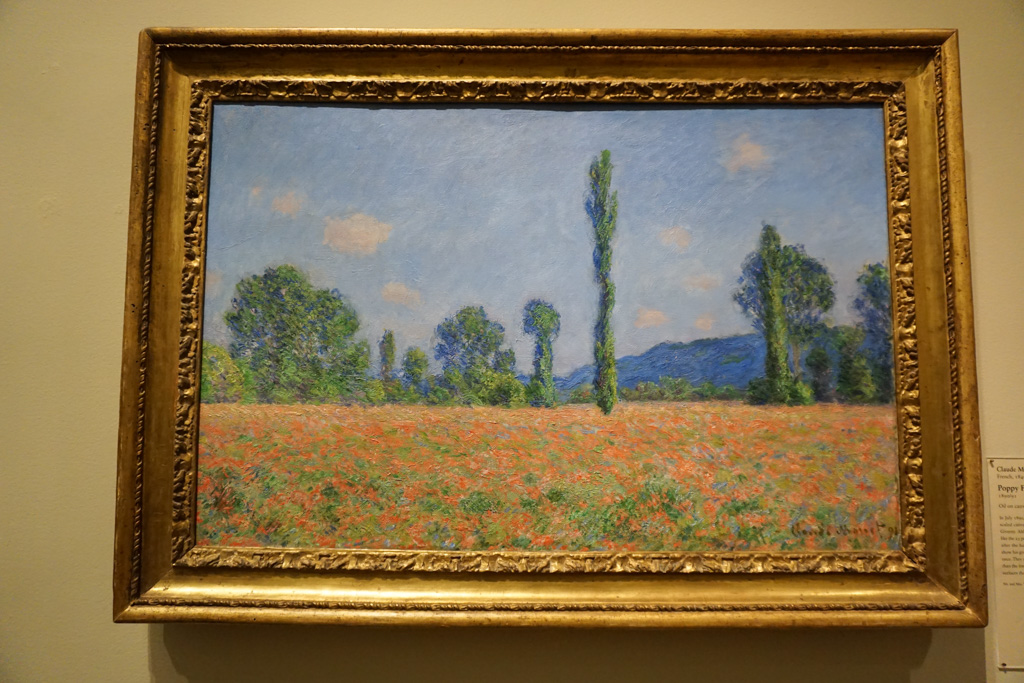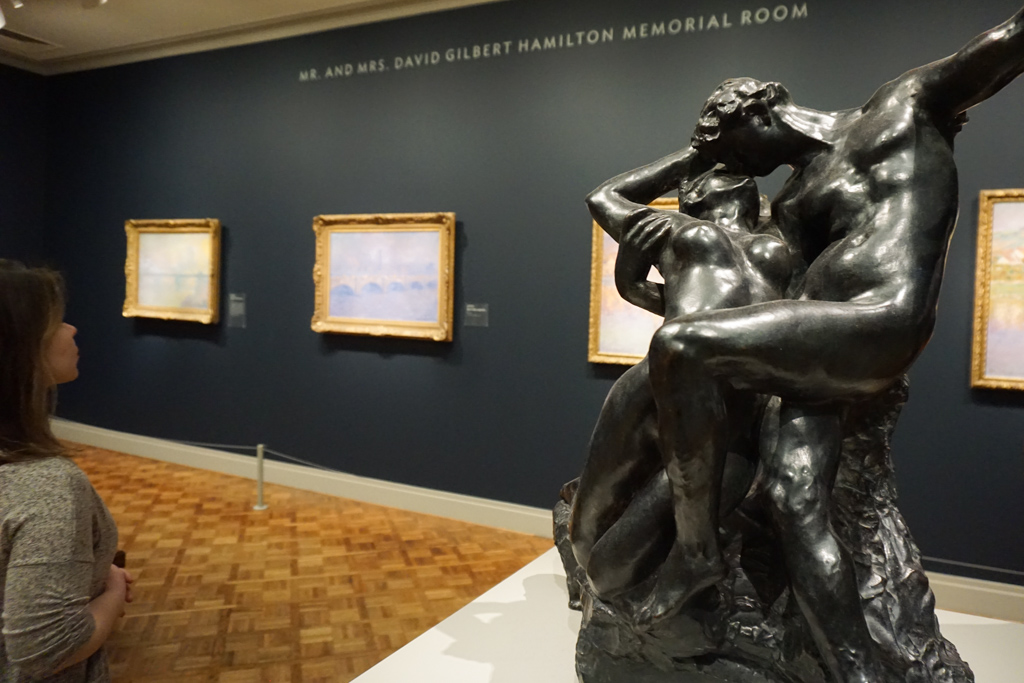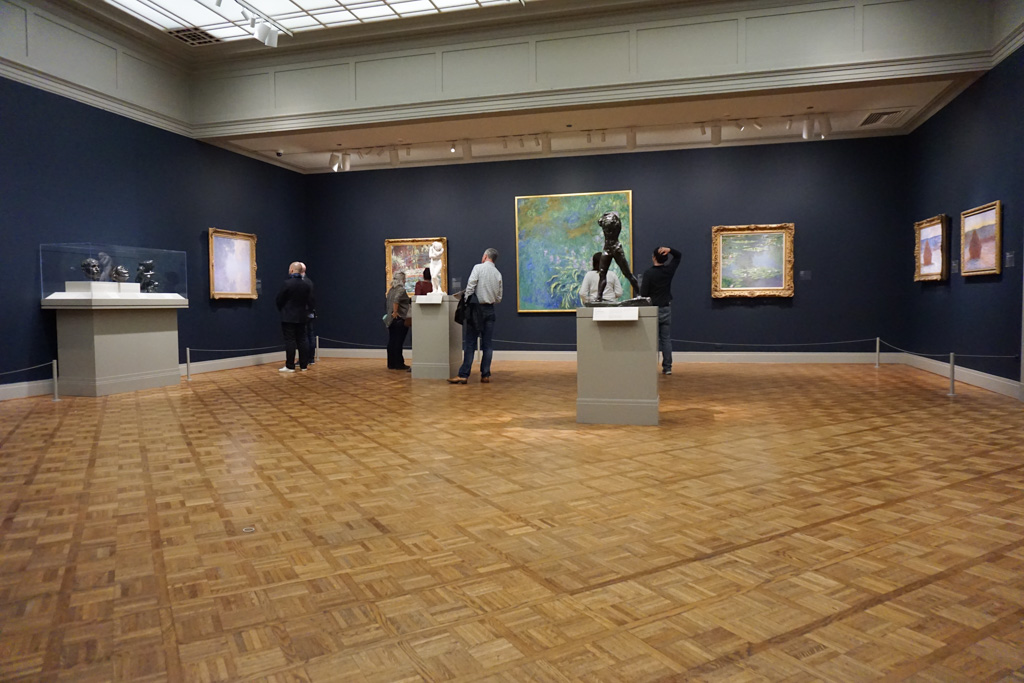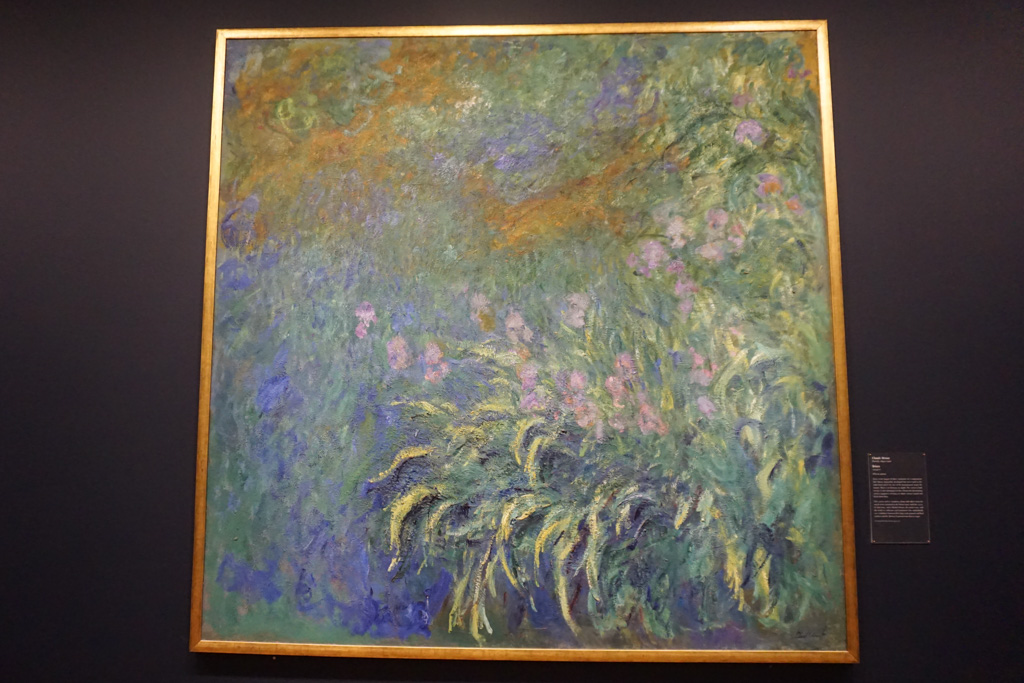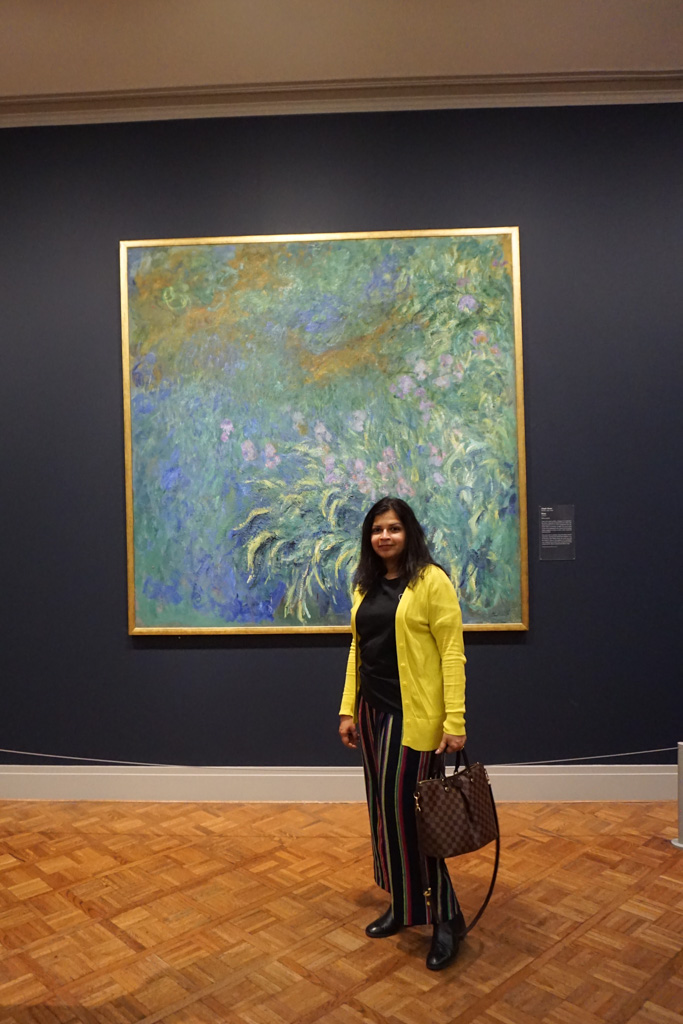 Claude Monet produced many masterpieces of the water landscapes at his home in Giverny between 1897 and his death in 1926. These works replaced the varied contemporary subjects he had painted from the 1870s through the 1890s with a single, timeless, water lilies. The focal point of these paintings was the artist's beloved flower garden – featuring a water garden and a smaller pond spanned by a Japanese footbridge. I loved seeing them displayed at the Infinity Oval rooms in Paris and at the Kimbel Museum in Fort Worth during a special exhibition. Who doesn't love the Waterlilies?
In his first water-lily series (1897–99), Monet painted the pond environment, with its plants, bridge, and trees neatly divided by a fixed horizon. Over time, he became less and less concerned with conventional pictorial space. By the time he painted Water Lilies, which comes from his third group of these works, he had done away with the horizon line altogether. In this canvas, the artist looked down, focusing solely on the surface of the pond, with its cluster of vegetation floating amid the reflection of sky and trees. Monet thus created the image of a horizontal surface on a vertical one.
See this post for more paintings by Claude Monet and a short video to paint your own version of water lilies.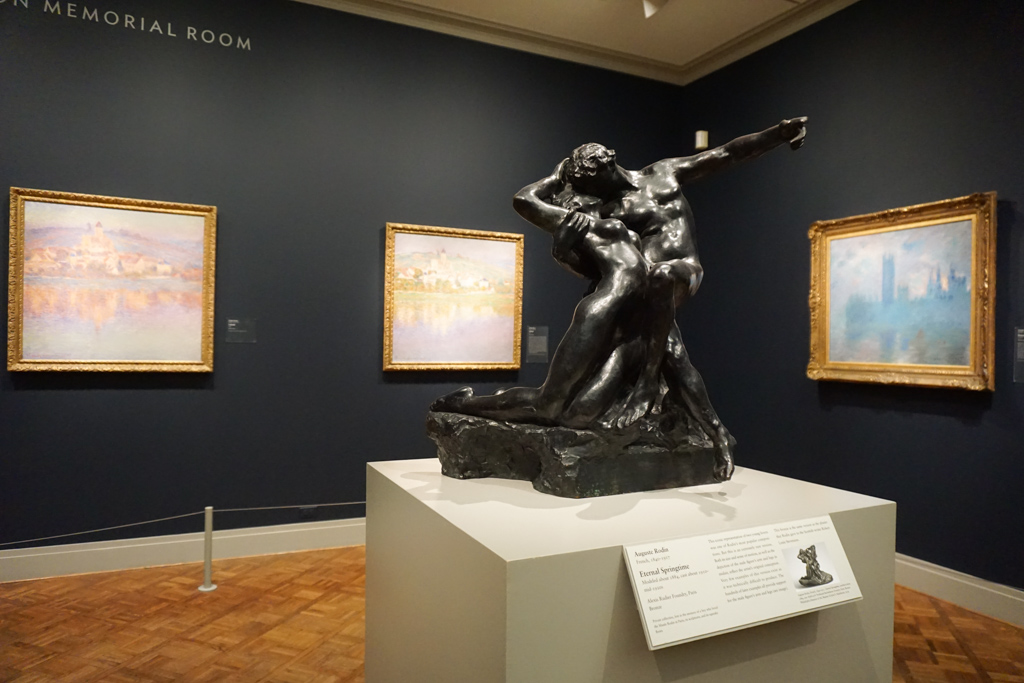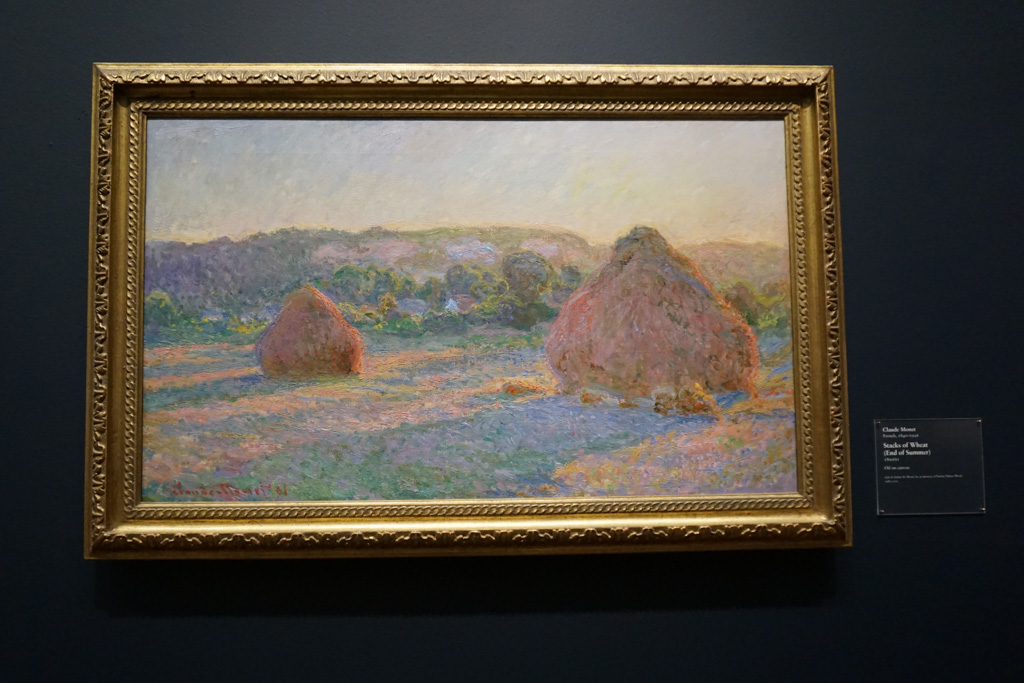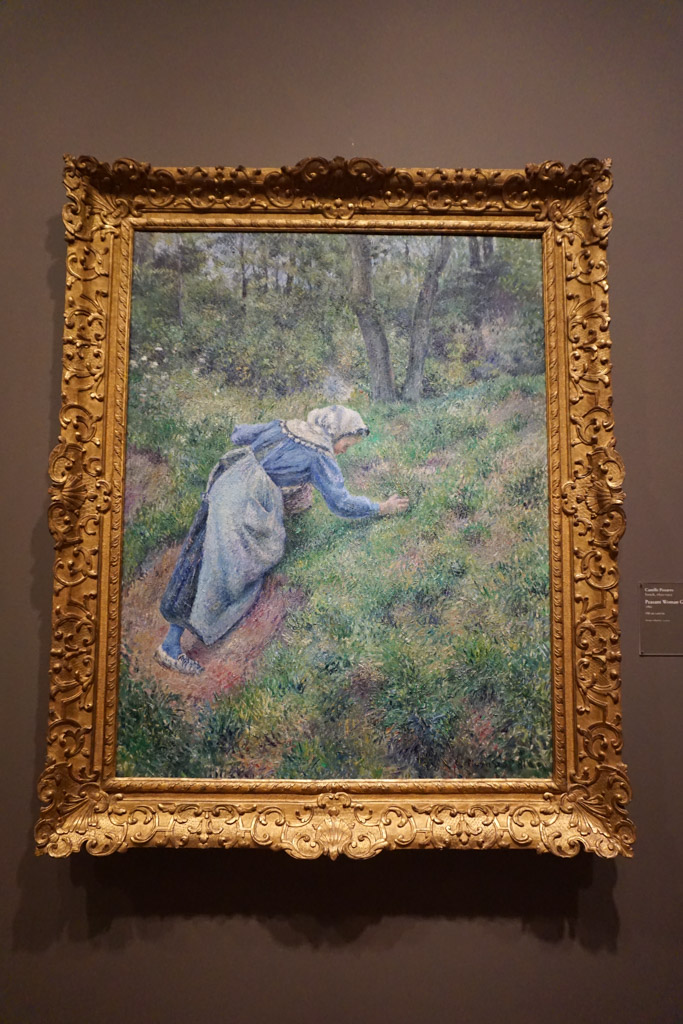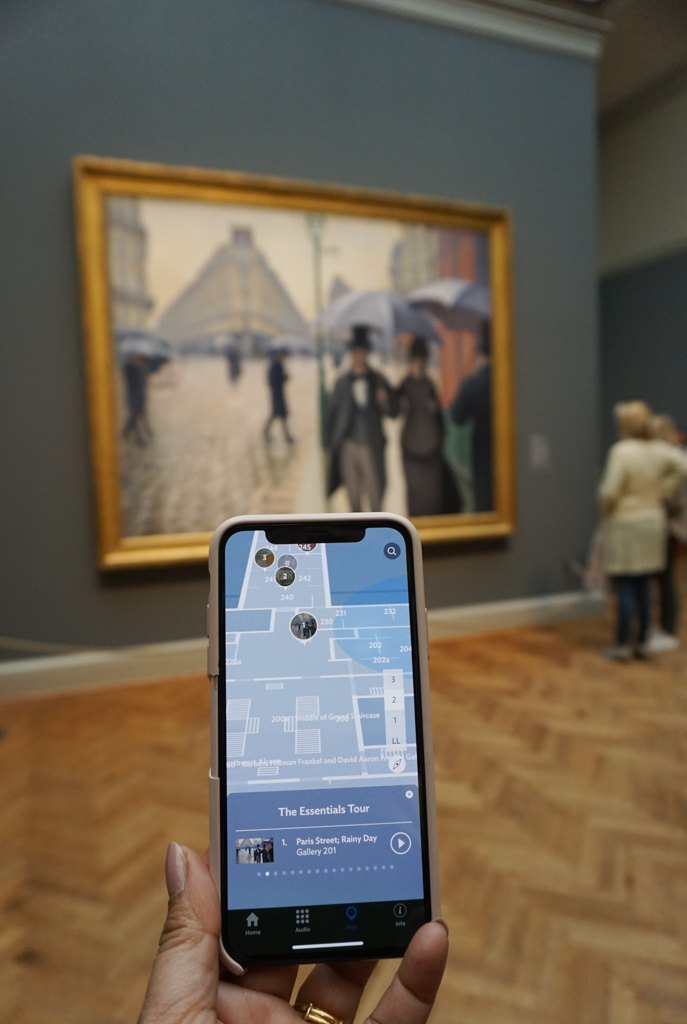 You can download the museum's free app and listen to engaging audio tours featuring behind-the-scenes stories, and learn from experts to get insight into the artworks. Find the app here for iOS devices and for Android devices.
Artworks by Vincent Van Gogh
Vincent van Gogh made three distinct versions of his bedroom painting: the first, now in the collection of the Van Gogh Museum, Amsterdam; the second, belonging to the Art Institute of Chicago, painted a year later on the same scale and almost identical; and a third, smaller canvas in the collection of the Musée d'Orsay, Paris, which he made as a gift for his mother and sister. See his bedroom at his asylum in Remy here.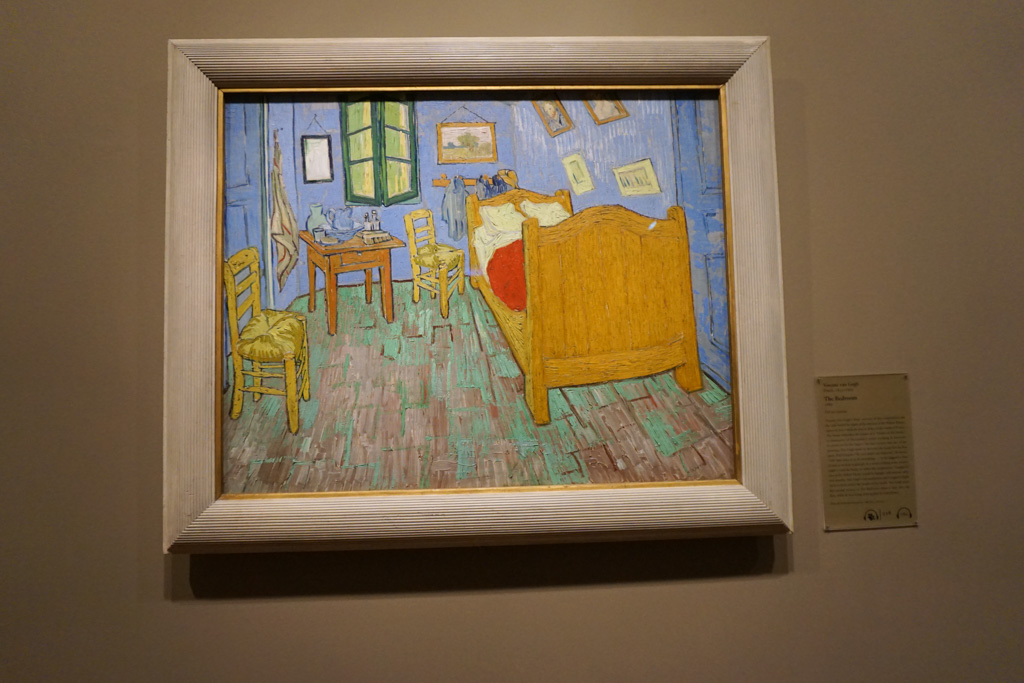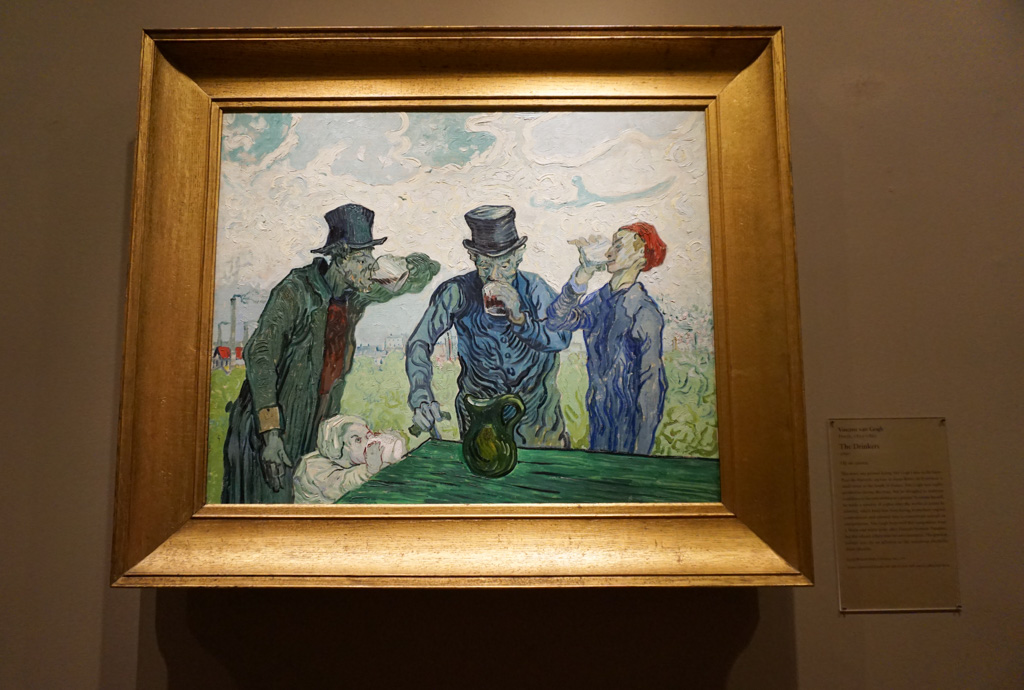 Other artifacts at the Museum
Artworks by Paul Cezzane
Paul Cézanne is said to have claimed, is "art is a harmony running parallel to nature," not an imitation of nature. In his quest for underlying structure and composition, he recognized that the artist is not bound to represent real objects in real space. The Basket of Apples(below) contains one of his signature tilted tables, an impossible rectangle with no right angles. This painting is also one of Cézanne's rare signed works.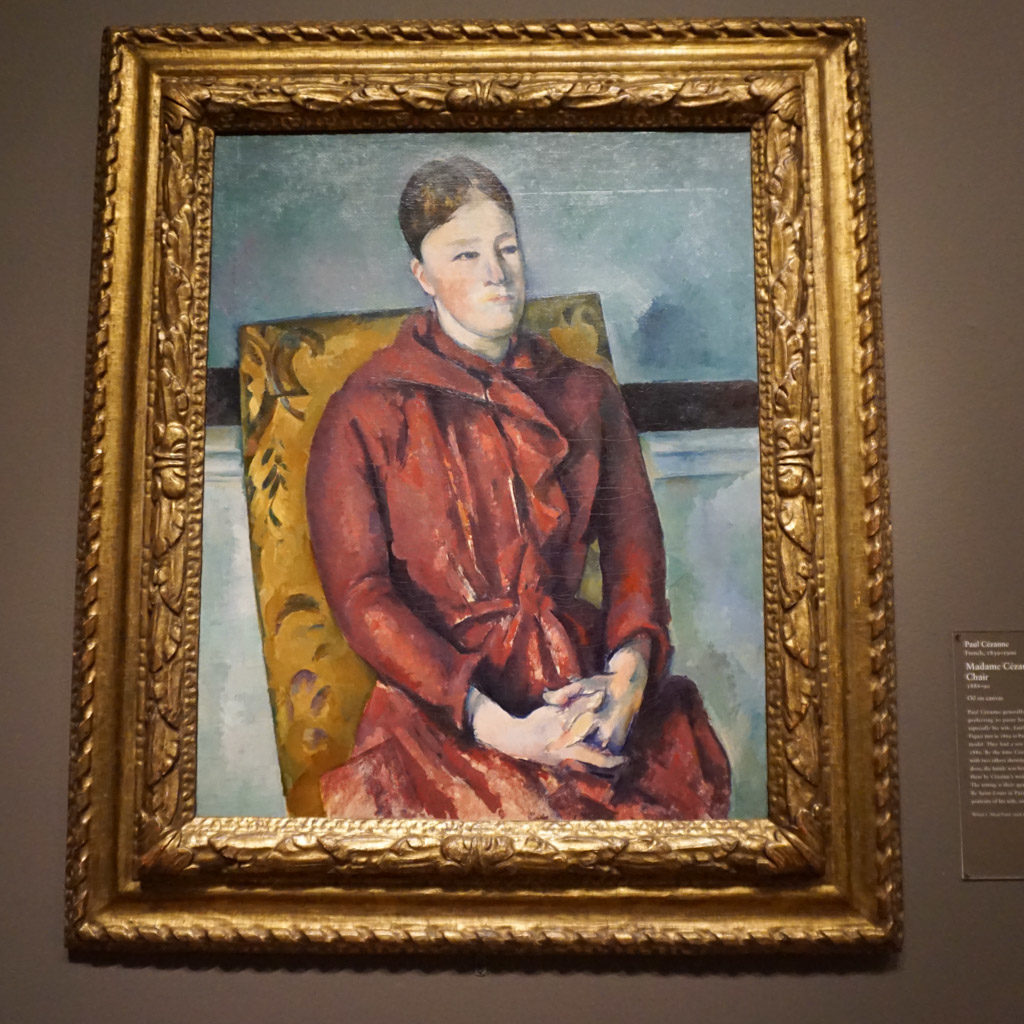 Cézanne known as the father of modern painting had spent the majority of his career painting in isolation in his native Provence. You can see here how he painted the mountains in Provence multiple times. See the other works of the artist housed at the Art Institute of Chicago.
Artworks by Paul Gauguin
I have always been intrigued by Paul Gauguin the French artist who went to Tahiti and never came back. Paul Gauguin completed 17 canvases during a brief and tumultuous visit with Vincent van Gogh in Arles. In the powerful and enigmatic painting Arlésiennes (Mistral), he depicts the public garden directly across from Van Gogh's residence, the "Yellow House." It has a carefully planned composition in marked contrast to the spontaneity seen in Van Gogh's depiction of the same scene (housed in the State Hermitage Museum, Saint Petersburg). But everything about the painting, its large areas of color, enigmatic silhouettes exemplifies the deliberateness with which Gauguin sought harmony and symbolic content in his work. See all his other works here.
Artworks by Pablo Picasso
In 1917 Picasso traveled to Rome to design sets and costumes. Deeply impressed by the ancient and Renaissance art of that city, he began painting monumental figures inspired by antiquity. Mother and Child was also inspired by Picasso's own life. Just three years earlier he had married Russian dancer Olga Khokhlova, and in 1921 their son Paolo was born. Between 1921 and 1923 he produced at least twelve works on the subject of mothers and children, returning to a theme that he had explored during his Blue Period. See photos from the Picasso museum in Barcelona here.
Pablo Picasso's The Old Guitarist, one of his most haunting images, while working in Barcelona. In the paintings of his Blue Period (1901–4), Picasso restricted himself to a cold, monochromatic blue palette; flattened forms; and the emotional, psychological themes of human misery and alienation,
In 1906 Juan Gris traveled to Paris, where he met Pablo Picasso and Georges Braque and participated in the development of Cubism. Just six years later, Gris too was known as a Cubist and identified by at least one critic as "Picasso's disciple."
Artworks by Kandinsky
Kandinsky is one of my favorite artists, his work is spiritual who considered art as a spiritual antidote to the values of materialism. He once said "To create a work of art is to create the world," it is one my favorite Quotes about Art.
Kandinsky's paintings are, in his words, "largely unconscious, spontaneous expressions of inner character, nonmaterial in nature." Kandinsky ceased making references to the material world in his work and wholly devoted himself to pure abstraction.
Although Improvisation No. 30 (Cannons) at first appears to be an almost random assortment of brilliant colors, shapes, and lines, the artist also included leaning buildings, a crowd of people, and a wheeled, smoking cannon. In a letter to the Chicago lawyer, who purchased the painting in 1913 and later bequeathed it to the Art Institute, Kandinsky explained that "the presence of the cannons in the picture could probably be explained by the constant war talk that has been going on throughout the year."
In this painting and frame, the troika, a horse-drawn sled from Kandinsky's native Russia, and the hand-painted frame, which he made especially for this work, speak to the powerful impact of these sources on the artist.
A few more Modern Artworks
Artworks by Andy Warhol
No artist is more closely associated with advertising, consumer culture, and mass media than Andy Warhol. He was the most influential of Pop artists who cast a cool, ironic light on the pervasiveness of commercial culture and contemporary celebrity worship. He began to utilize the silk-screen process early in his career to transfer photographed images to canvas, creating multiple portraits of celebrities including Marilyn Monroe, Elvis Presley, and Jacqueline Kennedy, as well as duplicated images of mass-produced products such as Campbell's soup cans and Coca-Cola bottles.
Additional Information
I like to take photos during my museum walks so that I can look back at the ones that caught my eye. I hope enjoyed this virtual museum walk at the Art Institute of Chicago. You can visit the museum's official virtually tour here or see the highlights here.
PIN IT FOR LATER
CONNECT WITH US