In 1891, Paul Gauguin, a post impressionist artist left for Tahiti, a French island in the Pacific Ocean. Here, he painted and sculpted, taking his inspiration from the Maori culture and mythology, making him a pioneer of Primitivism.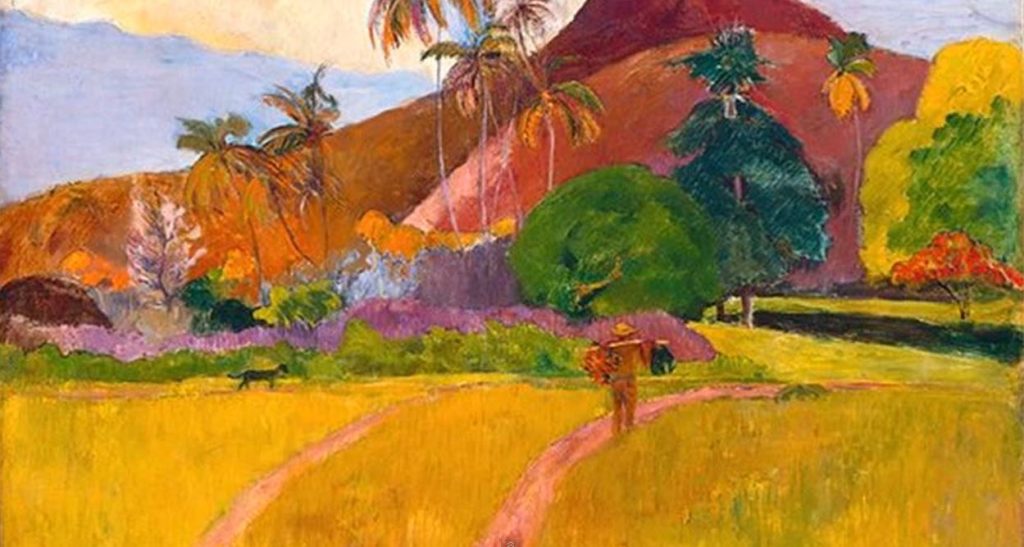 Paul Gauguin in Tahiti
The word Tahiti evokes visions of an exotic island paradise. With 118 islands boasting high, rugged mountain peaks, coral reefs, turquoise-blue lagoons, white sand, palm-fringed beaches, and luxuriously intimate resorts, each island paradise has something for everyone. Bora Bora, Moorea, Huahine, Taha'a, Raiatea, Manihi, Tikehau, Rangiroa, Fakarava, The Marquesas… the exquisite Islands of Tahiti cover more than two million square miles of the South Pacific Ocean and is comprised of 118 islands and atolls spread over five great archipelagos. Many islands are crowned with jagged peaks while others appear to barely float above the breaking waves.
From 1893 to 1895 he was back in France and set about making his work more widely known. In 1901, he returned to the Pacific and settled in the Marquesas Islands in the French Polynesia where he died leaving behind him works of dazzling beauty. Here are some of his beautiful works of art… don't you love the ochres, yellows and golds?!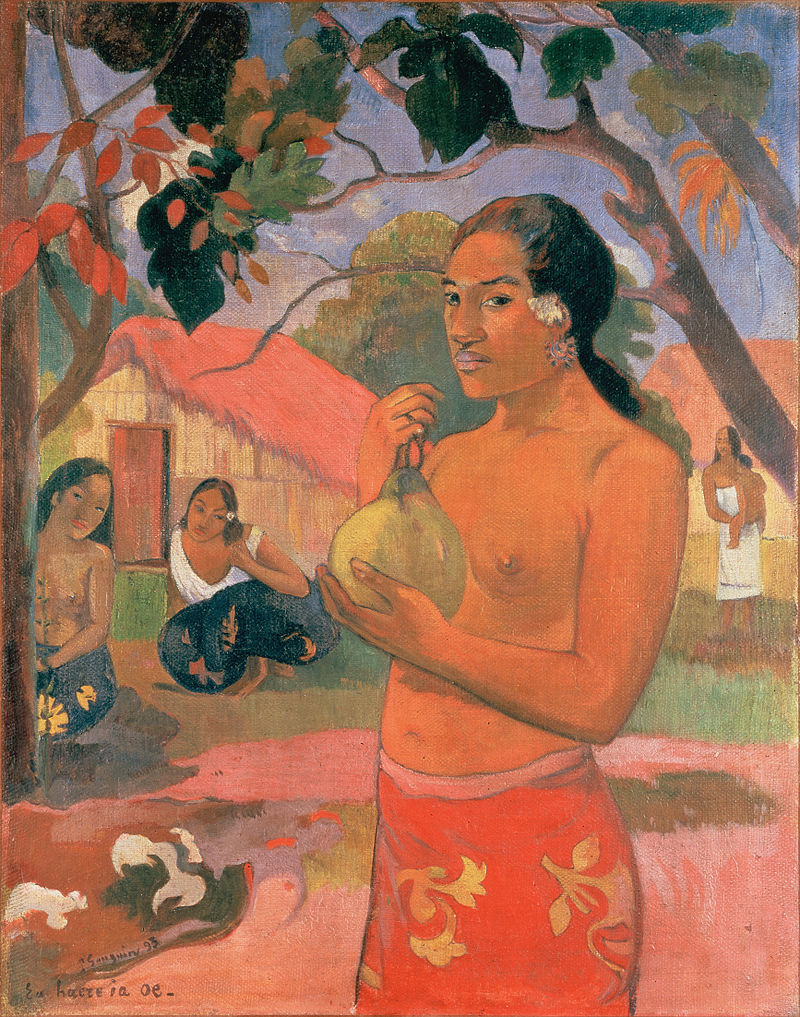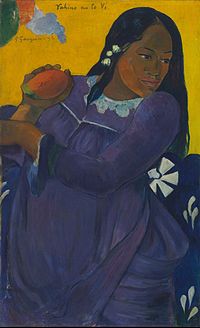 We saw this masterpiece at Botticelli to Braque exhibition in Kimbell museum in Fort worth, ever since I have been bitten by the Bora Bora bug and been wanting to visit. Seeing it all over Instagram did not help the cause, after some research and reading about it on my favorite family travel Blogs we decided to make the leap and make our travel arrangements, we are heading there in a week so look out for some posts later.
From Peru to Tahiti
Having spent his childhood in Peru, Paul Gauguin enlisted in the merchant navy at the age of 17, and traveled from Brazil to the West Indies, which gave him a taste for new and exotic places. From 1871 to 1882 he worked as a stockbroker before devoting himself to painting. He initially became acquainted with works of art through his tutor's collection, and he began painting outdoors in the wake of the Impressionists. However, he adopted a number of different artistic styles during his life. His painting was similar to that of his friend the landscape painter Camille Pissarro, and he took part in five Impressionist exhibitions.
Gauguin subsequently turned to Symbolism, and then, from 1886, he spent a long time with a group of artists in Pont-Aven, in southern Brittany, eventually becoming their leader. It was here that he developed Cloisonnism, a style characterized by highly simplified shapes and large flat areas of color, influenced by Japanese prints. He was also a close friend of Vincent van Gogh, who happens to be one my favorite Dutchman 😉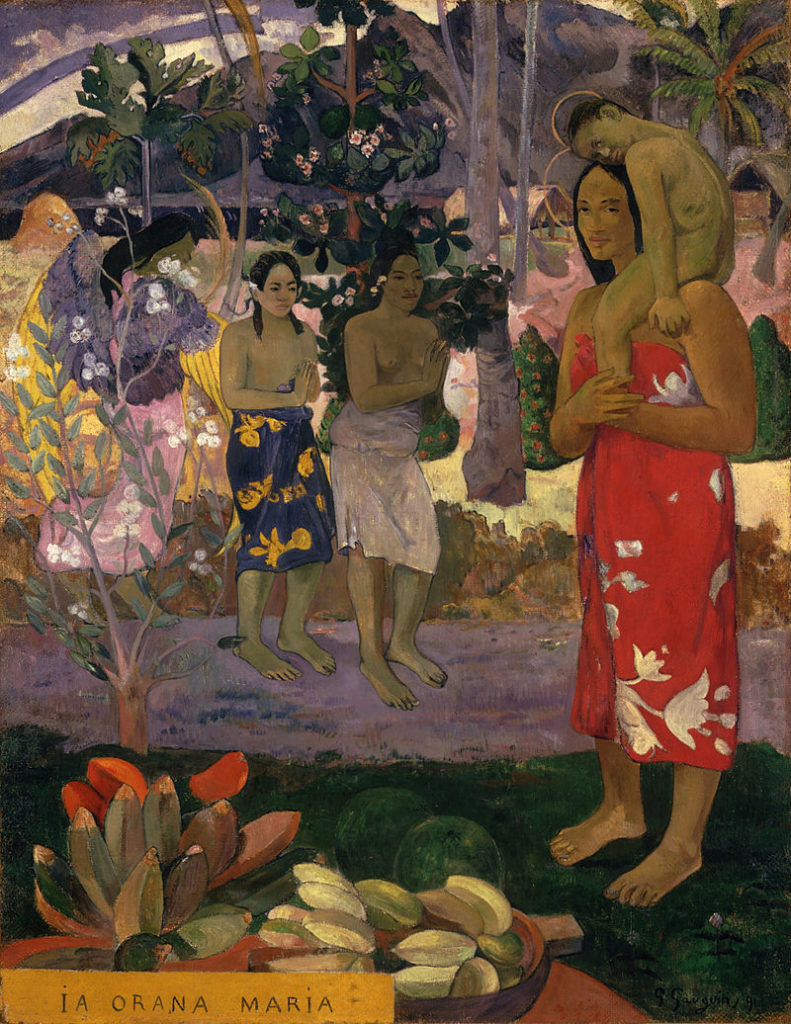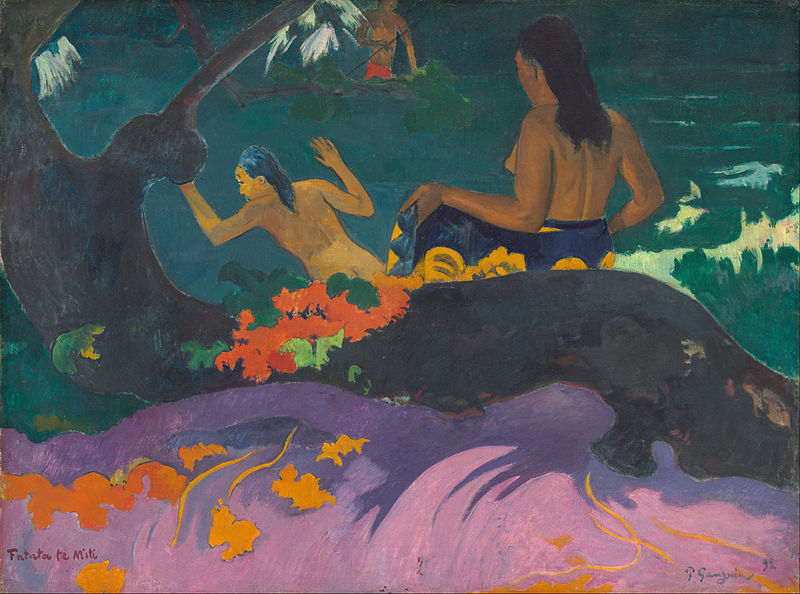 What is Cloisonnism?
Cloisonnism is a style of post-Impressionist painting with bold and flat forms separated by dark contours. The term was coined by critic Edouard Dujardin on the occasion of the Salon des Indépendants, in March 1888. Artists Émile Bernard, Louis Anquetin, Paul Gauguin, Paul Sérusier, and others started painting in this style in the late 19th century. The name evokes the technique of cloisonné, where wires (cloisons or "compartments") are soldered to the body of the piece, filled with powdered glass, and then fired. Many of the same painters also described their works as Synthetism, a closely related movement.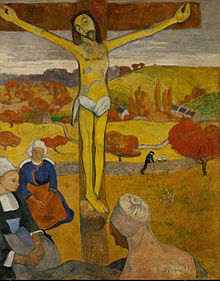 In The Yellow Christ (1889), often cited as a quintessential cloisonnist work, Gauguin reduced the image to areas of single colors separated by heavy black outlines. In such works he paid little attention to classical perspective and boldly eliminated subtle gradations of color — two of the most characteristic principles of post-Renaissance painting. The Green Christ and Vision after the Sermon are others cloisonnist works of his.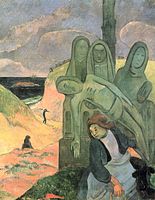 Paul Gauguin & Synthetism
Synthetism is a term used by post-Impressionist artists like Paul Gauguin, Émile Bernard and Louis Anquetin to distinguish their work from Impressionism. Earlier, Synthetism has been connected to the term Cloisonnism, and later to Symbolism. The term is derived from the French verb synthétiser (to synthesize or to combine so as to form a new, complex product).
Paul Gauguin, Émile Bernard, Louis Anquetin, and others pioneered the style during the late 1880s and early 1890s.
Synthetist artists aimed to synthesize three features:
◾The outward appearance of natural forms.
◾The artist's feelings about their subject.
◾The purity of the aesthetic considerations of line, color and form.
You might also like: Inspiring Quotes about Art by Artist and Great Masters.
I'm looking forward to seeing Paul Gauguin's Tahiti but would also love to see some of his work, even if only replicas, any ideas where we can see them? I hear the Paul Gauguin Museum is closed. Have you visited French Polynesia, which Island is your favorite? Which work of Gauguin do you like?
CONNECT WITH US