We have been to the Van Gogh Museum in Amsterdam where his famous Sunflower painting resides and also seen his works in Musee d'Orsay, Paris, but to visit the Van Gogh Asylum in Saint Remy de Provence where he was admitted for treatment but yet painted more than 100 of his masterpieces is a whole different experience!
Vincent Van Gogh , once said, "There are two ways of thinking about painting, how not to do it and how to do it: how to do it— with many drawings and little color; how not to do it — with many colors and little drawing." His painting is easily recognized by the swirly brush strokes, vivid colors, and great composition.
He was a struggling artist who only became famous after his time. His experiences of handling his suffering and pain as well as his ability to see the beauty in everything is what makes Van Gogh one of my favorite artists.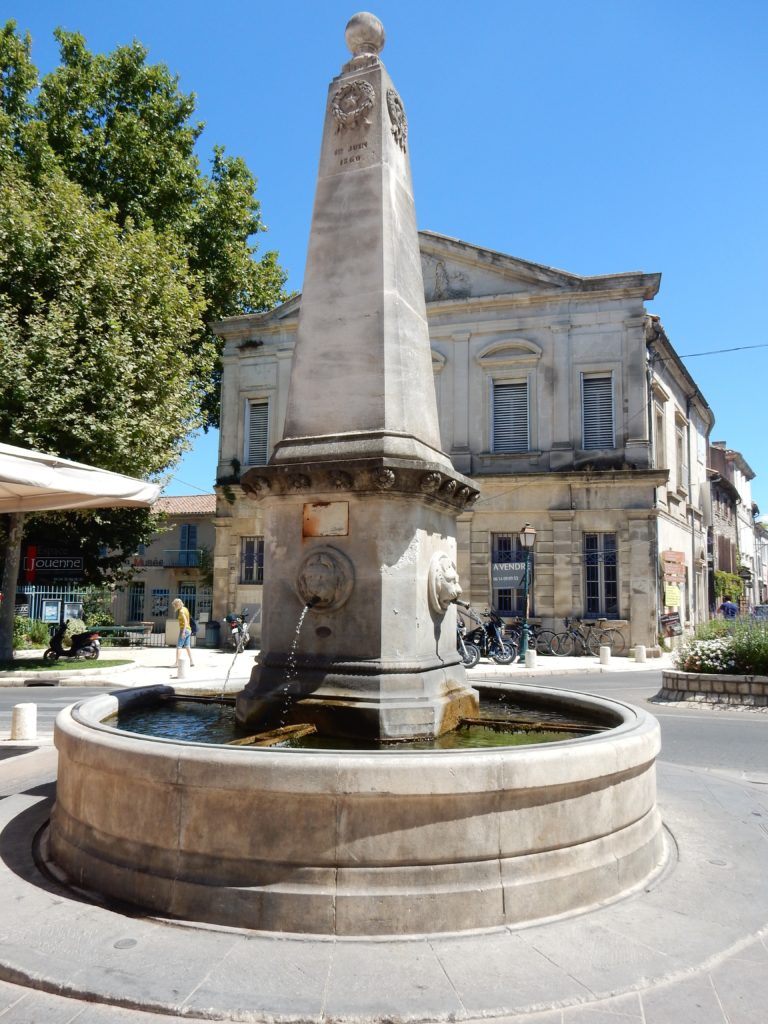 Visiting Saint Rémy de Provence
We drove from Aix-en-Provence to Saint-Remy through the canopy of plane trees on a beautiful summer morning. We stopped in town for lunch and walked around to see some ateliers and the artists setting up shops on the main street.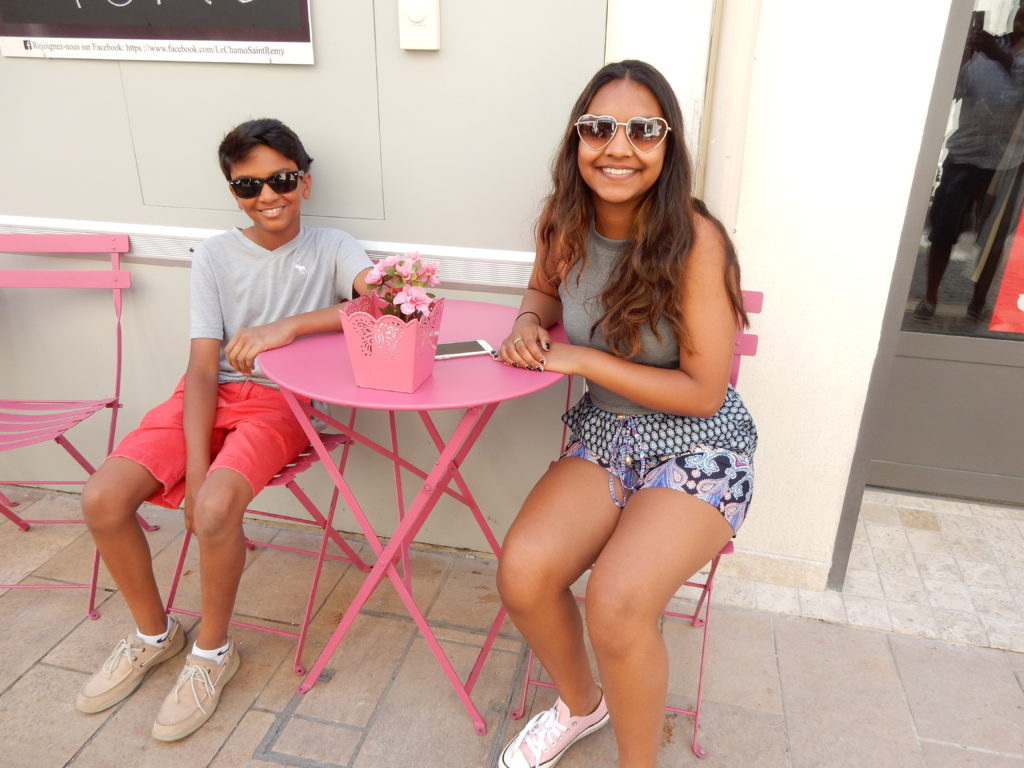 Strolling along the boulevards under the shade of century-old plane trees and wandering around the narrow little streets, discovering squares and water-spouting fountains. We loved the magical little town bathed in beautiful light. In fact, they have sunshine for more than 300 days a year, probably why many famous artists have loved and lived in this little town.
Did you know Nostradamus was born here in Saint Remy?!
We then drove to Saint-Paul-de-Mausole, which lies just outside Saint-Rémy-de-Provence. It is twelve miles northeast of Arles if you are driving from Arles.
TIP: If you would rather go on an organized tour to visit the towns of Gordes, Roussillon and Aix and although seasonal if you want o see the Lavender fields, this tour is the best one. You can do this tour to walk in the footsteps of Van Gogh in Arles and Saint Remy.
Van Gogh Asylum in Saint Remy
Van Gogh voluntarily admitted himself to the asylum of St. Paul de Mausole near Saint-Rémy in the Provence region of Southern France, after an incident in Arles in December 1888 in which Van Gogh cut off part of his left ear. Saint-Paul, which began as an Augustine monastery in the 12th century, was converted into an asylum in the 19th century.
The Asylum is located in an area of cornfields, vineyards, and olive trees at the time run by a former naval doctor, Dr. Théophile Peyron. Theo arranged for two small rooms, adjoining cells with barred windows. The second was to be used as a studio.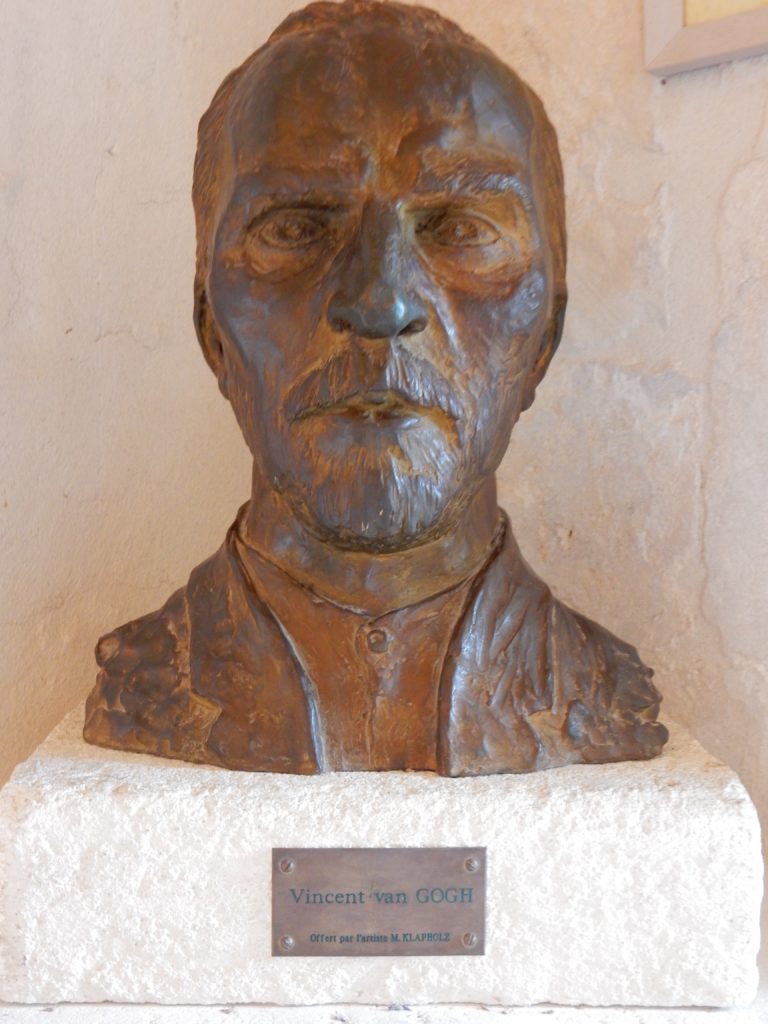 Van Gogh was initially confined to the immediate asylum grounds and painted (without the bars) the world he saw from his room, such as ivy-covered trees, lilacs, and irises of the garden. Through the open bars, Van Gogh could also see an enclosed wheat field, the subject of many paintings at Saint-Rémy.
As he ventured outside of the asylum walls, he painted the wheat fields, olive groves, and cypress trees of the surrounding countryside, which he saw as "characteristic of Provence." St Remy gave Van Gogh a structure and he was able to focus on his work, it was his most creative period.
It helped Van Gogh kick his bad habits such as coffee, alcohol, poor eating habits, and periodic attempts to consume turpentine and paint.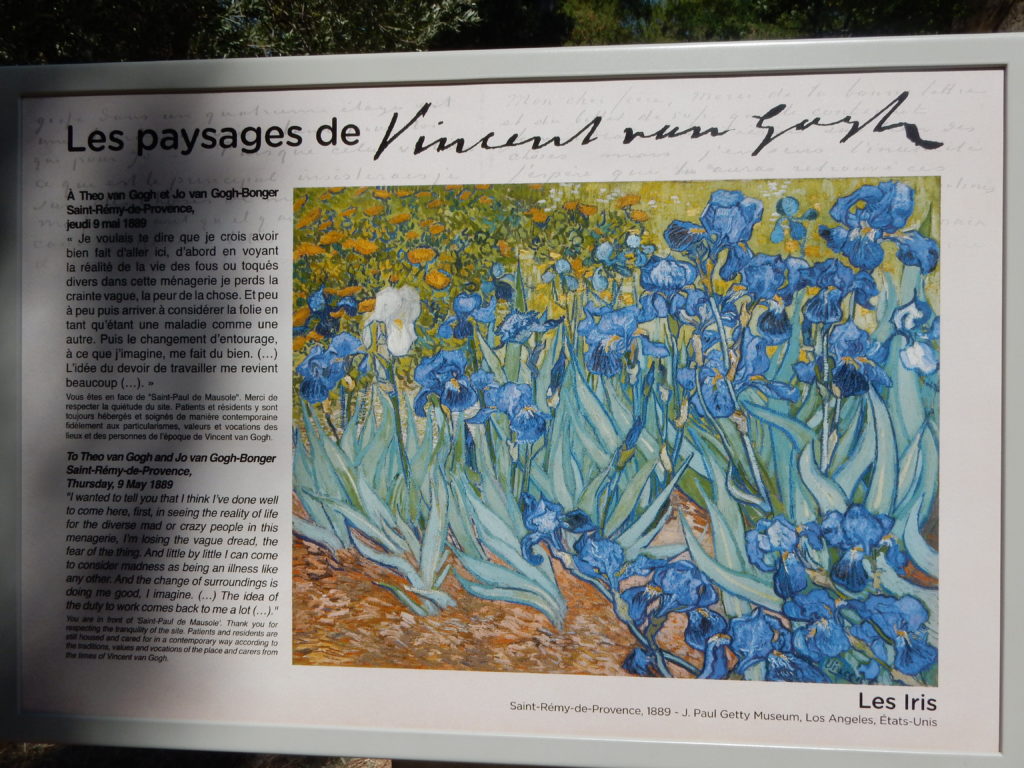 It is during his time here that he painted many of his famous works, such as Olive Trees, The Irises, wheat fields, corridor and many more. Over the course of the year, he painted about 150 canvases.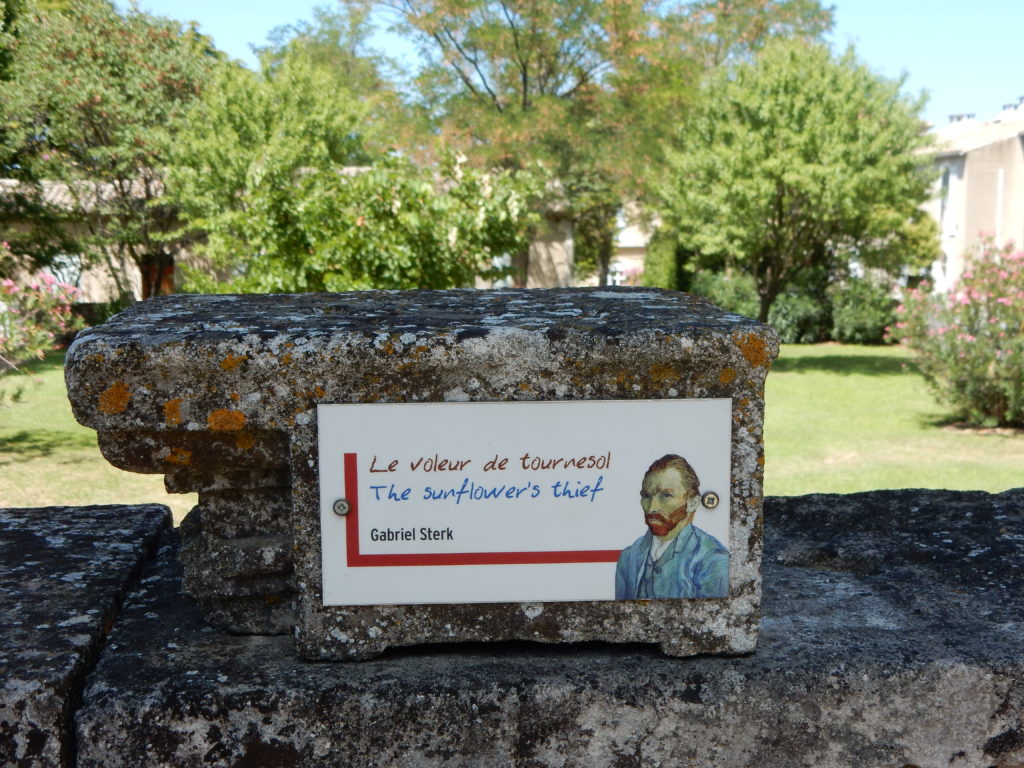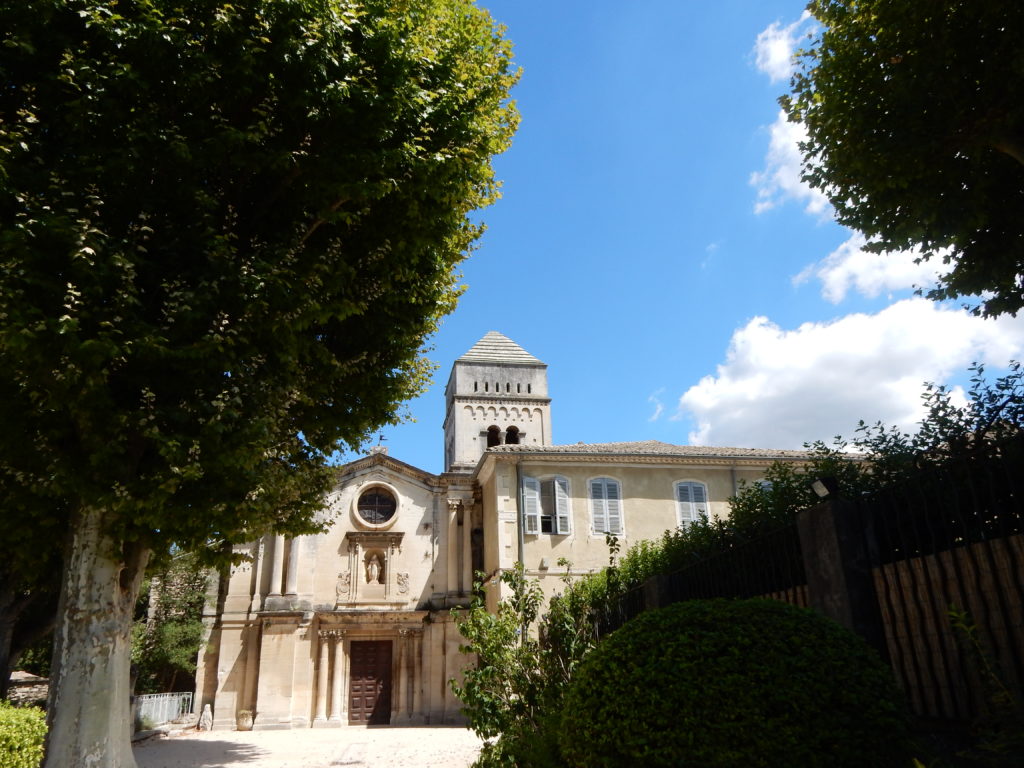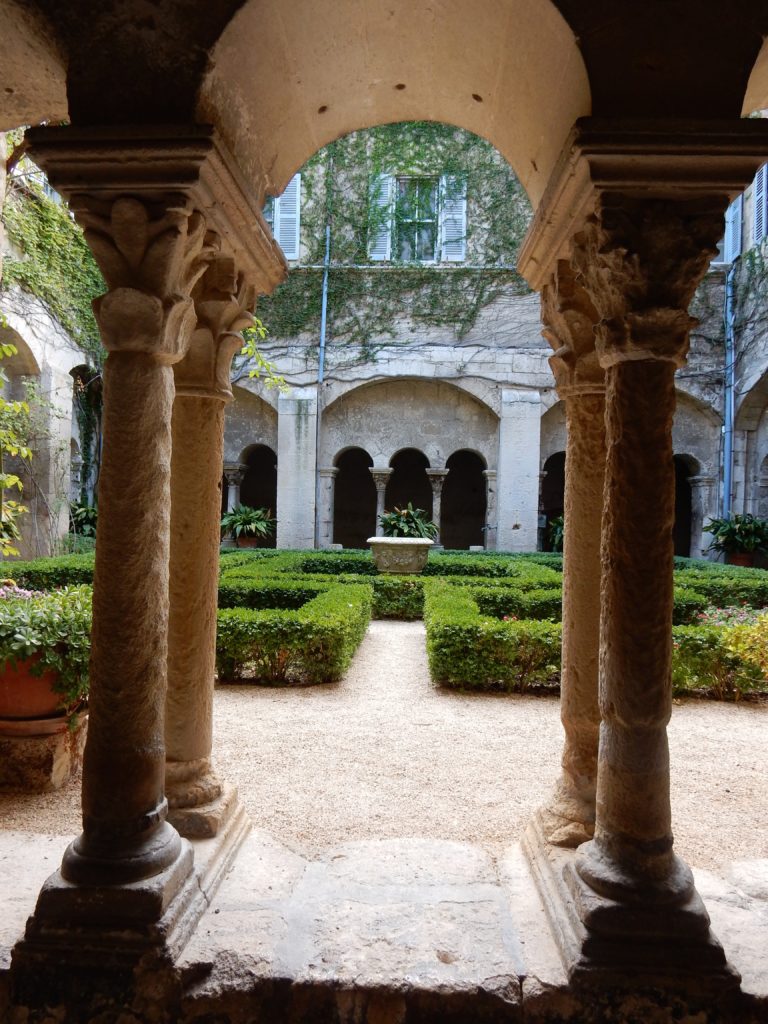 During his year here, Van Gogh would have periodic attacks, possibly due to a form of epilepsy. His only apparent form of treatment was two-hour baths twice a week. He enjoyed views from his window into the gardens and often painted the landscape he saw.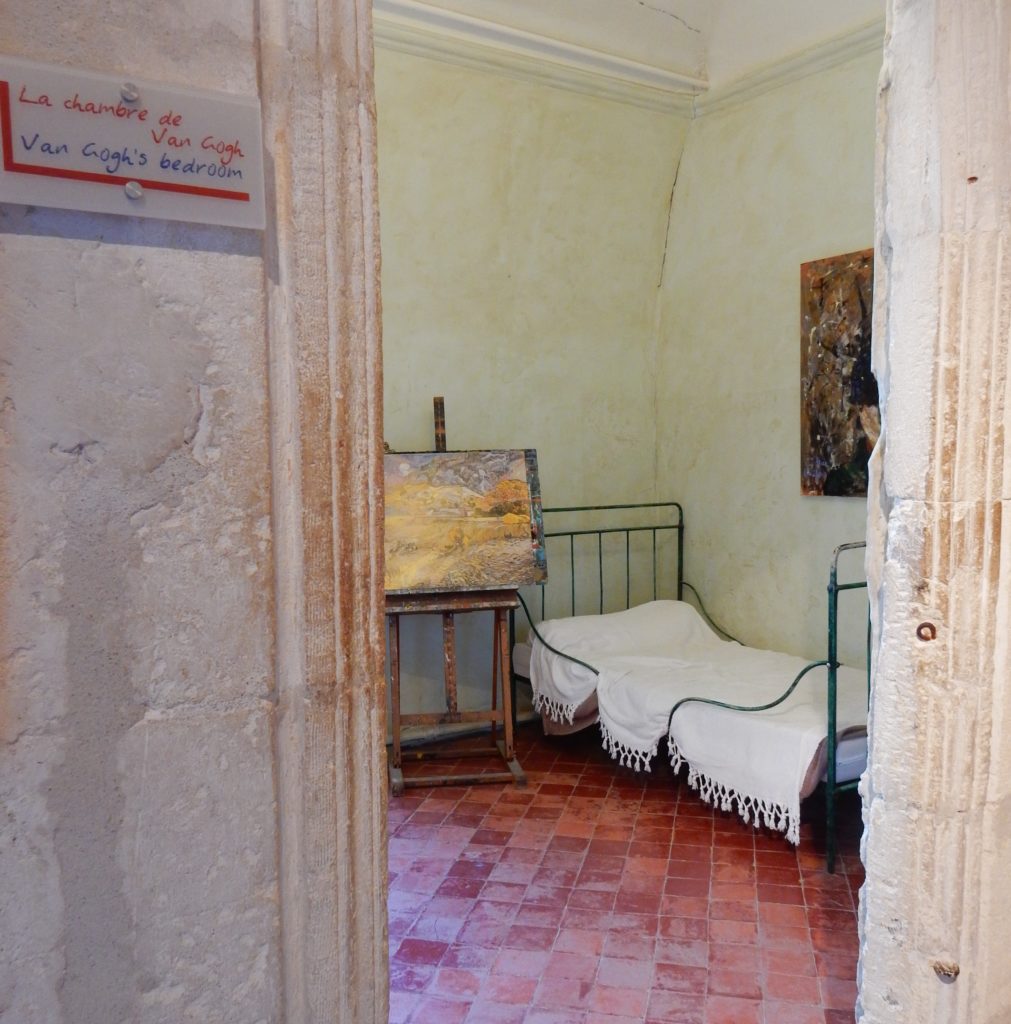 After walking the gardens in the Sunflower thief's footsteps, absorbing and feeling the presence of this great man, as we made our way back to the car we could hear chirping crickets and leaves rustling in the eerie silence of the Mausoleum, no wonder Van Gogh claimed in a letter to Theo, his brother —in May 1889 he explains the sounds that travel through the quiet-seeming halls.
"There is someone here who has been shouting and talking like me all the time for a fortnight. He thinks he hears voices and words in the echoes of the corridors, probably because the auditory nerve is diseased and over-sensitive, and in my case it was both sight and hearing at the same time, which is usual at the onset of epilepsy, according to what Dr. Félix Rey said one day."… we could hear them too!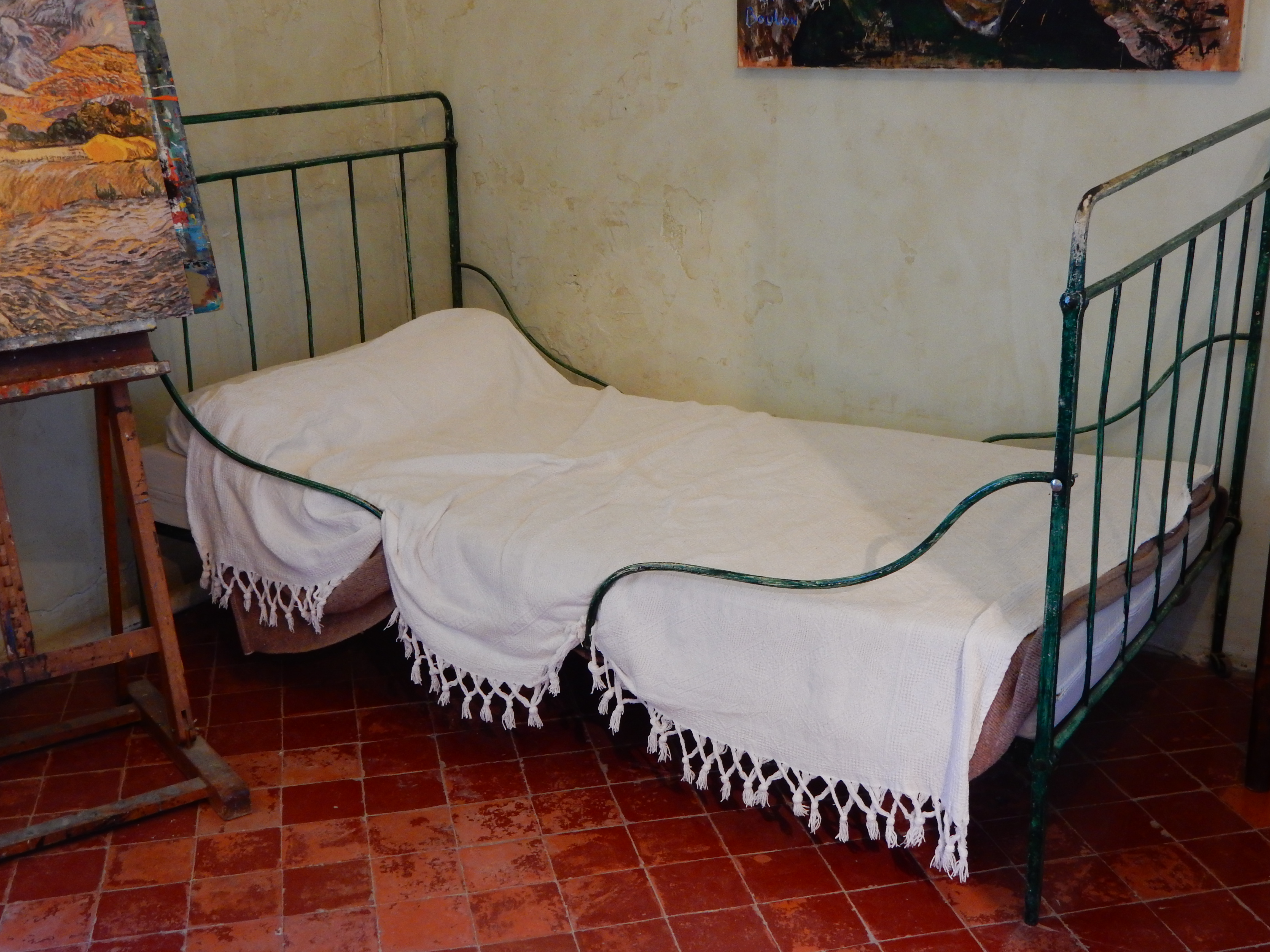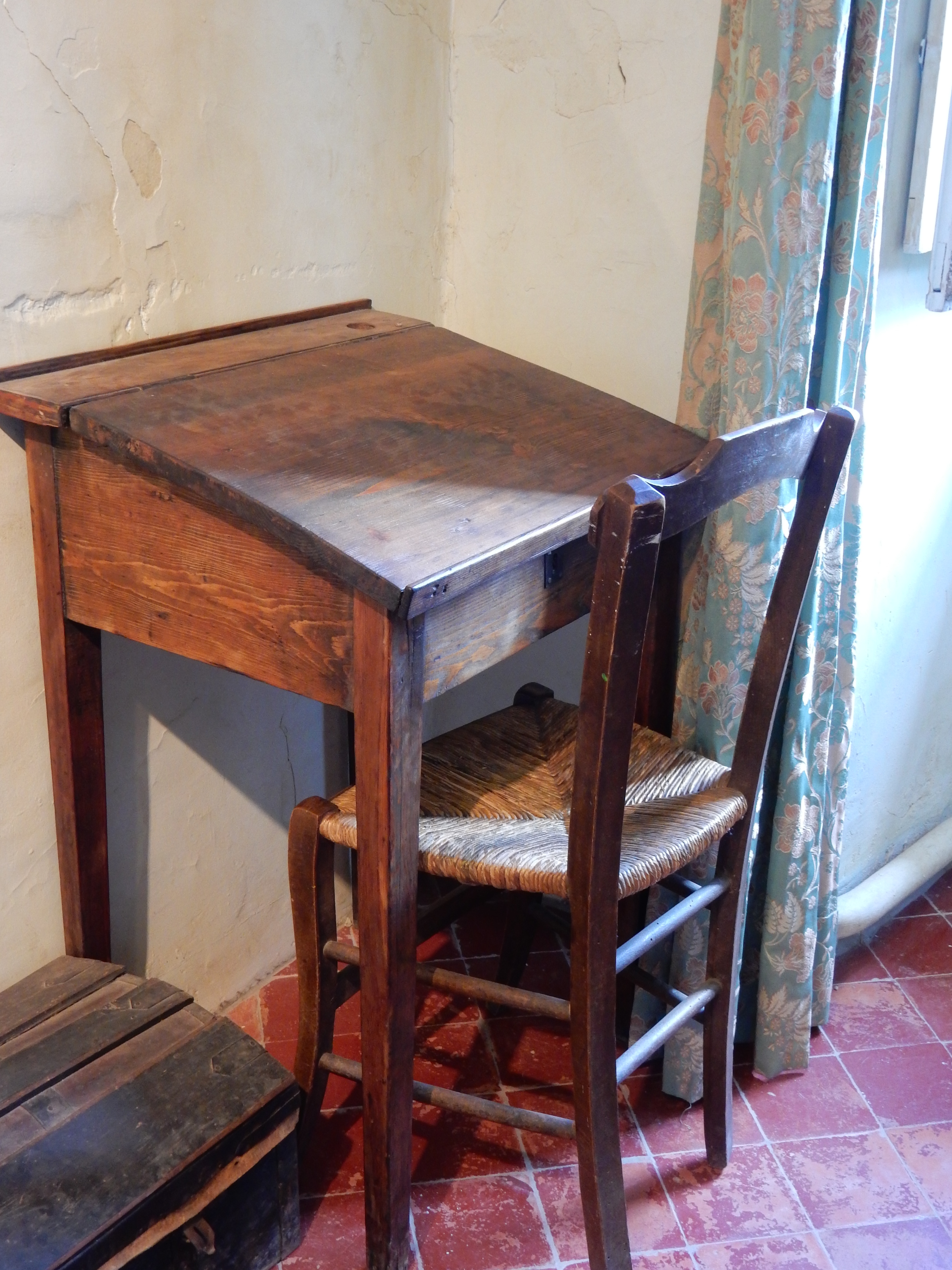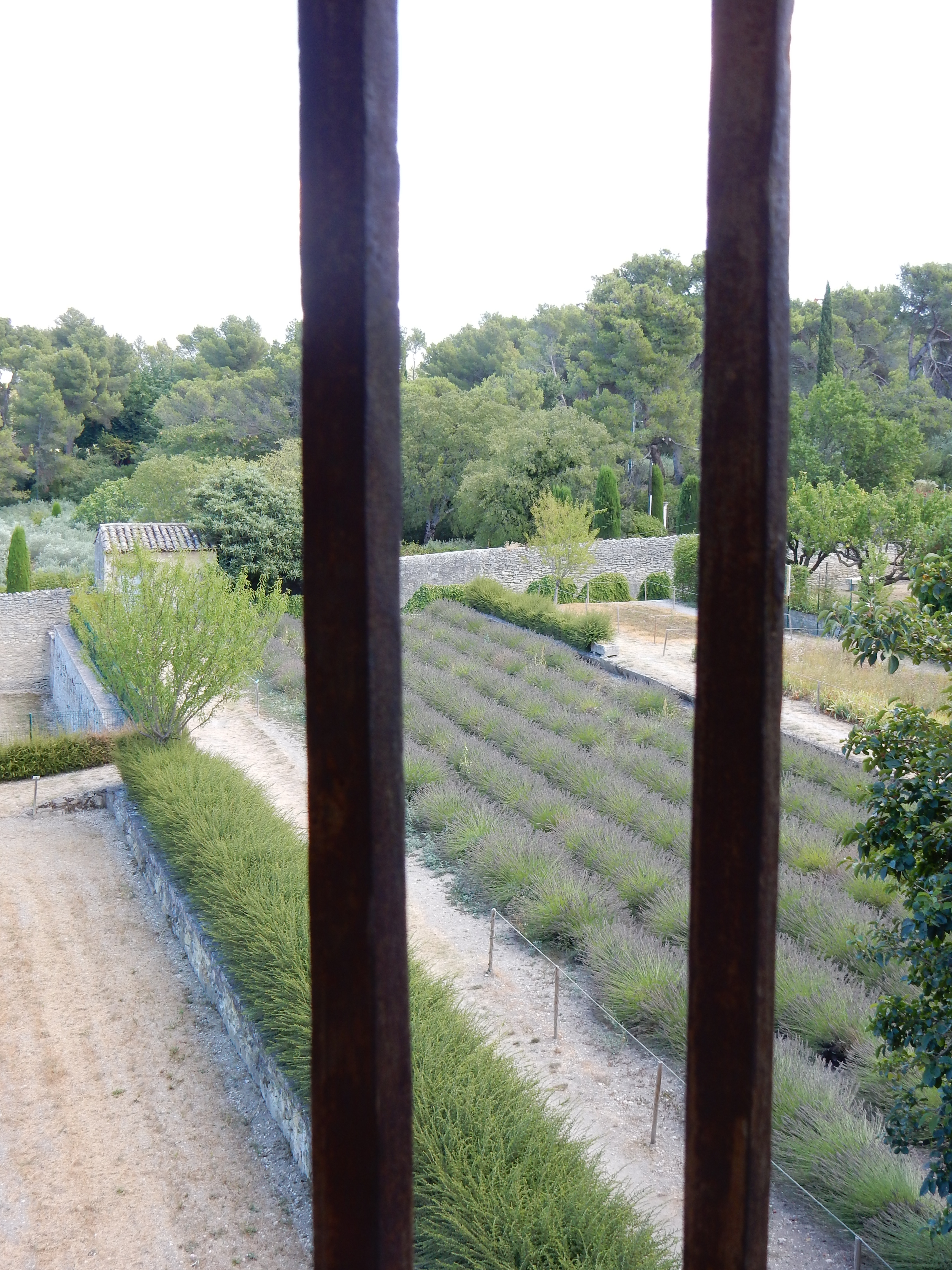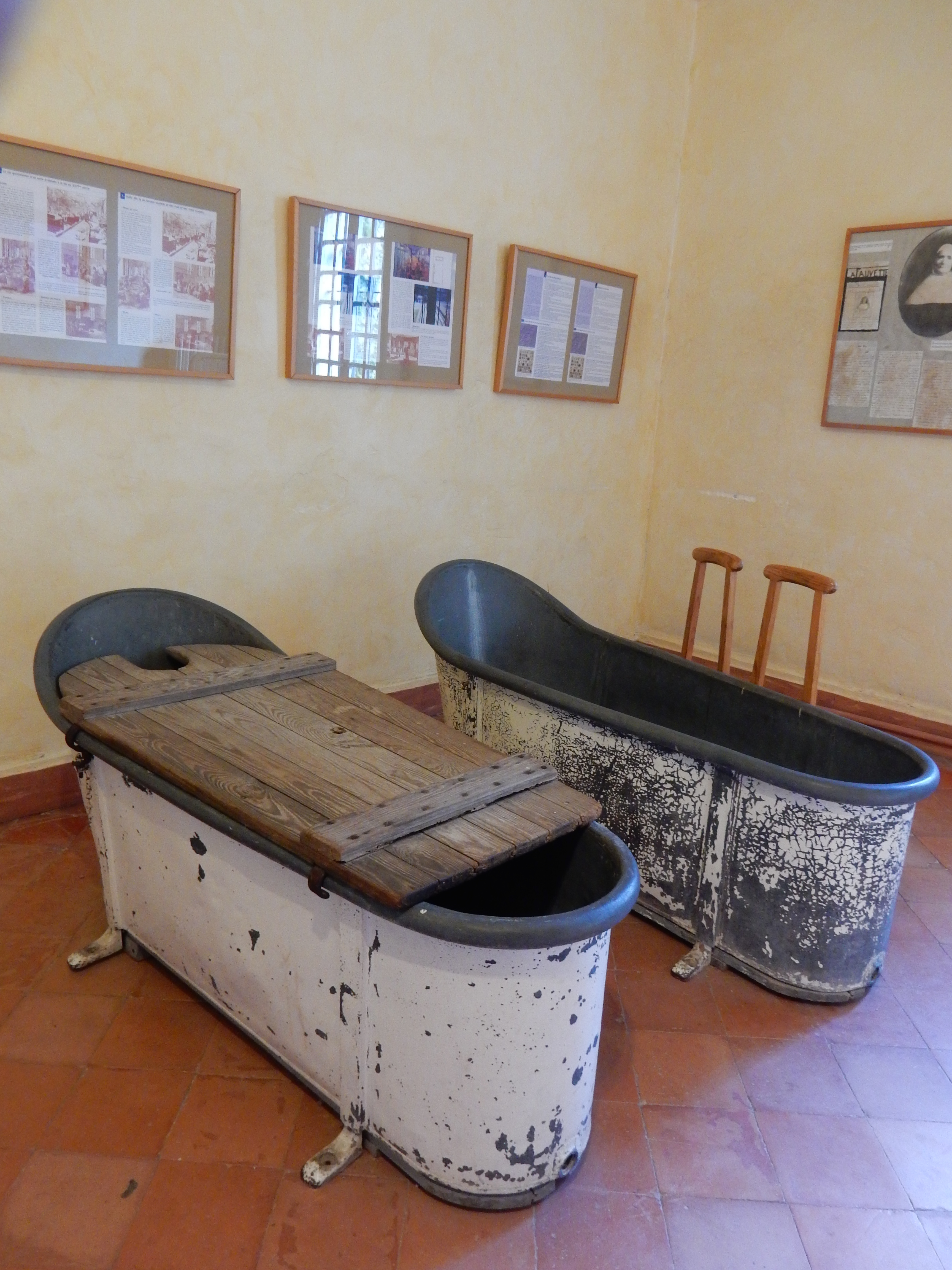 A little more about Van Gogh
Vincent van Gogh was born on March 30, 1853, in Groot-Zundert, the Netherlands. Beginning in 1869, he worked for a firm of art dealers and at various short-lived jobs. By 1877 Van Gogh had begun religious studies, and from 1878 to 1880 he was an evangelist in the Borinage, a poor mining district in Belgium. While working as an evangelist, he decided to become an artist.
Van Gogh admired the work of Jean François Millet and Honoré Daumier, and his early subjects were primarily peasants depicted in dark colors. He lived in Brussels and in various parts of the Netherlands before moving to Paris in February 1886.
In Paris, he lived with his brother, Theo, and encountered Impressionist and Post-Impressionist painting. Van Gogh worked briefly at Fernand Cormon's atelier, where he met Henri de Toulouse-Lautrec.
The artist also met Emile Bernard, Edgar Degas, Paul Gauguin, Camille Pissarro, and Paul Signac at that time. Flowers, portraits, and scenes of Montmartre, as well as a brighter palette, replaced his earlier subject matter and tonalities. Van Gogh often worked in Asnières with Bernard and Signac in 1887.
Want to create your own Starry Night Painting, see this post for instructions.
In February of the following year, Van Gogh moved to Arles, where he painted in isolation, depicting the Provençal landscape and people. Gauguin joined him in the fall, and the two artists worked together. In December of 1888, after the two artists had a falling out, Van Gogh suffered his first mental breakdown.
Numerous seizures and intermittent confinements in mental hospitals in Arles, Saint-Rémy, and Auvers-sur-Oise followed from that time until 1890. Nevertheless, he continued to paint. In 1890 Van Gogh was invited to show with Les Vingt in Brussels, where he sold his first painting.
That same year he was represented at the Salon des Indépendants in Paris. Van Gogh shot himself on July 27, 1890, and died on July 29 in Auvers-sur-Oise, France.
After visiting Van Gogh Asylum, we drove to Les Baux, the isolated ruins atop a craggy lunar-like rock outcropping in the hills called Les Alpilles. This ghost town sits above a small pedestrian village at its entrance.
Les Baux dates from the 1100s when it was home to an independent population of 6,000 residents. King Louis XIII razed the town in the 1600s out of fear of the town's power and independence. The ruins, views, and landscape make this an unforgettable site.
Additional information for visiting Van Gogh in Saint Remy de Provence
Address:
Cloitre St Paul. 13210 Saint Remy de Provence, France
Website here
You might also like:
Paul Gauguin, The artist who went to Tahiti and never came back
Jackson Pollock in Dallas
Gustav Klimt, The Golden Kiss and more at the Belvedere, Vienna
Frida Kahlo at the DMA
Paul Cezzane: The man and his mountain
PIN IT FOR LATER
Note: This post may contain affiliate links, partnership or sponsored content. If you purchase an item via one of these links, we may receive a small commission at no extra charge to you. But as always images and opinions are our own. For more information on our affiliates and privacy policy at Outside Suburbia see here.
CONNECT WITH US